Google Sells With A Huge Discount For The Holding Structure
Summary
Alphabet is a technology company that operates worldwide. It develops a various range of services and technologies which are aimed to simplify people's life.
Due to the holding structure, Alphabet's market value is significantly lower than the value of each of the major.
Nevertheless, Google effectively uses all the developments and easily can make them profitable. Therefore its holding discount should be lower.
I used a relative valuation model to estimate the price of each big segment of Alphabet. My target price is $2,800 per share, which is ~40% above the current price.
Investment Thesis
Alphabet (NASDAQ:GOOG) (NASDAQ:GOOGL) is an international technological giant. It has a range of various businesses in its portfolio. The holding structure creates a lot of possibilities to develop business, which Google has been using for a long time. But also it underestimates the value of the company. The evaluation of Alphabet's segments separately shows that the real cost of all projects can be significantly higher than the market estimates them.
What Google Earns From
Google is a holding company consisting of a variety of technology businesses. The company is well-known all around the world and does not need additional commentary. The basis of the business is the sale of advertising, but the company actively develops third-party businesses through investments in startups or acquisitions of companies.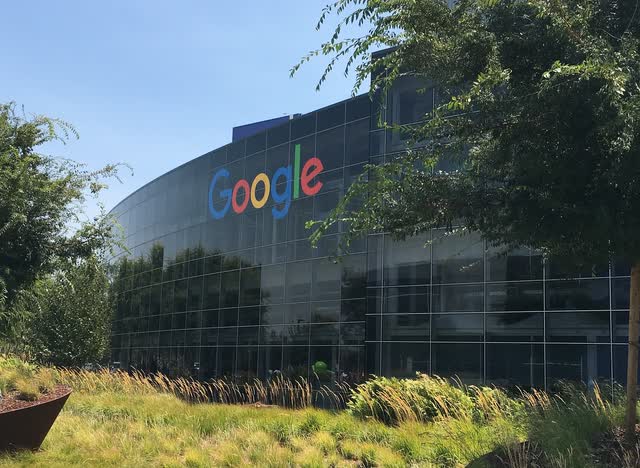 Source: wikipedia.org
The main business is a search engine and other services under the Google brand (mail, maps, browser, etc.), as well as YouTube. All of them have the same source of income - advertising. It is also the main source for the company as a whole. The high marginality of the core business allows the company to develop unprofitable fast-growing projects, and at the same time remain financially attractive.
Among other businesses, first of all, it is worth noting Google Cloud. It is a platform that provides various cloud services: computing, machine learning, data storage, and others. The basis of revenue is payments for services. This is a very fast-growing business, with revenue increasing by about 46% in 2020.
Google has many smaller, actively growing divisions. In the financial reports, they are disclosed as Other Bets and include projects at an early technological stage, which in the future can be included in the main business of Google. Among Other Bets, the most interesting ones are:
Waymo is an autonomous ride-haul service that is actively developing in the United States. So far, it operates only in a few regions and in the format of a passenger taxi (cargo transportation is being tested). Waymo's revenue is negligible on a Google-wide scale. But in the future, it could become a huge business, worth hundreds of billions of dollars. It is expected that this

industry will almost completely replace the taxi with a driver in developed countries and China within 5-10 years.

DeepMind is a startup that develops neural networks and artificial intelligence.
Wing is a developer of flying drones, the main task of which will be cargo delivery.
X is a company that deals with almost everything that can come to the mind of designers. The company is working on about 100 projects, many of them have very good prospects.
All of them are most likely unprofitable. Google does not disclose detailed reports separately for each of the projects, only in general for the business area. However, it is safe to say that their price is billions of dollars. It is extremely difficult to give an accurate estimate due to the lack of information.
Valuation
The evaluation section is structured as follows. First, I compare Google along with other tech giants by various multipliers. This allows you to form an opinion about the company's valuation relative to the entire market but does not disclose my investment thesis. The next part is the evaluation of individual Google segments based on relative valuation using peers for each segment. By summing up the values of its divisions, you can find out the real value of its businesses, and see how it differs from the market, and therefore the effect of the holding structure.
Google And Peers
The company operates in the Internet Content and Information industry, but, being a billion-dollar corporation, competes with FAAM. These are Facebook (FB), Apple (AAPL), Amazon (AMZN), and Microsoft (MSFT). They may partly represent other industries, but overall they are very similar companies - technology giants that can make revenue regardless of many factors. This helped them to grow well in 2020, even during the pandemic.
| | | | | | |
| --- | --- | --- | --- | --- | --- |
| Indicator | GOOG | AMZN | MSFT | AAPL | FB |
| PEG | 1.79 | 1.88 | 2.02 | 1.94 | 1.18 |
| Forward P/E | 25.61 | 45.35 | 29.29 | 27.3 | 19.57 |
| Trailing P/E | 34.32 | 71.84 | 33.93 | 33.11 | 25.31 |
| P/S | 7.5 | 3.89 | 11.25 | 7.13 | 8.47 |
| EV/Sales | 7.05 | 4.08 | 11.19 | 6.86 | 7.99 |
Source: created by the author
Comparison by key multipliers shows that Google is rated by the market approximately at an average level. In 2020, it was possible to observe high growth in the entire technology sector, so the FWD P/E and PEG are probably the most relevant multipliers. We can conclude that out of these five, Google is undervalued, but it is not the cheapest company.
Valuation By Segment
The key segments are as follows: YouTube, Google Cloud, Google advertising business, and Other Bets. For them, only revenue is available in the reports, detailed information on marginality is not disclosed. Therefore, I use the multipliers P/S and EV/S for the estimation. For each of the projects, I select my own competitive group and use the average multipliers for them.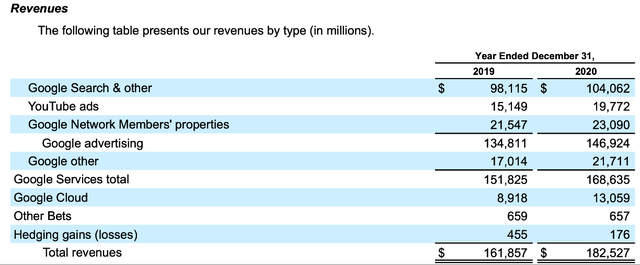 Source: Alphabet's Q4 2020 report
YouTube
For evaluation purposes, I distinguish YouTube from Google's core business. Although detailed reporting on the video service is not disclosed, it is obvious that its marginality is somewhat lower, since the service pays users for content. However, today it is a full-fledged social network, and therefore, other social networks, such as Snapchat (SNAP), Facebook (FB), Twitter (TWTR), Pinterest (PINS), are the key competitors. Also, I added 3 Chinese social media companies: Weibo (WB), JOYY (YY), iQIYI (IQ). Their multipliers are way lower than international ones; however, they are substitutes for mentioned international companies and YouTube since many American services are banned in PRC.
| | | |
| --- | --- | --- |
| Company | P/S | EV/S |
| Facebook | 8.59 | 8.18 |
| Twitter | 15.62 | 15.82 |
| Snapchat | 37.46 | 39.9 |
| Pinterest | 28.59 | 30.01 |
| Weibo | 7.79 | 7.32 |
| JOYY | 2.23 | 1.75 |
| iQIYI | 4.21 | 4.41 |
| AVERAGE | 14.93 | 15.34 |
Source: created by the author
YouTube's revenue as of 2020 is $19,722 mn. The calculated market price of YouTube is $295,139 mn, and the EV is $303,331 mn.
Google Cloud
To evaluate Google Cloud, I used a similar method with a different peer group. Companies that deal with such technologies are more common. I chose a broad but not exhaustive list of companies. Indeed, there are such giants as Microsoft Azure, Amazon Web Services, Alibaba Cloud, and some other companies on the market, but it would be wrong to include them in the comparison: cloud services do not occupy such a significant share in their revenue structure, just as in the case of Google.
To evaluate only Google Cloud (as if it's a separate cloud computing company) I have selected companies whose main specialization is cloud computing, or something very closely related to software. These are Salesforce (CRM), CrowdStrike (CRWD), Oracle (ORCL), VMware (VMW), Cloudflare (NET), Workday (WDAY), Twilio (TWLO), Dropbox (DBX), Datadog (DDOG), Zscaler (ZS), ServiceNow (NOW).
| | | |
| --- | --- | --- |
| Company | P/S | EV/S |
| Salesforce | 9.12 | 9.1 |
| CrowdStrike | 62.52 | 63.57 |
| Oracle | 5.2 | 5.78 |
| VMware | 4.97 | 5.1 |
| Cloudflare | 52.51 | 53.68 |
| Workday | 13.72 | 13.8 |
| Twilio | 32.86 | 38.85 |
| Dropbox | 4.97 | 5.02 |
| Datadog | 46.54 | 47.81 |
| Zscaler | 50.06 | 51.67 |
| ServiceNow | 23.47 | 23.93 |
| AVERAGE | 27.81 | 28.94 |
Source: created by the author
Google Cloud's sales in 2020 amounted to $13,059 mn. Using average multipliers the price and EV of the company's segment are estimated at $363,206 mn and $377,892 mn respectively.
Other Bets
Other Bets do not have such a high effect on revenue. Since it is impossible to pick up specific competitors on the stock exchange, as well as to build any forecasts for income and cash flows, I use a simplified method of determining the value. Taking Google's P/S and EV/S and multiply them by the revenue of this sector and clear the costs. Of course, this figure seems very low, especially when you consider that Waymo recently raised 2.25 million from external sources. The actual cost may exceed the calculated indicator by tens of times. Using Alphabet's multipliers from the table above, I estimated the price at the level of $4,928 mn and EV at the level of $4,632 mn.
Google Services
Last but not least, Google services (excluding YouTube). The main source of income here is advertising, so similar companies are selected in the competitive group. The peer group includes Baidu (BIDU), Yandex (YNDX), and Facebook (FB). Also, I used Alphabet's multipliers in the calculation as it quite fairly describes the price of Google's advertising business.
| | | |
| --- | --- | --- |
| Company | P/S | EV/S |
| Baidu | 5.93 | 4.22 |
| Yandex | 7.86 | 7.55 |
| Google | 7.5 | 7.05 |
| Facebook | 8.47 | 7.99 |
| AVERAGE | 7.44 | 6.70 |
Source: created by the author
Google generated $148,843 mn of sales from ads. Using average multipliers, the possible price of this business is $1,107,541 mn and EV is $997,754 mn. The numbers look impressive, but let's reveal the whole picture.
Valuation Summary
Summing up the calculated values, we have the estimated value of the Alphabet, if it wouldn't be a holding. The company is undervalued by approximately 40%. Such a big discount for an amazing set of businesses is a quite good deal.
| | | |
| --- | --- | --- |
| | Price | EV |
| Google Services | 1107541 | 997754 |
| YouTube | 446155 | 464197 |
| Google Cloud | 363206 | 377892 |
| Other Bets | 4928 | 4632 |
| Sum | 1921830 | 1844475 |
| Current valuation | 1395460 | 1286210 |
| Upside | 37.7% | 43.4% |
Source: created by the author
The Bottom Line
Using the relative valuation, I estimated Alphabet's upside potential at the level of approximately 40%. The estimated target price is ~$2,800.
Currently, Alphabet makes most of the profit from advertising in its web services. YouTube and Google Cloud grow with higher rates, therefore their relative value might be higher than Alphabet's overall or its main ads business. Also, the company has a lot of other interesting and promising projects.
Why Google's set of businesses valued lower than the estimate? My answer is simple: most of the side businesses are unprofitable since they are at the stage of development (attributes of such projects are high growth rates and poor margins). Imagine that Alphabet creates independent companies for them, cuts costs (by reducing investment in growth), and initiates a possible IPO. Their value will skyrocket. And since growth is not limitless, Google will definitely have to make them profitable one day, which could be pretty soon for big projects.
Most of Alphabet's projects could be perfectly integrated into Google's ecosystem, therefore create very high value. Google is more than just a holding company and it doesn't deserve such a high discount.
This article was written by
"Courage taught me no matter how bad a crisis gets ... any sound investment will eventually pay off." — Carlos Slim said. Even though this statement may be true (history shows that in most cases it is so), I am focusing on investments, that will pay off soon. Therefore, most of my articles are about companies that can unlock great potential in the near future.I started investing while I was studying at the university. Since then I was interested in stocks' fundamental analysis and valuation. Having 4 years of experience in the stock market, I decided to share my unbiased view on the market. My area of interest is global companies with decent growth potential and good financial health. Also, I cover some Russian companies, that I personally find good for both domestic and foreign investors. Feel free to contact me via email: gleb.krvshv@gmail.com
Analyst's Disclosure: I/we have no positions in any stocks mentioned, and no plans to initiate any positions within the next 72 hours. I wrote this article myself, and it expresses my own opinions. I am not receiving compensation for it (other than from Seeking Alpha). I have no business relationship with any company whose stock is mentioned in this article.
Seeking Alpha's Disclosure: Past performance is no guarantee of future results. No recommendation or advice is being given as to whether any investment is suitable for a particular investor. Any views or opinions expressed above may not reflect those of Seeking Alpha as a whole. Seeking Alpha is not a licensed securities dealer, broker or US investment adviser or investment bank. Our analysts are third party authors that include both professional investors and individual investors who may not be licensed or certified by any institute or regulatory body.