Roses Are Red, Violets Are Blue, 1-800-Flowers May Be The Next Big Stock For You
1-800-Flowers.com, Inc. (NASDAQ:FLWS) has seen terrific growth due to the COVID-19 pandemic forcing many customers to order flowers from home rather than heading into stores to do their gift shopping. The company's diverse variety of brands (Figure 1) allows them to perform well beyond just the traditional holiday season unlocking deep value relative to their recent growth.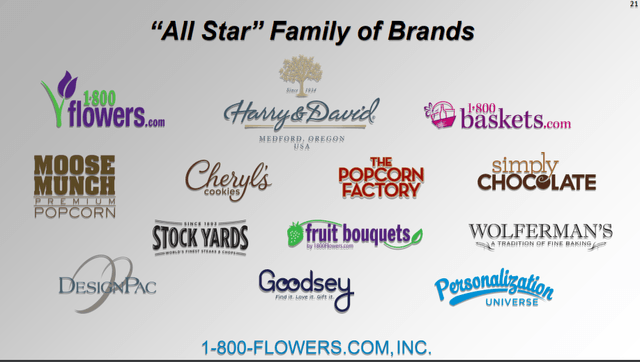 (Figure 1) 1-800-Flowers Has Some Well-Known Brands In Their Portfolio Such As Moose Munch And Harry & David
Investors are beginning to take notice, with the stock pushing to 52-week highs in January before pulling back to the upper $20 range. Wall Street Analysts are well behind FLWS as well giving the stock an average price target of just above $40, signaling nearly 55% upside at current prices. This is a very reachable number especially with the market's current obsession with heavily shorted stocks, as FLWS has an approximately 25% short interest. This being a potential catalyst along with strong growth and a moderate undervaluation in comparison to competitors are all indicators that 1-800-Flowers' stock could very well approach new 52-week highs in mid to late 2021, signaling a conservative 45% upside at current prices in our opinion along with low downside risk.
Valuation
Valuing FLWS can be a difficult task as there are almost no direct competitors/peers trading publicly within the e-commerce gift space. Therefore, one must look at both the holiday, brick & mortar retail companies as well as specialized e-commerce businesses to try to get an idea of a good valuation for 1-800-Flowers.com's stock. FLWS looks drastically undervalued as an e-commerce play trading at less than half the price of Groupon (GRPN) and Overstock.com (OSTK). The stock even appears undervalued when looking at the slower-growing Kirkland's (Figure 2) which is known for their holiday & décor selection and Stamps.com (STMP) which is also a specialized e-commerce name.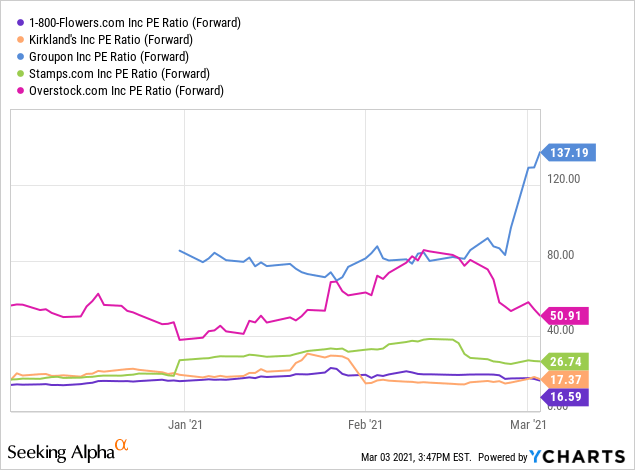 (Figure 2) 1-800-Flowers.com Trades At A Huge Discount To Other Specialized & Diversified E-commerce Businesses & Relatively Fairly Valued Compared To Slower Growing Brick & Mortar Peers
This undervaluation is likely the result of multiple earnings beats due to the coronavirus shutdowns acting as a catalyst for the online flower & gift delivery business. The market has not kept up with FLWS's earnings growth and likely expects this growth to falter when the nation begins to open back up. This is also likely the reason for a fairly high short interest (~25%) in the stock. Only time and forward projections can tell whether this potential pullback in growth will come true or whether FLWS will be able to hold onto these new customers that have come about in recent quarters.
Bouquets and holiday gifts will likely never go out of style and FLWS is a leader in this niche. Earnings next month should be strong yet again with shutdowns still present in many states over the Valentine's day season. Investors will need to watch forward-looking forecasts to get an idea of whether this undervaluation will continue. A P/E ratio of 25x is a much more reasonable value in our opinion in comparison to peers which would project around 45% upside from current prices.
Risks
1-800-Flowers' growth could potentially hurt the stock in the future as states reopen, expectations will remain high, despite potentially less demand for online gift & flower delivery. Customer loyalty will be an important metric to look at going forward to gauge this.
The company has a small amount of debt as well (~$170 million), but this should not be a huge issue with large increases in cash flows over the past year. There appears to be a pretty solid floor set around the lower $26, upper $25 range, so we believe there is very little long-term risk with this investment.
Investment Summary
1-800-Flowers presents one of the best risk-rewards in the market at the current valuation and growth rates in our opinion. A recent pullback due to macroeconomic headwinds opens up a nice buying opportunity for investors. Same day-delivery options are hard to beat, and if pandemic customers can be kept for future quarters, this could easily be an upper $30 stock, currently trading at just a $1.8 billion market cap despite having around $1.5 billion in 2020 revenues. Wall Street stands behind FLWS as well with multiple bullish ratings (Figure 3).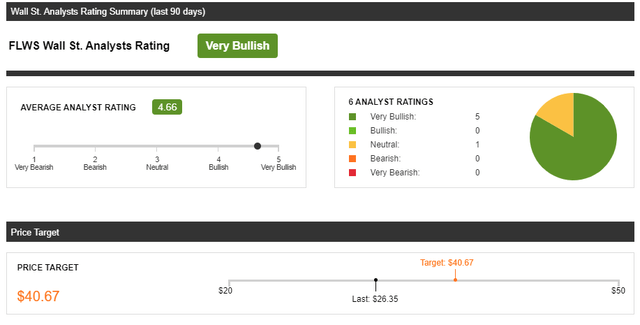 (Figure 3) Wall St. Analysts Signal 55% Upside For FLWS Stock
Brand acquisitions such as Shari's Berries in 2019 offer potential catalysts to maintain this growth and may become more common in the future with new cash reserves. 1-800-Flowers is a mature company being valued below faltering brick-and-mortar competitors so it is only a matter of time before the market picks up on this discrepancy.