Global Inflationary Pressures At Highest Since 2008
Summary
Global PMI signals fastest rise in firms costs for over 12 years as higher material prices are accompanied by record jump in service sector costs.
Charges for goods and services rise at steepest rate for over a decade, led by the US and Brazil.
Weak consumer services price inflation keeps lid on eurozone price pressures.
A key global gauge of companies' input cost inflation rose to its highest level for over 12 years in February, feeding through to the steepest increase in average selling prices for goods and services for over a decade.
Upward price pressures showed signs of spreading from basic manufacturing sectors through to consumer goods, autos and machinery makers, as well as through to services, hinting at broad-based inflationary pressures. However, trends varied by country: while the US and Brazil saw especially marked increases in price gauges, eurozone inflationary trends were dampened by falling prices for consumer services.
The input prices index from the JPMorgan Global Composite PMI, compiled by IHS Markit from its proprietary business surveys, rose to its highest since September 2008 in February, indicating the steepest rate of input cost inflation for just over 12 years. Costs have now risen globally over the past nine months, having fallen sharply in April and May as demand collapsed amid the initial lockdowns due to the coronavirus disease 2019 (COVID-19) pandemic, with the rate of increase gathering momentum markedly in recent months.
Manufacturers' costs rose especially sharply, increasing at a pace not seen since April 2011, but service sector costs also jumped higher, growing at the sharpest rate since September 2008.
While factories have reported higher costs due to rising commodity prices as demand revives and economies recover from lockdowns, often exacerbated by supply shortages and higher shipping costs, in the service sector higher purchased goods prices have been accompanied by widespread reports of increased PPE costs and rising wages, which have put additional pressure on companies' margins.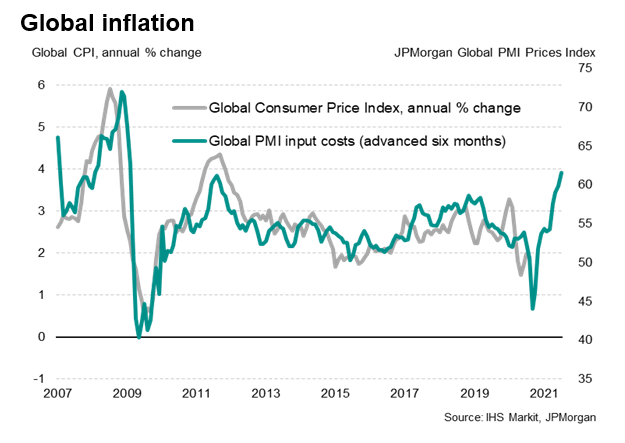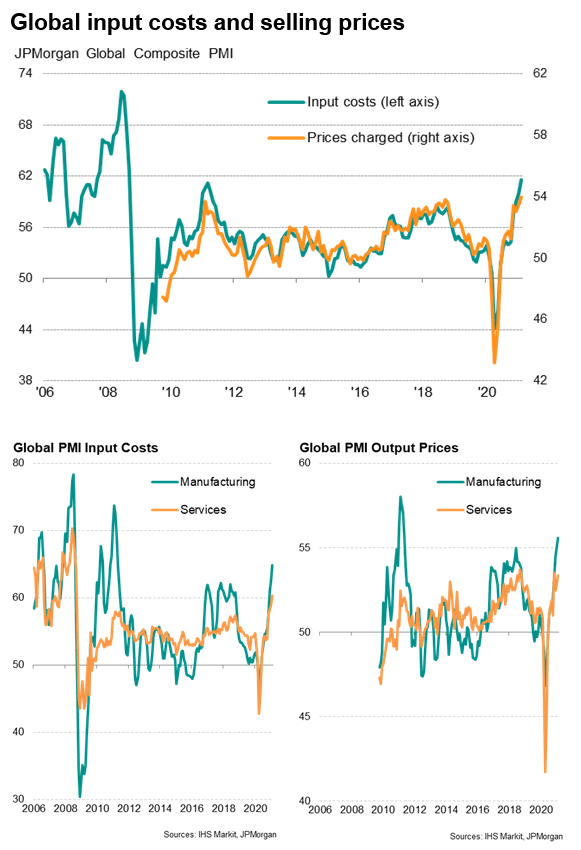 Hence, both sectors also saw average selling prices rise sharply in February. In manufacturing, prices charged for goods leaving the factory gate showed the steepest increase since May 2011, while average rates levied for services saw the second-quickest rise since October 2018, the latest increase beaten only slightly by that seen last November.
Brazil and US see steepest price pressures
Price trends varied markedly among the world's major economies, however, especially in the service sectors.
The steepest price increases were reported in Brazil, where average prices charged for goods and services rose at the steepest rate since the survey began in 2007, followed by the US, where the latest rise was exceeded only by the prior survey high seen last November. While Brazil registered the highest rate of manufacturing price inflation among the world's largest economies, the US reported the steepest service sector inflation.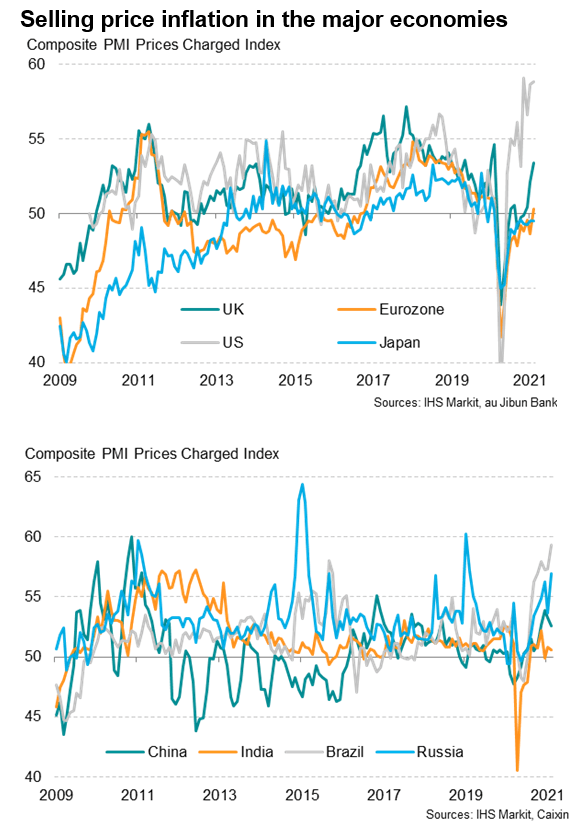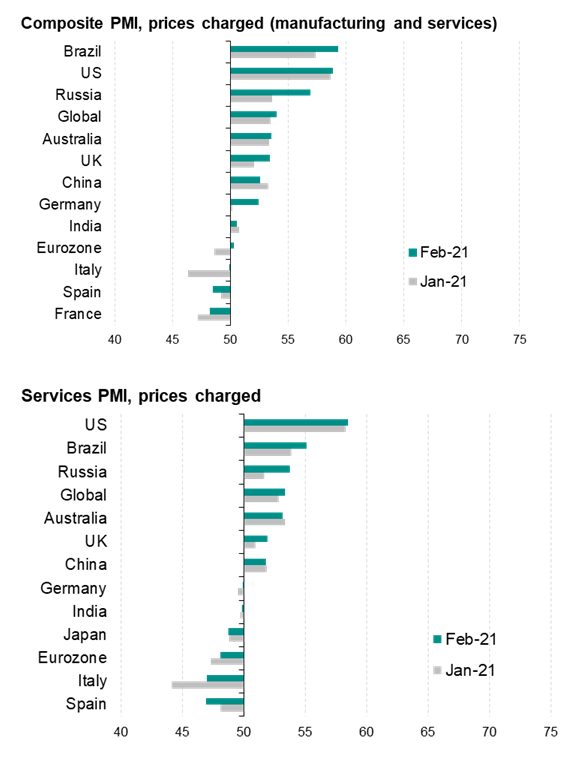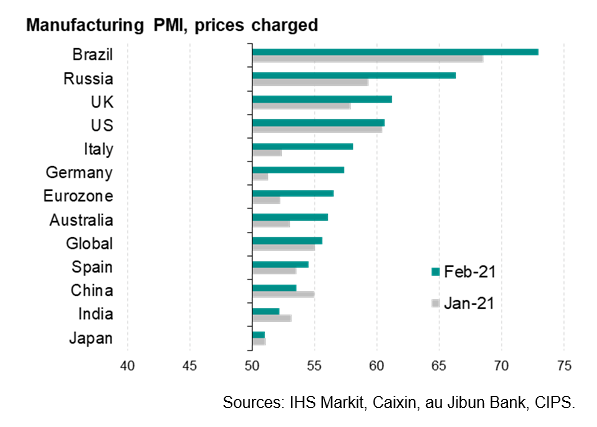 Selling price inflation in Russia meanwhile hit a two-year high, while 28-month and 12-month highs were reported in Australia and the UK, respectively. More moderate gains were seen in China, Germany and India, but output prices fell in France, Spain and - to a marginal extent - Italy, in all cases driven by lower service sector prices. In the eurozone as a whole, average prices charged for goods and services nonetheless rose for the first time since February 2020.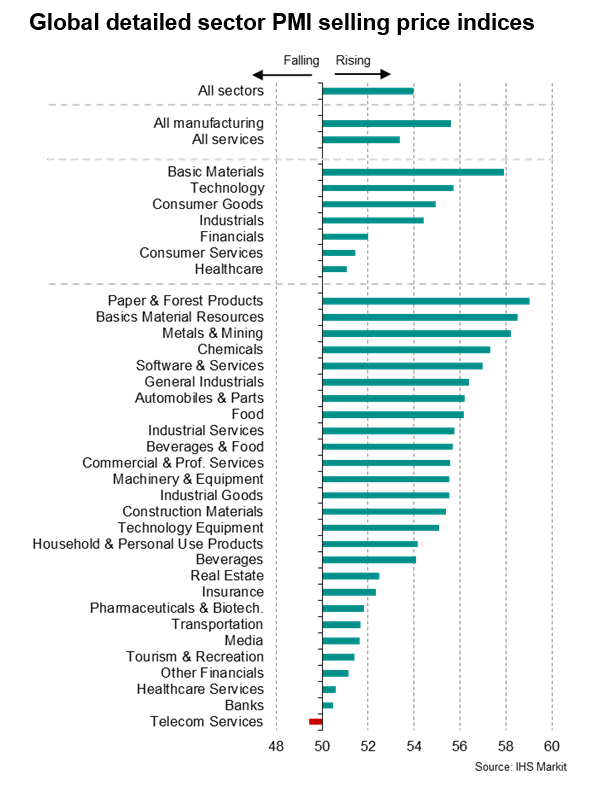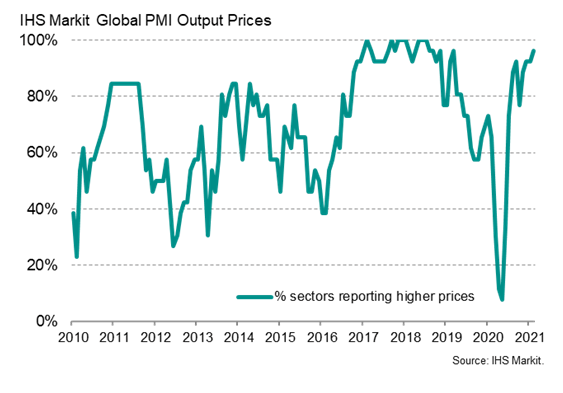 Price trends also varied markedly by sector, though only telecom service providers reported a fall in charges during February. With 96% of all 26 detailed PMI sectors reporting higher prices in February, inflationary pressures are more widespread than at any time since March 2019.
While the sectors reporting the steepest price increases tended to be focused on basic commodities, such as paper and timber products, basic resources, metals, mining and chemicals, the February survey brought further signs of these price increases feeding through to other sectors which tend to use these products as inputs. Most notably, autos and parts makers reported the joint-highest rate of output price increase since comparable global data were available in 2009. Similarly, selling price inflation for machinery and equipment and construction materials climbed close to survey highs during the month, and prices charged for consumer goods rose at the steepest rate since May 2011, led by a survey-record increase in the US. Food and drink prices also rose at the sharpest rate for nearly a decade.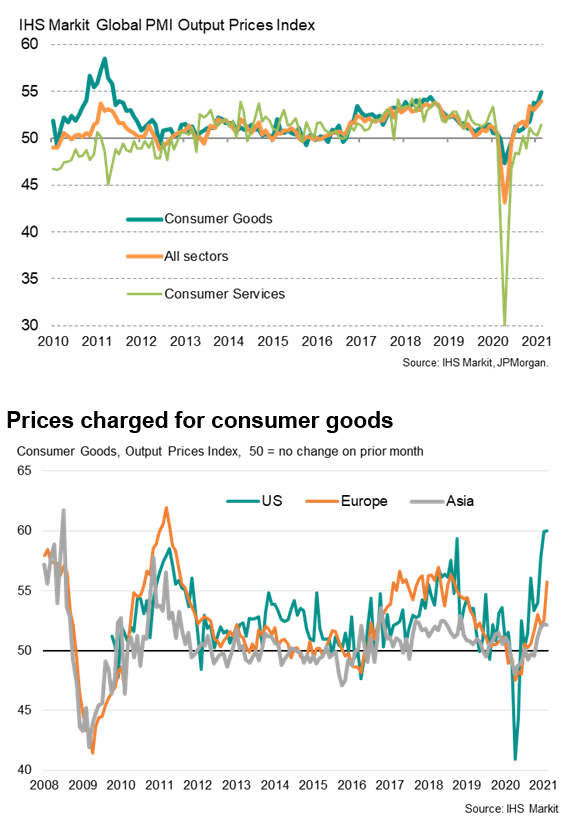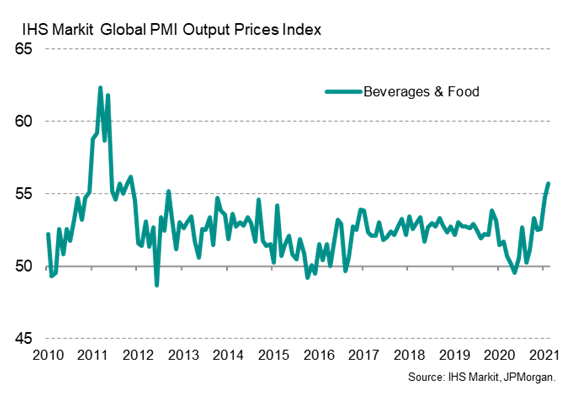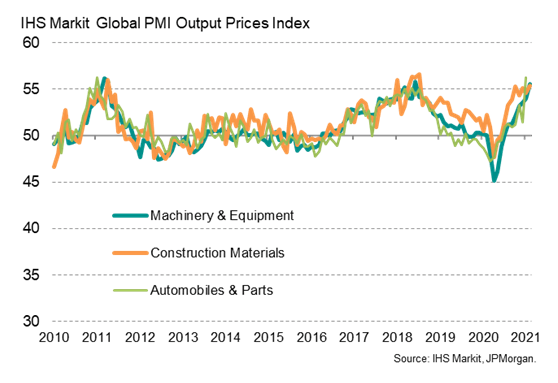 In contrast, charges for consumer services rose only modestly, reflecting weak demand for services such as tourism and recreation in particular, helping to keep a lid on inflationary pressures, notably in Europe and to a lesser extent Asia.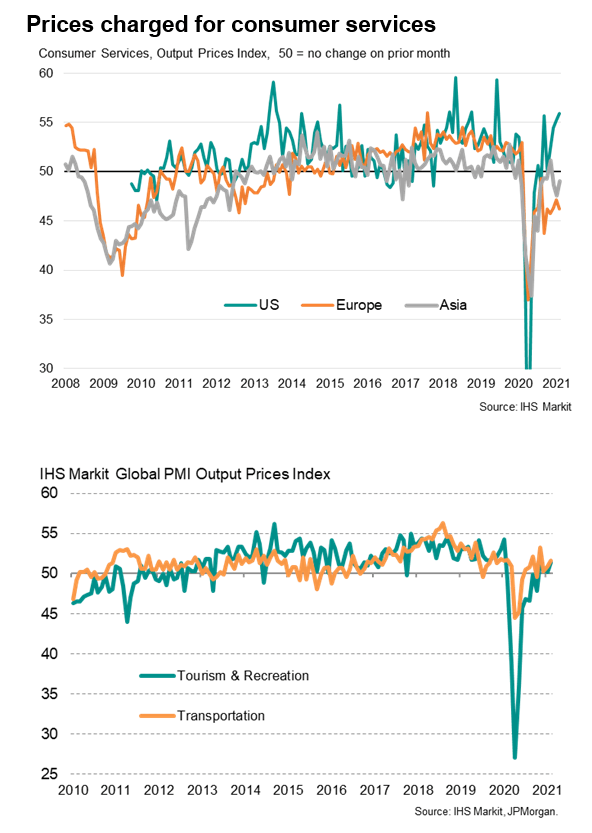 Feed-through to consumer prices
The degree to which higher prices charged by companies for goods and services feed through to consumer price inflation will depend on a number of factors. Most importantly, it will depend on the extent to which higher wholesale prices are soaked up by retailers, which could limit the pass-through of higher costs to the consumer. Nevertheless, the PMI indices tend to give a reliable guide to the amount of inflationary pressure in the economy, as illustrated by comparisons against annual rates of consumer price inflation. Especially high pressure on CPI is signalled in Brazil and the US, for example, while a more moderate increase is signalled for the UK, and only a modest uplift is indicated for the eurozone.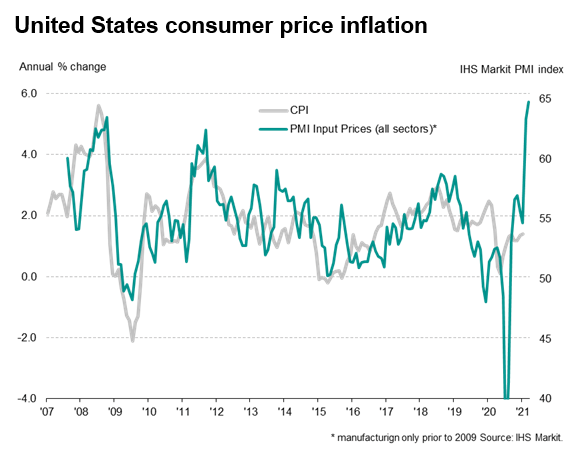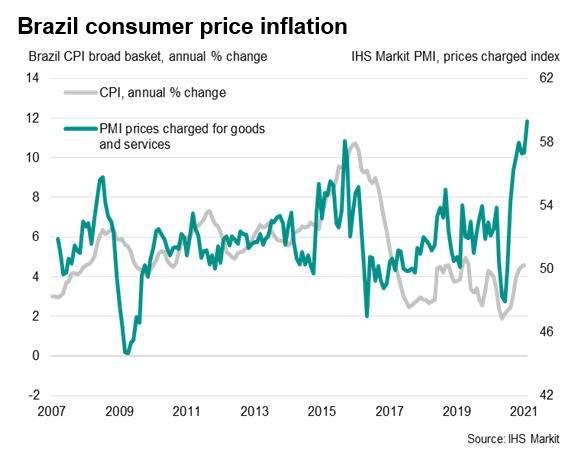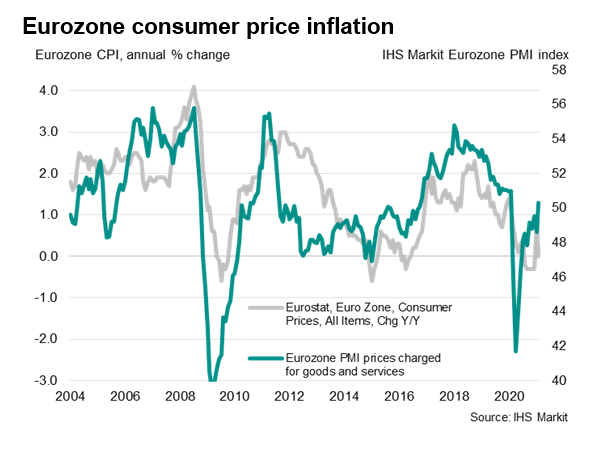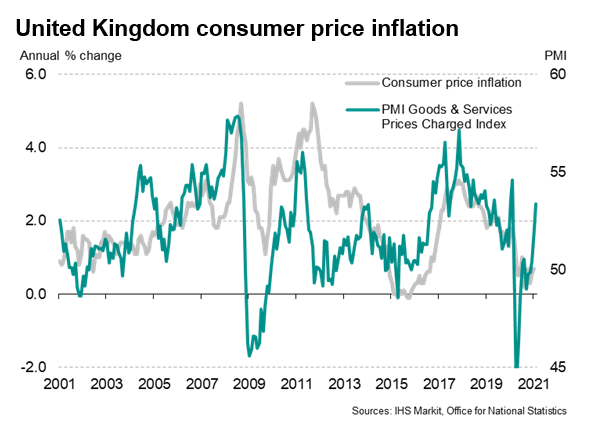 This article was written by
IHS Markit (Nasdaq: INFO) is a world leader in critical information, analytics and solutions for the major industries and markets that drive economies worldwide. The company delivers next-generation information, analytics and solutions to customers in business, finance and government, improving their operational efficiency and providing deep insights that lead to well-informed, confident decisions. IHS Markit has more than 50,000 key business and government customers, including 80 percent of the Fortune Global 500 and the world's leading financial institutions. Headquartered in London, IHS Markit is committed to sustainable, profitable growth.