KemPharm: A Biotech Short Squeeze, Reality To Set In When Momentum Dies Out
Summary
BiotechValley Insights is initiating coverage of KMPH with a "Bearish" rating.
Retail investors raided the short sellers and successfully created a short squeeze.
The approval of KP415 exhausts the company's largest catalyst, and I do not see any material new catalysts any time soon.
I think the momentum will die out when the expectations hit reality. At this point, KMPH is a viable short candidate.
I have doubts about KMPH's success during the commercialization stage.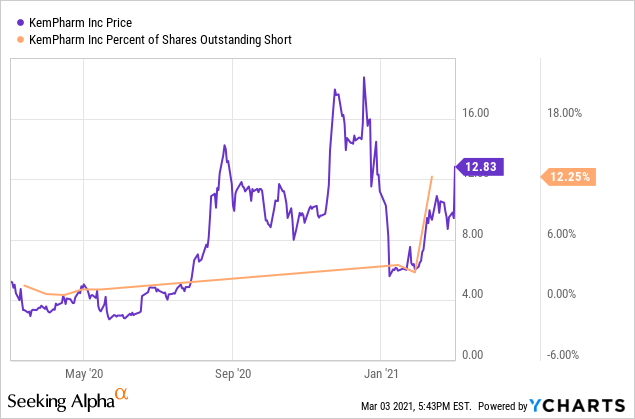 Source: YCharts
BiotechValley Insights is initiating coverage of KMPH with a "Bearish" rating.
KemPharm (KMPH) had a remarkable rally over the last few months. This was mostly driven by retail interest and Wallstreetbets raiders going after short-sellers. It is amusing to see many retail traders calling every stock a "short squeeze candidate" and pilling in and causing a massive rally. Sometimes they can be successful for a short period of time. However, the true fundamental value of the company prevails in the end.
The company successfully got their ADHD drug KP415 approved by the FDA today, and the speculators made handsome returns this morning. KMPH surrendered 30% of morning gains around lunchtime as many investors took profit. In this article, I will explore what I am going to do next and why.
Company Background
KemPharm is a US-based small-cap biotech company with a market cap of ~USD$200M. The company is developing several clinical assets targeting ADHD, stimulant use disorder (SUD), and idiopathic hypersomnia.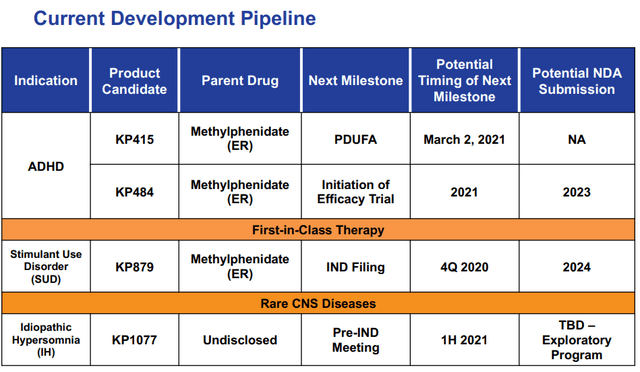 Source: Company IR Presentation
KemPharm's most advanced asset is KP415, which received the FDA's stamp of approval for ADHD yesterday. In my view, KP415 drives 95% of the value of the company, and I don't see the company having other material catalysts anytime soon. So the million-dollar question is, who is driving the momentum and what is the true fundamental of the company.

Source: Seeking Alpha Ownership Database
Another interesting fact that I have noticed is that 89% of the float is driven by retail investors.

Source: Fintel 13f database
According to Fintel, many institutional investors cashed out during January's monster rally. This indicates that many retail investors with a short-term view have piled into this ticker during the last few weeks. Based on my observation, retail-driven momentum rallies are usually short-lived. Now, the next area to explore is the company's true fundamental, KP415's commercial success, and its future cashflow.
Commercial Success?
In order to predict the company's commercial success, we need to compare the clinical candidate's efficacy, safety, convenience, and price to the standard-of-care drugs. For ADHD, the standard of care drug is Concerta, which is the first methylphenidate product that can be used as a yardstick against which KP415 is measured.
Phase 3 clinical trial - Efficacy data showed marginal benefit

Source: Table created by the Author based on Data Presented during company IR Presentation and 2020 Earning Calls
The first thing to look at is the trial design. I think the trial was well-structured with a decent patient size; 150 patients were actually enrolled. The trial was a multicenter, randomized, parallel, double-blind, placebo-controlled analog laboratory classroom clinical trial in 150 children aged 6-12 years old with a diagnosis of ADHD. The trial was conducted to assess the efficacy and safety of KP415.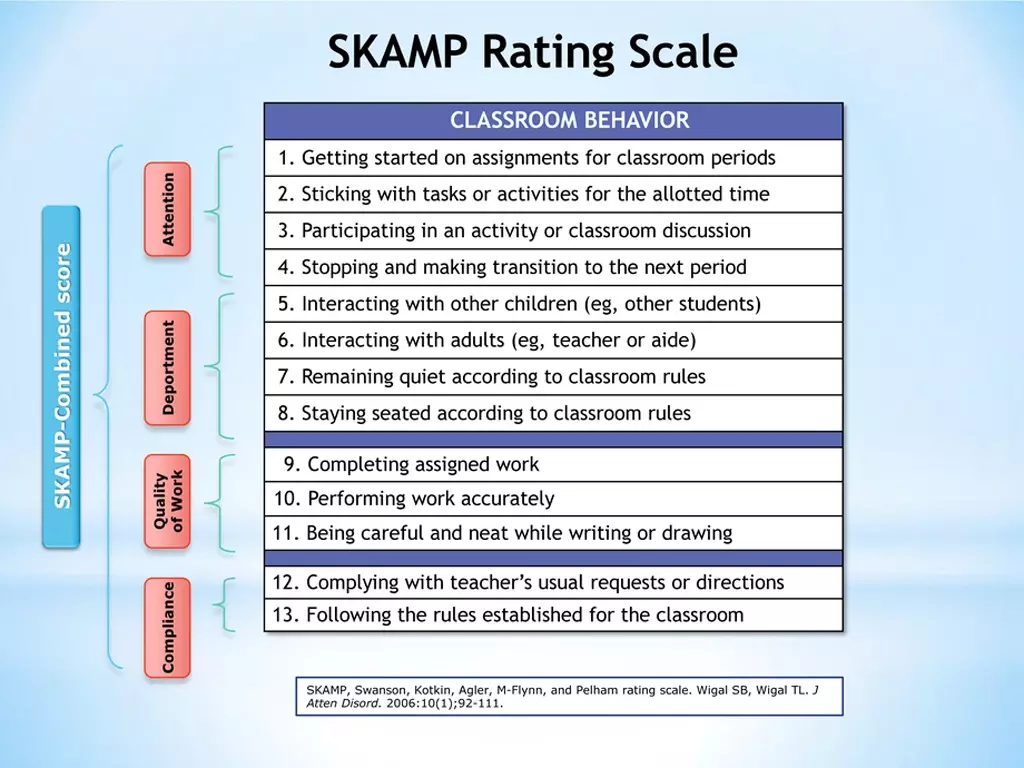 Source: Company Presentation
Like other standards-of-care drugs, the efficacy evaluation was based on SKAMP and PERMP scores pre-dose, and at 0.5, 1, 2, 4, 8, 10, 12, and 13 hours post-dose during a full laboratory classroom day at Visit 6 (at the end of the seven-day treatment period). The baseline SKAMP score was measured pre-dose at Visit 5, immediately prior to randomization and the first dose in the seven-day treatment period. This was due to potential concerns of carryover of methylphenidate into the Visit 6 classroom day that could have disadvantaged KP415.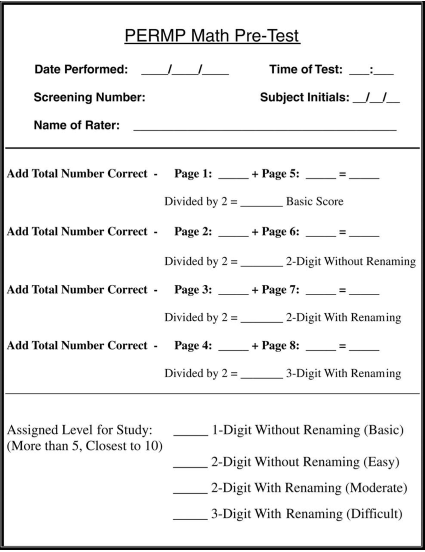 Source: PERMP - Research Gate
The post-hoc analysis was conducted using the baseline SKAMP scores measured at pre-dose Visit 6. The SKAMP is a validated rating of classroom behaviors in children with ADHD. The PERMP is an adjusted math test designed to assess attention in children with ADHD through a subject's ability to initiate, self-monitor, and complete the test.
In my opinion, the data that KP415 generated was mediocre. The incremental benefit was not impressive enough to differentiate amongst cheap generic stimulants currently dominating the market. The ~5 points improvement in the SKAMP rating scale over placebo is directly comparable to the data that Concerta produced in this population. I believe KP415's commercial success will be dependent on KemPharm and the commercial partner's ability to market the drug against generic competitors.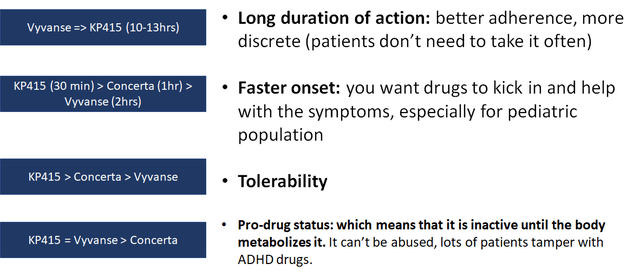 Source: Summary table created by the author based on KMPH IR presentation
One may argue that KP415 has produced superior PK data that offers a leg up on Concerta and other rivals; however, I don't think the mixed IR/ER pharmacokinetic profile will provide a meaningful enough differentiation from Concerta to justify a higher price tag.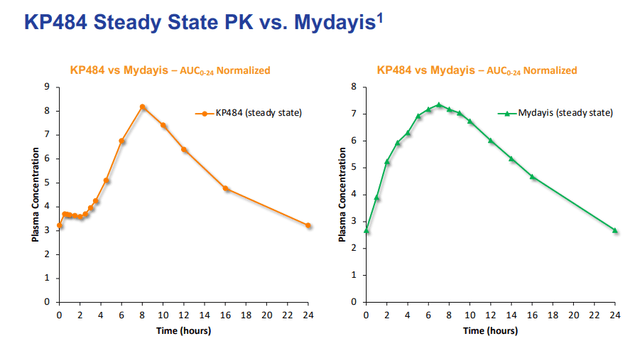 Source: Company IR Presentation

Source: Comparison table created by the author based on the FDA label and company IR presentation
The data from the IR slides showed that the treatment effect was significant through 10 hours in the prespecified analysis, although the company is claiming a 13-hour duration and efficacy within 30 minutes. Concerta is designed to have a 12-hour duration, with maximum methylphenidate concentrations achieved within the first hour.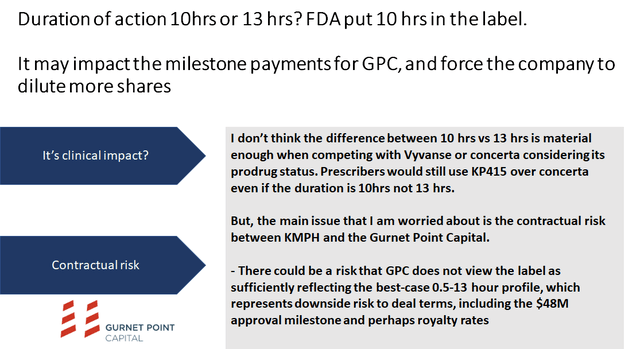 Source: Table created by the author based on IR presentation & SEC 10k
This is not a clinically material difference to most patients. Investment bankers with ADHD working 100 hour weeks might be in need of the higher 1-hour duration and faster response, but I don't see the appeal for 6-12-year-old children.
Safety Data Looks Slightly Better
The KP415's side-effect profile was slightly better than Concerta. However, this is not a groundbreaking improvement.
| | |
| --- | --- |
| KP415 | Concerta |
| Adverse events (>2%) more frequent in the KP415 vs. Placebo group were headache (5.4% vs. 1.3%), abdominal pain upper (4.1% vs. 1.3%), insomnia (2.7% vs. 1.3%), and pharyngitis (2.7% vs. 0%). No serious AEs were reported. | Reported Concerta side effects include headache (14% of users), upper respiratory tract infection (8%), stomachache (7%), vomiting (4%), loss of appetite (4%), sleeplessness (4%), increased cough (4%), sore throat (4%), sinusitis (3%), and dizziness (2%). |
Source: Data from KMPH IR Presentation and product monograph of Concerta
The Current Market Dynamics Are Highly Competitive
Source: chart created by the author based on ADHD guidelines (RxTx) and up-to-date clinical guidelines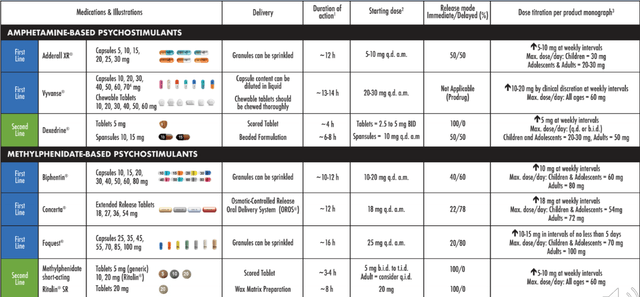 Source: CADDRA Drug Table
As shown on the chart above, many stimulants are fiercely competing with each other to capture a small pie of the market. The only differentiation that these agents have on each other is a variation in duration, dosage forms, dosing, and pricing.
Considering this, it is hard to imagine anything more boring than another methylphenidate in a world of generic Concerta and Biphentin. It is like Toyota making a 2008 version of Camry with a $30k price tag just because they added a new iPhone charger and a fancy touch screen.
Source: BioMedtracker - Concerta Revenue
Conclusion: Short the Launch
As mentioned above, KP415 has few advantages (safety, onset of action, duration of action, and pro-drug formulation) over SOC methylphenidates and amphetamines. However, launching is a completely different ballgame with clinical development and getting the drug approved by the FDA. Many retail investors who correctly judged the FDA approval may not correctly judge KP484's commercial success and the amount of sales/royalty revenue that will actually flow into KMPH. I view the ADHD market to be a battle that goliath can actually win. I believe expectations will hit reality very soon, and that KMPH stock will start heading south when the momentum dies out.
This article was written by
We publish unbiased long/short trade ideas. Please follow our Twitter page: https://twitter.com/biotechvalley_i
Analyst's Disclosure: I/we have no positions in any stocks mentioned, and no plans to initiate any positions within the next 72 hours. I wrote this article myself, and it expresses my own opinions. I am not receiving compensation for it (other than from Seeking Alpha). I have no business relationship with any company whose stock is mentioned in this article.

Biotechvalley Insights is not a registered investment advisor. The Content is for informational purposes only, you should not construe any such information or other material as legal, tax, investment, financial, or other advice. Nothing contained on our Site constitutes a solicitation, recommendation, endorsement, or offer by Biotechvalley Insights or any third party service provider to buy or sell any securities or other financial instruments in this or in any other jurisdiction in which such solicitation or offer would be unlawful under the securities laws of such jurisdiction.
Seeking Alpha's Disclosure: Past performance is no guarantee of future results. No recommendation or advice is being given as to whether any investment is suitable for a particular investor. Any views or opinions expressed above may not reflect those of Seeking Alpha as a whole. Seeking Alpha is not a licensed securities dealer, broker or US investment adviser or investment bank. Our analysts are third party authors that include both professional investors and individual investors who may not be licensed or certified by any institute or regulatory body.