A few days back, an interesting debate took place over whether investing in Coca-Cola (KO) or gold was a better long-term investment. Jim Grant made the point that gold had been the better investment since 1996, against an argument by Warren Buffett. Grant suggested that Coca-Cola was now the better option.
That comment just about shocked me as he pointed out that it has a current PE of 19. Slow growing Coca-Cola with a $160B market cap is a value?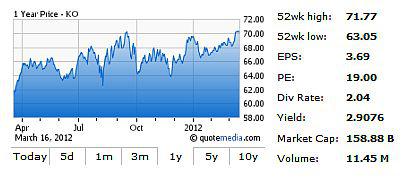 Looking more into Coca-Cola, it trades at a forward PE of 15.7 with a 5 year growth rate of only 6.4%. The PEG ratio hits an extremely high 2.7. This leaves me still wondering where Grant sees the valuation.
The concept of investing in Coca-Cola is that with a 2.9% dividend yield, the stock provides a better yield than the 10-Yr Treasury, which currently trades around 2.3%. This is an appealing concept to many, but one needs to take into account the risk inherent in a high PEG ratio investment.
A few months back, I wrote about Kraft Foods (KFT) and how investors were too focused on the dividend yield and not the complete valuation proposition. Since that article on January 19th, Kraft Foods is slightly down ($38.7 closing price versus $38.38 closing on Friday) while the S&P 500 is up 6.8% (1,315 closing price versus 1,404 on Friday). That dividend yield is nice, but the valuation could hold back any capital appreciation for years. Why not go for the best investment option instead of the best of the worst? Right now any low yielding investment is not a good option.
So back to the Coca-Cola debate, not only is the forward PE nearly 16, but the company only has an expected 5 year growth rate of 6.4%. Hardly that attractive for a PE above the market average around 13-14.
Investors need to understand that the dividend is an arbitrary decision by the Board of Directors on how much of earnings to return to shareholders.
So in the case of Coca-Cola, the company will earn $4.08 this year that it can pay to shareholders and it's growing by 6.4% each year. The company has a payout ratio of 50%, meaning the dividend could technically be much lower or higher. Would that make the stock better and worse?
It shouldn't, as what really matters is that an investor is paying 16x 2013 earnings for a very slow growing stock. That is a hefty price to pay. Not only are investors taking on the risk of a market collapse leading to substantial capital losses, but investors are pricing themselves into limited ability for price appreciation. Note that a 20% gain would send the forward PE to nearly 19 while reducing the dividend to roughly 2.3%.
At that point, surely the 10 year Treasury would yield more than Coca-Cola, making it a better and safer bet. That would cap the upside similar to the downside risk. Those aren't attractive odds.
On the opposite end of the scale are the fast growing beverage companies of Monster Beverage (MNST) and SodaStream (SODA) trading at lower PEG ratios than Coca-Cola and fellow beverage maker Pepsico (PEP).
Both Monster and SodaStream have earnings growth rates more than double that of the mega cap beverage makers, yet the two stocks trade at much lower multiples.
Historically, the fast growing companies trade at substantially higher multiples to value stocks. Sure, in some cases growth companies have a difficult time obtaining a high multiple as investors fear that competition (such as the two mega caps in this scenario) will eventually crush the smaller entrants.
Oddly though, this usually occurs when analysts begin questioning the companies model and growth targets. Now however, very little of that exists. The growth rates are set, but investors just appear to favor dividend stocks after the decade of market crashes. It is very possible that money will start rotating into the growth stocks, leaving companies like Coca-Cola trading sideways to down, similar to what Kraft has done lately.
The figure below highlights the compelling growth rates and valuations of the smaller beverage producers.
Figure 1 - Beverage Company Growth Rates
Stock
Dividend Yield
(%)
5 Yr Growth
(%)
Forward
PE
PEG
Ratio
Coca-Cola
2.9
6.4
15.7
2.7
Pepsico
3.2
6.2
14.5
2.6
Monster Beverage
0.0
15.0
26.1
2.1
SodaStream
0.0
30.0
13.4
0.6
Take advantage of this rare situation to buy growth at a reasonable price. This usually only occurs during panics, making this a rare occasion. Ultimate valuation will matter.
Disclosure: I am long SODA.
Disclaimer: All data sourced from Yahoo! Finance. Please consult your financial advisor before making any investment decisions.