Why Tech Stocks Have Further To Drop
Summary
Tech stocks have dropped recently, but they remain extremely expensive.
Interest rates are back on the rise and the pandemic is coming to an end. Both are serious headwinds for tech stocks.
Other sectors present better value and the opportunity cost of investing in tech stocks is on the rise.
Looking for a portfolio of ideas like this one? Members of High Yield Investor get exclusive access to our model portfolio. Learn More »
Lately, Tech stocks have taken a beating.
Amazon (AMZN) is down 10%...
Apple (AAPL) is down 12%...
Zoom (ZM) is down 16%...
Tesla (TSLA) is down 28% (!!!)
And The ARK Innovation ETF (ARKK), which invests heavily in all the hot tech stocks, is down by 18%.
Is this pullback the long-awaited opportunity to buy tech stocks?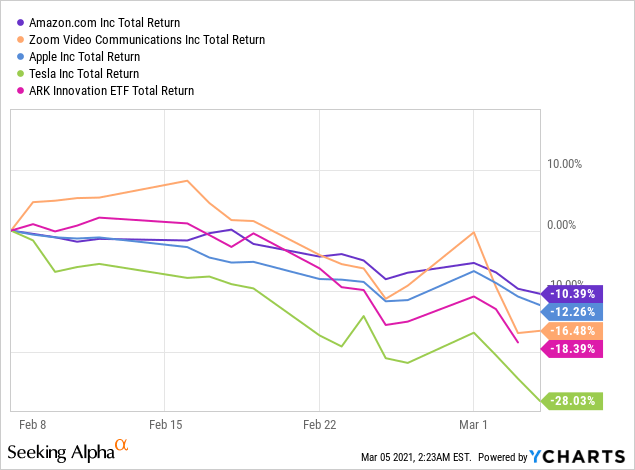 From the title of this article, you probably already know our thoughts on that.
We think that tech stocks have further to drop and this recent correction could be just the beginning.
While it's impossible to know how the market will behave in the short run, we don't like the risk-to-reward of tech stocks even at these lower prices.
Here are five reasons why:
Reason #1: The Recent Drop is Just the Tip of the Iceberg
Just because something has dropped recently does not make it a bargain.
Even after the recent sell-off, most tech stocks are up by a very large amount.
As an example, the ARK Innovation ETF is still up by over 100% over the past year: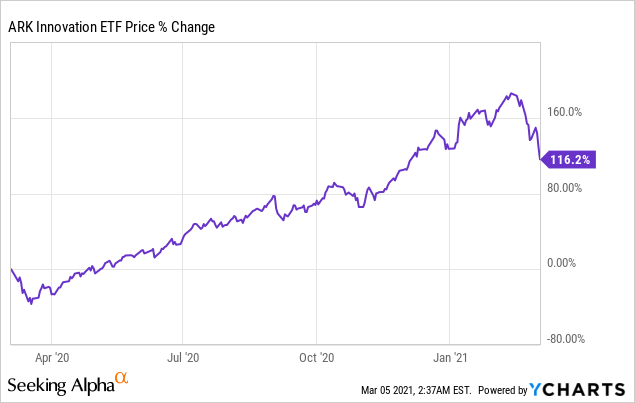 So the bigger picture remains the same:
Tech stocks are still trading at extremely high valuations, and the recent sell-off doesn't change that.
Paying 50-100x earnings for something after it's already up by a significant amount is not what we would call a buying opportunity.
As interest rates continue to rise, it's normal for these nose-bleed valuations to revert closer to where they used to be. In fact, the recent drop could very well be just the beginning.
Reason #2: High Sensitivity to Interest Rates
All it took for valuations to start dropping is a small surge in Treasury rates. The market is essentially telling us that 1.5% is too much to sustain these extreme valuations in the tech sector.
But what if the 1.5% keeps on rising and turns into 3%? That's where rates were prior to the pandemic: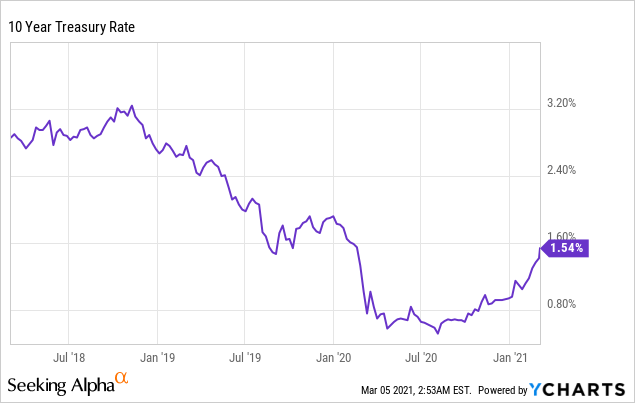 The tech sector has become very sensitive to interest rates because valuations are extremely high and the expected cash flow is far into the future (which makes them similar to long-dated bonds).
If a 0.7% rise in treasury rates was enough to cause popular tech stocks to drop by ~20%, what would a 1.5% rise cause to them?
They would likely collapse much closer to where they were prior to the pandemic when the treasury rates were 2x higher.
We are not able to predict treasury rates and this high sensitivity makes us uncomfortable. There is no margin of safety.
Reason #3: Growth Tailwind Turning into Growth Headwind
Tech stocks benefited significantly from the pandemic.
People were locked inside and businesses had to learn how to work remotely.
As a result, the sales of major tech solutions exploded.
Think about Slack (WORK) subscriptions, Netflix (NFLX) accounts, Facebook (FB) ad spending, Amazon (AMZN) orders, etc.
When people are locked inside their homes, they need more technology to get by, and these companies profited.
But now the pandemic is coming to an end and the world is slowly returning back to normal.
This means that some of the growth that happened in the tech sector will revert back to traditional sectors.
To give you a simple example: I had a Netflix account during most of 2020, but don't find the time to use it anymore. I rather spend time outside and so I end up canceling my account. I am sure that I am not alone in this situation.
The same applies to a lot of other tech companies.
Simon Property Group (SPG) recently noted that its malls are back to ~90% of pre-crisis sales within weeks of reopening. During the heights of the pandemic, most of these sales would have occurred online. Now they are reverting back to brick-and-mortar retail.
To be clear, not all the growth will revert back. Some of it will be permanent gains. But not all of it, and that's why the tailwind is tuning into a headwind.
Reason #4: Vaccinations are Accelerating The Return to Normal
Most sectors benefit from the vaccine because it accelerates the return to normal. The good news is that by now, 16% of the total US population has already received the vaccine and we are currently administering over 2 million shots a day.
At this pace, most people will be vaccinated within a few months from now. This also means that more people will be returning to office buildings, spend time outside, socialize... put simply, go back to their previous lives.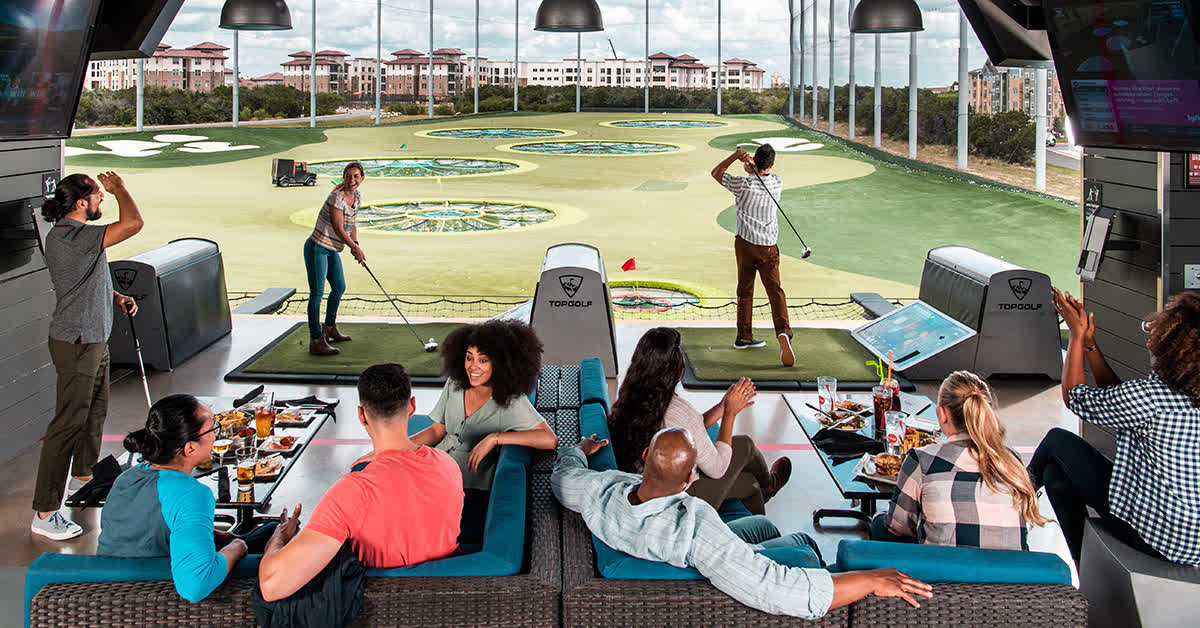 In that sense, the acceleration in vaccine distribution is actually bad news for tech stocks. The faster people can return to their previous habits, the greater the headwind for tech stocks.
The pandemic trade could be coming to an end already by the Summer, and it is not yet reflected in valuations, which remain much higher than they were prior to the pandemic.
Reason #5: Other Sectors Offer Better Risk-to-Reward
Finally, and perhaps most importantly, everything is relative in finance.
Tech stocks are only attractive if the rest of the market is less attractive.
Right now, the opposite is true.
Many market sectors are still beaten-down and trade at historically low valuations even as we approach the end of the pandemic.
MLPs (AMLP) are a great example of that. They are up substantially over the past month, and we believe that they will continue to rise as we recover from this pandemic: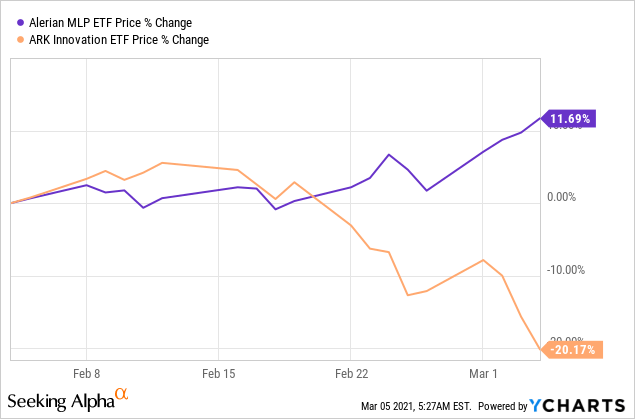 We much rather invest in sectors that are discounted and enjoy a tailwind rather than expensive tech stocks which face a clear headwind going forward.
Every investment has opportunity costs, and right now, the opportunity cost of investing in tech stocks is becoming increasingly large relative to other sectors.
The sentiment for tech stocks is slowly fading, all while the sentiment for other sectors is improving. The shift in market narrative will only accelerate as we put this crisis behind.
Bottom Line
Now probably isn't a good time to invest in tech stocks. Yes, they are down a bit, but that does not make them attractive.
Valuations remain historically high even as we approach the end of the pandemic, which will hurt many tech companies that benefited from it. Adding fuel to the fire, interest rates are back on the rise, and at these valuations, there is no margin of safety.
At High Yield Investor, we find much better value in traditional sectors such as MLPs, REITs, and utilities which remain deeply discounted. That's where most of our capital is going at this time.
What Are We Buying?
We are sharing all our Top Ideas with the members of High Yield Investor. And you can get access to all of them for free with our 2-week free trial! We are the the fastest-growing high yield-seeking investment service on Seeking Alpha with over 600 members on board and a perfect 5-star rating!

You will get instant access to all our Top Picks, 2 Model Portfolios, Course to High Yield investing, Tracking tools, and much more.
We are offering a Limited-Time 28% discount for new members!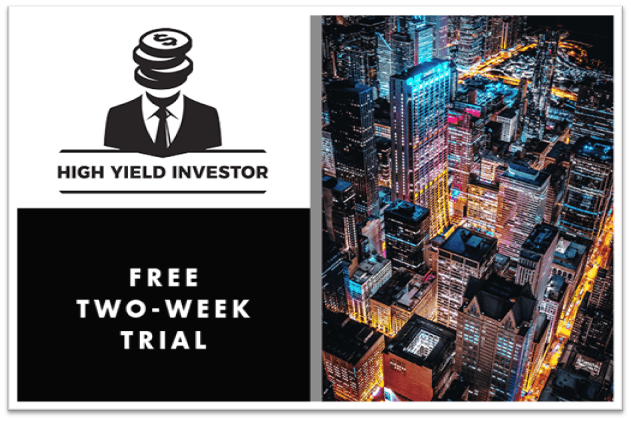 This article was written by
Become a "High Yield Investor" with our 8% Yielding Portfolio.
High Yield Investor
is a leading community of income investors that is supported by
Leonberg Capital
, a high yield specialist with over 2,500 clients, including hedge funds, private equity firms, family offices, and high net worth individuals. We spend 1000s of hours and over $100,000 per year researching the market and share the results with you at a tiny fraction of the cost. Joining our community will help you identify the most profitable opportunities BEFORE the end of the pandemic changes the entire dividend stock landscape and allow you to earn a sustainable 6-8% dividend yield that grows over time.
Click here to learn more!
Analyst's Disclosure: I/we have no positions in any stocks mentioned, and no plans to initiate any positions within the next 72 hours. I wrote this article myself, and it expresses my own opinions. I am not receiving compensation for it (other than from Seeking Alpha). I have no business relationship with any company whose stock is mentioned in this article.
Seeking Alpha's Disclosure: Past performance is no guarantee of future results. No recommendation or advice is being given as to whether any investment is suitable for a particular investor. Any views or opinions expressed above may not reflect those of Seeking Alpha as a whole. Seeking Alpha is not a licensed securities dealer, broker or US investment adviser or investment bank. Our analysts are third party authors that include both professional investors and individual investors who may not be licensed or certified by any institute or regulatory body.