Humanigen COVID-19 Lenzilumab Trial Is Designed For Success, Data In March
Summary
Humanigen will release P3 clinical data for Lenzilumab in COVID-19 in late March.
We believe that based on the pathophysiology, existing clinical data with GM-CSF blockage and the trial design, the study is more likely to be a success than not.
In case of a positive trial readout, the stock could appreciate very substantially (potentially >500%).
Please be mindful of the risk ahead of this binary. We believe that the stock could decline as much as 80% if the trial fails.
We think Humanigen (OTC:HGEN) stock ($15/sh; $820MM market cap) is a buy ahead of its phase three clinical trial of lenzilumab in COVID-19-associated respiratory distress in late March. Lenzilumab is an anti-GM-CSF monoclonal antibody with low picomolar affinity. Multiple lines of evidence suggest GM-CSF blockade (achieved with lenzilumab) improves survival outcomes in critically-ill COVID-19 patients. Specifically:
GM-CSF is the catalyst for a cytokine storm positive feedback loop
GM-CSF blockade inhibits macrophage migration/activation which prevents further inflammation
Existing clinical data show GM-CSF blockade improves ventilator-free survival
A peer-reviewed, double-blinded study with a related antibody (mavrilimumab) has already shown GM-CSF blockade improves ventilation-free survival in COVID-19 (published in Lancet).
An open-label lenzilumab trial suggests >90% ventilator-free survival at day 14.
Interim analysis of Humanigen's lenzilumab trial showed 37% improvement vs SoC in a related metric (time-to-recovery).
Humanigen's trial is enrolling the patient population that receives greatest benefit from GM-CSF blockade
Elderly patients are at greatest risk of ventilation/death
45% of participants in Humanigen's lenzilumab trial are elderly patients
GSK's recent study with a related antibody (otilimab) recently showed a treatment difference of 19% in freedom from respiratory failure in elderly patients (22% of GSK trial population)
Lenzilumab dose is 20x greater in HGEN COVID-19 trial than otilimab dose in GSK COVID-19 trial
What follows is a detailed scientific explanation of the facts above. The reader can skip to the conclusion without loss of continuity.
GM-CSF blockade and hyperinflammation
Granulocyte macrophage colony-stimulating factor (GM-CSF) is an inflammatory signaling protein that plays a key role in host defense to viral infection. Alveolar epithelial cells secrete GM-CSF in response to viral infection. GM-CSF acts both locally to stimulate mature myeloid cells (macrophages, neutrophils, etc.) as well as systemically to mobilize immature myeloid cells. The protein binds its cognate receptor (GM-CSF-R) and signals via JAK2-STAT3/5 to activate genes involved in acute phase response. This response involves secretion of additional cytokines to recruit neutrophils and other immune cells which, in turn, produce additional GM-CSF creating a positive feedback loop favoring tissue inflammation. This hyperinflammatory state is a hallmark of COVID-19-associated respiratory distress.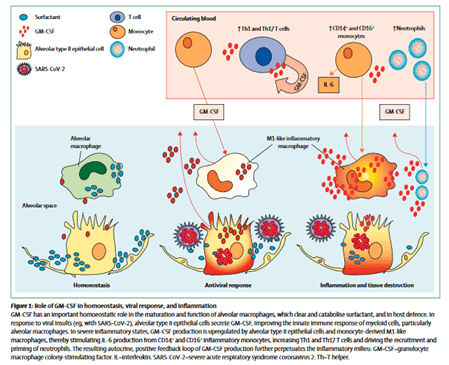 Lenzilumab is one of several antibodies in development to block the interaction between GM-CSF and its receptor GM-CSFR. Similar to immuno-oncology blockade strategies, some antibodies in development target the ligand (lenzilumab, otilimab, namilumab, gimsilumab, TJ003234) while others target the receptor (mavrilimumab). The end consequence is blockade of the interaction between receptor and ligand, which short-circuits the cascade causing hyperinflammation in COVID-19-associated respiratory distress.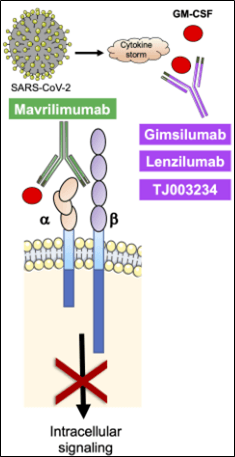 Lenzilumab Phase 3 trial
HGEN is conducting a double-blind, placebo-controlled trial evaluating the addition of lenzilumab to standard of care in ~515 hospitalized patients with COVID-19 pneumonia (NCT04351152). The trial design is described graphically below: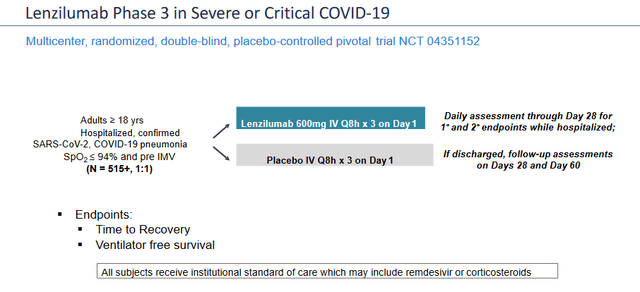 Importantly the primary endpoint of the trial is ventilator-free survival over 28 days post-enrollment. Early clinical trials evaluating therapeutic treatments for COVID-19 recovery have explored a diverse array of endpoints. HGEN management astutely observed the most dramatic effects of GM-CSF blockade in these trials manifested in ventilator-free survival (VFS) and recently prioritized VFS as the primary endpoint of its own trial. VFS is defined as the time-to-event of either mechanical ventilation or death.
Existing clinical data
Lenzilumab's mechanism of action has already been de-risked to some degree in COVID-19-associated respiratory distress by clinical trials conducted with other GM-CSF blockade antibodies. These trials used different primary endpoints but still present data on the endpoint important for HGEN, ventilator-free survival. The Kaplan-Meier plot below (Figure 2, panel B; published in Lancet Rheumatology) shows a dramatic effect of GM-CSF blockade on ventilator-free survival compared with control subjects. Mavrilumab blocks GM-CSF signaling by binding the GM-CSFR receptor. Importantly the treatment effect is so pronounced that a log-rank test of the Kaplan-Meier curve nears statistical significance with only 29 patients. HGEN has enrolled approximately 515 patients in its trial.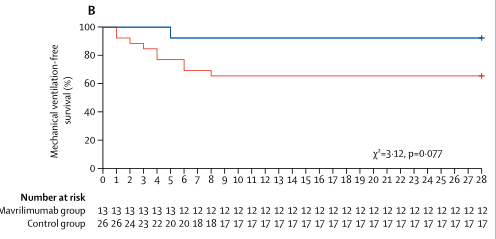 Similarly, an open-label study of lenzilumab has already shown similar therapeutics effects in an open-label study published in Mayo Clinic Proceedings. As depicted in the Kaplan Meier plot below, 90% of patients treated with lenzilumab survived without ventilation while control patient outcomes closely mirror the control group of the mavrilimumab trial.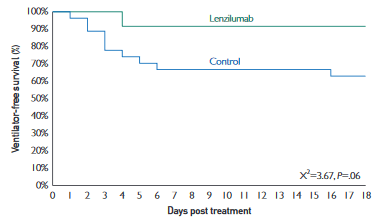 An interim analysis of Humanigen's randomized trial (NCT04351152) has already shown dramatic efficacy in time-to-recovery from COVID-19-associated respiratory distress. The DSMB conducted the analysis and their report to Humanigen implies a 37% increase in recovery rate at Day 28 with lenzilumab vs. standard of care. In this analysis recovery was defined as either hospital discharge or hospitalized without requiring supplemental oxygen.
HGEN patient population is the key to a successful trial (lessons from GSK and INCY trials)
The most salient risk factor for poor outcomes in COVID-19-associated respiratory distress is age. Data amassed by the CDC show 35-80x risk of hospitalization and 1,100-7,900x greater risk of death for individuals aged 65+ vs. adolescents (5-17 age group). Not only is unmet need greatest in the elderly population, but also therapeutic effect of a life-saving drug will be most pronounced in this group (because there will be more events in a time-to-event trial).

Humanigen disclosed the age distribution of its trial population during an interim analysis presentation in November 2020. As depicted below, at the time of the interim roughly 45% of the enrolled population was 65+ years old:

By contrast, only 22% of patients in GSK's otilimab trial were elderly patients. Importantly, in that subset of 180 patients, 65% of patients treated with GM-CSF blockade were alive and free from respiratory failure at Day 28 vs. 46% of patients treated only with standard of care (absolute difference of 19%). Additionally, mortality rate was 40.4% with standard of care vs. 26% with otilimab, an absolute reduction of 14.4% and a relative reduction in mortality of almost 36%.
Lenzilumab vs. otilimab - Larger dose will improve therapeutic effect
Lenzilumab and otilimab are similar antibodies that bind GM-CSF but Humanigen's trial is administering roughly 20x the dose as GSK's trial. Both lenzilumab and otilimab are roughly the same size so the difference in dose translates directly into a difference in GM-CSF binding capacity.
Market Opportunity
Medical intensive care units throughout the country continue to treat gravely ill Covid patients. Thus far, the only drug known to produce a survival benefit in this population is dexamethasone - again, primarily in elderly patients. We think Humanigen can charge a premium for a product that has a demonstrated survival benefit ($50,000).
The annual sales will depend on the global epidemiology of COVID-19. 20,000 annual treatments in developed countries would equate to $1Bn in sales. If COVID becomes endemic, it's easy to see how Humanigen could be able to sell over $1Bn in drug annually.
An overlooked opportunity that could potentially offer additional upside is stockpiling. One important aspect is that the drug would most likely be universally efficacious against coronavirus mediated lung disease and hyper-inflammation, including SARS, MERS, COVID-19 and future coronaviruses.
In the past, Roche (OTCQX:RHHBY) has sold billions of dollars of Tamiflu annually for stockpiling in case of an avian flu pandemic. Given the unprecedented economic damage experienced with COVID-19, it would not be unrealistic to see stockpiling orders in the order of magnitude of tens of billions of dollars.
Upside/Downside
If Humanigen's COVID-19 trial of Lenzilumab is successful, i.e. meets the primary endpoint in the ITT population, we think the stock will trade hands at $90 (approximately 5X sales of $1Bn) with potentially significant additional upside from stockpiling. If it fails, we think the shares will trade down to $3 (cash approximately $2 per share).
Conclusion
In aggregate, the data suggest dramatic benefit of GM-CSF blockade in aborting the hyperinflammatory response underlying COVID-19-associated respiratory distress in elderly patients. Humanigen enrolled an elderly trial population that can demonstrate this benefit and they are dosing with 20x the dose of comparator trials (which showed a mortality benefit in elderly patients). The market opportunity in the United States alone is large. These facts combined bode well for clinical success in late March and commercial success shortly thereafter.
This article was written by
MD, MBA. Professional experience in clinical research and at a top-tier management consulting firm, advising clients in the pharmaceutical and healthcare PE industry. Successfully invested in biotech for over a decade with a value-based approach
Analyst's Disclosure: I am/we are long HGEN. I wrote this article myself, and it expresses my own opinions. I am not receiving compensation for it. I have no business relationship with any company whose stock is mentioned in this article.
Seeking Alpha's Disclosure: Past performance is no guarantee of future results. No recommendation or advice is being given as to whether any investment is suitable for a particular investor. Any views or opinions expressed above may not reflect those of Seeking Alpha as a whole. Seeking Alpha is not a licensed securities dealer, broker or US investment adviser or investment bank. Our analysts are third party authors that include both professional investors and individual investors who may not be licensed or certified by any institute or regulatory body.