Alpha Pro Tech Limited: Update From February 9, 2021
Summary
One month is too short a time to judge how well this investment has performed - it is off to a rocky start and has been quite unsettling.
The short-term stress that the stock price is going through appears to be based on the idea that many states are lifting the mask mandate.
I do not trust stock price movements, I trust fundamentals.
Looking for a helping hand in the market? Members of The Dividend Kings get exclusive ideas and guidance to navigate any climate. Learn More »
Introduction
On February 9, 2021 I produced the article titled "Alpha Pro Tech Well-Positioned To Participate In COVID-Led Growth." In that original article I pointed out that Alpha Pro Tech (NYSE:APT)was well-positioned to participate via earnings growth because of selling masks and other protective gear relevant to the COVID pandemic. I also provided earnings estimates courtesy of FactSet and corroborated by Reuters on Yahoo Finance and by Standard & Poor's courtesy of Seeking Alpha. To date, those earnings estimates have not changed. Unfortunately, the same cannot be said about the stock price.
Anyone who has followed my work for a long time knows that I trust earnings (fundamentals) more than I do price volatility. Nevertheless, although not alone in that position, I believe we are certainly in the minority. The stock has dropped from $16.49 per share when I wrote the article, and as I write this is down to $11.41 for an additional 8.24% drop today. Which means the stock has essentially fallen about 30% since I wrote the original article.
Now, a 50% plus drop is certainly concerning, it becomes less concerning when you consider the fundamentals in the valuation that they represent. Additionally, when you consider the short time period that this has happened over, this is hardly a long-term mistake. It may turn out to be, and time will tell. However, I am not a day trader and I do not forecast short-term stock price movements, and as I have written many times, I do not trust stock price movements, I trust fundamentals. The fundamentals of this company have not deteriorated, in fact, they have gotten slightly better than they were when I first wrote the article. The fact that people are currently selling the stock means nothing if in the long-term scheme of things, the earnings come in as expected over the next two years.
In other words, the long-term upside to this investment remains the same. If that turns out to be true, then the smart thing would be to double down on this investment once the bleeding stops. I am confident that is going to happen because this was a solid business prior to COVID, and will likely be a solid business post COVID. On the other hand, I am not confident that this business will keep growing at these recent extraordinary rates once COVID is over. Nevertheless, I also shared excerpts from a Wall Street Journal article that suggested that "Covid 19 will be around for years – and a big business." Here is the excerpt from that article that I shared:
"But some organizations are planning for a long-term future in which prevention methods such as masking, good ventilation and testing continue in some form. Meanwhile, a new and potentially lucrative Covid-19 industry is emerging quickly, as businesses invest in goods and services such as air-quality monitoring, filters, diagnostic kits and new treatments."
The reason I bring this up is because the short-term stress that the stock price is going through appears to be based on the idea that many states are lifting the mask mandate. However, even where the mandate has been lifted, people were still wearing masks. Moreover, I believe people will continue wearing masks for some time into the future regardless of whether it is mandatory or not.
What is really interesting is that Alpha Pro Tech is tentatively scheduled to report earnings on March 9. I believe that will be an important happening to the fate of this company. I would expect they will come close to meeting current estimates of $1.79 a share for fiscal 2020. The real question will be if guidance and/or estimates for 2021 - which currently sit at $2.49 - materially change or not.
Alpha Pro Tech February 5, 2021
Here is what Alpha Pro Tech looked like when I published the article on February 5. Note the surge in earnings growth but further note the extreme volatility that the stock had gone through in the last two years. That obviously has not changed or subsided, at least yet.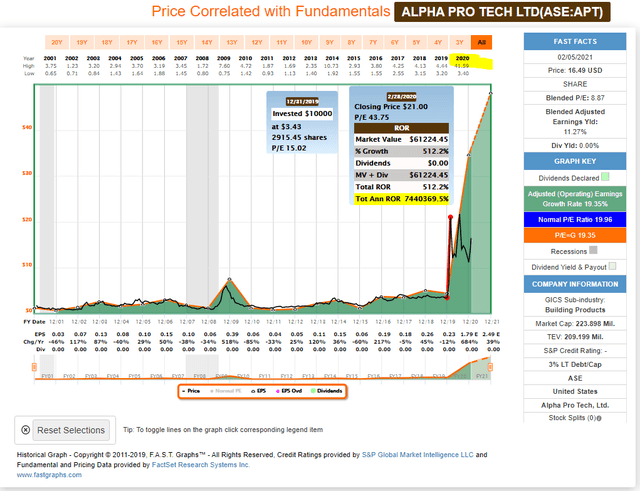 (Source FAST Graphs)
Alpha Pro Tech: Here Is What It Looks Like Today
Even though the price drop has been severe and considering that it is down another 8% or so today, when you look at it on the below graphic and measure it relative to earnings expectations, your perspective might change. The magnitude of the drop as previously stated has been 50%, but relative to the expected earnings growth the stock still looks extremely undervalued. Most importantly, although they might, expectations for earnings for this year and next have not yet changed.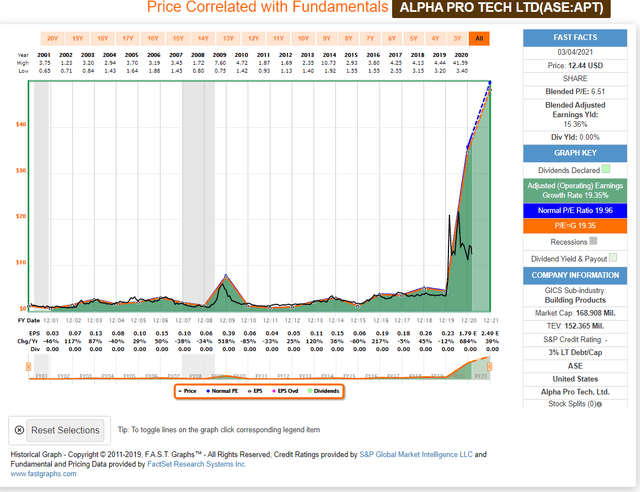 Summary and conclusions
One month is too short a time to judge how well this investment has performed. Admittedly, it is off to a rocky start and has been quite unsettling. This company was suggested to me and after reviewing it and researching it I offered it as a compelling speculation and play on the COVID-19 pandemic. The thesis still seems to be intact and only the valuation has changed thus far. However, the fundamentals could change dramatically. Therefore, I believe it is currently prudent to wait a few days until the earnings report comes out before a final decision should be made. Even then if it looks positive, this should be looked at as an interesting speculation. Caveat emptor.
If you're primarily interested in investing in high-quality dividend growth stocks, I would like to respectfully suggest looking at The Dividend Kings. The service is dedicated towards identifying the highest-quality dividend growth stocks that can be purchased at sound and attractive valuations. Take advantage of our 14 day free trial and see how we can help you identify the most attractive blue-chip dividend growth stocks for your portfolios.

This article was written by
Charles (Chuck) C. Carnevale is the creator of FAST Graphs. He is also Co-Founder of The Dividend Kings, along with Brad Thomas and Adam Galas (Dividend Sensei), offering a premium service on Seeking Alpha's Market Place. Chuck is also Co-Founder of an investment management firm. He has been working in the securities industry since 1970: he has been a partner with a private NYSE member firm, the President of a NASD firm, Vice President and Regional Marketing Director for a major AMEX listed company, and an Associate Vice President and Investment Consulting Services Coordinator for a major NYSE member firm. Prior to forming his own investment firm, he was a partner in a 30-year-old established registered investment advisory in Tampa, Florida. Chuck holds a Bachelor of Science in Economics and Finance from the University of Tampa. Chuck is a sought-after public speaker who is very passionate about spreading the critical message of prudence in money management. Chuck is a Veteran of the Vietnam War and was awarded both the Bronze Star and the Vietnam Honor Medal.
Analyst's Disclosure: I/we have no positions in any stocks mentioned, and no plans to initiate any positions within the next 72 hours. I wrote this article myself, and it expresses my own opinions. I am not receiving compensation for it. I have no business relationship with any company whose stock is mentioned in this article.
Seeking Alpha's Disclosure: Past performance is no guarantee of future results. No recommendation or advice is being given as to whether any investment is suitable for a particular investor. Any views or opinions expressed above may not reflect those of Seeking Alpha as a whole. Seeking Alpha is not a licensed securities dealer, broker or US investment adviser or investment bank. Our analysts are third party authors that include both professional investors and individual investors who may not be licensed or certified by any institute or regulatory body.