Corcept Stock: Major Upcoming Catalysts
Summary
Corcept effectively resolved its patent problems with Korlym by winning a ruling against Teva.
That paves the way for relacorilant, a next generation drug.
The company has cash and Phase 3 data readouts in the next few months.
Looking for more investing ideas like this one? Get them exclusively at The Total Pharma Tracker. Learn More »
Corcept Therapeutics (NASDAQ:CORT) is a commercial-stage company engaged in the discovery and development of drugs to treat severe metabolic, oncologic and psychiatric disorders by modulating the effects of the steroid hormone cortisol.
According to the company, cortisol has a number of effects on the body: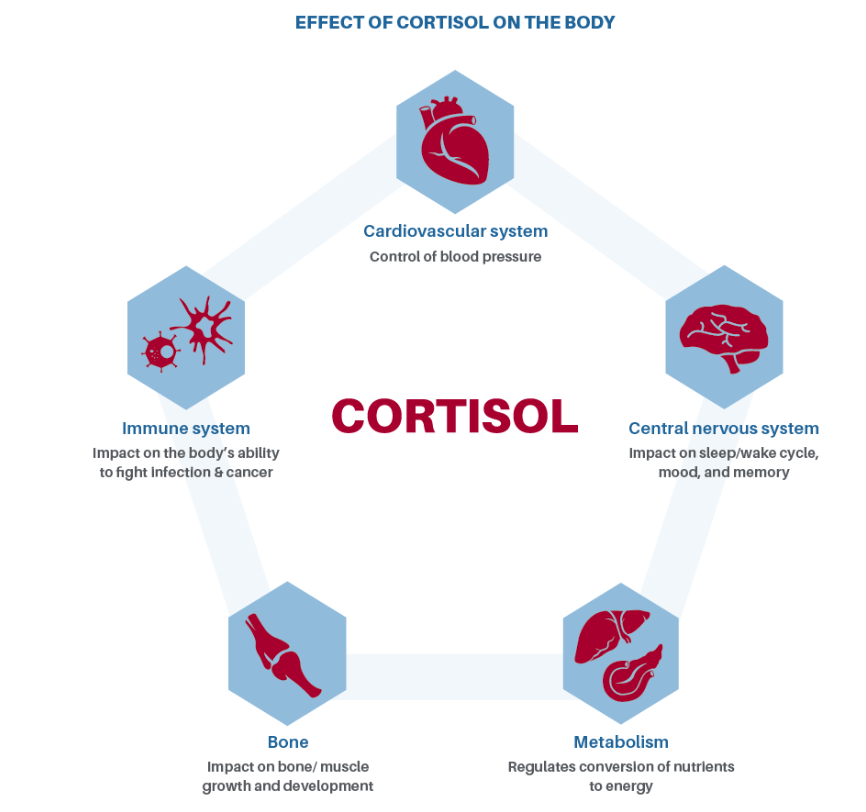 Thus Corcept's cortisol modulators have therapeutic applications in a large number of disease areas, including in the following:
That is a vast pipeline for a small company like Corcept with $2.86bn in market cap and $440mn in cash.
Corcept's first approved cortisol modulator was Korlym (mifestrone), approved in 2012 in the US to treat a form of hypercortisolism known as endogenous Cushing's syndrome. Both cortisol and Korlym bind to the glucocorticoid receptor ("GR"), so Korlym can modulate how much cortisol can bind to GR. This can modulate the effects of abnormal levels and release patterns of cortisol without compromising cortisol's healthy functions and rhythms. However, Korlym was not selective enough, and it also bound to the progesterone receptor ("PR"), thereby terminating pregnancy and causing other adverse effects, including endometrial thickening and vaginal bleeding, a debilitating condition suffered by a significant portion of women who take Korlym.
Corcept's next generation selective cortisol modulator is relacorilant, and it's also in 2 phase 3 trials targeting Endogenous Cushing syndrome. The same molecule is in a phase 3 trial in pancreatic cancer in combination with nab paclitaxel, which will be completed by January 2022. The company has two other selective cortisol modulators in various late stage trials. These molecules all bind to the GR but do not bind to the PR, thus avoiding many of Korlym's problems. Relacorilant also does not appear to cause hypokalemia (low potassium), a potentially serious adverse event that is the leading cause of patients stopping treatment with Korlym.
In phase 1 and phase 2 trials, relacorilant was shown to be safe and effective. Patients in the Phase 2 trial exhibited meaningful improvements in glucose control and hypertension, as well as weight loss, improved liver function, coagulopathy, cognition, mood, insulin resistance and quality of life.
The molecule is running a phase 3 trial called GRACE which is for endogenous Cushing's syndrome with the standard etiology. This study is supposed to be completed by December 2021, and may lead to an NDA. Relacorilant has another phase 3 trial ongoing, called GRADIENT, which evaluates Cushing's syndrome patients with a specific etiology, which is where it is caused by an adrenal tumor. This trial will be completed by June 2021, and its topline data readout is the company's next major catalyst.
In phase 2 studies, high dose relacorilant saw the following improvements over Korlym:

According to the authors of the study - "Pts demonstrated improvements in endpoints related to excess cortisol activity. RELA was generally well tolerated. There were no PR-related adverse events. Because cortisol and ACTH levels did not increase significantly, no pts experienced drug-induced hypokalemia (an MR-mediated effect). The most common TEAEs were possibly associated with cortisol withdrawal; serious TEAES were likely related to unmasking of pre-existing conditions previously suppressed by hypercortisolism."
If the GRACE trial is able to repeat these findings, then relacorilant will have no difficulty in getting approval.
Market and competition
Cushing's syndrome is a half-billion-dollar market where Korlym's - and relacorilant's even more so - mechanism of action is uniquely differentiated. See below for a comparison: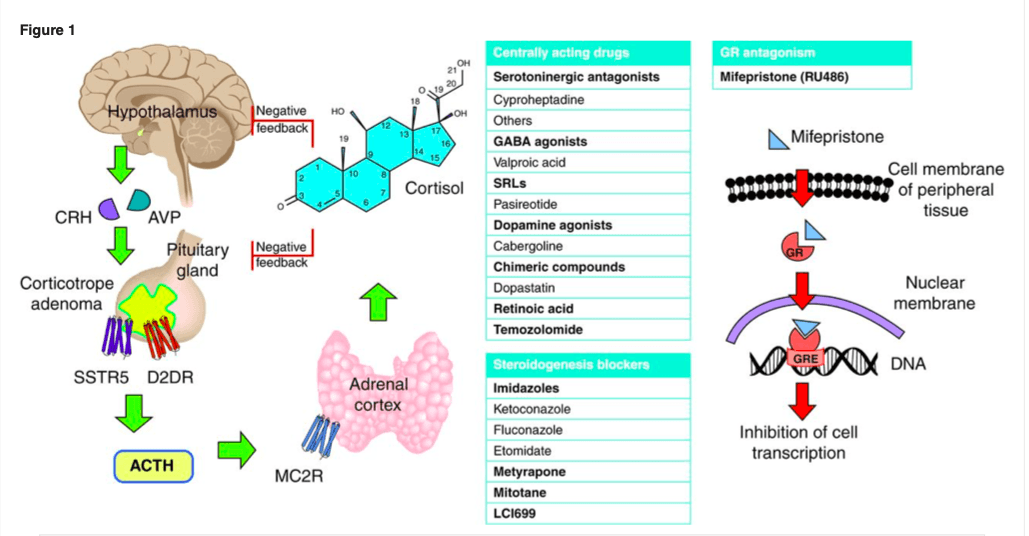 Unlike other drugs, Korlym/relacorilant simply modulates cortisol, it does not stop its production. As the company says - "The challenge in treating a patient with Cushing's syndrome is modulating cortisol's effects without suppressing them below normal levels or disrupting cortisol's normal diurnal rhythm. Simply reducing or destroying the ability of the body to make cortisol can cause serious harm."
So these other drugs, notably Novartis' (NVS) Signifor (pasireotide) injection, Strongbridge Biopharma's levoketoconazole, a chiral form of ketoconazole, and Novartis' osilodrostat, a cortisol synthesis inhibitor, are different from Corcept's drugs and are not direct competition. The only direct competition to Relacorilant is from Korlym's generic version, since its orphan drug designation has expired. However, Corcept still holds 16 use patents for mifestrone, which, as we saw in the Teva (TEVA) lawsuit, were adequate to protect Korlym from generics.
The U.S. Patent Trial and Appeal Board upheld Corcept's patent, saying Teva "has not shown by a preponderance of the evidence that claims 1-13 of the '214 patent would have been obvious over the combination of the Korlym Label and Lee." Teva was trying to make Korlym's Cushing's syndrome application obvious from its pregnancy termination FDA-approval use. That did not work out for Teva, making further generic onslaught difficult, and making the way for relacorilant smoother, especially in female patients.
Bottom line
Corcept has been very buoyant over the last six months or so, with only a slight downward movement in the last month. It has three important trial data readouts in the next 12 months, and the phase 2 trials relevant to these phase 3 trials have been positive. The company has a strong cash position, and a varied landscape of clinical trials. The only risk I see is that the pandemic has slowed down enrollment in their trials, notably GRACE. However, that is a resolvable hurdle, and CORT is not lacking in cash. This makes the stock a buy at dips.
About the TPT service
Thanks for reading. At the Total Pharma Tracker, we offer the following:-


Our Android app and website features a set of tools for DIY investors, including a work-in-progress software where you can enter any ticker and get extensive curated research material. 
For investors requiring hands-on support, our in-house experts go through our tools and find the best investible stocks, complete with buy/sell strategies and alerts.
Sign up now for our free trial, request access to our tools, and find out, at no cost to you, what we can do for you. 
This article was written by
Avisol Capital Partners runs the Total Pharma Tracker Seeking Alpha Marketplace service. This is managed by Dr Asok Dutta, BVScAH and Dr Udaya Kumar Maiya, MD Oncologist. The service offers end-to-end research on both investing and trading ideas everyday, and includes a 150-stock watchlist and two 40-stock model portfolios that are continuously tracked.

Dr Dutta is a retired veterinary surgeon. He has over 40 years experience in the industry. Dr Maiya is a well-known oncologist who has 30 years in the medical field, including as Medical Director of various healthcare institutions. Both doctors are also avid private investors. They are assisted by a number of finance professionals in developing this service.

If you want to check out our service, go here - https://seekingalpha.com/author/avisol-capital-partners/research

Disclaimer - we are not investment advisors.

Analyst's Disclosure: I/we have no positions in any stocks mentioned, and no plans to initiate any positions within the next 72 hours. I wrote this article myself, and it expresses my own opinions. I am not receiving compensation for it (other than from Seeking Alpha). I have no business relationship with any company whose stock is mentioned in this article.
Seeking Alpha's Disclosure: Past performance is no guarantee of future results. No recommendation or advice is being given as to whether any investment is suitable for a particular investor. Any views or opinions expressed above may not reflect those of Seeking Alpha as a whole. Seeking Alpha is not a licensed securities dealer, broker or US investment adviser or investment bank. Our analysts are third party authors that include both professional investors and individual investors who may not be licensed or certified by any institute or regulatory body.