Harmonic: A Tedious Yet Determined Effort To Harmonize Liquidity With Potential Growth And Stability
Summary
Growth may have been stagnant and unimpressive, but Harmonic, Inc. has maintained impressive liquidity and adequate cash inflows to cover its operations and obligations.
As sustained viability remains elusive, the possibility of dividend payments remains low and ambiguous.
Although the YTD stock price has been moving sideways, its general pattern remains bullish with a reasonable valuation and volatility.
Despite the unimpressive growth over the past decade, adverse effects of the pandemic and a more challenging environment did not hurt its overall operations.
Harmonic, Inc. (NASDAQ: HLIT) may not be in harmony with its growth and goals over the past decade, but it remained safe and grounded at the height of the pandemic. Despite its usual net losses, Free Cash Flow ("FCF") and Current Ratio have been adequate to help it remain highly operational and capable of expansion while covering its obligations. Moreover, the stock price continues to show investors' high hopes for the company as it remains in a generally upward pattern although its YTD trend has been sideways.
Company Financials
Operating Revenue and Operating Costs
For more than 30 years, Harmonic, Inc. has been working with video, cable, and media companies with its innovative products, solutions, and services. It has been one of those at the forefront of industry innovations since its popularity spread across the region. As expected, its operating revenue is primarily sourced from VOS SaaS, appliance and integration, and services to the companies in the industry. Over the past decade, there was nothing extraordinary with its revenues despite amounting at $300-$400 million with no sharp increases and decreases. This shows that amidst the generally downward pattern, demand for its products and services remained high. Its operating costs have been following the trend which proves its effort to optimize its operations. From $424 million in 2010, although the general pattern was downwards, it has remained stable at $400 million in 2019 while costs moved from $227 million to $179 million. Meanwhile, the gross profit margin has gradually yet generally increased from 46% to 55%. This proves the intention of the company to optimize its costs, improve efficiency, and maintain stability and profitability in the core operations. With that, it is safe to assume that despite the underwhelming growth in 2010-2019, stability and viability in the core operations have been sustained.
In 2020, as the pandemic spread and started to crush most operations, Harmonic was initially hit and taken aback as shown by revenue decrease. Nevertheless, stability remained one of its strengths as the decrease was manageable. In 3Q, recovery was already observed as revenues were higher. Moreover, it launched new products or solutions, and the companies it has been working with continued to optimize its innovative operations. In 4Q, revenues reached $131 million which was 11% higher in a year-over-year comparison. Revenues accumulated to $379 million since the increase in 4Q could not offset the decrease in the three quarters while costs at $183 million showed that the operations did not contract amidst the pandemic. As a result, Gross Profit Margin decreased only a bit and remained stable at 52% which proves that the unfavorable environment did not massively hurt the company. Hence, as things get more stable with the reopening of the economy, an underwhelming yet stable growth may be observed.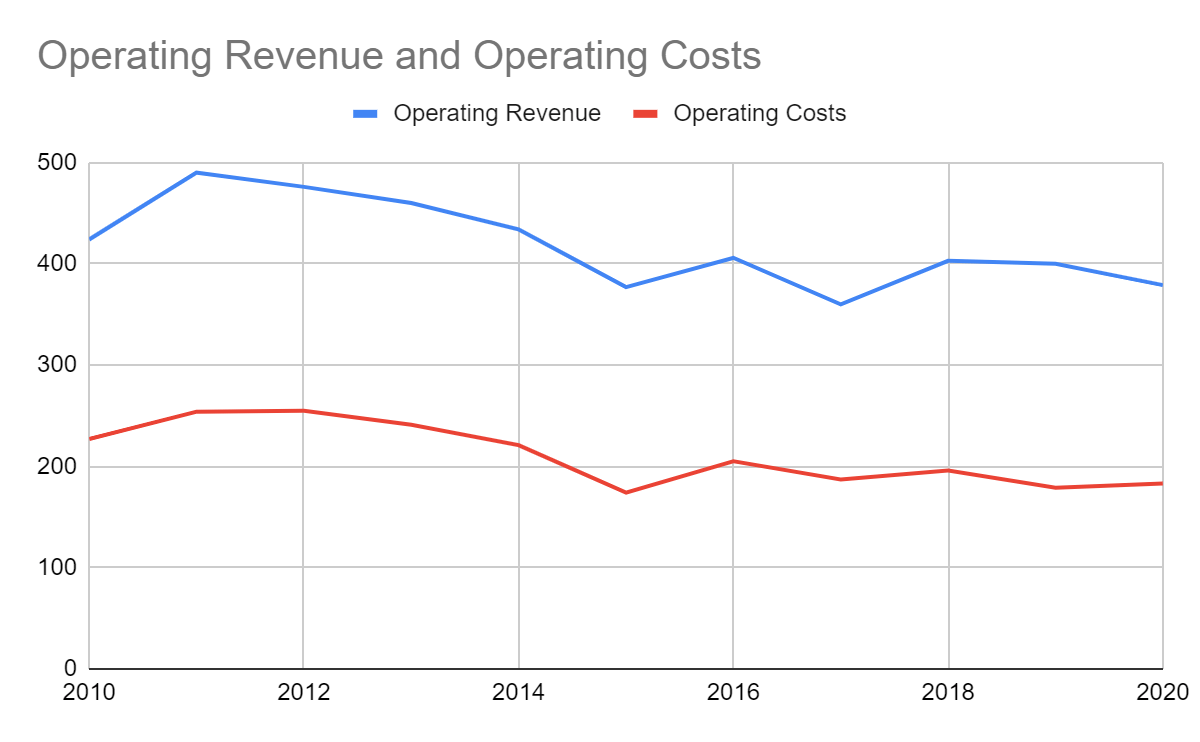 Taken from Macrotrends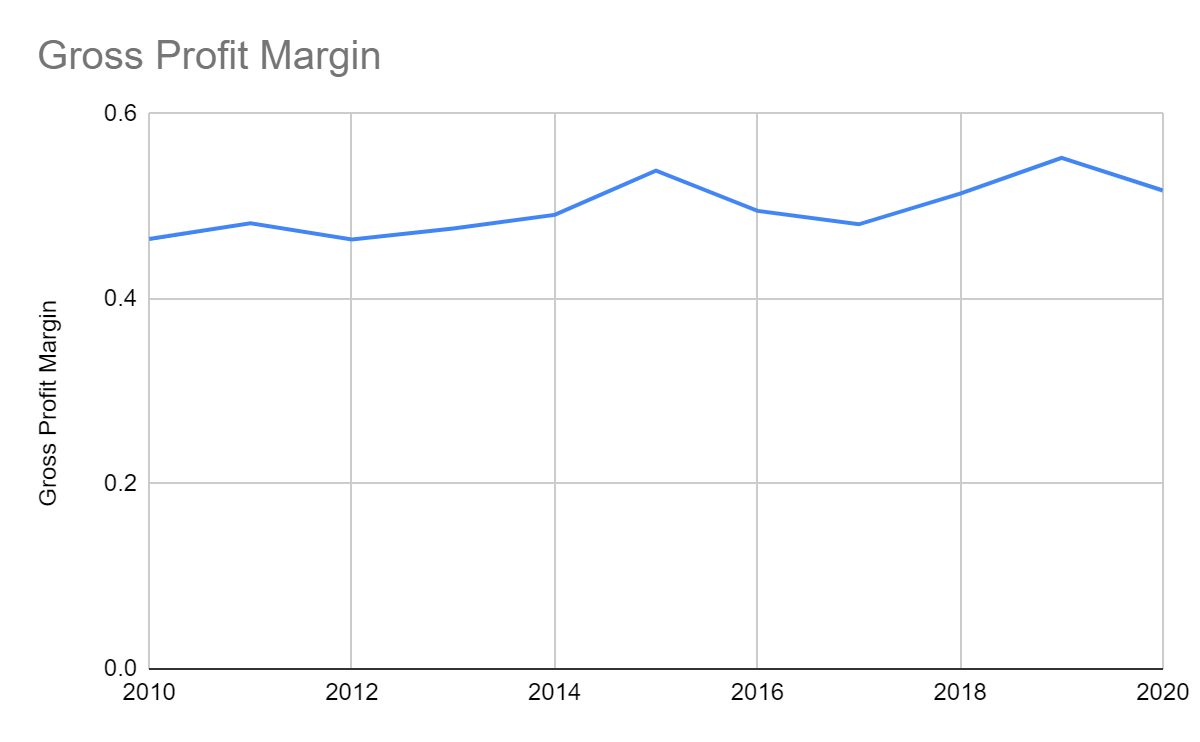 Taken from Macrotrends
Net Income and EBITDA
Net income has often been reported as a negative value the same as the operating profit which shows that the Gross Profit has not been adequate to cover the operating and non-core expenses. Also, its changes have been sharper than the operating profit due to changes in exceptional expenses, interest expenses, and taxes. In 2016 and 2017, it has reached the bottom at -$72 million and -$83 million, respectively. But since then, it seemed that the company did better as net loss decreased to -$21 million and -$6 million for the next two years. The positive pattern was just hampered due to the unfavorable impact of the pandemic as net income dropped again to -$29 million. Nevertheless, we may infer that if not for the pandemic things would have been better as 4Q net income reached $13 million which was more than twice the value in the previous year. Meanwhile, EBITDA has been more stable although it has also been in a decreasing pattern in 2010-2017 from $32 million to -$42 million. Indeed, the depreciation and amortization, and interest expenses have been substantial contributors to the expenses. Since these expenses were more on non-cash items, we may say that the company remained viable except in 2016-2017 although growth remained unimpressive. In 2018-2019, it has also improved to $24 million and $53 million, respectively while it dropped but remained an income at $12 million in 2020.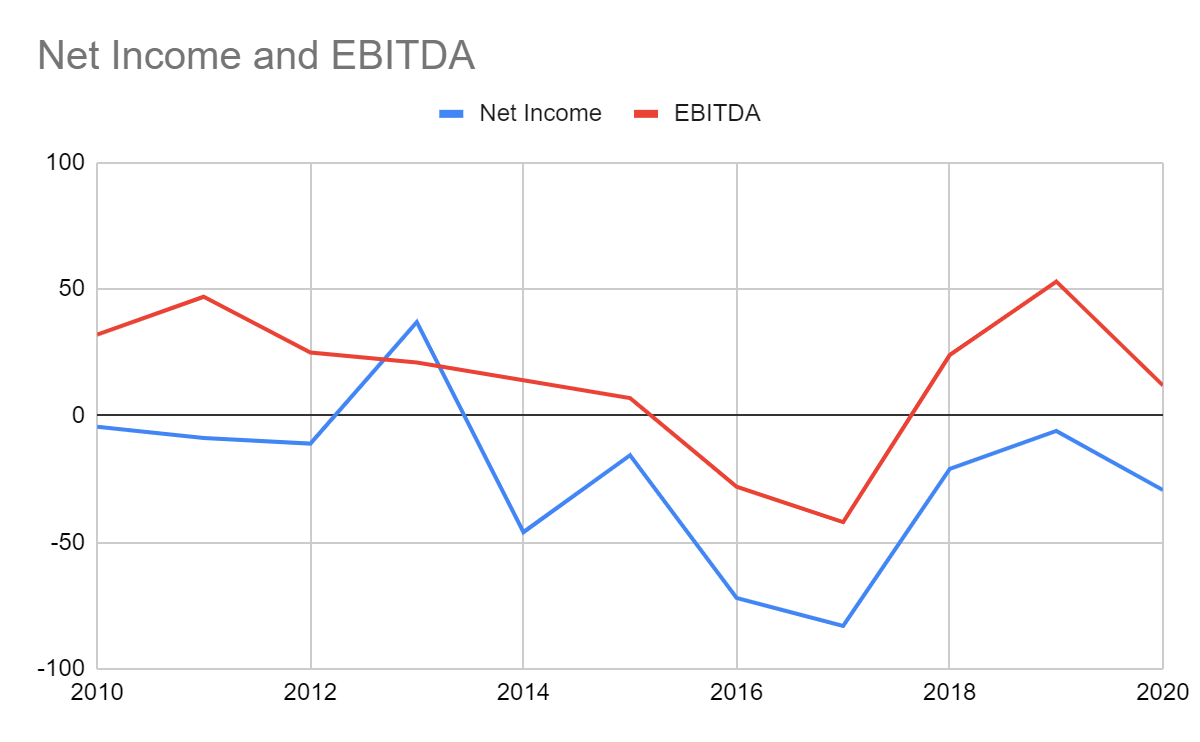 Taken from Macrotrends
Liquidity
Despite the slow-moving growth and viability, the company maintained ample liquidity although it has moved in a decreasing pattern from 2.65 to 1.21 in 2010-2017. Also, both current assets have generally decreased which showed that the core operations of the company have contracted .in 2010-2017. This agrees with the downward trend of the operating revenue, operating costs, net income, and EBITDA in those years and can be further verified by the change in total assets from $720 million to $510 million. While growth decelerated along with the contraction, the only consolation was the increased gross profit margin and adequate liquidity which could cover the current obligation. For the next two years, as the overall operations improved, the current ratio increased in line with the improvement in its profitability.
FCF has been adequate but remained in a decreasing trend from 2010-2015. But since 2016, improvement has been observed and eventually bounced back in 2018-2019 as it rose again from $5 million to $21 million. With that, it assured that it had ample liquidity and cash inflows to sustain its operations and cover its obligations. In 2020, FCF fell but remained a positive value at $7 million, but one must note the increase in assets, particularly fixed assets. It was in line with its continued innovations and launching of new products and solutions and increased capacity to enable other companies to optimize these even at the height of the pandemic which showed more resilient and stable operations. But given its current values and the pattern of net income and EBITDA, it will just be enough to sustain its operations and gradual expansion for recovery and growth without dividend payments.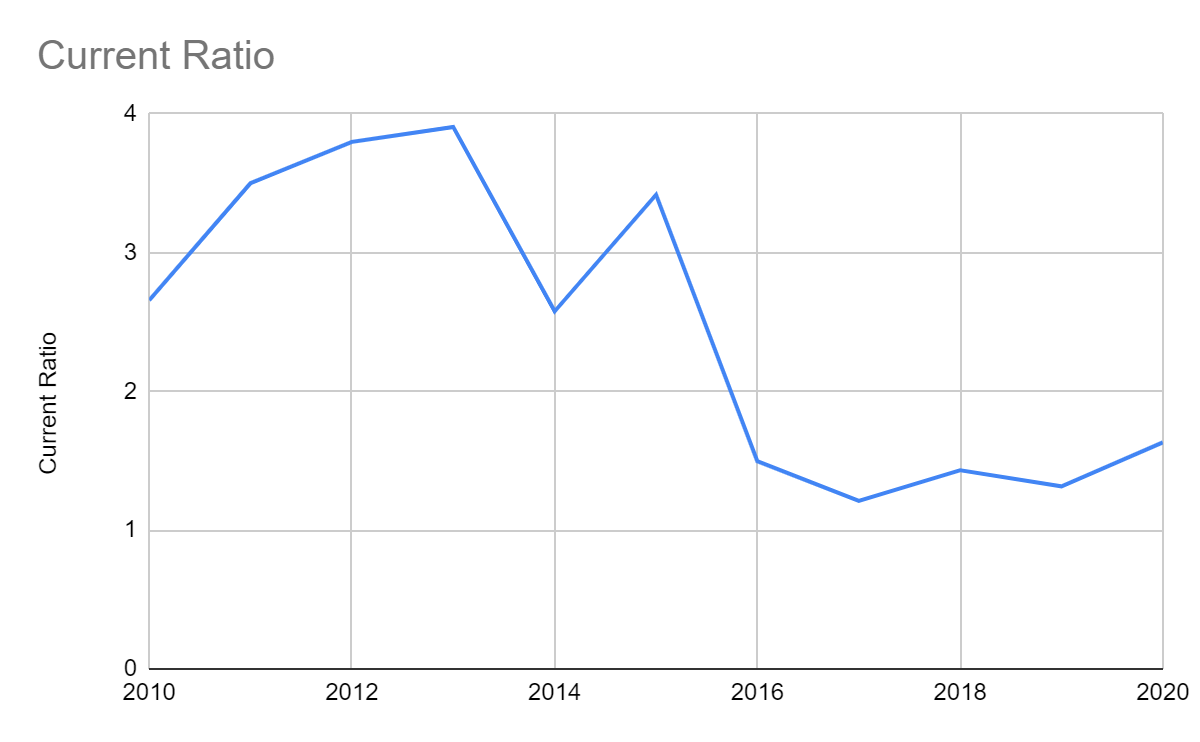 Taken from Macrotrends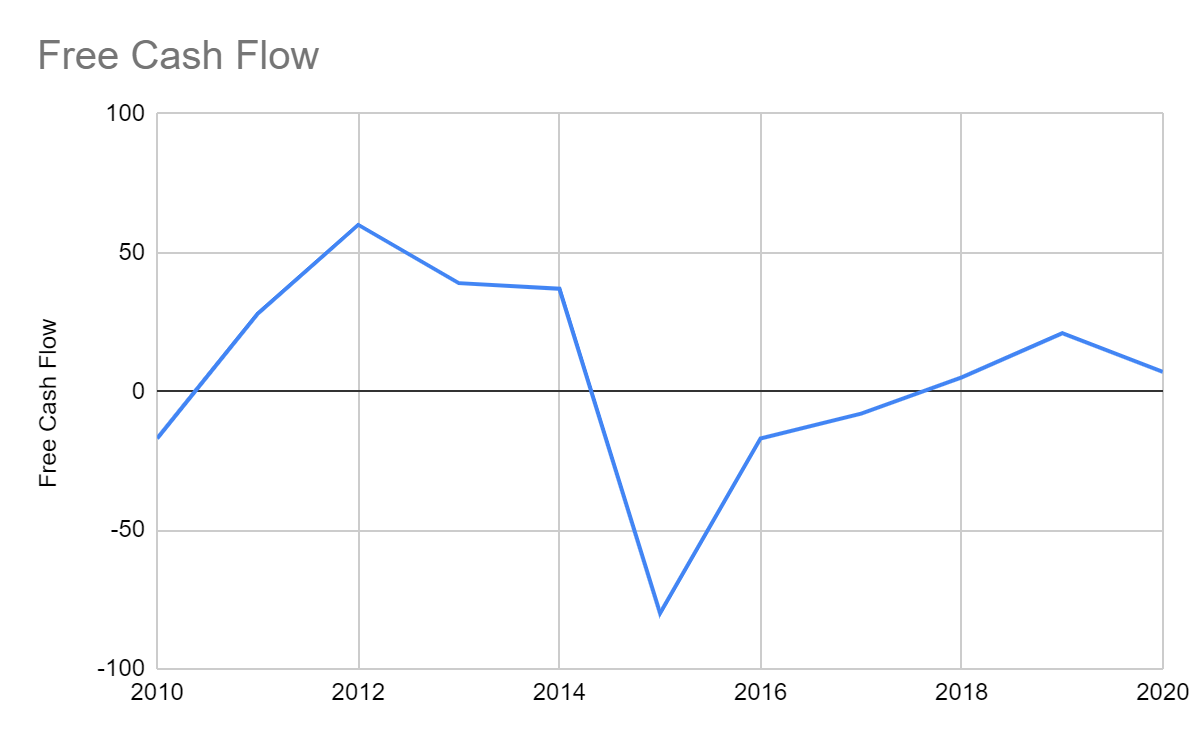 Taken from Macrotrends
What's in Store for the Investors?
Dividends Per Share
Despite being in the industry for more than 30 years, Harmonic, Inc. has never distributed dividend payments which may be reasonable as shown by the changes in its financials over the past decade. The contraction did not help it realize higher income and cash inflows but bounced backing 2018. Its stable operations despite hampered growth at the height of the pandemic showed its resilience and proved that there's hope to speed up growth and be in harmony with its primary goals. But it may still take a long period for it to fully grasp it and share its success with its stakeholders. Hence, as it tries to optimize its operations and gradual expansion, dividend payments may not be expected soon.
Stock Price
Since the latter part of January, one could have noticed that it has been moving sideways although it could have been just a pullback that would continue to strengthen its upward pattern. At $8.12 as its current price, its PB Ratio conveys slight overvaluation given the derived value of more than 2 while PS Ratio says that the price relative to sales is justified. While the two ratios don't suggest opposite extremes, it remained a bit tricky although, gave the current momentum and the recent financial report, investors' confidence remains high. Nevertheless, one should still consider watching the price closely for the next few days or even weeks and read more press releases and industry news that may also affect price changes and volatility.
Potential Growth Catalysts
Cable OS Platform
With its continuous innovations and launching of innovative products and solutions, Harmonic is like a butterfly that has been through a series of metamorphoses. Despite its sluggish growth, it managed to be adequate and found time to cope with the changing market. Amidst the pandemic, the company continued with its innovations and increased its offerings. With most people forced to stay home, videos, broadband, and cables became a staple for those who had to get through their monotonous days. Harmonic's Cable OS Platform and EyeQ could at their best then and continue to improve, especially since more companies are optimizing their products, solutions, and services in terms of television and video streaming and broadband access. Also, Harmonic recently won Double Emmy Awards for outstanding achievements in video delivery which could increase its popularity and capture more demand for its products and services.
The Reopening of the Economy and The New Normal
With the current setup, many companies discovered that implementing a work-from-home setup to adhere to safety measures was not that bad at all. While some found it cost-efficient, productivity remained high. With the reopening of the economy, the higher purchasing power of companies and customers and a hybrid or mixed work setup may be expected. Moreover, many discovered the potential of online selling and the importance of television and video streaming amidst the increasing boredom. The new normal may help maintain and further increase the demand for video streaming mostly in cables and broadband access for work, schools, and businesses. Hence, it may not hamper but help in the recovery and growth in Harmonic.
Conclusion
Over the past decade, Harmonic, Inc.'s growth has been sluggish in general, but we have seen improvement since 2018 and it even withstood the adverse effects of the pandemic. Moreover, liquidity and FCF remained adequate for its operations with gradual expansion while covering its obligations. But its capacity to pay dividends remains a big question. It may take some years for the company to fully harmonize its cash inflows with viability and stability to speed up its growth. But its gradual improvement and the fact that it was not harmed despite the disruptions and a more challenging environment gives hope for its potential. Nevertheless, interested long-term investors can't expect anything yet, especially if he is more into dividends as the current financials can't speak of adequate means to sustain payouts. Also, it still has to further improve which is possible as the new normal has helped and still would help it stimulate its growth. But again, one must not expect or have high hopes for it yet. Meanwhile, the stock price remains promising despite its sideways YTD trend due to the possibility of a higher uptrend as shown by the current pullback. But one must not ignore the PB Ratio as it conveys overvaluation although the PS Ratio adheres to the current pattern with little to moderate volatility.
This article was written by
Full-time equity analyst/Part-time Investor. Having adequate knowledge and reliable information can help in your investment decisions. Stock market success is possible as long as one is willing to study, risk, and learn.
Analyst's Disclosure: I/we have no positions in any stocks mentioned, and no plans to initiate any positions within the next 72 hours. I wrote this article myself, and it expresses my own opinions. I am not receiving compensation for it (other than from Seeking Alpha). I have no business relationship with any company whose stock is mentioned in this article.
Seeking Alpha's Disclosure: Past performance is no guarantee of future results. No recommendation or advice is being given as to whether any investment is suitable for a particular investor. Any views or opinions expressed above may not reflect those of Seeking Alpha as a whole. Seeking Alpha is not a licensed securities dealer, broker or US investment adviser or investment bank. Our analysts are third party authors that include both professional investors and individual investors who may not be licensed or certified by any institute or regulatory body.