Impala Platinum: Top-Rated PGM Producer Capable Of Delivering Suitable Long-Term Growth
Summary
Platinum Group Metals' prices have generated a more stable return than Precious Metals' prices ever since the mid-March lows hit last year, and PGMs outlook remain strong.
IMPUY is primarily a PGM producer that's capable of leveraging from the long-term favorable price outlook for PGM.
IMPUY maintains a robust standing among peers, in terms of growth, value, and price returns.
However, IMPUY is not an ideal candidate for income investors pursuing the metals and mining space.
There could be near-term price volatility following oscillations in PGM prices, but IMPUY remains a long-term growth candidate.
Thesis
Impala Platinum Holdings (OTCQX:IMPUY) is a PGMs (read: Platinum Group Metals) producer owning mining assets in South Africa, Zimbabwe, and Canada. In a post-COVID environment where traditional safe-haven assets like gold have struggled to maintain their recent price performance trend, PGMs (excluding gold) have demonstrated a stable overall trajectory. For reference, (until recently) platinum had posted a good start to CY (read: calendar year) 2021. Similarly, palladium's price trajectory has largely oscillated around the 6-month average price of ~$2,400/oz, however, it does reflect significant upside compared with the prices (at ~$1,400/oz) observed during March 2020. Meanwhile, other PGMs (including iridium, and rhodium) have so scarce a supply that their price trajectory has significant upside potential in the long term. This situation requires that IMPUY be analyzed as a potential investment candidate that's capable of leveraging from the emerging long-term opportunity in PGM prices.
In this article, we'll take a look at IMPUY's fundamental strength (including its business model, reserves/resources, etc.), review the company's H1 2021 results, and discuss its growth outlook in more detail. We'll then assess the company's comparative position (in line with peer PGM producers) that'd enable us to consider the company's relative valuation. So let's get into the details without further ado.
Business model
The main reason you 'invest' in a stock is because you believe in the long-term economic prospects of that company; provided it operates in a stable/growing industry. Fortunately for IMPUY, both premises hold true.
IMPUY mining assets portfolio is largely based in Africa (5 out of 6 mining assets are located there). The company's flagship assets include its 96%-owned Impala operations in the Bushveld Mining Complex in South Africa, and the 87%-owned Zimplats operations in the Great Dyke, Zimbabwe. The company's business model is based on production of 6E PGM (including platinum, palladium, rhodium, ruthenium, iridium, and gold). Because it mainly produces platinum and palladium, IMPUY's business model provides a cushion against the significant volatility in PM (read: Precious Metals) prices (particularly gold prices) that we've witnessed during the past 12 months. To put that into context, gold's 12 months price chart (Figure-1) reveals that the PM posted a solid recovery to its mid-March lows of ~$1,180/oz, went all the way up to ~$2,100/oz in August 2020 before setting foot on a persistent downtrend (spot gold=<$1,700/oz). Gold's correction has been escalated due to strong yields on US bonds.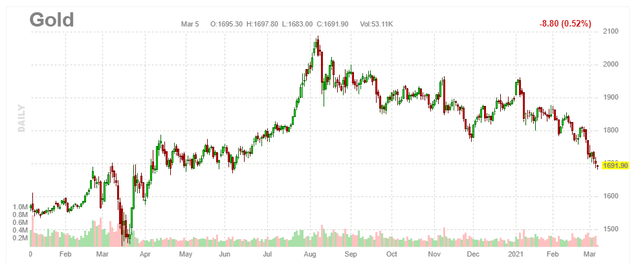 Figure-1 (Source: Finviz)
On the flipside, platinum (Figure-2) and palladium (Figure-3) prices have demonstrated a more stable stance ever since their mid-March lows witnessed last year. Nonetheless, both PGMs have very recently witnessed a notable price drop in the wake of a strong USD. The point is, I believe these PGMs have a better fundamental outlook than gold (and that's because unlike gold, platinum and palladium are not traditional safe-haven assets; rather their outlook is fuelled by a more robust industrial demand).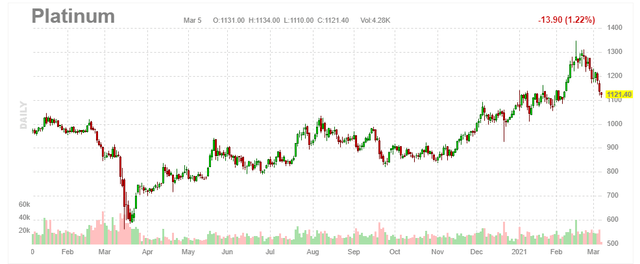 Figure-2 (Source: Finviz)
Figure-3 (Source: Finviz)
Reserves and Resources provide room for significant growth
IMPUY issued its latest R&R (read: Reserves and Resources) statement as of June 30, 2020 (which largely remains unchanged during the half-year ended on December 31, 2020). The 2020 R&R report recorded an 8%, or 3.5 Moz (read: a million ounces) increase in 6E PGM 'Reserves' to 47.8 Moz. The reserves (Figure-4) include 21.8 Moz Pt (read: Platinum), and 17.3 Moz Pd (read: Palladium). Likewise, the same report revealed a 3%, or 8.7 Moz increase in 6E PGM 'Resources' to 277 Moz. These resources (Figure-5) included 132.4 Moz Pt, and 89.9 Moz Pd.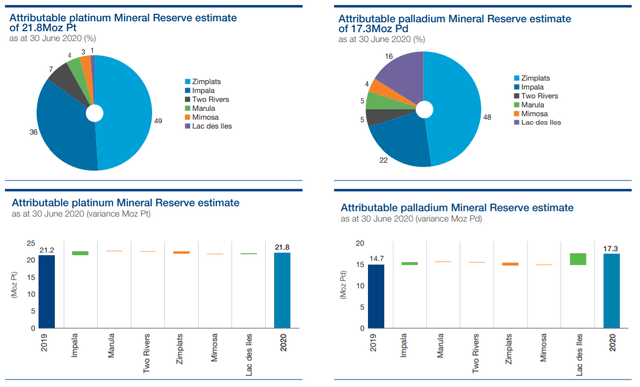 Figure-4 (Source: 2020 R&R Statement, pg.5)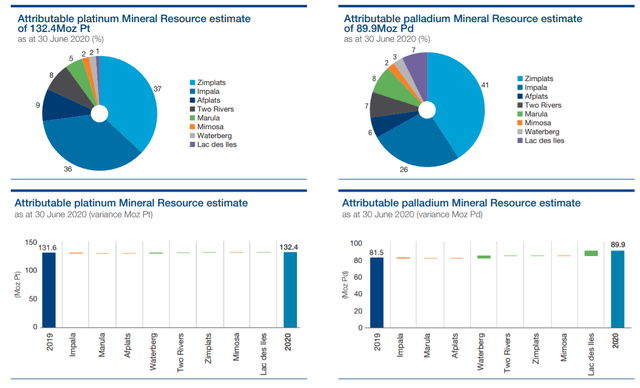 Figure-5 (Source: 2020 R&R Statement, pg.4)
So what's the significance of these numbers?
In my view, a favorable PGM price outlook enhances resource potential of IMPUY's mining assets, while simultaneously signifying strong FCF generation in future (FCF growth is already evident during the past 3 years; refer Figure-6).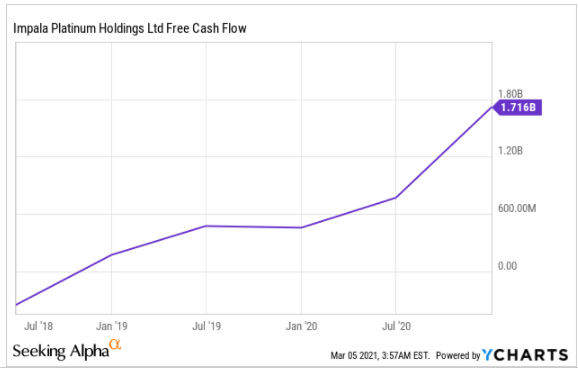 Figure-6 (Source: YCharts)
To put more details on the above statement, note that long-term PGM prices used in IMPUY's R&R calculation are $827/oz platinum, $1,264/oz palladium, and $4,406/oz rhodium. In the preceding charts, we've seen that spot Pt and Pd prices are way higher than the prices used to calculate the R&R estimates. Plus, 30-day rhodium's average price is ~$21,000/oz (spot rhodium=>$27,000/oz). IMPUY's 2020 R&R statement (Figure-7) reveals that at spot prices of a basket of one ounce of 6E PGMs (or 'basket prices'; the term represents an average composition of 6E PGMs in each ounce of net concentrate production of PGM at IMPUY's mining assets), there's less room for mineral resources addition unless the long-term basket price of 6E PGMs remains within the range of R24,000-R28,000 (or US$1,600/oz).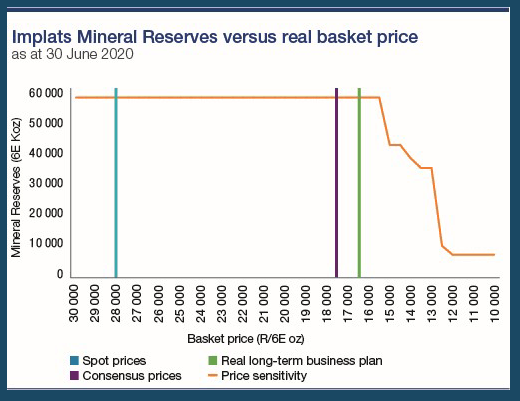 Figure-7 (Source: Impala R&R)
In my view, a higher long-term benchmark for the basket price of 6E PGM is quite possible due to a very favorable outlook for 3 key PGMs; platinum (Figure-8), palladium (Figure-9), and rhodium (Figure-10). The main reason behind an anticipated long-term price growth is the expanding deficit between future supply, and future demand of these PGMs.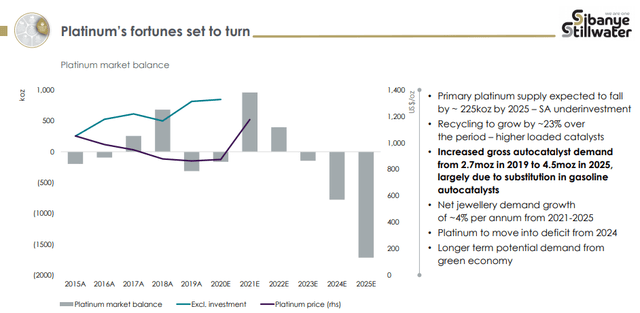 Figure-8 (Source: Sibanye Presentation, pg.32)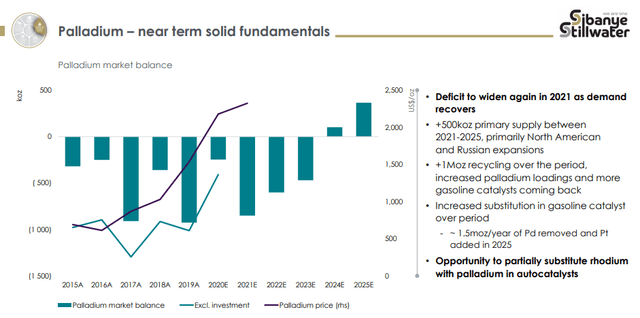 Figure-9 (Source: Sibanye Presentation, pg.33)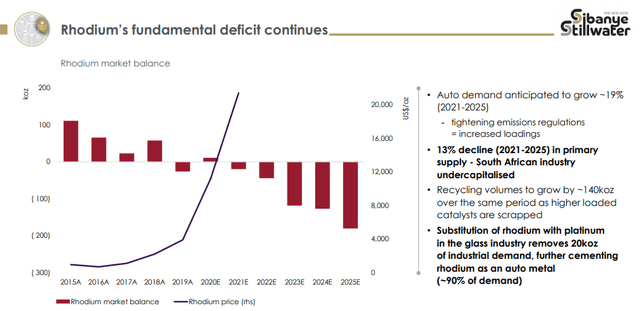 Figure-10 (Source: Sibanye Presentation, pg.34)
It all comes down to this; the PGM reserves and resources underlying IMPUY's mining assets will benefit from a favorable price environment coupled with the opportunity of further resource expansion that'd stem from an anticipated increase in long-term PGM prices.
[Author's Note: As I write these lines, there's significant volatility in the prices of gold, and platinum. The price performance discussion in my above analysis only takes a medium-to-long term view on the price outlook of these PGMs, and largely ignores the recent price oscillations. Moreover, while gold is also a component of 6E PGMs, I consider it different from the other 5 PGMs because generally gold (and also silver, to some extent) are viewed as traditional safe-haven investments, while this notion is not true in case of PGMs.]
H1 2021 performance review and growth outlook
During H1 2021 that pertains to the six months ended on December 31, 2020, IMPUY's financial performance metrics have shown phenomenal growth compared with the SPLY (read: Same Period Last Year). Let's check the details.
On a YoY basis, revenue growth is 107% (from ~R28 BB to ~R58.1 BB), gross profit growth is 263% (from ~R6.1 BB to ~R22.4 BB), EBITDA growth is 231% (from ~R7.6 BB to ~R25 BB), net profits growth stands at a booming 633% (from ~R3.5 BB to ~R25.4 BB), FCF growth is 304% (from ~R4.99 BB to ~R20.14 BB), together with an incredible EPS growth of 634% (from R4.39 to R32.22). In my view, this impressive growth trajectory indicates the impact of a favorable PGM price environment on IMPUY's key financial performance metrics. This impact has already been factored in the stock's price (Figure-11) that's been on a persistent upward trajectory during the past 12 months.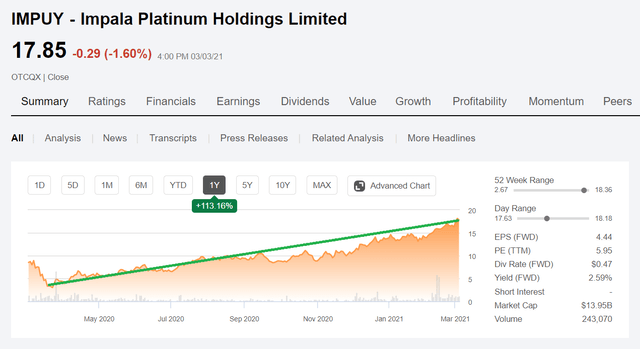 Figure-11 (Source: Seeking Alpha)
I believe the stock will continue to gradually build its upward trajectory from here due to:
(1) a favorable long-term outlook for key PGMs like platinum, palladium, and rhodium (for detailed reasons, refer to Figures 8, 9, and 10 above); and
(2) IMPUY's commitment to improve cost performance at its Rustenburg operations (representing IMPUY's share of operations at the South African Bushveld Complex which, together with Zimbabwe's Great Dyke area represents two of the world's largest discovered PGM properties). IMPUY notes in its H1 2021 report (emphasis added by author),
At Impala Rustenburg, the strategy remains focused on transitioning the business to a lower-cost and sustainable operation. Improved profitability is being opportunistically harnessed to strengthen and optimize the business through investment in creating mineable face length, enhancing and de-risking critical infrastructure and assessing a suite of potential life-of-mine extensions to support sustained production levels in the medium and longer term.

The constraints on labour availability and attendance due to Covid-19 were anticipated and mitigated by the executed ramp-up strategy. The labour complement was proactively increased during the period and mining activity at the major producing shafts was prioritized. The focus on development resulted in mineable face length improving by 7% to a seven-year high and benefited from gains at the growth shafts, 16 and 20, despite the closure of 9 Shaft in the period.
In my view, the above statements represent IMPUY's ability to deliver business growth despite a challenging business environment. The significant challenges at IMPUY's South African operations include COVID-related constraints on labour attendance, power outages by South Africa's national power provider namely Eskom, and rising socioeconomic pressures pertaining to neighboring communities.
How IMPUY compares against peers
For peer comparison, I've selected Sibanye Stillwater (SBSW), and Anglo Platinum (OTCPK:ANGPY). The primary reasons for selecting these peers include:
common operational presence in the South African Bushveld Complex,
similar price tags (at or near $20/share),
a relatable market cap (IMPUY and SBSW have market caps of $13.61 BB, and $14.4 BB respectively; ANGPY's ~$34.5 BB market cap is an exception), and
operations in a common industry (that is, PGM mining).
A bird's-eye view of the quant rankings of these stocks indicate that IMPUY, SBSW, and ANGPY are respectively ranked at 1st, 2nd, and 4th out of a selected base of 11 companies in the 'Precious Metals and Minerals' industry (Figure-12). Likewise, a look at the Quant Ratings of these stocks reflect that both IMPUY and SBSW have excellent ratings on account of Value, Growth, and Profitability metrics, though the same is not true in case of ANGPY. Similarly, IMPUY's Momentum rating is higher than the others; denoting that the stock reacts more favorably to macro catalysts (including a change in PGM prices).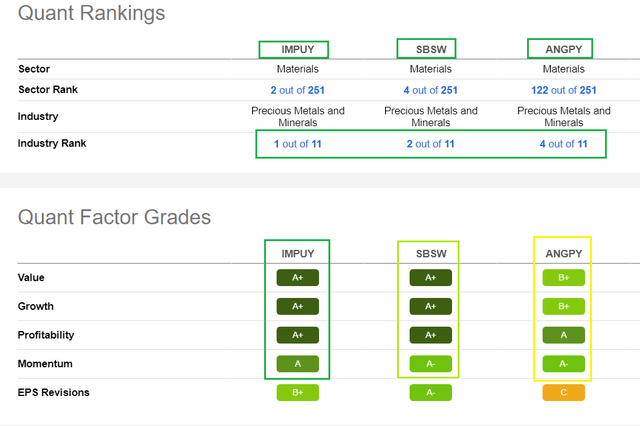 Figure-12 (Source: Seeking Alpha Premium)
Now let's take a look at Table-1 which shows the key numbers that'd help compare these peers in terms of growth, valuation, total price returns (momentum), and dividends.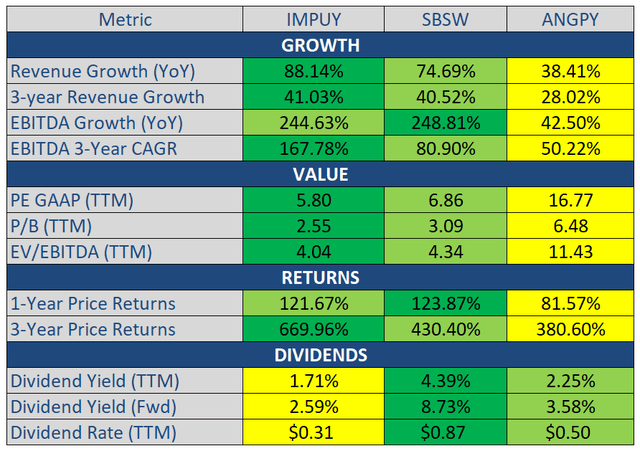 Table-1 [Prepared by Aitezaz Khan; data taken from Seeking Alpha quote pages]
The above table reveals that even though IMPUY is not an ideal candidate from a dividend income perspective (due to relatively low TTM dividend yield, and dividend rate), the stock's certainly one of the most attractive choices in the peer group when it comes to price returns, valuation, and revenue/EBITDA growth profiles. The reason why I prefer IMPUY over SBSW is because the latter is also significantly involved in gold production (and has further diversified its business model recently through entry into the lithium battery metals sector). Meanwhile, recently reported technical issues at ANGPY's processing plant reflected negatively on the company's profitability. Fortunately for IMPUY, its operations have largely remained free from any such negative catalysts. Plus, the company's focus on PGMs would enable it to take maximum benefit of the favorable long-term outlook for PGMs.
Investor Takeaway
IMPUY currently trades near the higher end of its 52-week price range. Although some technical traders might not favor the company's current pricing, the preceding analysis argues IMPUY's case as a long-term growth candidate. The primary catalysts supporting a positive investment case include an anticipated favorable metal price environment, improvement in bottom-line profitability through strategic cost-reduction initiatives particularly at IMPUY's Rustenburg operations, and the company's relatively favorable position compared with peers.
This article was written by
Associated with the securities and exchange business for nearly a decade, and educated in finance, auditing, law, HR and marketing; my main focus is on growth investing (though I do sometimes identify value picks in the metals and mining sector). The focus of my coverage is on the precious metals/ base metals/ energy/ commodities/ and automobile industry.In my experience, the SA audience is an inevitable part of the value chain on this forum. Thus, I encourage my readers to share constructive feedback, as it almost always help support a never-ending learning process.
Analyst's Disclosure: I/we have no positions in any stocks mentioned, and no plans to initiate any positions within the next 72 hours. I wrote this article myself, and it expresses my own opinions. I am not receiving compensation for it (other than from Seeking Alpha). I have no business relationship with any company whose stock is mentioned in this article.
Seeking Alpha's Disclosure: Past performance is no guarantee of future results. No recommendation or advice is being given as to whether any investment is suitable for a particular investor. Any views or opinions expressed above may not reflect those of Seeking Alpha as a whole. Seeking Alpha is not a licensed securities dealer, broker or US investment adviser or investment bank. Our analysts are third party authors that include both professional investors and individual investors who may not be licensed or certified by any institute or regulatory body.