A nearly $2 trillion Covid relief package is working its way through Congress. There is differing commentary about the amount of the stimulus that is going to "Covid" relief, but assuming much of it is relief in some form or the other, how does it get spent? Is the relief targeted? In aggregate, the stimulus that has been sent to individuals prior to this most recent package does not all seem to have been spent. The below chart shows the spike higher in the savings rate, currently running over 20% of disposable personal income.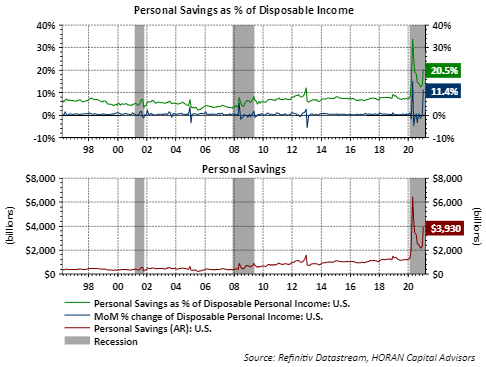 The dollar level of actual savings is running at an annual rate of $3.9 trillion. At the height of the pandemic the savings rate was over $6 trillion. Given the significant increase in the savings rate it seems some of the stimulus is being set aside in savings. That raises the questions of how effective are these stimulus programs.
Recently, I have written posts highlighting the strength of the economy and the fact much of the economic data being reported is better than expectations. However, it is clear many individuals remain unemployed and some financial assistance is needed for these individuals.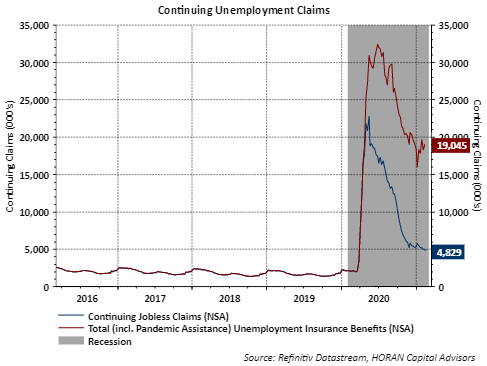 What is being done to facilitate getting unemployed individuals back to work? The participation rate seems to have stalled and remains below the employment levels in place prior to the pandemic induced shutdown. On the other hand, this morning's nonfarm payroll report indicated February payrolls rose 379,000, far exceeding Econoday's 175,000 consensus estimate.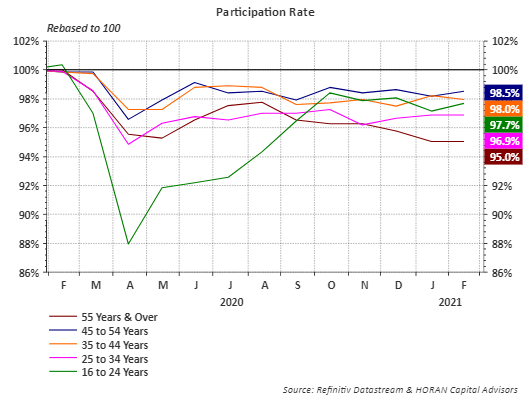 The first chart above shows continuing unemployment claims plus the pandemic assistance category has been trending higher. Today's employment report though suggests an improving job market lies ahead. With the strong economy and improving employment market, a $2 trillion stimulus appears to be taking place too late in the recovery cycle.
Editor's Note: The summary bullets for this article were chosen by Seeking Alpha editors.