Baidu And Bilibili Are In The News - One Exalted, One Condemned
Summary
Technology and internet stocks continued their tumble for the third consecutive week on inflation worries and a rise in U.S. Treasury yields.
Latest cooperation agreements vindicated Baidu's long-standing investments in AI technologies, cloud computing, and big data capabilities.
ARKK ETF made a rare sell trade on Baidu but it was still the fifth-largest holding of the ARKK ETF as well as the combined ARK Invest ETFs.
Bilibili was accused of a series of "out-of-control misogyny" practices though the allegations failed to take the wind out of its sails.
Not content with its original appeal to the niche anime, comics and games subculture, Bilibili is seeking to expand its revenue streams in advertising and e-commerce.
By ALT Perspective for Chinese Internet Weekly
Readers of this column who are vested in internet stocks and have not checked your portfolio performance for the past week are likely not going to like this update. Those who have waited patiently on the sidelines or wishing to add on to their holdings, however, might relish the opportunity to buy the stocks on their watch list with the pullback.
The representative ETFs of Chinese companies (NYSEARCA:CQQQ)(NYSEARCA:FXI)(NASDAQ:MCHI) declined 0.5 percent to 3.8 percent even as their U.S. counterparts (QQQ)(DIA)(SPY) returned a mixed performance. The Chinese Internet sector representative ETF, the KraneShares CSI China Internet ETF (NYSEARCA:KWEB), suffered the most relative to the broader Chinese ETFs. It sank 5.5 percent for the week.
While the Invesco China Technology ETF is more diversified in terms of sectors than the KWEB ETF, it was dragged down by its top holding, Baidu Inc (NASDAQ:BIDU), which declined 7.7 percent. With the fat year-to-date gains the leading Chinese search engine and artificial intelligence firm had chalked up, it seemed shareholders were keen to lock in the profits or chose to use the sale proceeds to invest in more heavily beaten-down names.
Either way, it wasn't an easy decision. The long-anticipated secondary listing of Baidu is finally within reach. Bloomberg reported Friday that the stock exchange of Hong Kong had approved the dual-listing application and investor orders could begin as early as this week.
This would have been a highly positive boost to the share price in an ordinary week. U.S.-listed Chinese stocks have been depressed by the delisting threat due to the heightened U.S.-China political tensions and the passing of The Holding Foreign Companies Accountable Act. An alternative trading option meant that shareholders would not be stranded.
Another piece of good news failing to stem the loss in Baidu stock was the memorandum of understanding [MoU] signed between Baidu and China Huaneng Group Co., Ltd. to "pursue a multi-faceted partnership." Baidu will leverage its capabilities in AI-powered new infrastructure to help Huaneng closely integrate the digital economy with the energy and power industry with the aim to enhance efficiencies and users' experience.
The latest development is another feather in the cap for Baidu AI Cloud which has reached strategic cooperation agreements with leading energy companies such as State Grid. It also vindicates Baidu's long-standing investments in AI technologies, cloud computing, and big data capabilities. However, tech and internet stocks continued their tumble for the third consecutive week on inflation worries and a rise in U.S. Treasury yields and Baidu was no exception.
"Our investment in AI runs the gamut of technology, developer communities, IP patents, AI chip design and talents. As we began to commercialize AI at scale, the incremental revenue that we derive will be reinvested into product development, sales and project delivery to further accelerate AI commercialization and strengthen our moat in our AI business." --Baidu CFO Herman Yu, at the Q4 FY2020 earnings conference call
Besides Baidu, the third-largest holding of CQQQ ETF, Meituan (MEIT)(OTCPK:MPNGF)(OTCPK:MPNGY), also fell hard, dropping 5.8 percent. The iShares MSCI China ETF fared slightly better as it held only 7 percent of Baidu and Meituan collectively. In addition, Alibaba Group (BABA) and Tencent Holdings (OTCPK:TCEHY)(OTCPK:TCTZF), its top two holdings comprising nearly 30 percent of the portfolio, managed to weather the storm pretty well. BABA declined 1.6 percent while TCEHY closed up 0.06 percent.
The two internet giants could have been buoyed by the announcement of a pending revamp of the Hang Seng Index which would see the weights of the New Economy stocks increase at the expense of the Old Economy stocks. In particular, Alibaba's Hong Kong shares would benefit from the removal of the cap on dual share classes and weighted voting rights companies.
The resilience in Tencent stock could also be attributed to a write-up by Wall Street Journal on its sprawling investment portfolio. The title "China's Tencent Becomes an Investment Powerhouse, Using Deals to Expand Its Empire" might seem outdated by several years. The savviness of Tencent as a capital allocator and the benefits of its investees leveraging the ecosystem has long been covered extensively by Seeking Alpha authors including yours truly. It is pleasing to know that WSJ is finally on the same wavelength.
Shareholders of Tencent and Alibaba might also have found solace in a recently published speech by Zhou Xiaochuan, who led China's exploration of digital currency/electronic payments when he was chairman of the Chinese central bank. Of note, he suggested that the system would not leave banks and fintech companies out of payments.
The iShares China Large-Cap ETF has its large exposure to financials (~31 percent of the fund) to thank for being relatively unscathed last week. The sector was deemed as a beneficiary of the rotation theme. Despite having internet stocks as its top four holdings (also ~31 percent), it was down a mere 0.45 percent. In contrast, the MCHI ETF has only 13.8 percent of its portfolio in financials.
Sector weighting of the iShares China Large-Cap ETF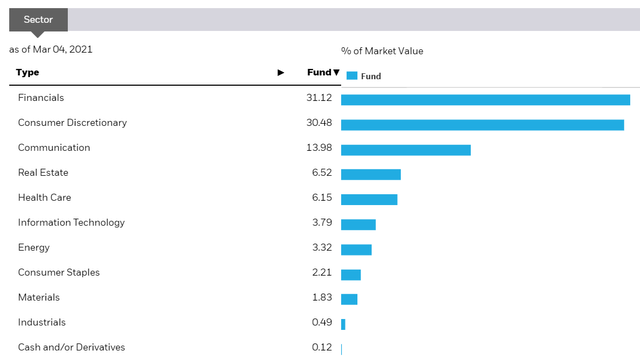 Source: iShares
None of the issuers of the above-mentioned ETF have to worry about looking bad though with star manager Catherine Wood's ARK Invest suite of ETFs underperforming the market by a wide margin. The ARK Next Generation Internet ETF (ARKW) and the ARK Innovation ETF (ARKK) plunged 9.2 percent and 10.2 percent respectively. The declines would have been worse if not for a rebound following a steeper dip in the early trading hours on Friday.
Incidentally, Baidu shareholders who had placed their confidence on ARK Invest holding firm to its stake in Baidu while trimming Alibaba and Tencent had to rethink their thesis as the ARKK ETF made a rare sell trade on Baidu on Wednesday. Cathie Wood possibly wanted to reallocate the proceeds to more heavily beaten-down stocks but remained bullish on Baidu. After all, Baidu was still the fifth-largest holding of the ARKK ETF as well as the combined ARK Invest ETFs.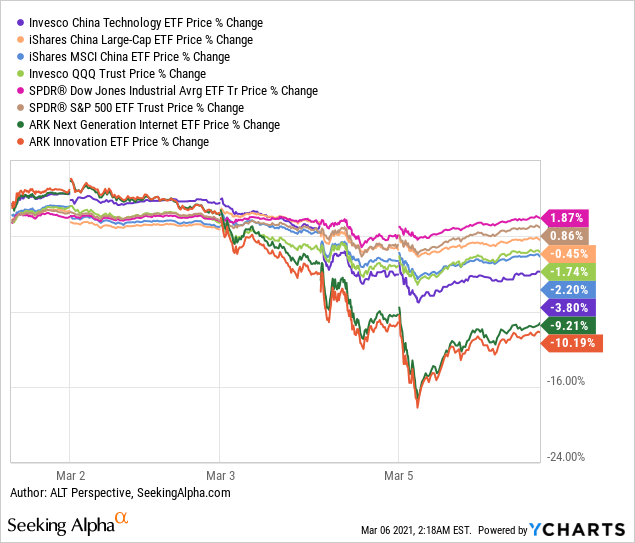 The lackluster PMI results, both the official and the privately compiled versions, released early in the week could be one of the drivers for the bearish sentiment. However, it could also be argued that the February PMIs which all missed the consensus estimates meant the government would be more reluctant in withdrawing the liquidity prematurely.
That optimistic view was countered by the banking and insurance regulator expressing concern on Tuesday over bubbles in the U.S. and European stock markets, coupled with a warning about property speculation in China. Yet, later in the week, those reading the tea leaves found themselves questioning their assumptions with each wave of conflicting official statements.
During the Chinese Premier's opening speech at the Two Sessions 2021, China's biggest political gatherings for the year, a major positive surprise was the target for a fiscal deficit of 3.2 percent of GDP this year, down from last year's 3.6 percent but higher than expectations of 3 percent or less. Furthermore, the 2021 government work report promoted further reductions in the realized loan interest rates and facilitating a more convenient financing system for small and micro enterprises aimed at reducing the overall financing cost.
At the same time, the GDP growth target was set at "more than 6 percent" this year, substantially lower than the 8 percent economists were expecting. The seemingly conservative bar was perhaps an acknowledgment of areas of weakness such as "impediments" to consumer spending, continued pressures faced by small businesses, and challenges in employment.
Among the holdings of the KWEB ETF, the share prices of Trip.com (TCOM) and iQIYI (IQ) were the rare few closing in the positive territory. The duo, both of which count Baidu as a substantial shareholder, also ended the previous week with gains. Trip.com was in play upon local reports of a potential secondary listing in Hong Kong. It is also regarded as a beneficiary of the reopening trade.
As for iQIYI, while Tencent has reportedly suspended talks with Baidu on acquiring the video streaming platform operator, the duo is still found to be collaborating in some manner. Recently, iQIYI and Tencent Video jointly promoted their respective produced shows overseas and made available the shows on both of their international platforms. The cooperation would go some way to help lower their content costs and bring them closer to the elusive profitability.
The duo has also raised their subscription prices for the first time recently. Intriguingly, the market cap of iQIYI has now reached $19 billion, just shy of the $20 billion price tag demanded by Baidu last year for it to part with its stake in iQIYI but was rebuffed by Tencent.
Another video-streaming platform Bilibili (NASDAQ:BILI) unfortunately found itself in bad press. However, the negative coverage didn't prevent the stock from soaring 15 percent earlier in the week before crashing in line with the internet sector to register a loss of 5.7 percent.
Protocol, a self-declared new media focusing on the people, power and politics of tech, recently detailed a series of "out-of-control misogyny" practices happening at Bilibili. A push back on the company began in late January, when an anime "objectified women, and even featured pedophilic elements." Although the show was eventually pulled out, the report revealed that "for fed-up female users, it was too late."
Bilibili reported its fourth-quarter 2020 earnings on February 24. Its shares jumped following the release of the results which surpassed consensus estimates for earnings and a nearly doubling in revenue. The business growth was supported by a 42 percent increase in average daily active users to 54 million and a 55 percent increase in average monthly active users to 202 million. The average monthly paying users more than doubled, jumping a whopping 103 percent to 17.9 million.
Source: Bilibili
Bilibili boasts a core user base made up largely of Generation Z (users aged below 35 years old). Not content with its original appeal to the niche anime, comics and games subculture, it is seeking to expand its revenue streams in advertising and e-commerce.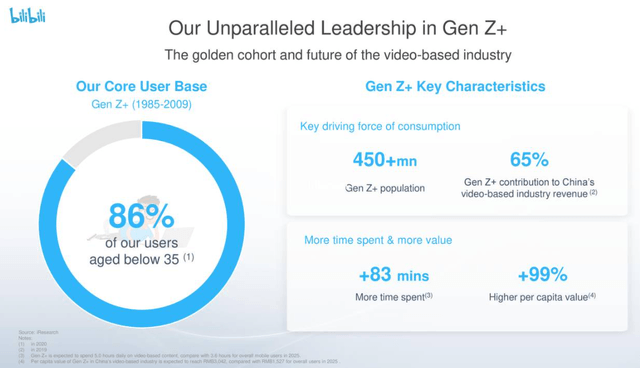 Source: Bilibili
Nonetheless, analysts expect the breakneck revenue growth to slow down in the coming years. It's not known how much the boycott by disgruntled female users is playing a part in analysts' modeling but the debacle could be short-lived.
The consensus is projecting Bilibili to post a nearly 60 percent year-on-year revenue growth for 2021, which would further slow to 40 percent for 2022. These top-line numbers are still impressive no doubt, however, the EPS is only expected to turn positive in 2023.


Source: Seeking Alpha Premium (snapshot taken by ALT Perspective on March 6, 2021)
After trading at above the consensus price target since November, a rapid fire of analyst upgrades coupled with a pullback in its stock led to Bilibili shares being priced at the widest positive gap to the consensus price target. The most bullish price target is nearly double the prevailing price.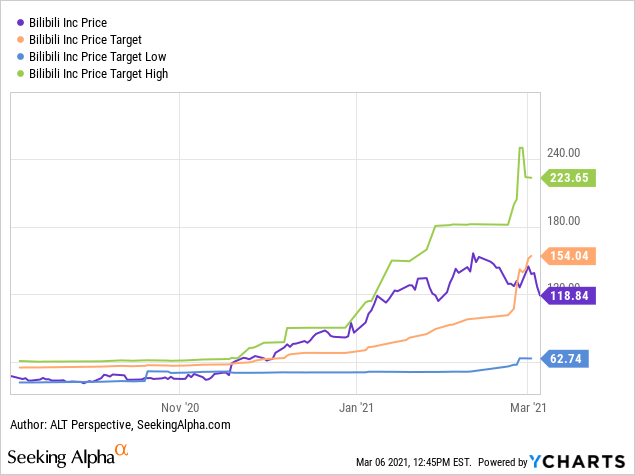 As explained in a past issue of the Chinese Internet Weekly, I found the KWEB ETF holding the most representative stocks in the sector. As such, an overview of the week's share price movements of the top few holdings of KWEB as compared with the ETF itself is provided as follows for convenient reference especially for the stocks mentioned in this article.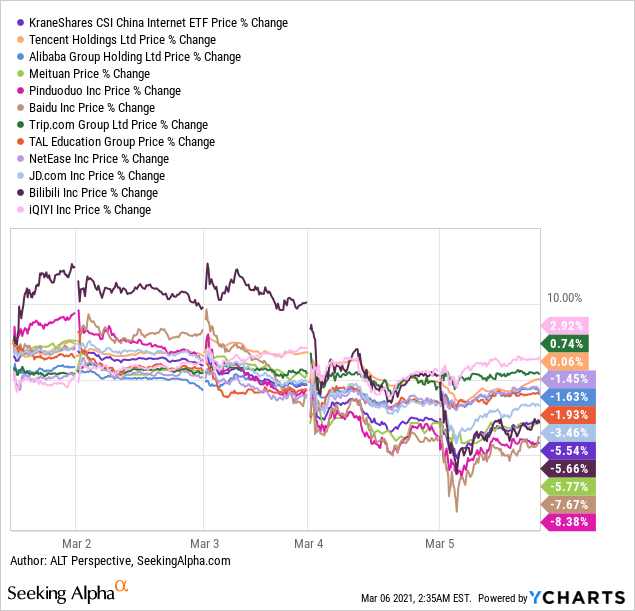 What is your take? Share your thoughts with the Seeking Alpha community in the comments field.
This article was written by
I am honored to have been categorized as a 5-Star financial expert and ranked among the top 2% of financial bloggers on TipRanks in 2017/18. For a period, I was among the top 3 "Opinion Leaders" for Insider Ownership and Services, as well as top 5 for Long Ideas and Fund Holdings. I am an avid reader of market news and company publications with the aim of improving my investment acumen. I enjoy expressing my findings and opinions through writings. My appreciation and understanding of business strategies improved to a whole new level since completing an MBA (Distinction) from a FT100 MBA school. I have worked in companies with businesses that span multiple industries, according me with the exposure to a myriad of sectors.Check out my Author's Picks and over 190 Editor's Picks, among the highest in Seeking Alpha, if not the most.
Analyst's Disclosure: I am/we are long BABA, BIDU, JD, NTES, TCOM, TCEHY. I wrote this article myself, and it expresses my own opinions. I am not receiving compensation for it (other than from Seeking Alpha). I have no business relationship with any company whose stock is mentioned in this article.
Seeking Alpha's Disclosure: Past performance is no guarantee of future results. No recommendation or advice is being given as to whether any investment is suitable for a particular investor. Any views or opinions expressed above may not reflect those of Seeking Alpha as a whole. Seeking Alpha is not a licensed securities dealer, broker or US investment adviser or investment bank. Our analysts are third party authors that include both professional investors and individual investors who may not be licensed or certified by any institute or regulatory body.