Satsuma: Launch Of 2nd Pivotal Trial For Migraine Med Ought To Cheer Share Price
Summary
Satsuma's lead and only candidate STS101, targeting treatment of acute migraines, failed a pivotal trial in September last year.
After a long silence, management has announced that it will launch a 2nd pivotal trial sometime in 2022, and having taken learnings from the 1st trial is confident of success.
STS101 is a nasal spray formulation of DHE, which is efficacious but difficult to administer. Approved DHE nasal spray Migranal makes ~$55m of sales per annum, but faces generic competition.
STS101 may compare favourably to Migranal and current standards of care - CGRP inhibitors - on efficacy, if approved, but trial results will have to be strong.
Satsuma's share price collapsed from $24 to $4 after its first pivotal trial failed and currently trades at $6.5. Momentum may take it past $10 in the coming months. Long-term, an approval could see shares challenge previous highs.
Looking for a portfolio of ideas like this one? Members of Haggerston BioHealth get exclusive access to our model portfolio. Learn More »
Investment Thesis
I posted my last note on Satsuma Pharmaceuticals (NASDAQ:STSA) last September, shortly after the company's lead and only candidate STS101 - a nasal powder formulation of dihydroergotamine mesylate ("DHE") indicated for the treatment of acute migraines - had failed to meet its co-primary endpoints in a 1,200 patient, pivotal Phase 3 trial.
It could be described as a narrow miss - STS101 demonstrated outperformance against placebo in both of the co-primary endpoints of freedom from pain and most bothersome symptom ("MBS"), but the results were not found to be statistically significant, and Satsuma's share price collapsed from a price of $24 to $4.5 overnight.
Since then Satsuma's share price has trodden water, and the company had remained silent on possible next steps - until last week, when management held a conference call to announce firstly, that it had raised $80m of fresh funding via a private investment in public equity ("PIPE") financing, and secondly that it intends to initiate a fresh Phase 3 trial of STS101 sometime in H121, with an expected readout in the 2nd half of 2022.
Since the beginning of the year, Satsuma's share price has crept up from $4.5, to a high of $6.8 in early February. Last week's announcements have failed to significantly lift the stock price - possibly due to the dilution caused by the share placement - and possibly because of the lengthy wait for results of the second pivotal trial.
Even so, there are reasons to believe that Satsuma can be successful second time around. Management has had time to review the results from the first trial in detail, and have released a 42 slide presentation detailing what they believe went wrong.
Satsuma has re-developed their proprietary nasal delivery system to make it easier to use, is considering using a higher dose, and has adjusted some of the trial protocols to give itself an optimal chance of success.
Funding should not be an issue - Satsuma reported $92m of near-term assets as of Q320, and burned through only $35m of cash in the first 9 months of 2020. The additional $80m raised last week included participation from a number of institutional investors including long-term backer RA Capital Management, and company co-founder and development partner Shin Nippon Biomedical Laboratories. Institutional ownership now stands at 61%, according to Nasdaq.
In terms of the market opportunity, Bausch Health has had a prescription nasal spray formulation of DHE on the market since 1997 - Migranal - which made $55m of sales in 2019, but it is under threat from generics, with Indian Pharma Cipla winning approval for a generic version of the treatment in May last year. Impel Neuropharma also has a nasal spray DHE treatment in development - INP104 - for which the FDA has accepted a marketing application and expects to make its approval decision in late September.
Satsuma conducted head-to-head trials of STS101 against both Migranal and INP104 last year, in which STS101 showed more rapid drug absorption and greater drug exposure at all time points measured, but the pharmacokinetic data was not enough to convince the FDA, which requested the placebo-controlled trial that was ultimately failed, plus a safety extension and tolerability trial which remains ongoing.
DHE has long been considered an effective migraine treatment (this report provides the scientific rationale as well as a comparison between the developmental frontrunners) but due to its poor oral bioavailability it must be administered by non-oral means - Allergan had an orally inhalable version of DHE - MAP0004 - rejected 3 times by the FDA.
The other major competitors on the market are calcitonin gene-related peptide ("CGRP") inhibitors, a new treatment type, which has won 6 approvals since 2018, including Eli Lilly's (LLY) Reyvow (Lasmiditan), Allergan's - now part of AbbVie (ABBV) - Ubrelvy (Ubrogepant) and Biohaven's (BHVN) Nurtec (Rimegepant) - pegged for sales >$1bn (by 2025) across both migraine treatment and prevention. Total sales of CGRPs in the second quarter of 2020 were ~$253m, up from ~$140m in the prior year period.
Satsuma will argue that - based on the trial performance of Allergan's MAP0004 against CGRPs, shown below - DHE is the standout treatment, and with the global Acute Migraine treatment market estimated to be worth ~$4bn by 2027 (and the migraine prophylaxis market $7bn by 2027) its willingness to enter a second pivotal trial and its institutional support seems understandable.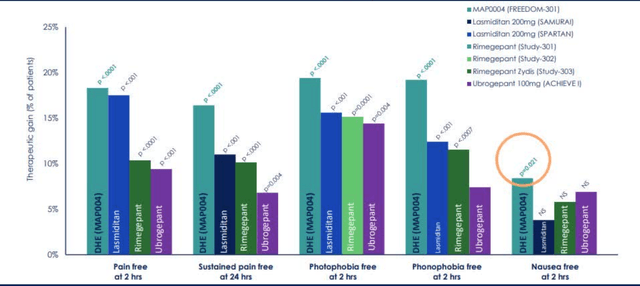 Performance of DHE formulation MAP0004 against CGPRs based on comparable clinical trials. Source: Satsuma past corporate presentation
Getting through the pivotal trial may not be enough - STS101 will have to demonstrate clear outperformance over both CGPRS and Migranal if it is to make it onto health insurers' formulary lists, become eligible for reimbursement, and capture the attention of prescribing physicians. If it can do this, however revenues of $100m per annum would imply a revenue per share - based on Satsuma's 17.42m share count - of $5.17, and a price to sales ratio of <1x.
That surely guarantees share price upside, although questions remain as to whether management has unearthed enough data to make sure its next pivotal trial is successful, and whether, if an approval is secured sometime in 2022, the market may have moved on by then and triple-digit-million sales is still a possibility.
With near-term data catalysts in the shape of a Phase 1 safety and pharmacokinetic study with STS101 5.2 mg and two higher dose strengths, plus the ongoing safety trial, which continues to produce promising data, the case for acquiring some Satsuma stock does look persuasive, in my view. The downside is limited - the stock price is low and unlikely to slip much further until the P3 trial results are revealed sometime next year - and upside a distinct possibility as anticipation grows ahead of data readouts and the market catches up to the news of the retrial.
If Satsuma stock were to challenge the highs of $34 achieved in the months before the P3 trial failure last September, Satsuma could turn out to be the proverbial "5-bagger".
Overview of EMERGE Trial & What Satsuma Plans To Do Differently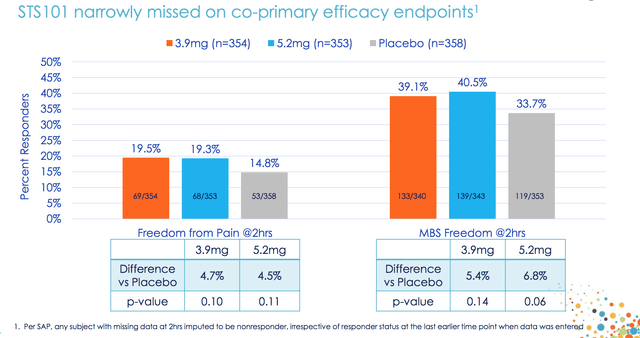 Top level results from STS101 EMERGE trial - September '20. Source: Satsuma presentation March '21
As we can see above, STS-101 outperformed placebo in the prior EMERGE trial, but not by enough to achieve statistical significance (p<0.05) although statistical significance was achieved >3 hours and based on multiple secondary endpoints. STS101 showed favourable results over placebo at every time point measured in both freedom from pain, and most bothersome symptom, with no serious adverse safety events.
After reviewing the results, Satsuma management says that they have identified several issues with the trial protocols, and improvements which can be made to its product that ought to give STS101 a greater chance of success second time around.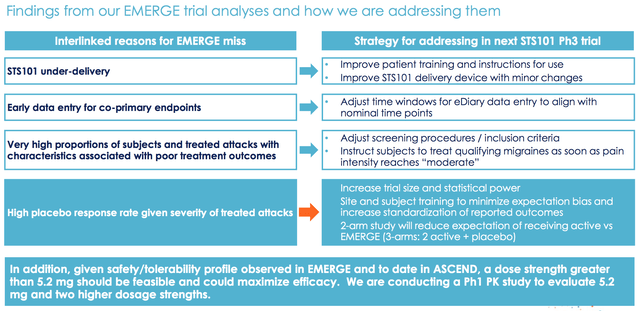 Satsuma findings from EMERGE trial and adjustments to be made in next trial. Source: March '21 presentation
The first relates to its proprietary delivery system. After analysing the amount of drug remaining in 689 returned STS101 devices, management concluded that trial subjects only self-administered ~70% of the available dose, most likely owing to a tentative first squeeze of the delivery device, which delivered a smaller than anticipated dose, and rendered the subsequent 2 squeezes much less effective.
As such, Satsuma has made some minor adjustments to the delivery device - a check valve and thinner walls for easier squeezing - and plans to train site staff and patients in proper usage prior to the start of the trial. This seems to have worked in the long-term ASCEND safety trial, with the mean average dose having improved to 83% in ASCEND compared to 73% in EMERGE, and median from 81% to 89%.
The second action will be to shift the time window and timing of subject prompts to input results in their e-diary's, based on interpolation analysis which indicated a ~30% increase in effect size with a 15-minute time window shift.
The third relates to the number of patients reporting severe, as opposed to moderate baseline pain severity pre-treatment. Satsuma's contention is that migraines are harder to treat after pain intensity has increased to severe - trial results indicated placebo adjusted response rates for co-primary endpoints at 2 hours were 8-10% in patients with moderate pain, versus 1-5% in patients with severe pain. A quirk of the e-diary reporting system is that it consistently recommends a higher proportion of patients with severe pain than moderate, hence management plans to restrict its usage in the next pivotal trial.
A fourth issue was the unusually high placebo response in EMERGE, which management puts down to the use of a nasal delivery system, which triggers a sensation in patients whether delivering STS-101 or an inactive powder. Again, site training and getting patients used to the delivery system prior to administration in the trial is seen by management as a potential solution, along with increasing the trial size to ~700 patients per trial arm - which can be done owing to the use of just the higher 5.2mg dose, and not the 3.9mg dose.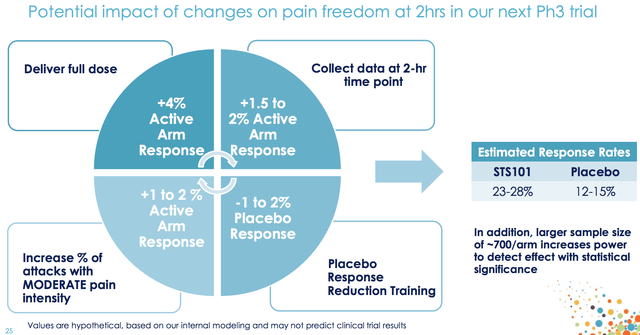 Expectations for improvement in modified P3 trial to launch H121. Source: Satsuma presentation
As we can see above, Satsuma believes that these adjustments will have a significant effect on patient response rates in both the placebo and STS101 arms, and as per below, the trial will be powered to detect a 7.5% effect size with 95% in the pain free, and 80% in the MBS endpoints, giving a statistically significant p-value, if management's estimates prove to be correct.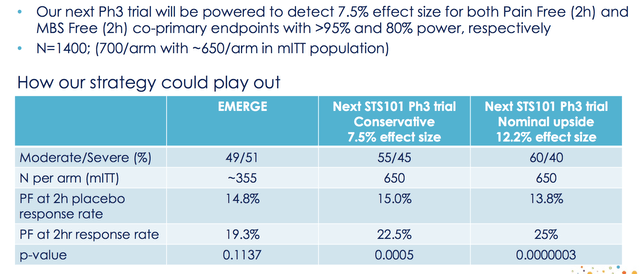 Satsuma projections for P3 retrial outcomes. Source: company presentation.
And finally, Satsuma believes that they may be able to increase the dose size still further, without compromising on safety. The most likely side-effect is cardiovascular-related adverse events, but none were reported at the 5.2mg dose level. Management expects the Phase 1 dose escalation by the end of the next quarter, ahead of the start of the pivotal trial.
In summary, the presentation that Satsuma has put together (and the accompanying webcast) seems to provide a number of plausible reasons why the EMERGE trial (marginally) failed, and why the re-trial could succeed, but what looks good on paper will need to translate successfully to a clinical trial setting nevertheless.
Risks
Personally, I have some sympathy with biotechs who narrowly miss trial endpoints. Clinical trials are never going to be perfectly executed and they are time-consuming, a huge drain on resources and need to be micro-managed to the nth degree.
As I discussed in my last post on Satsuma, many biotech's have successfully come back from a trial failure and proven the efficacy and safety of their drug candidates - I mentioned Cassava Sciences in my last post - its re-planned trial generated such good data around its Alzheimer's drug Simulfilam that the share price has risen >1,300% in the past 6 months.
Satsuma, however, is targeting migraine relief, not Alzheimer's - the severity of the condition and level of unmet need is not comparable - and there are numerous risks to consider in relation to investing in Satsuma, not least whether the market needs another migraine treatment.
It's worth remembering that the FDA rejected Allergan's MAP-0004 3 times altogether, which might imply that the agency doesn't view DHE as a long-term treatment option in migraine relief. Migranal has been around since 1997 but no other DHE-based treatments have been approved since, until Cipla's nod for a Migranal generic last year.
In this respect, it will be very interesting to see what happens when the PDUFA date for Impel Neuropharmas' INP104 arrives in September. Impel won an accelerated review on the strength of efficacy data from an early stage trial designed to evaluate safety and tolerability, in which 2/3 of 360 patients reported pain relief, and 1/2 reported freedom from MBS.
If the FDA approves INP104 - as seems likely, or why would Impel be on an accelerated pathway? - it would surely be under pressure to also approve STS101, based on head-to-head results, and STS101's tougher trial protocols. On the other hand, the FDA refused to fast-track STS-101, so it may be that Impel succeeds whilst Satsuma does not.
A failure to succeed in the upcoming Phase 1 dose escalation trials would also severely hamper Satsuma's progress as it would leave them with the 5.2mg dose that did not succeed in Emerge. Even with the planned adjustments, it may be a struggle to reach statistical significance at that dose.
Then there is the market - with the earliest possible commercial launch likely to be in mid to late 2023, the market opportunity may have disappeared by the time STS101 makes it to market. Satsuma is up against the likes of Eli Lilly and AbbVie, whose CGRP inhibitors are growing sales rapidly, not to mention the OTC market and off-label treatments, which include Botox.
Persuading physicians to prescribe STS101 - barely an upgrade on Migranal or even its generic competitors - may prove to be difficult, and with comparably limited financial resources, Satsuma is unlikely to be able to launch a price war. The retail price of Migranal is reportedly >$3000, and Satsuma may struggle to find buyers if STS101 is listed at a similar price as a newcomer to market with a small sales force, or win reimbursement deals by making it onto formulary lists.
Conclusion
In conclusion, there are still some significant doubts over whether Satsuma's second effort to secure approval for STS101 will succeed, despite the learnings from the first trial and the planned adjustments, and about how marketable the product will be if it is approved, in my view.
The best way for Satsuma to succeed would be for STS101 to deliver outstanding trial results, which would not only make it hard for the FDA to deny Satsuma an approval for a second time, but also create a market for the product as a best-in-class treatment.
There is some evidence that that could happen. DHE's reputation as a potential best-in-class migraine treatment has been established in numerous trials and head-to-head tests - both subjective and objective - the difficulty has been around how to deliver it. The FDA may decide the time is right for a next-generation DHE treatment, and if it approves INP104 it may well decide that STS101 also warrants an approval - trial results permitting.
It may be that DHE treatments could then establish themselves as a standard of care, and even target other indications such as migraine prevention, or that Satsuma could experiment with creating an OTC treatment for less severe conditions.
That is a long way down the road, however, and from an investors' perspective my feeling is that Satsuma shares will gather momentum in the coming months as the market picks up on the news of the retrial and also digests the ongoing positive data being generated from the ASCEND trial which demonstrated a response 2hr response rate of 37% in the 4 weeks to Feb 23rd - ahead of the overall 30% rate, and well ahead of any of Satsuma's commercialised competitors, trial data suggests.
As such, I feel like Satsuma can achieve a double-digit share price in the coming months. The prolonged delay caused by the initial trial failure means shares are unlikely to recapture previous highs >$30, unless Satsuma produces outstanding trial results in EMERGE mark 2. I would not necessarily rule that out either, but the downside risk of disappointing data is significant - given all of the above I rate STS101's approval chances as 60/40 in favour.
If you like what you have just read and want to receive at least 4 exclusive stock tips every week focused on Pharma, Biotech and Healthcare, then join me at my marketplace channel, Haggerston BioHealth. Invest alongside the model portfolio or simply access the investment bank-grade financial models and research. I hope to see you there.
This article was written by
Edmund Ingham is a biotech consultant. He has been covering biotech, healthcare, and pharma for over 5 years, and has put together detailed reports of over 1,000 companies. He leads the investing group Haggerston BioHealth.
The group is for both novice and experienced biotech investors. It provides catalysts to look out for and buy and sell ratings. It also provides product sales and forecasts for all the Big Pharmas, forecasting, integrated financial statements, discounted cash flow analysis and market by market analysis.
Learn more
.
Analyst's Disclosure: I/we have no positions in any stocks mentioned, but may initiate a long position in STSA over the next 72 hours. I wrote this article myself, and it expresses my own opinions. I am not receiving compensation for it (other than from Seeking Alpha). I have no business relationship with any company whose stock is mentioned in this article.
Seeking Alpha's Disclosure: Past performance is no guarantee of future results. No recommendation or advice is being given as to whether any investment is suitable for a particular investor. Any views or opinions expressed above may not reflect those of Seeking Alpha as a whole. Seeking Alpha is not a licensed securities dealer, broker or US investment adviser or investment bank. Our analysts are third party authors that include both professional investors and individual investors who may not be licensed or certified by any institute or regulatory body.