Exchange-traded funds attracted some $84.8 billion for the month of February. Equity ETFs took in the lion's share, drawing a net $78.2 billion for the month, followed by bond ETFs (+$8.1 billion), mixed-assets ETFs (+$590 million), and alternatives ETFs (+$368 million), while commodity ETFs handed back a net $2.4 billion.
While the equity markets started the month on an up note, with all three broadly followed U.S. indices posting multiple record highs during the first part of the month, reinflation fears pushed the 10-year Treasury yield to highs not seen since March 19, 2020, closing the month out at 1.47%. This comes after 10-year Treasuries hit a high of 1.54% the day before, pressuring equities as people evaluated the impact rising borrowing costs might have on corporations. Some pundits were also concerned that rising rates and rich prices in equities might make bonds more attractive to investors.
Many investors feel that we will see significant economic improvement in H2 2021 as efficiencies in coronavirus vaccination distributions occur, contributing to a decline in related hospitalizations and deaths and helping the world return to some semblance of normality. As a result, we have seen a continuation of the rotation into cyclical stocks and out of the high-flying tech and stay-at-home issues.
The average equity fund (including ETFs) returned a handsome 3.67% for the month, with Natural Resources Funds (+18.98%) posting the strongest returns, followed by Commodities Energy Funds (+15.59%), Financial Services Funds (+12.34%), Global Natural Resources Funds (+11.62%), and Small-Cap Value Funds (+10.91%).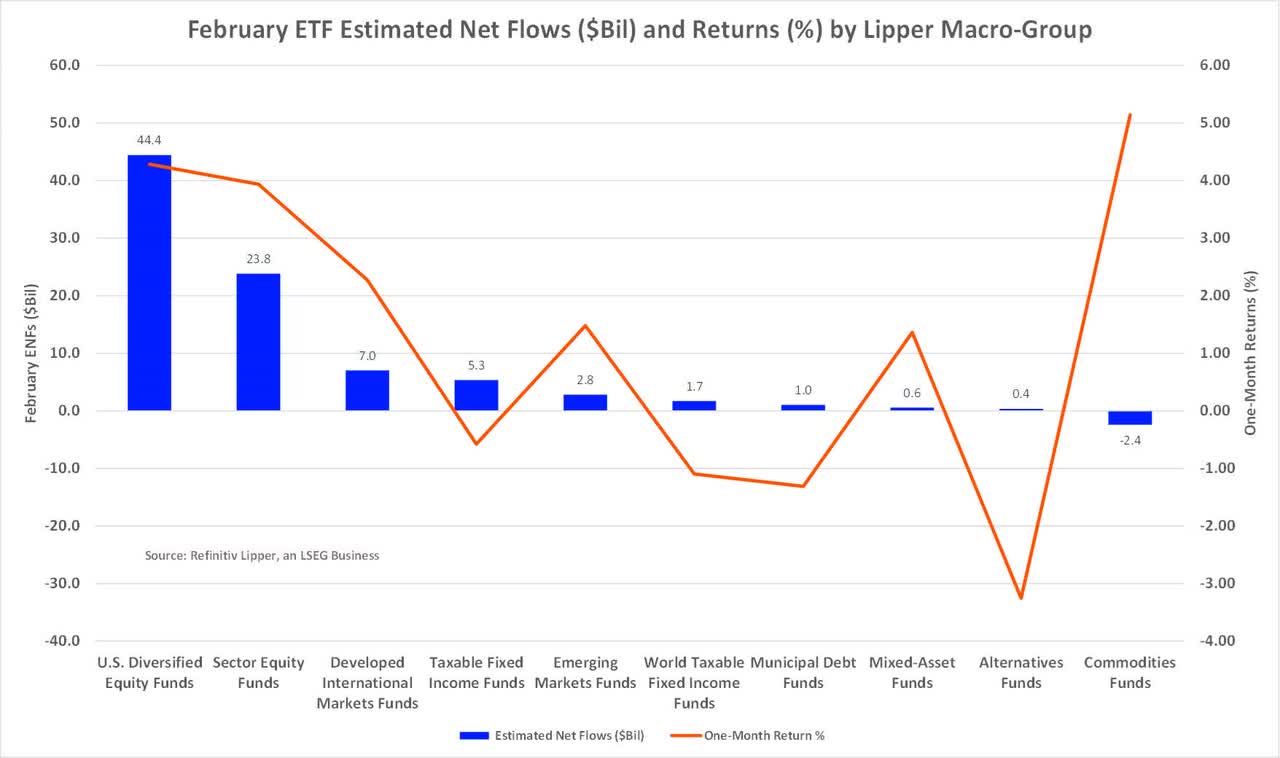 With near-month gold futures declining to nine-month lows during the month, it wasn't surprising to see Precious Metals Equity Funds (-7.82%) at the bottom of the pack for February, bettered by Dedicated Short Bias Fund (-6.55%), the recently popular Alternative Energy Funds (-4.75%), and interest-rate sensitive Utility Funds (-4.06%).
S&P 500 Index ETFs (+$25.8 billion) took in the largest draw of net new money into the ETF space for the month of February, followed by Science & Technology ETFs (+$4.9 billion), Small-Cap Core ETFs (+$4.3 billion), Financial Services ETFs (+$3.7 billion), and Core Bond ETFs (+$3.4 billion). Meanwhile, Corporate BBB-Rated Debt ETFs (-$4.2 billion) witnessed the largest net redemptions for the month, bettered by Commodities Precious Metals ETFs (-$3.6 billion), General U.S. Treasury ETFs (-$2.3 billion), and Consumer Goods ETFs (-$1.4 billion).

Editor's Note: The summary bullets for this article were chosen by Seeking Alpha editors.