The stock of organic light-emitting diode ("OLED") micro-display maker eMagin (NYSE:EMAN) is up ~280% since my first Seeking Alpha article on the company was published in August (see "EMAN: Parlaying DoD Awards To Make AR/VR A Reality"). On Tuesday the company announced it was issued a new patent was that protects the company's IP related to manufacturing bright OLED full-color micro-displays. Display brightness is key to success in the OLED micro-display market. Meantime, OLED micro-display competitor Kopin (KOPN) released a Q4 EPS report that was big beat on both the top and bottom lines. Both developments are lending support to the OLED micro-display market as it moves toward the long-awaited emergence of the AR/VR consumer market. As a result, the stock prices of both companies have surged over the past 6-months (see below). However, if EMAN doesn't figure out how to add manufacturing capacity sooner rather than later, it might be left behind - despite its apparent leadership in underlying micro-display technology.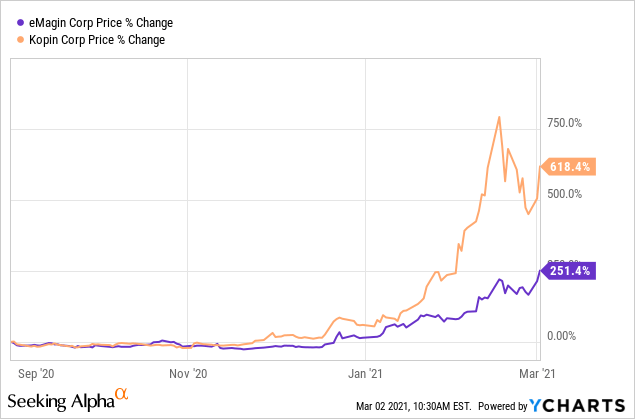 Another Patent For EMAN
As I reported in my first Seeking Alpha article on EMAN, a primary investment thesis was EMAN's proprietary technology and robust patent portfolio - specifically patents regarding the company's Direct Patterning Display (dPd™) technology. The company's technology webpage currently lists "Worldwide Patents: 83 Total/44 Issued & 39 Pending." The patented red-green-blue dPd technology enables EMAN to manufacture OLED displays that have much greater luminance (i.e., brightness) using less power as compared to existing white OLED technology - or the so-called WOLED displays.
The announcement March 2 for patent #10,903,427 extends EMAN's technology leadership in the field. Andrew Sculley, CEO of eMagin Corporation, commented on the new patent:
Our newest patent adds to our technological leadership in brilliant, full-color OLED displays for AR/VR. Display brightness is critical for both AR and VR devices and for Heads Up Displays ("HUDS") used in bright, daylight environments. Our proprietary dPd technology greatly enhances light output relative to competing products that require color filters with white OLED, which reduces the light output by approximately 80 percent. Our roadmap targets full-color displays in excess of 28,000 nits brightness by mid-2023, with an intermediate brightness of 10,000 nits later this year. This intermediate target brightness is approximately 20 times brighter than traditional full-color OLED microdisplays.
The importance of display brightness is key to success for HUDs in terms of the quality of the user-experience for AR/VR consumer applications as well as to reduce eye fatigue for military pilots and night-vision uses. This is why competition in the OLED micro-display market focuses on "nits" of brightness. EMAN is arguably the leader in this metric - and that bodes well for the future.
As shown in the graphic below, and in layman's terms, EMAN's patented dPd technology effectively figured out how to remove the RGB filters from existing white OLED display technologies (shown on the left). These filters rob ~80% of the light from passing through the display. That being the case, removal of the RGB color filters and performing a similar function inside the "sandwich" gives EMAN's displays a huge advantage in delivering very high brightness and resolution to the user experience.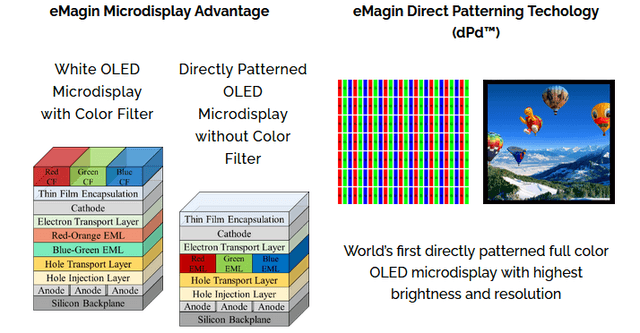 Source: eMagin
At pixel time, EMAN shares are up ~13% on news of the new patent. But it may also be up in sympathy with KOPN's strong earnings report - which was also issued March 2.
Kopin's Earnings
Last year, EMAN announced its Q4 and full-year earnings on March 10. That being the case, I would expect its earnings will be released this week.
Meantime, one of EMAN's main micro-display competitors, Kopin, has set a high bar by announcing a Q4 EPS report last week that delivered strong revenue growth and a $0.04/share beat on the bottom line. Highlights include:
Q4 revenue of $13.9 million was up 60% yoy.
Full-year 2020 revenue was up 36%.
Q4 net-income of $1.3 million compared to a net-loss of $7.2 million in Q4 of 2019.
Sales of micro-displays for augmented reality ("AR") were strong.
Defense sales continued to dominate Kopin's customer base. However, all eyes are on the much larger and highly anticipated AR/VR consumer market. Kopin CEO Dr. Fan commented:
This quarter we received our first production order and began shipments of our 720p duo-stack, ColorMax OLED microdisplays. We also announced an agreement to develop superbright monochrome MicroLED displays. We believe that both our advanced ColorMax™ OLED and our MicroLED displays will be key enablers of what we see as the coming wave of AR and VR products in defense, enterprise and consumer applications ... Currently, almost all of our development programs are related to AR and VR applications. As the AR and VR market segments continue to gain traction, Kopin is ideally positioned to meet this demand. We are confident that we are well positioned for the coming era of AR/VR, and our future is bright.
It will be very interesting to see if EMAN can match Kopin's strong Q4 as the two companies compete for market share and - more importantly - position themselves for the expected upcoming boom in the AR/VR micro-display market. In addition, note that Kopin's CEO says his company is "ideally positioned to meet this demand". That may be a shot across EMAN's bow by pointing out its manufacturing capacity limitations.
The Micro-Display Market Opportunity: Huge
The stakes are huge. According to Markets and Markets:
The global microdisplay market size is projected to grow from USD 712 million in 2020 to USD 3,609 million by 2025; it is expected to grow at a CAGR of 38.4% from 2020 to 2025. Factors such as compact size and technological advancements in microdisplays, increased adoption of HMD in several industries, escalated demand for OLED microdisplays, and increased global adoption of advanced driver-assistance systems (ADAS) & HUD are driving the growth of the market during the forecast period.
For companies as small as EMAN and Kopin, and with a market that is expected to reach $3.6 billion by 2025, there is plenty of room for both companies to participate and for both to become enormously successful.
That said, a look at Seeking Alpha's financial webpage for EMAN shows that the company's annual revenue has been stuck in a range of ~$20-$30 over the past 5-years and has generated negative operating income during that entire time-frame. Clearly the company does not have the manufacturing capacity to address such a large TAM as the $3.6 billion estimate given my Markets and Markets above. Even if the ~$39 million in DoD awards lead to a doubling of capacity and revenue, it will obviously still leave a lot on the table. And note that competitor KOPN delivered total revenue of $40.1 million last year - already larger than EMAN's typical run-rate.
Going Forward
However, as I have been reporting (see "EMAN: Manufacturing & Licensing Agreements May Be EMAN's Own Virtual Reality") EMAN suffers from a lack of manufacturing capacity to leverage its technological leadership in the space. While the DoD awards will certainly help the company buy badly needed equipment to improve its fortunes, a licensing and/or manufacturing agreement appear needed to accelerate the company's efforts growing capacity. After all, what large AR/VR headset supplier is going to sign-up for a large order with a company that can't deliver the volume and quality needed?
Meantime, being the only US-based manufacturer of OLED micro-displays practically guarantees EMAN will continue to receive steady support in terms of funding and orders from the US Department of Defense. But to reach the next level, and prepare itself for large-scale manufacturing capacity, EMAN - in my opinion - still needs some kind of licensing agreement (i.e. cash infusion to buy much needed equipment) or manufacturing agreement in order to convince a potential large-scale high-quality consumer-oriented company (Apple (AAPL) quickly comes to mind; see below) that it can truly deliver its leading edge technology - at scale and with excellent quality - to the consumer market.

Source: MacRumors
But to capture a significant slice of the micro-display consumer market, EMAN needs additional manufacturing capacity. As reported in my previous articles, the company was having trouble keeping up with military orders, let alone high-volume consumer products. On the Q3 conference call, eMagin CEO Andrew Sculley reported progress made as a result of the DoD Awards:
We anticipate receiving our first piece of new equipment in December. This tool is for advanced testing and diagnosis. We expect it will help us to improve our yield beginning in the first quarter of 2021. Additional early phase equipment is scheduled to arrive in the second quarter and we will immediately begin testing and qualification at that time.
That being the case, I doubt the upcoming Q4 EPS report is going to be significantly better than previous reports - skirting around the profitability level with no step change in volume expected until Q1's results. Meantime, EMAN has to be watching Kopin's success very closely.
Now, certainly EMAN's management has a fine-line to walk. On the one hand, they don't want to give away the "crown jewels" and minimize their technology advantage just to strike a deal. On the other hand, they need to find path to increase its manufacturing capacity. That being the case, it is somewhat surprising - considering the recent strength in the stock price - that EMAN has not announced a secondary stock offering in order to raise the funds necessary to build-out its own manufacturing capacity.
As an example, note the multiple large secondary offerings a company like Nano Dimension (NNDM) has successfully made recently (see Seeking Alpha contributor Robert Abbott's article Nano: 3D Printing Company Raises Big Bucks For Growth). Like EMAN, Nano Dimension has not delivered consistent profitability - but it has had no trouble whatsoever in raising hundreds of millions of dollars in a market that is eager to reward innovative and disruptive technology. Indeed, Nano now has a nearly $1 billion war-chest for acquisitions.
Perhaps the lack of a secondary offering is an indication that EMAN's management would rather fine-tune its processes and prototype skills before expanding manufacturing capacity. Or, perhaps the EMAN management team believes the stock is on shaky ground and is waiting for it to rise a bit higher before offering more shares. Time will tell. But with such a large TAM opportunity, and with what appears to be the best technology for making OLED micro-displays, one would think management could line-up investors for a private placement relatively easily. In fact, a $50-$100 million offering should be a catalyst for the stock to rise further because it would enable EMAN to start buying the machines needed to expand capacity.
Risks
EMAN is a micro-cap - its current market-cap is only $325 million. That being the case, the stock price is highly volatile and there is a relative lack of liquidity. That can work out well on the upside (as it has lately), but can work just as well to the downside.
The company is still struggling to increase manufacturing capacity. That being the case, the company could lose out on near-term contracts, and in technology it is typically the "early bird that gets the worm".
Summary & Conclusion
The fundamental growth opportunity in the consumer AR/VR market is enormous. The market is gathering momentum and it appears the long-awaited break-out to the upside for OLED micro-display manufacturers is near at hand. Despite its manufacturing capacity challenges, EMAN's stock price is already celebrating the anticipated breakout. Hopefully, the company will soon announce some positive developments that will prove it will be able to manufacture high-end OLED micro-displays in volume and leverage the company's apparent and proprietary technological advantage.