Desktop Metal: Building From The Ground Up
Summary
3D Printing is expected to have an economic impact of more than half a trillion dollars by 2025, according to McKinsey.
The largest 3D printing opportunities lie in aerospace, automobiles and machinery, which all fall under Desktop Metal's domain.
Imminent 3D printing industry inflection point lies ahead, as mass production becomes viable.
Desktop Metal's Production System printer for mass production is set to roll out later this year.
Capitalize on ESG thought leadership within a sustainability-themed industry opportunity.
Whenever renowned acronym (SPAC/PIPE) evangelist Chamath Palihapitiya posts one of his one-pagers on Twitter, I like to pay attention. I believe he has a solid vision of the future and a great vantage point to shape that view from. This isn't to say everything Chamath endorses should be taken blindly as gospel, but he is a good source for leads to be explored further, which brings us here.
Chamath's thesis revolves around the premise that the 3D printing industry is ready to break out of its infancy and transition to the main stage, with Desktop Metal (NYSE:DM) being well-positioned to lead the charge towards mass industrial production. I have been following the 3D printing industry for the past decade and after recently diving deeper into Desktop Metal, I believe they are indeed the best positioned to lead, despite their limited history relative to their peers. Additionally, there are important factors such as sustainability and the industry's trading history that compound to make now the perfect time to take a position in Desktop Metal.
3D Printing
Otherwise known as additive manufacturing, 3D printing is the process of producing 3D objects from digital designs by adding material, versus traditional manufacturing methods that rely primarily on subtraction (removing material, like a sculpture) or moulds. The benefits of 3D printing are wide-ranging, but to mention a few:
minimal material waste
more versatility in production and design process
no need to design and build costly moulds, which create barriers to change
supports a diverse array of innnovative materials and synthetics
supports practically any shape
significantly more durable end products as it reduces the number of components required
3D printing technology began in the 1980s when it became a feasible means of supporting rapid prototyping, meaning it was strictly used in the design process. Over the past decades however, 3D printing has transitioned into the industrial arena helping to (somewhat ironically) create moulds and tools, as well as some end products like GE's fuel nozzles (this video is a good visualization of 3D printing and how it can drastically reduce the number of components required for a part). It is still early days for the 3D printing industry and this graphic from ARK's Big Ideas 2021 report does a good job to illustrate where the industry is currently positioned, as well as the inflection point ahead:

Source: ARK Invest
As you can see above, the largest opportunity for 3D printing still lies ahead with the manufacturing of end parts and products, as only 1% of a potential $490B opportunity is being currently addressed. The TAM for 2025 outlined by McKinsey could amount to over half a trillion dollars.
Desktop Metal
Desktop Metal was founded just over 5 years ago in Boston, with one of their co-founders Ely Sachs being the original person to coin the term "3D Printing." As the name would suggest, Desktop Metal was initially conceived with the purpose of developing a metal-printing 3D printer that could be compact enough to operate in an office environment. Today, Desktop Metal has 4 printing hardware products in its portfolio: Fiber, Studio System, Shop System and Production System. The line of products support the printing of both metals (Studio, Shop and Production) as well as fiber composites (Fiber).
In addition to their printers, Desktop Metal has built an industry-leading AI-driven software called Live Parts that is used for design and modelling. While I'm no expert in design software, the way Live Parts automates design in this video to optimize for real-world conditions is pretty impressive. Sometimes the difficulty with selling high ticket items is inevitable market saturation and challenges to growing recurring revenue. Thanks however to Desktop Metal's complimenting SaaS product, along with secondary products like their printing cartridges, they have managed to create a razor-blade model to bolster recurring revenue streams.
What I like about Desktop Metal is that they're targeting the bread and butter of the 3D printing market: Machinery, Automotive and Aerospace. These categories collectively represent over $400B of potential TAM and despite other competitors in these segments, I believe Desktop Metal is one of the best positioned to take the lion's share.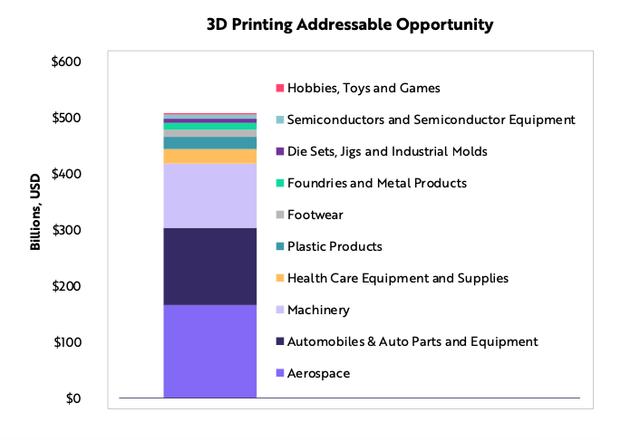 Source: ARK Invest
Competition
Some of the the most notable publicly traded names in the 3D printing space are as follows:
Materialise is focused on software, Organovo on health care applications (specifically replicating human tissue) and Proto Labs on prototyping - so that leaves us with Stratasys, 3D Systems, HP and ExOne as the main direct competitors for industrial manufacturing.
ExOne and HP rely on binder jetting which is considered a generation behind the proprietary single pass jetting method developed and deployed by Desktop Metal, which is 100x faster than traditional laser-based metal printing. Stratasys and 3D Systems have a longstanding track record of leadership in the industry that dates back to its origins in the 1980s, however this has also caused them to be married to legacy technology.
Desktop Metal's relatively recent start has conversely allowed them to build from the ground up and successfully implement their innovative metal printing technology. Stratasys signalled this themselves via their strategic investment and partnership in Desktop Metal, to leverage their established marketing network and support DM's cutting-edge technology. Sales & marketing have historically been limiting factors for 3D companies so the strategic partnership with Stratasys is promising.
Sustainability
Bill Gates has commented several times (including his recent interview with Bloomberg), on how the steel supply chain is a key area to improve from a sustainability perspective. 3D metal printing is perfectly positioned to address this, as it tackles sustainability in the following ways:
Eliminates waste.
Dramatically reduces transport and emissions, by bringing more manufacturing in-house and reducing steps in the supply chain, through lowering the number of components needed for parts.
No need for moulds or tools.
Facilitating more sophisticated designs to retain structural integrity with less material.
ESG (Environmental, Social & Governance) fund flows have grown over 10X in just the past 5 years and this trend will only continue, as both regulatory and investor demand accumulates. Buyside institutions are under increasing pressure to select more sustainable investments and 3D printing companies offer an attractive mix of economic and sustainable benefits. To add, Desktop Metal has voiced thought leadership around sustainability for the industry which can be seen in this publication for the World Economic Forum by CEO Richard Fulop.
Ownership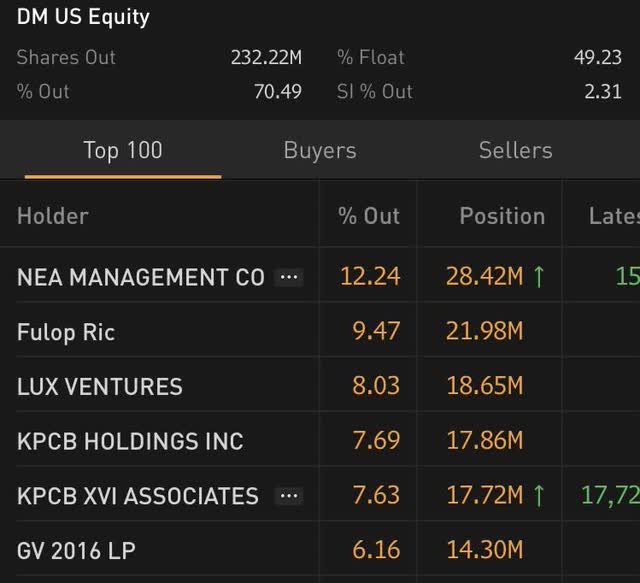 Source: Bloomberg
Much of the pre-IPO capital has remained tied-up in Desktop Metal as of end of 2020 filings, partially attributed to a 6 month lockup period outlined in their S-1 filing that is applicable to certain shareholders. There is very little institutional ownership at the moment, with the 2 largest institutional holders being Baron Capital and ARK Invest, who collectively own just over 1%. I do believe these are two of the best public equity investors out there, so it is no surprise they are paving the way for institutional inflows. So on the balance while there is a lot of room for large institutional money to flow in, there are also large potential exits ahead. It is also noteworthy how much ownership CEO Ric Fulop has as the second largest holder, emphasizing his skin in the game.
Valuation
Desktop Metal is tied for the fastest growing unicorn in US history, reaching a $1B valuation in less than 2 years since inception (although live-chat platform Clubhouse allegedly surpassed $1B earlier this year, which would steal the crown). They are backed by the likes of Google Ventures, NEA, KPCB and Lux Ventures, as well as strategic partners GE, BMW and Ford. Ford led an investment round injecting $65M of capital and adding their CTO to Desktop Metal's Board of Directors, signalling Desktop Metal's endorsement by the automotive industry.
Today Desktop Metal has an EV north of $4.5B which, given their minimal historical revenue, means they still have a lot of work to grow into their current valuation. FY24 revenue consensus is $570M which would imply a forward multiple around 8.4, which is in line with more mature companies in the industry like 3D Systems (~8), however Stratasys is currently priced much cheaper at an EV/Sales of 3.
What DM has to their advantage is a lead in bringing to market the first large scale and rapid metal industrial printing device: the Production System. The Production System is scheduled to deliver at volume in the second half of this year, following successful trials with test partners. If DM can execute on this, I do not doubt they will be able to surpass $570M in revenue prior to 2024, especially given the price tag for the Production System is expected to approach $1M. It comes as no surprise that FY21 revenue consensus has shot up 29% in just the past month.
Manufacturers in the key industrial categories mentioned earlier will be racing to get their hands on such cutting-edge production technology once available, especially given the favourable rate environment for CapEx. I personally believe DM could grow into a "mature" 3D printing EV/Sales multiple of high single-digits within the next 2-3 years. At this multiple, I would still consider DM very attractively priced, given the massive ~$400B market opportunity at stake, which they are very well positioned to take a chunk from.
Once production volume rolls out later this year and implementation unfolds, a ripple effect will occur as manufacturers experience efficiencies that will inevitably spur widespread adoption. Mark my word, DM could be very well doing $5B+ in sales by the end of the decade giving them at least a $40B valuation and roughly 10X upside from today.
Risks
It is important to note that with disruptive technologies like 3D printing and AI, runaway euphoric expectations can be prevalent and it's important to keep things in check. Like with AI, 3D printing is not a magical black box panacea that can produce our unlimited wants and desires - it needs to be put to work and still requires domain expertise for proper implementation.
Time horizon is also been a bit of a risk in the 3D printing space. HBR called a tipping point in 3D printing more than 5 years ago in 2016, which we are still waiting for. The same was expected in the years prior to 2016 during the "3D printing bubble" in 2014. I do believe the announcements we are seeing from players like HP and Desktop Metal indicate broad industrial adoption is around the corner, as early as this year.
If you do not have the capacity to hold the stock for a longer time horizon however (1 year+), this investment opportunity may not be for you. Lastly, the lockup period previously mentioned could cause a liquidity event for some of Desktop Metal's early investors - specifically Google Ventures, Lux Partners, NEA, KPCB and Ford. The applicable lockup period for these investors expires 180 days following the merger's closing date of December 10th 2020, which brings us to the second week of June 2021.
While there is risk some of these investors may choose to exit at this point, I believe some will remain for the long haul, especially strategic partners like Ford. For the VCs that do choose to exit in the near future, there should be a smooth handoff to large institutional investors given there are currently no institutional investors with a significant position over 1%.
Closing Remarks
The Dot Com Bubble wasn't really a bubble after all - it was just expectations being pulled forward too quickly. Sure many companies failed, but today the S&P 500 is over 2.5X higher than its peak in 2000 and the internet is an incredibly productive tool that permeates nearly every aspect of our daily lives.
Similarly, in the early years of the past decade, 3D printing stocks soared as anticipation built around promises of the technology. Investors grew impatient however, as it became apparent the technology was still years from mass market adoption and valuations were consequently massively depressed. 3D Systems for example suffered a colossal drawdown over 13X from its peak in early 2014, to trough in early 2016. 3D printing poses potentially the most disruptive revolution in manufacturing of all time and is at the brink of achieving mass production, but industry valuations are still suppressed due to its haunted past.
Desktop Metal reports FY20 results on March 26th, so now may be a good time to take advantage, as it will be a likely occasion for announcing key updates on mass deployment of the pivotal Production System. Despite sales revisions increasing 29% this past month and consensus target price rising 25% to $29 over the same period, Desktop Metal has tumbled nearly 40% over the past few weeks with the broader equity sell-off. While we all may have our different opinions about the economy, asset class flows, etc. - Desktop Metal is currently well priced if you're comfortable with holding for at least a year (and ideally two) to allow enough time for the Production System to get well distributed and for ensuing successes to unfold.
This article was written by
I believe we are amidst one of the largest transformative eras of humankind, stemming from disruptive changes to energy, transportation, health care, manufacturing and the workforce - to name a few. I'm interested in organizations that will contribute to our most positive and productive trajectory forward.
Analyst's Disclosure: I am/we are long DM. I wrote this article myself, and it expresses my own opinions. I am not receiving compensation for it (other than from Seeking Alpha). I have no business relationship with any company whose stock is mentioned in this article.
Seeking Alpha's Disclosure: Past performance is no guarantee of future results. No recommendation or advice is being given as to whether any investment is suitable for a particular investor. Any views or opinions expressed above may not reflect those of Seeking Alpha as a whole. Seeking Alpha is not a licensed securities dealer, broker or US investment adviser or investment bank. Our analysts are third party authors that include both professional investors and individual investors who may not be licensed or certified by any institute or regulatory body.