AbCellera Biologics: A Compounding Machine In Biotech Clothing
Summary
AbCellera Biologics is a little followed and largely uncovered company. What it is building however is known all throughout the biotech and pharma industries.
With the likes of Bill Gates, Peter Thiel and DARPA as key backers, AbCellera is quietly creating a call option on vast swaths of new and emerging biotech.
AbCellera, contrary to the competition, partners with its customers and locks in royalty agreements, leading to a very long but potentially vast revenue cycle.
The sell-off in tech and high-growth names has punished AbCellera extremely hard and created a decent entry point. Investors cannot get past the current valuation and seem to lack the long-term vision to see the pot of gold at the end of the rainbow.
In this article, I would like to introduce AbCellera Biologics (NASDAQ:ABCL), the antibody discovery company that could have the potential to revolutionize the process for discovering and rapidly advancing new therapies.
Overview
AbCellera, fresh off of its recent IPO, classifies itself as a full-stack, artificial intelligence, or AI, powered drug discovery platform that searches and analyzes the database of natural immune systems to find antibodies that can be developed as drugs.
According to the company's S-1 filing, it believe its "technology increases the speed and the probability of success of therapeutic antibody discovery, including enabling discovery against targets that may otherwise be extraordinarily difficult to treat".
In a nutshell, the company thinks it has built a unique process for both identifying and rapidly advancing new therapeutic discoveries utilizing modern technology and synthetic biology. The company views itself as a tech company, not a biotech or a device maker.
AbCellera operates in two key markets, the antibody development market and the cell therapy market. Both of the company's target markets are expected to grow at breakneck speed over the next five years.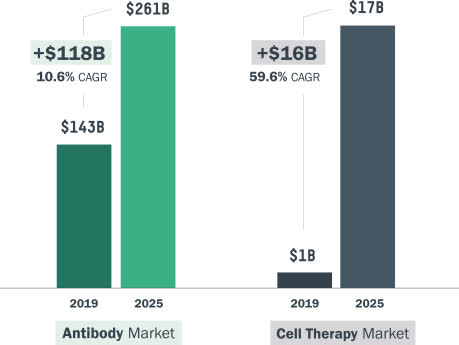 Source: AbCellera
Rather than advancing AbCellera's own clinical pipeline of drug candidates, instead it forges partnerships with drug developers of all sizes, from large-cap pharmaceutical to small biotechnology companies. The company then empowers them to move quickly, reduce cost and tackle the toughest problems in drug development.
The partner company basically comes to AbCellera with an idea for a therapeutic agent, AbCellera then performs the entire discovery process, validates the work and turns the process back over to the partner company for clinical trials.
The company has a stellar list of investors with Peter Thiel and Bill Gates both participating in the IPO and in previous venture funding rounds along with a collaboration with DARPA, an office of the US military focusing on advanced research.
Also of note, the company is currently involved in a rather nasty patent suit with key competitor Berkeley Lights (BLI), accusing Berkeley of infringing on multiple patents covering AbCellera's technology.
Key Competitive Strengths
The utilization of advanced data collection and computation creates a flywheel effect that enhances AbCellera's technology. As it increases the partnership discovery business, it is amassing unique, multi-dimensional data sets that link measurements at the level of single immune cells with the properties of the antibodies they make and the DNA sequences that encode their function.
I view this company as a live action version of Schrodinger, Inc. (SDGR). Where Schrodinger uses massive computational power and physics to model the theoretical outcomes and properties of a given antibody, AbCellera uses real world data extraction as a starting point and then lets its vast computer models and AI system find molecules optimized by nature.
A single discovery project can generate potentially millions of DNA sequences and single-cell measurements, as well as thousands of antibodies, each characterized by numerous data points. Every project it participates in generates more data about the antibody immune response.
This creates a competitive advantage where AbCellera extracts insights from that data and allows it to accelerate wet lab experimentation with computation in a continuous process. Because that computation is grounded in real world data, the output of AbCellera is not theoretical predictions.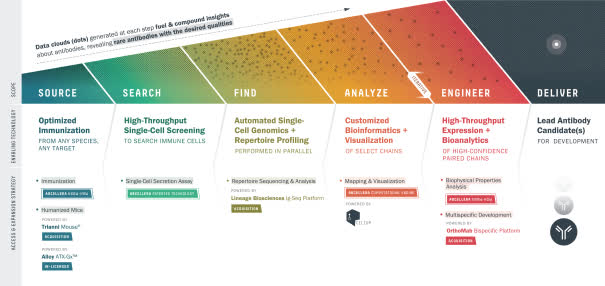 Source: AbCellera
How It Makes Money
How the company chooses to make money is also unique in this field. Instead of selling its software in a suite for a set fee, it looks to be locked in going forward on a strategy to partner with its customers for milestones and royalties. I have included a quote from the CEO during an interview that he gave below.
We forge partnerships with large cap pharmaceutical companies, biotechnology companies of all sizes and non-profit and government organizations. Our partners select a target and define the antibody properties needed for therapeutic development. We provide discovery solutions to partners that have a range of discovery capabilities, from the highly enabled to the less enabled. We enable discovery against targets that have traditionally been intractable, and we accelerate programs against less difficult targets.

Our deals emphasize participation in the success and upside of future antibody therapeutics. Our partnership agreements include near-term payments for technology access, research and intellectual property rights, and downstream payments in the form of clinical and commercial milestones, and royalties on net sales.
The company is basically forgoing profits in the discovery phase of a drug, with the goal of an expense free revenue stream for potentially decades of pure profit if its target is approved.
To me, this revenue model appears to be a high risk, very high reward proposition. The company is in effect investing in its own technology by wagering that the compounds it develops will succeed. If they do, the company stands to make potentially billions of dollars from royalties, but if they fail, the company is left with very little for its efforts.
To be clear, AbCellera does charge a technology fee and research fee along with some development cost fees to its partners, however in all likelihood, if a program fails to reach the market, AbCellera will likely just break even for its efforts.
The key to success with AbCellera is that with each completed partnership and discovery process, the company's library of data grows and multiplies. I am again struck with a similar thesis as with Schrodinger, the further it progresses and analysis compounds, the stronger the company becomes.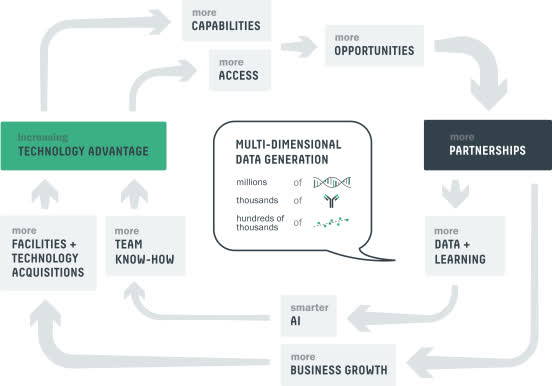 Source: AbCellera
The bottom line is that the company lowers its risk profile dramatically from having multiple shots on goal by way of drug development targets and partners.
Programs
To the point of having multiple shots on goal, AbCellera currently has 94 as of Q3 2020 and that number is growing rapidly!

Source: AbCellera
As of September 30, 2020, AbCellera had 94 discovery programs that were either in progress or under contract. Some of the publicly disclosed partnerships include:
IgM Biosciences. Multi-target, multi-year partnership focused on oncology and immunology and announced on September 24, 2020.
Lilly (LLY). Multi-year partnership with 9 targets focused on COVID-19 and additional indications and announced on May 22, 2020.
Gilead Sciences (GILD). Single target partnership focused on infectious disease and announced on June 13, 2019.
Denali (DNLI). Multi-year partnership with eight targets focused on neurological diseases and announced on February 28, 2019.
Novartis (NVS). Multi-year partnership with up to 10 targets and announced on February 14, 2019.
Bill & Melinda Gates Foundation. Two-year agreement focused on high-priority infectious diseases including HIV, malaria and tuberculosis and announced on March 14, 2019.
The company is currently partnered with over 26 companies in structured royalty partnerships with the majority choosing to remain anonymous for competitive reasons.
The company clearly decided in 2018 to move towards a downstream revenue model as evidenced by the rapid growth in both partners and in programs under contract.
Much of the recent focus given to the company in the media has been in the world record time the company achieved its antibody therapy approval for COVID-19 in partnership with Eli Lilly.
AbCellera began work on the therapy in late March of 2020 and was able to go to clinic with an IND in June. Final approval of the drug was announced in December. This is truly lightning speed for the process.
This success has garnered intense interest in the company from its potential customers in the pharmaceutical and biotech industry, so much so that just before the IPO, the company had to double its business development team and has indicated that it now has the privilege to pick and choose from an "A" list of partnership opportunities.
I expect some major announcements in 2021 and further rapid growth of its list of programs in development.
Revenue Growth
As I mentioned earlier, revenue at AbCellera has a very long maturation phase as the target time from development to approval is somewhere between 5 and 7 years, so revenue at this stage is laughably small for a $7.6 billion market cap company of only $25.2 million.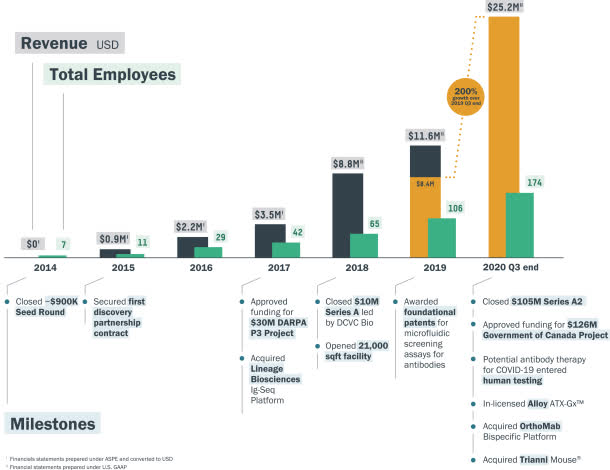 Source: AbCellera
Revenues at this point in the company's development are concentrated in the technology and research fees the company generates from its partners to offset the expense of funding the discovery process.
The company does however expect a significant contribution in royalties from the approved antibody therapy developed in partnership with Eli Lilly along with potential milestones from drugs expanding into the clinic with phase I trials.
I do not expect steady or meaningful sustained royalty revenue however until 2025 and beyond as its discovery partnership portfolio begins to mature. Once that happens, however, you can expect to see exponential growth as these programs reach the marketplace as approved drugs.
Potential
Using some basic math and information published from MIT, the average drug approved by the FDA makes $65,000,000 per year in revenue and the average historical approval rate of legacy discovery technology in the clinic is only 14%. In the Eli Lilly deal, it has been reported that the royalty rate due AbCellera is between the low to mid teens of sales, so I will use a conservative 12.5% royalty rate for this calculation.
Using AbCellera's current 94 programs in development as a starting point and using a conservative (below recent averages) 35% medium-term growth rate in future compounds, I come up with the following model for royalty revenue:
2025 - $106,925,000
2026 - $144,348,750
2027 - $194,870,812
2028 - $263,075,596
2029 - $355,152,054
2030 - $479,455,274
Please remember, the above is based on historical data from prior ways to find antibodies and drugs using legacy technology. The reason both I and its partners are investing in AbCellera is that it has shown the ability find drug candidates both quickly and accurately, thus dramatically improving the success rate it achieves.
I happen to believe the company will more likely be in the 40 to 45% range due to the quantum leap in technology and the improved accuracy of the discovery flywheel leading to greater results as time passes.
If we raise the accuracy to 40%, we get the following:
2025 - $305,500,000
2026 - $412,425,000
2027 - $556,773,750
2028 - $751,644,562
2029 - $1,014,720,159
2030 - $1,369,872,215
Now, this is strictly royalty revenue, or basically, pure profit that is compounding at an extraordinary rate. When you add in the fact that these royalties are locked in for the life of the drug and could be spread out among over 168 approved therapies by 2030, the appeal is very clear.
What is missing in the above numbers is that I suspect that revenue per product will FAR exceed the $65,000,000 average. AbCellera has publicly stated that it is basically able to pick and choose the partnerships it wants and that it is focusing purely on attractive targets and therapies with both a high likelihood of success and total revenue potential.
If I move up the average revenue per approved product to a more reasonable $200,000,000, which is still rather conservative in my opinion, I get to a $4.2 billion potential royalty stream in 2030.
Conclusion
Am I taking a leap of faith here? Heck, yes I am! What I am basically doing is purchasing a company that is currently valued at $7.6 billion with negligible revenue in hopes of it making significant profits all the way in 2030.
However, that profit could be very, VERY substantial. The royalty revenue for all intents and purposes should move directly to the bottom line as the fees it charges its partners such as technology fees, research fees and milestones should be covering expenses by 2030.
If you value the company at a very modest 25 PE off of just the $4.2 billion in royalty profits (which is quite cheap for a company growing at 35%), you reach a valuation of $105 billion in 2030, a share price of $395.26 and a whopping 30% compound return!
Even if you do not believe my estimate for $200 million per product and use the historical average of just $65 million, you still get a $34.2 billion company in 2030 or a $129 stock for a 16% compound return.
Now, I realize that this exercise is performed in a bit of a vacuum as the company has provided absolutely no guidance regarding potential product revenue and its target success rate is a sample size of one so far. However, I think the risk reward dramatically favors the company at the current price.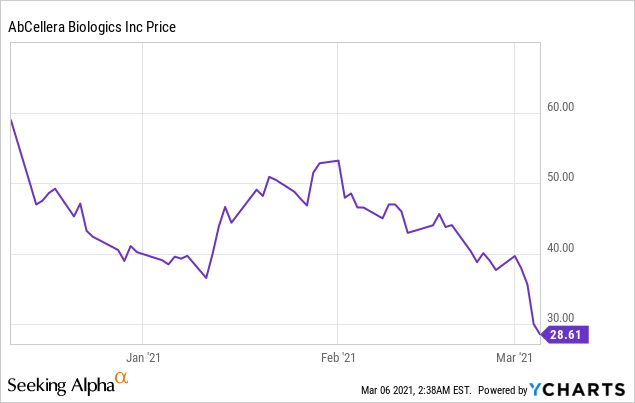 The company IPO'ed at likely the worst possible time, directly in front of the current growth stock massacre, leading many to write this company off as a failed IPO or a dead company.
Far from a dead company, this may be one of the best held secret in the biotech landscape. In its current form, the company is set up to become a compounding machine. All it will take from investors is patience, something that is rare these days.
If you do plan to buy shares in this company, I urge you to commit to at least a five year long time frame. This company is likely to be incredibly volatile and is certainly not for the weak stomachs.
In following with my other speculative investments in related biotech fields such as Schrodinger, Berkeley Lights, Twist Biosciences, CRISPR, Intellia and Editas, I do not plan to touch this stock for a minimum of five years.
Thank you for reading and I look forward to your thoughts in the comments section. Good luck!
This article was written by
I work in the financial and property management industry for a well known, publicly traded "mini Berkshire" Insurance company. I focus on portfolio structure, value, reasonably priced growth, tech and biotech spaces. I passed the series 6 and 7 exams at age 18 but do not at this time have active licenses.My passion for investing and personal finance education began at a very early age. I opened my first brokerage account at the age of 12 and have invested through crashes, crises, recessions and bubbles. I have made many mistakes in both my personal and investing lives, however, each mistake I have made has taught me valuable lessons on my journey, both in life and towards financial independence. As of March 2023, my total portfolio has compounded at 10.2% per year since 1993, beating the S&P 500's return of 9.87% over the same time period. I do not currently hold active licenses and I am not a financial advisor and do not give out or publish investment advice. Articles I write are my opinion only and are not solicitations, please seek guidance from a licensed financial advisor before investing in any security. Opinions expressed in my articles are my own and do not reflect or indicate any positions or opinions held of my primary employer.
Analyst's Disclosure: I am/we are long ABCL, BLI, TWST, SDGR, CRSP, NTLA, EDIT, GILD. I wrote this article myself, and it expresses my own opinions. I am not receiving compensation for it (other than from Seeking Alpha). I have no business relationship with any company whose stock is mentioned in this article.

"I am not a licensed financial advisor. This is not a solicitation to buy or sell a specific security nor is it to be construed as investment advice, please contact your licensed financial and tax advisor for advice to your specific situation."
Seeking Alpha's Disclosure: Past performance is no guarantee of future results. No recommendation or advice is being given as to whether any investment is suitable for a particular investor. Any views or opinions expressed above may not reflect those of Seeking Alpha as a whole. Seeking Alpha is not a licensed securities dealer, broker or US investment adviser or investment bank. Our analysts are third party authors that include both professional investors and individual investors who may not be licensed or certified by any institute or regulatory body.