SandRidge Q4: Strong Results, Weak Communication
Summary
SandRidge stock sold off on its Q4 earnings report.
The stock is cheap and the company is unhedged in a rising price environment.
The stock should rise vs peers as the market prices in advantaged pricing and management outperformance.
SandRidge (NYSE:SD) put out their Q4 2020 earnings results and their stock fell 23%. Even worse for shareholders, this was at a time that oil and gas stocks (XOP) were rising rapidly, up 7% in two days: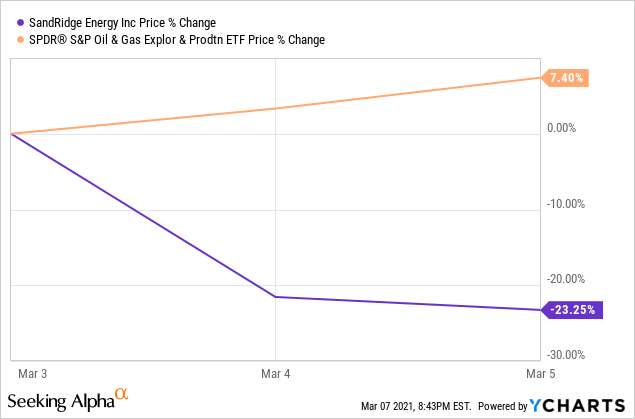 Unfortunately, a short earnings conference call did not help. Management did not provide a clear explanation for disappointing realized pricing, despite improvements in local realized pricing. Uncertainty around potential bonus pricing from the storm time period did not help. And guidance for lower production in 2021 exacerbated concerns, sending the stock lower - note the gap down on March 4th shortly after the conference call: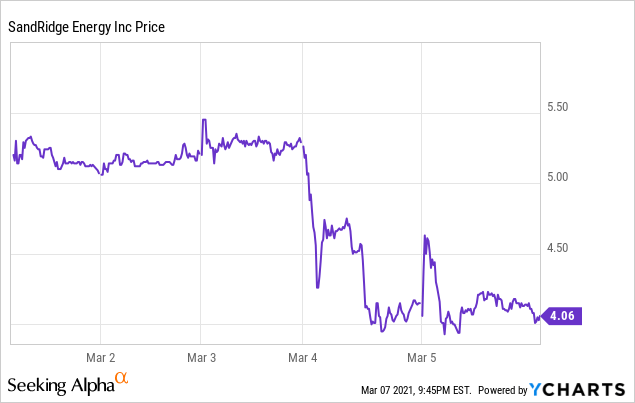 I have been in contact with management and have a set of suggestions provided by other shareholders who have read my articles about SandRidge. These suggestions will hopefully be implemented going forward to help bridge the gap between management's assessment that the "substance is good" and the market's assessment of their performance.
Two factors came up in conversations with other shareholders that I think the market may have missed.
1) SandRidge paid to unwind its hedges in Q4 and deducted that from cash flow. Run rate cash flow is higher than shown in Q4 AND SandRidge is UNHEDGED in the current rising commodity price environment. Kudos to a reader of these articles and Twitter stock jockey Keyser Soze for pointing this out.
2) New management sandbagged and beat guidance repeatedly. This may continue. Kudos to Elephant Analytics and others for pointing this out and coming around to the bullish side of this trade. It is hard to bet against Carl Giesler, who has effectively turned SandRidge around through a series of necessary but painful steps. Note the better than forecast production and the lower than forecast G&A and LOE (overhead and asset level expenses).

Source: SandRidge Energy presentation
Importantly, SandRidge is extremely cheap compared to its peers, and unlike most of those peers, is unhedged in this rapidly rising oil and NGL price environment.