Why CVS Is My Top Stock Pick For 2021
Summary
With the world focused on the NASDAQ, CVS flies under the radar. I believe CVS stock is one of the most compelling opportunities in the market today.
CVS trades for a bargain price of 7x free cash flow, with positive catalysts coming to increase their earning power.
The market is not giving CVS enough credit for its strong cash flow and ability to effect big dividend increases and buybacks once they finish paying down debt.
CVS's risk profile is such that if I lose, I'll likely lose small, but if I win, I'll win big.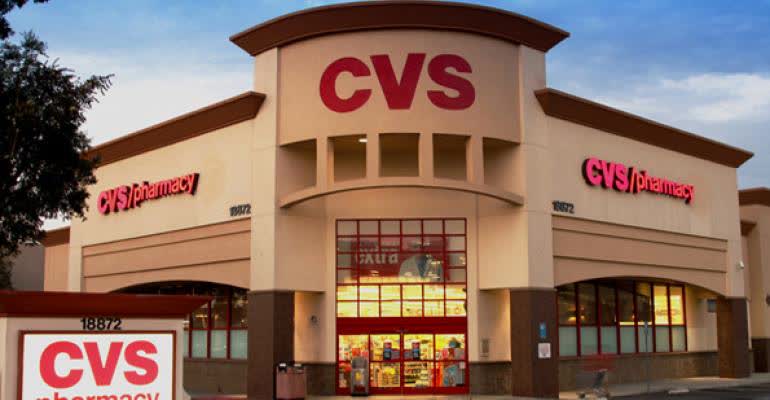 "The stock market is filled with individuals who know the price of everything, but the value of nothing." -Phil Fisher
CVS Health (NYSE:CVS) is a growth business trading for a value price. While traders are focused on the reopening vs. stay-at-home trade, companies like CVS totally fly under the radar with strong cash flow, low valuations, and improving fundamentals. At today's price, I believe CVS stock is a low-risk, asymmetric upside opportunity.
If you take time to look at CVS's financial statements, I think you'd find it hard to disagree. To this point, I'm naming CVS as my top stock pick of 2021. I don't get everything right all of the time, but my top pick for 2019 was Micron (MU), and my top pick for 2020 was PayPal (PYPL). Both picks crushed the market and I'd like to go 3/3 here in 2021 with CVS.
CVS Health Is a Cash Flow Machine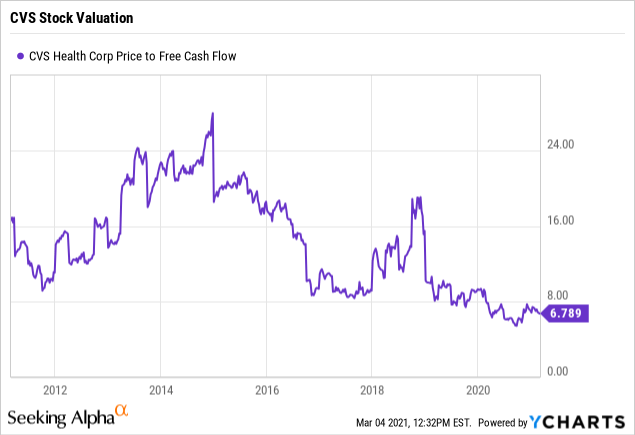 This graph is CVS stock's price to free cash flow. Back in 2015, CVS traded for over 25x free cash flow. Now, the market offers you the chance to buy a more diversified business for ~7x free cash flow, which stands at over $10 per share and rising. When you dig into the financials, CVS's free cash flow is a good deal higher than their earnings. The difference reconciles from after-tax net interest cost and non-cash depreciation and amortization. The combination of non-cash expenses in excess of capital expenditures and debt paydown means that CVS's earning power is understated by its reported net income. As the interest expense decreases with their management's focus on paying down debt, the cash flow generating power of CVS should come into full view.
As an aside, it's common for companies' free cash flow to be a good deal lower than earnings (it's often a sign of accounting trickery), but in CVS's case, their earnings actually understate their true economic cash flow. I'd much rather have earning power that GAAP doesn't recognize and isn't taxed than a bunch of accrual earnings that may or may not be real. CVS pays out $2.00 per share of this cash flow currently as a quarterly dividend but has the capability to pay a lot more once the acquisition debt is at its target.
The market perception of CVS Health is that they're in the convenience store business and should be valued as such. However, CVS is much more than a convenience store business, it's become a vertically integrated healthcare company with thousands of locations with rent and employees covered by selling consumer products. Chances are your doctor's office doesn't sell beer and wine, but CVS does. With this in mind, you're essentially getting distribution for their healthcare businesses for free.
CVS makes money from sources such as retail sales, pharmacy operations, health insurance, and a network of clinics where patients can get quick appointments for a variety of their needs. CVS is the largest pharmacy in America, the largest pharmacy benefit manager, and the third-largest health insurance company in America. There's a clear divergence between the success of the business in generating cash flow and the valuation of the stock. In the perception of the market, CVS has gone from growth-stock darling to value stock in the past few years.
I also see opportunities for growth in CVS Minute Clinic. I believe CVS Minute Clinic is both cheaper and a better patient experience than a traditional doctor visit. Integrating these businesses means that money that goes out the door at their competitors is retained in-house by CVS, and back-office expenses are combined and reduced. Vertical integration in this manner is a textbook strategy to reduce costs and boost net income. Bears fear Amazon taking over the pharmacy part of CVS's business, but the truth is that much of the pharmacy business has been done by mail for decades-Amazon doesn't have much to disrupt. Amazon additionally will likely find themselves stymied by the regulation and intricacies of the healthcare business, which they haven't dealt with as much in businesses they've succeeded in, like online retail and cloud computing. Haven, their first attempt at a joint venture to disrupt the healthcare industry, closed at the end of last month without much fanfare.
Bears would point out that CVS's earnings per share have been more volatile than cash flow, again due to some non-cash expenses like goodwill impairment- including the fact that they overpaid for a few acquisitions, namely Omnicare. This is a risk to CVS shareholders, but at the current, lower valuation, I view it as manageable. Now with their vertically integrated healthcare business built out, CVS's management is showing signals that they're serious about unlocking value for shareholders. Namely, the company is paying down debt to 3x EBITDA, then is likely to focus on raising the dividend and buying back shares. If you paid over 25x free cash flow for CVS five years ago, you might not like the stock as much as I do now coming in, but it's hard to deny the earnings power that exists here, as well as the potential for management to share these earnings via buybacks and dividends if you're willing to wait 9-12 months for the debt to be taken care of.
CVS Upside Catalysts
1. The US government is paying CVS to administer coronavirus vaccines in its pharmacies. The scale here means that this will meaningfully boost CVS's cash flow and earnings for the year, allowing them to pay down debt sooner than expected. Jeffries modeled an additional $1 billion in incremental income to CVS for 2021 just from COVID vaccination. CVS also makes money from coronavirus testing, insulating shareholders from the risk of a resurgence in cases.
2. The US government repealed the health insurer fee for 2021, which cost the health insurance industry billions. This will meaningfully improve earnings for CVS's Aetna operation, as it functioned as a sales tax on health insurance. Aetna is also returning to the healthcare.gov marketplace, which should lead to a boost in both revenue and profit.
3. Debt paydown=buybacks and more dividends. Once CVS is able to reduce its leverage to its target ratio, share buybacks and dividend increases can be unleashed. With CVS trading for 7x cash flow, this presents an opportunity to take a significant number of shares away from weak hands and possibly double free cash flow per share over a 3-5 year period. CVS should trade at a higher price by brute force from buybacks if it stays this cheap compared to cash flow. On CVS's most recent conference call, CFO Eva Boratto indicated that she expected CVS could hit their target leverage target of ~3x EBITDA in 2022. I personally think that they could do it sooner since if EBITDA grows then the debt is less of a problem.
CVS Stock Forecast
Analysts expect CVS Health to earn $7.50 in 2021, $8.10 in 2022, and $8.77 in 2023. I think these estimates are a little low. Free cash flow for CVS currently runs about 20 percent higher than their earnings, so it's actually even cheaper than it looks. CVS is a growth stock, and I think there is no good reason why it shouldn't trade at 15x earnings or higher once buybacks resume. At year-end 2022, 15x earnings on $8.10 would imply a share price of at least $121 per share, plus dividends. CVS would have to earn a little over $9 per share to double your money at a 15x multiple, which is not out of the question over the next 12-24 months as interest expense decreases and buybacks resume in earnest. Something has to give with CVS-earnings are growing, and the valuation is falling, making the stock cheaper and cheaper.
CVS could conceivably stay cheap. It's a healthcare company, so you have risks from the federal government looking to cut costs. They're looking to pay down debt, but the leverage ratio is still on the high side. If you're willing to wait for a little, however, you can collect about a 3 percent yield with the optionality of holding a cheap stock that I don't think deserves to be cheap. If it continues to get cheaper and their management hits their debt target, they can start buying back stock and effectively force the valuation of the stock to connect with the operating results of the business.
There also are some important risk factors that the market as a whole has that CVS doesn't have. CVS is a low-multiple stock, so you don't have to worry about market valuations falling as much as you do with other companies, or whether we reopen the US economy or close it tighter with another surge of coronavirus. If I'm wrong on CVS, the valuation and cash flow should cushion the blow, but if I win, I think I'll double my money. For these reasons, I find that CVS stock is a compelling opportunity for a patient investor looking to grow their money and is in fact, the best current value opportunity I currently see for 2021.
This article was written by
Author and entrepreneur. My articles typically cover macroeconomic trends, portfolio strategy, value investing, and behavioral finance. I like to profit from the biases and constraints of other investors. Paywalled articles are available along with 1,000+ other authors by subscribing to Seeking Alpha Premium.You can read some more of my work for free here on my Substack.
Analyst's Disclosure: I am/we are long CVS. I wrote this article myself, and it expresses my own opinions. I am not receiving compensation for it (other than from Seeking Alpha). I have no business relationship with any company whose stock is mentioned in this article.
Seeking Alpha's Disclosure: Past performance is no guarantee of future results. No recommendation or advice is being given as to whether any investment is suitable for a particular investor. Any views or opinions expressed above may not reflect those of Seeking Alpha as a whole. Seeking Alpha is not a licensed securities dealer, broker or US investment adviser or investment bank. Our analysts are third party authors that include both professional investors and individual investors who may not be licensed or certified by any institute or regulatory body.