Etsy Remains One Of My Top Conviction Ideas For 2021
Summary
ETSY returned 300% in 2020, but I see more upside ahead.
The company has become the 4th largest e-commerce site in the country.
Shares trade at a reasonable valuation and the company maintains a net cash balance sheet.
ETSY is one of my top conviction ideas with 50% potential upside over the next year.
Looking for a portfolio of ideas like this one? Members of Best Of Breed get exclusive access to our model portfolio. Learn More »
Etsy (NASDAQ:ETSY) was the second top performing stock in the S&P 500 in 2020, returning over 300%. The pandemic has expanded its market from custom T-shirts to anything and everything that can be unique (which is almost anything and everything). ETSY may be able to capitalize on its surge in name brand recognition to become an e-commerce powerhouse in a rapidly growing market. The company maintains a conservatively managed balance sheet with plenty of excess cash. Shares trade at only 15x sales, giving the stock potential upside from both underlying growth and multiple expansion. ETSY is one of my top conviction ideas for 2021 and beyond.
The New E-commerce Giant
When I first highlighted ETSY for subscribers as a top conviction idea in November 2019, the stock traded hands at around $45 per share. With the stock now trading around $200 per share, I have yet again made ETSY a high conviction holding. There's been a dramatic transformation at play.
ETSY is an e-commerce marketplace which connects buyers to sellers of unique, handcrafted, and differentiated goods.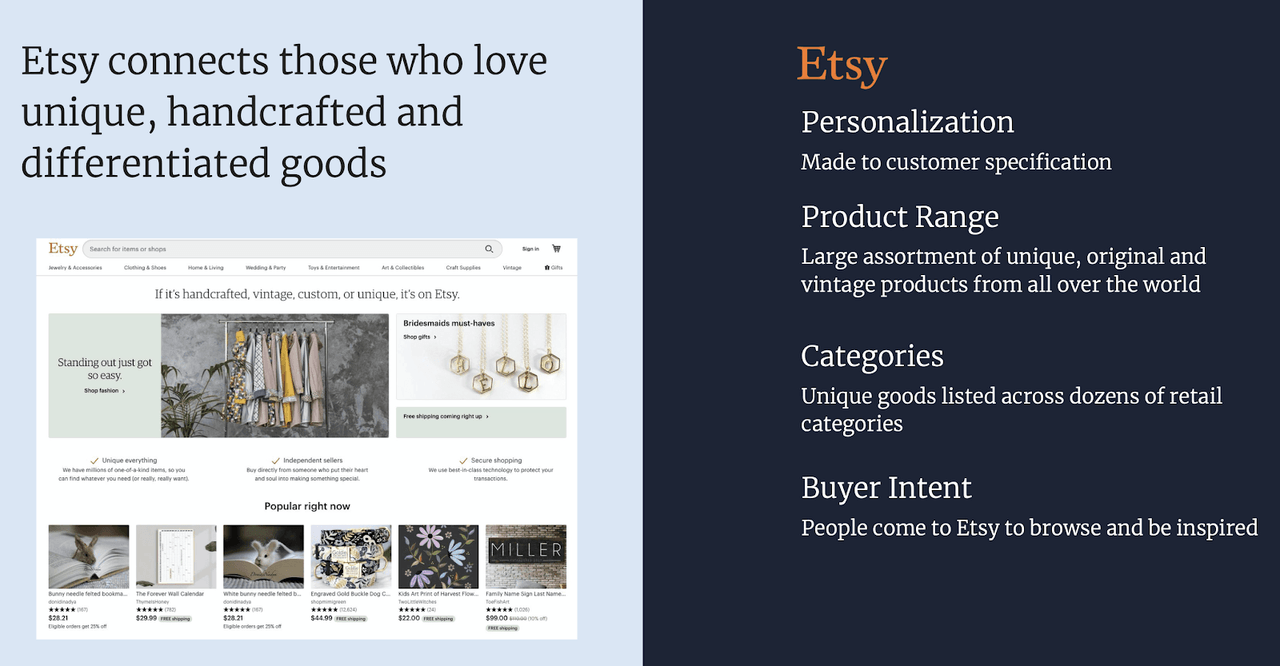 Prior to 2020, ETSY was arguably operating in a niche market. Perhaps one might go to ETSY only to purchase a custom T-shirt or custom cup. But such use cases represent only a small sliver of the potential opportunity. The pandemic has accelerated - to dramatic degree - the true potential of the "unique" market. ETSY has become the 4th largest e-commerce site based on monthly visits in the U.S., as its use cases have essentially spread to everything and anything that can be unique: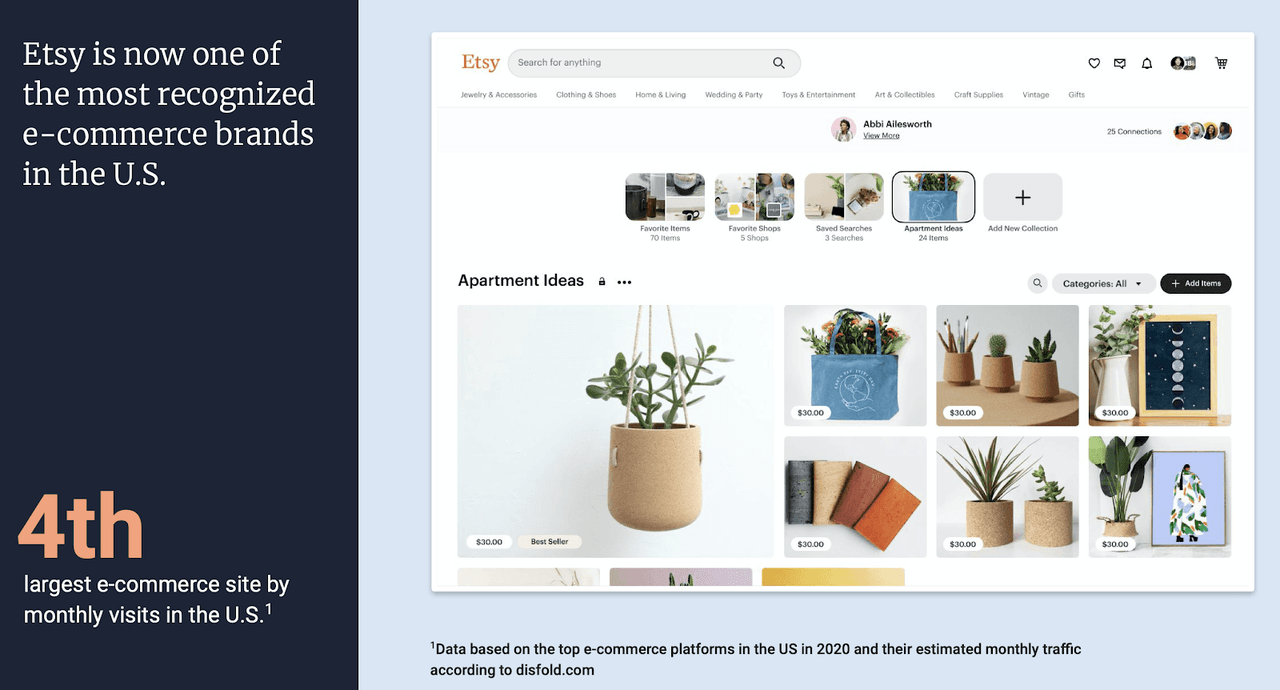 This is by no coincidence. ETSY saw its business boom during the pandemic but instead of simply minting profits, it invested heavily in advertising spend to rapidly grow awareness.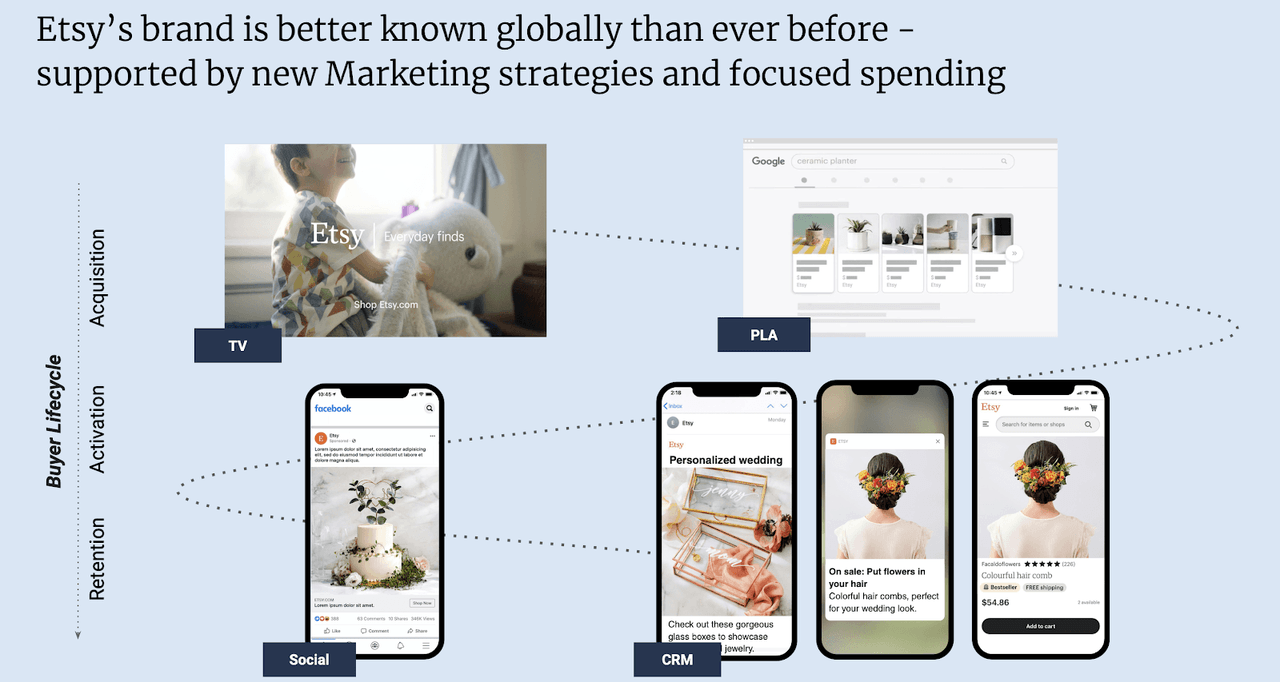 Coming back to that "pandemic boom," ETSY has reported triple digit revenue growth in each of the three quarters since the onset of the pandemic: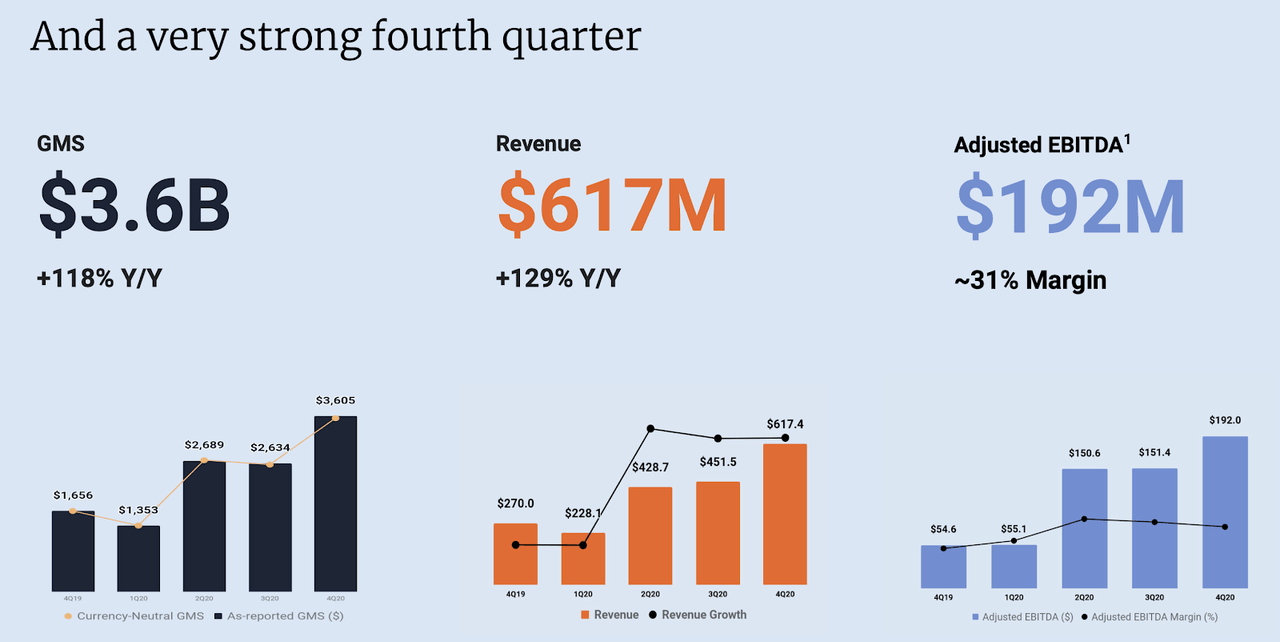 In the beginning of the pandemic, ETSY initially saw its growth helped substantially from the sale of face masks. In the second quarter, face masks made up 14% of overall GMS, but that figure has decreased dramatically to only 4% in the fourth quarter.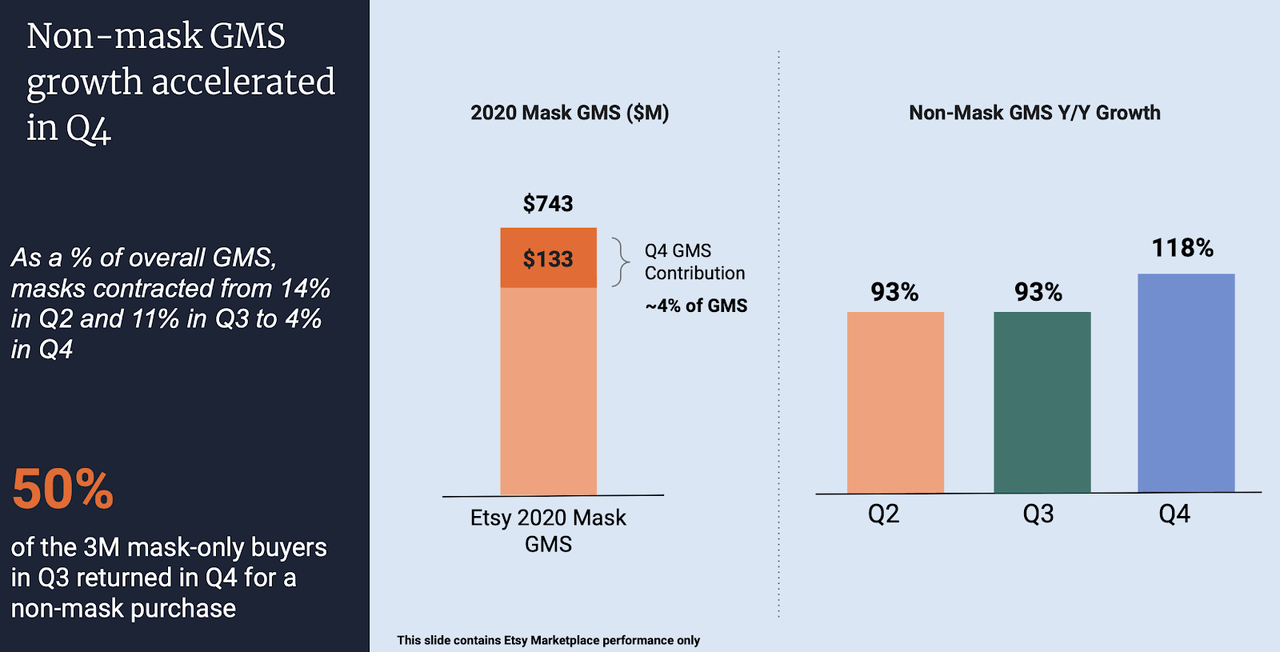 Even excluding mask sales, ETSY has seen near-triple-digit revenue growth, as it has seen tremendous growth in its traditional top categories like homeware, jewelry, and craft supplies: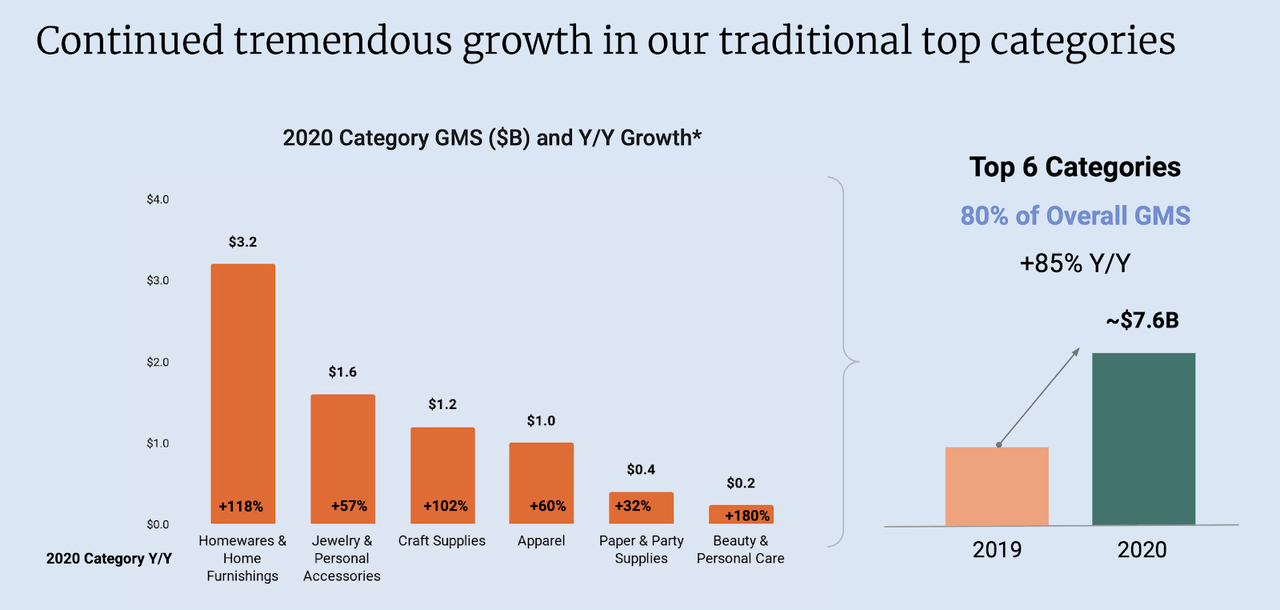 Can the growth continue beyond the pandemic? ETSY had the following to say on its conference call:
"Our expectation is that year-over-year quarterly growth rate comparisons will be challenging when you eliminate the face mask sales from your forward models.

In 2020, Etsy growth outpaced the broader e-commerce sector. While we are not giving the full year guidance today, it may be informative to look at third-party data and research on how they are projecting growth for the industry this year. It suggests that for the sector, Q1 2021 growth will be approximately in line with Q4 2020 and that the industry will start to more rapidly decelerate starting in Q2 with the majority of incremental growth for the year to be realized in the first quarter.

It remains our ambition to continue to outgrow e-commerce, propelled by the underlying changes we've seen in the marketplace and the heightened awareness of our differentiated brand. However, we also know, we hope that as the world opens up later this year consumers will soon be able to spend more of their money on travel. dining and entertainment. And this will create some headwind in Etsy's growth relative to 2020."
The key line is that management expects "the majority of incremental growth for the year to be realized in the first quarter." I expect 2021 to be one in which ETSY experiences some headwinds due to easing of social distancing restrictions but at the same time experiences related tailwinds due to more weddings and social events. The most exciting opportunity, however, is beyond the pandemic. I anticipate ETSY to successfully brand itself as a true competitor to the likes of Amazon (AMZN), as one which prioritizes small business owners. AMZN appears to be competing in the "cheapest price and fastest shipping" market, which is arguably a race to the bottom (at least for its competitors). ETSY, on the other hand, doesn't face such risk as its customers are looking for unique products instead. I predict that ETSY will benefit not only from e-commerce secular tailwinds, but also the secular tailwind of uniqueness, as consumers eventually realize that the race to quicker and cheaper products hasn't led to better products. ETSY's aggressive investment during the pandemic ensures that it is attractively positioned to take advantage of this growing market.
Balance Sheet Analysis
ETSY has a strong balance sheet with $1.7 billion in cash and equivalents versus $1.1 billion in long-term debt. Like many tech peers, ETSY has taken advantage of healthy multiples to issue convertible notes in lieu of normal stock offerings in order to delay stock dilution. All of its long-term debt was made up of convertible notes. This means that ETSY has very little, if any, liquidity risk due to the long-term debt, but does carries dilution risk. Over the years, ETSY has issued many convertible notes and thus some are already exchangeable into stock. ETSY includes 8.6 million of potentially dilutive shares from its 2018 and 2019 convertible note offerings. In addition, ETSY has also issued $650 million of convertible notes in 2020 with a conversion price of $327.83. I estimate this to equate to an additional 2 million shares (this is included in the valuation computation below).
Valuation and Price Target
ETSY trades at 17x trailing sales based on 147 million fully diluted shares outstanding (inclusive of aforementioned convertible notes and restricted stock units). ETSY also trades at 111x trailing earnings, but I typically ignore current earnings when valuing high-growth companies because earnings are likely to grow at an exponential rate once the company lets top-line growth flow to the bottom line. Inclusive of first quarter guidance of $523 million in revenue, ETSY trades at 14.6x sales. That isn't a commanding multiple for a company which generated 27.7% net income margins in 2020. Comparing ETSY's $1.7 billion in 2020 revenues with AMZN's $197.5 million in online store revenue suggests that ETSY continues to have a very long growth runway. I can see ETSY compounding its top-line at a 25-30% growth rate over the next decade. I realize that this does not suggest meaningful deceleration from the 35% revenue growth rate it reported in 2019, but my thesis hinges on ETSY having become a household name. That suggests ETSY can deliver 25-30% annual returns, but I can see the stock re-rating upwards in the near term due to earnings growing at a faster rate. My 12-month fair value estimate is $300, representing 20x consensus 2021 revenue estimate of $2.17 billion. Shares have 50% upside to that target.
Risks
ETSY's strong 2020 growth might prove to be one-time due to the pandemic. While mask sales make up only a tiny portion of the latest quarter's results, it is unclear if there are other products which were purchased only due to the pandemic. As a result, there is great uncertainty to the eventual accuracy of 2021 consensus estimates. Shareholders should be prepared for volatility.

It is possible that ETSY will have to pay more and more in advertising spend to search engines like Alphabet (GOOGL) to bring in customers. This would occur if consumers do not go to Etsy directly but instead search for products on Google. This would have a negative impact on ETSY's ability to drive top-line growth to the bottom line.

While AMZN does not currently appear to compete directly with ETSY, there is the possibility that AMZN will eventually choose to do so. At the very least, AMZN has the capital to build a competitor website and it could presumably bring in traffic through its existing marketplace platform. Perhaps AMZN will not do so due to threats of anti-monopoly regulation, but investors in ETSY should watch out for this in the future.

Sellers on ETSY's platform may be incentivized to try instead selling to consumers directly. ETSY must invest heavily in providing a strong value proposition to both buyers and sellers so that sales continue to take place on its platform.
Conclusion
While ETSY has delivered multi-bagger returns over the past year, I nonetheless see further market-beating potential. Already riding e-commerce tailwinds, ETSY may be able to also capitalize on a growing trend toward unique products. The stock may see substantial upside from both underlying growth and multiple expansion. ETSY is one of my top conviction ideas with 50% potential upside over the next 12 months.
You Need More Stocks Like Etsy
ETSY is one of my favorite stock ideas, and it is only one of 16 picks in my High Conviction List.
If you want more picks like ETSY, try my marketplace service, Best of Breed, where I invest in the runaway winners of tomorrow. There's a 2-week free trial available.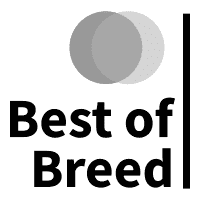 This article was written by
High conviction investment ideas in the winners of tomorrow.
Analyst's Disclosure: I am/we are long ETSY, AMZN, GOOGL. I wrote this article myself, and it expresses my own opinions. I am not receiving compensation for it (other than from Seeking Alpha). I have no business relationship with any company whose stock is mentioned in this article.
Seeking Alpha's Disclosure: Past performance is no guarantee of future results. No recommendation or advice is being given as to whether any investment is suitable for a particular investor. Any views or opinions expressed above may not reflect those of Seeking Alpha as a whole. Seeking Alpha is not a licensed securities dealer, broker or US investment adviser or investment bank. Our analysts are third party authors that include both professional investors and individual investors who may not be licensed or certified by any institute or regulatory body.