Market Report: A Pullback That's Largely Driven By Tech And Growth Stocks
Summary
Last week saw a wide divergence in the stock market.
Sectors that exploded higher after March 2020 (e.g. tech, IPOs, growth stocks) saw sharp drawdowns while sectors that lagged significantly are catching up.
Here are the top indicators and charts to pay attention to right now.
Last week saw a wide divergence in the stock market. Sectors that exploded higher after March 2020 (e.g. tech, IPOs, growth stocks) saw sharp drawdowns while sectors that lagged significantly (e.g. energy & finance) are catching up. In this Market Report I will highlight a few indicators that matter right now. But more importantly, I'll discuss how we're investing & trading in this environment because at the end of the day, the only thing that matters is how you're positioned. Everything else is just noise.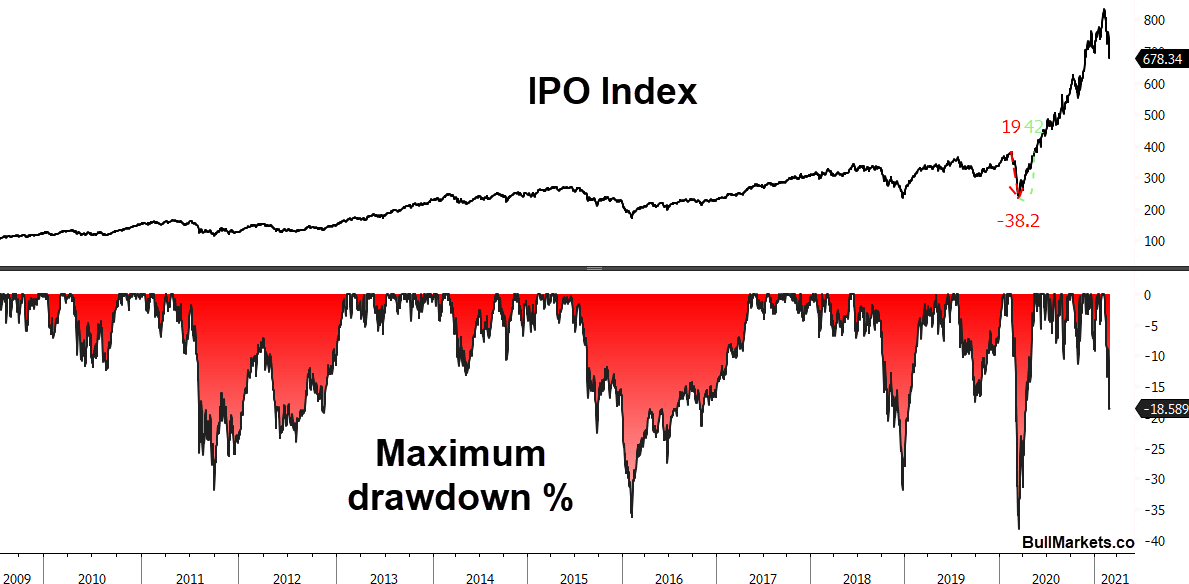 Sentiment
Sentiment is not displaying excessive pessimism despite the recent selloff. Here's the NASDAQ Daily Sentiment Index: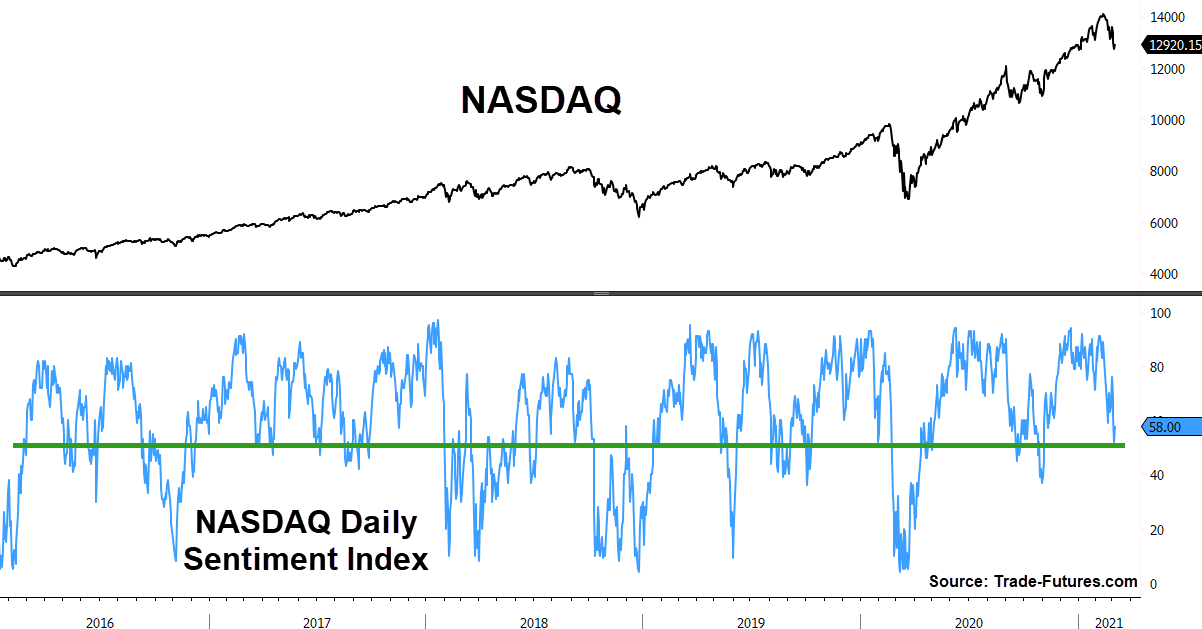 Now of course, sentiment doesn't need to fall to extremely low readings for markets to bottom. Sentiment is mostly just a function of price. Markets bottomed last October on sentiment that wasn't much lower than today.
Insider Buy/Sell
There's been a slight uptick in corporate insider buying recently as stocks pullback. Past market bottoms saw a higher insider buy/sell ratio, so this could be a sign that the pullback/correction isn't yet over.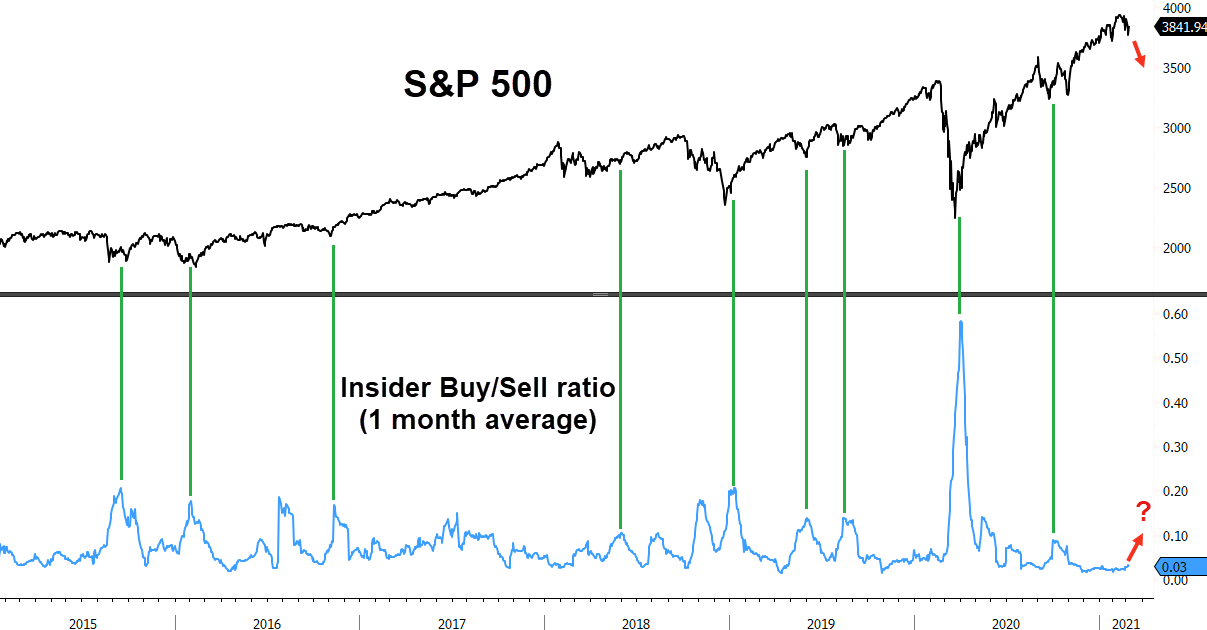 Source: BullMarkets.co
Relative Gamma Exposure
Relative Gamma Exposure (Gamma Exposure divided by the S&P 500's value) plunged to a record low.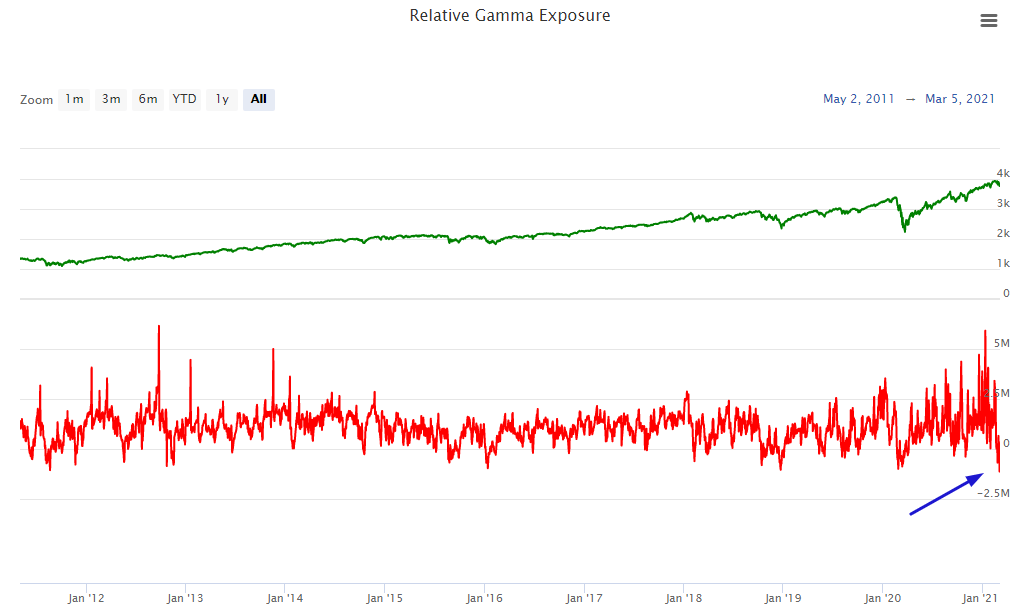 Source: SqueezeMetrics
Historically, such low Relative Gamma Exposure was a bullish sign for stocks over the next 3 months: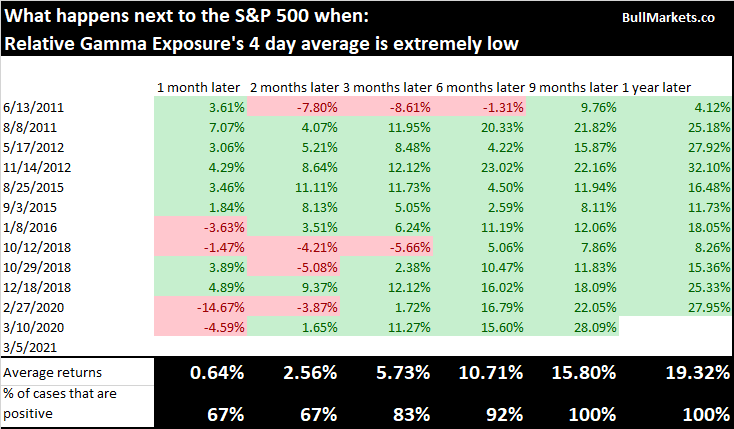 USD rally
Stocks and the dollar have been inversely correlated over the past year, so it's no surprise that the U.S. Dollar is rallying right now as stocks pullback. There's been a slight uptick in large speculator positioning towards the Dollar. The dollar will rally higher if stocks fall further. This matters for funds like ours that invest in UK private assets.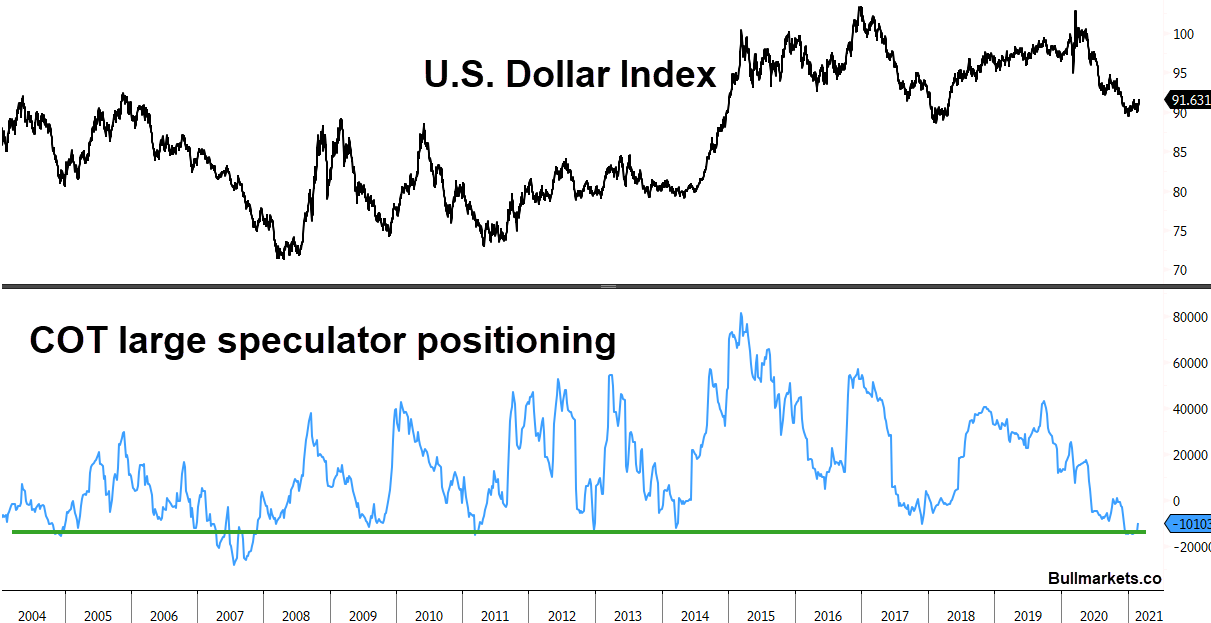 Source: Bloomberg
Fund flows
The recent pullback in stocks has been accompanied by strong fund flows into S&P 500 ETFs. The last time this happened was in January 2018, when stocks fell further and VIX spiked.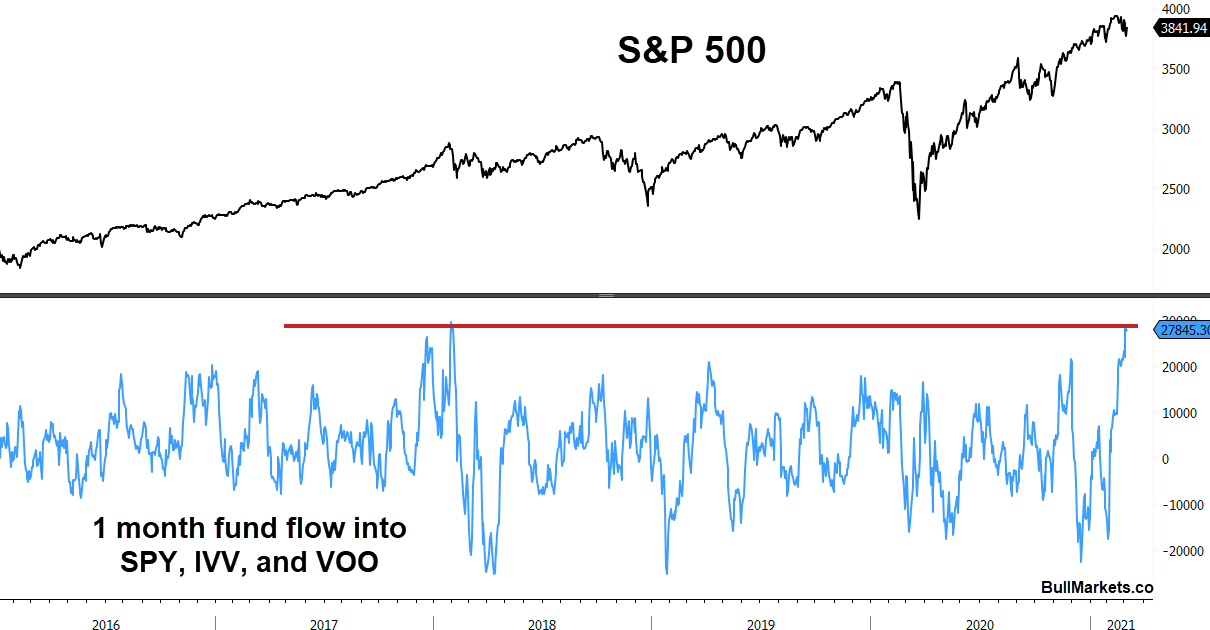 Source: Bloomberg
Breadth divergence
Since the recent selloff is very sector specific, a large % of stocks are at 52 week highs AND 52 week lows: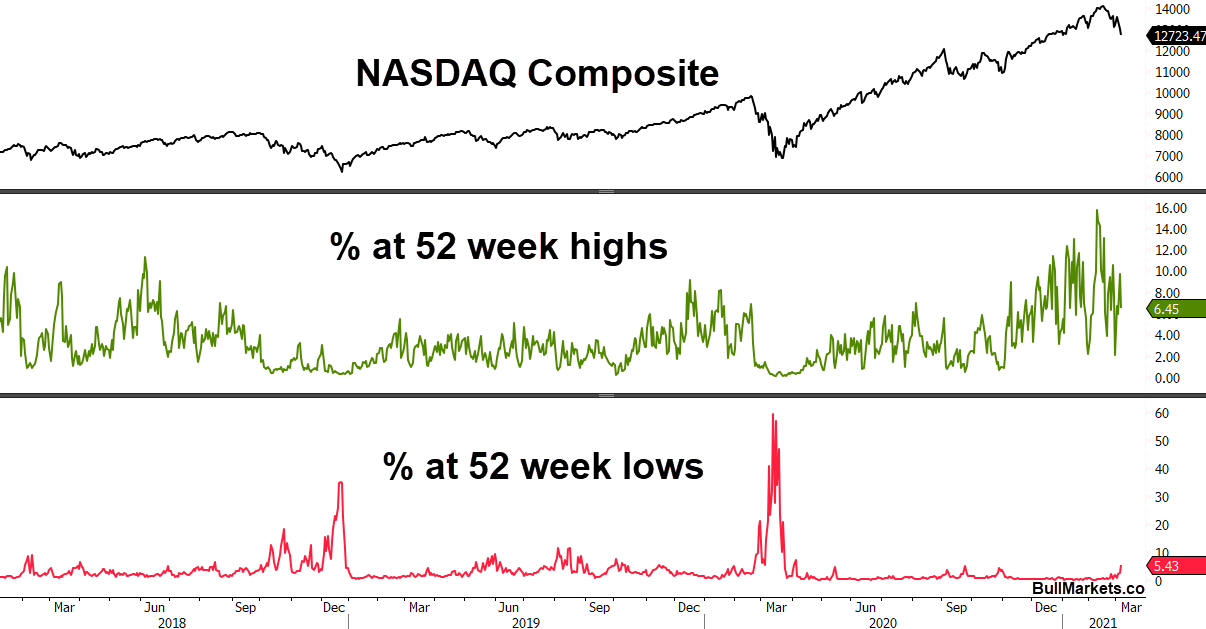 Source: Bloomberg
This kind of split market breadth historically was not a good sign for stocks:

I pointed out important long term risks for the stock market. These risks do not matter over the next few months to 1 year, but will matter on a 2-5 year time frame.
Conclusion: how we're investing and trading
The above indicators and charts point a confusing picture for markets. Some suggest that the bottom is here, whereas others suggest that there's more room for stocks to fall. Here's how we're positioning our portfolio:
Long term portfolio
I don't have a crystal ball. Stocks will either explode higher over the next 12 years or we'll experience a major 15%+ correction. The buy-the-dip mentality is still very much alive and bubbles typically require more than 1 shakeout to end. This sounds like stating the obvious, but think about it for a moment. We have:
Rampant speculation and near-record valuations.
Insanely strong momentum where people now think that 10%-a-month gains are the norm!
The last time this confluence of excess risk-taking and powerful momentum happened was during the dot-com bubble. Only with 20/20 hindsight do we know that the bubble ended in 2000. In reality, the dot-com bubble could have ended in 1997, 1998, 1999, or 2000. Bubbles can end today, or can last longer than you expect.
While we won't pretend to know what stocks will do over the next year, we do know 1 thing: long term risk is high. We do not invest in "lose-50%-or-win-100%" scenarios. As a result, our long term portfolio is not invested in public equities. Instead, this part of our portfolio is focused on attractive opportunities in private markets where we can earn double-digit returns with excellent downside protection.
In a normal scenario, the NASDAQ's current pullback would be enough for us to start scaling in. Many growth and tech stocks are down significantly. HOWEVER, this is not a normal environment. Long term risk remains exceptionally high. This is either the start of a much larger decline or the end of a normal pullback/correction. Again, stating the obvious. But we do not participate in "lose-50%-or-win-100%" bets. I've seen growth stock investors down 20-30% while the S&P is down mid-single digits right now. If the S&P falls -15%, these growth investors will lose more than 50%.
Short term portfolio
Our short term portfolio focuses strictly on equities. The trend is neutral, so we are hedged. The specific trades we take are determined by our trading algorithms. But due to high long term risk in the stock market, we have decreased the allocation to our short term portfolio (equities) and increased the allocation to our long term portfolio (private markets).
This article was written by
I'm a professional trader who uses quantitative models to consistently outperform in the stock market by:1. Combining fundamental analysis with technical analysis.2. Predicting and avoiding "bear markets" and "big corrections". I provide quantitative market research at BullMarkets
Analyst's Disclosure: I/we have no positions in any stocks mentioned, and no plans to initiate any positions within the next 72 hours. I wrote this article myself, and it expresses my own opinions. I am not receiving compensation for it. I have no business relationship with any company whose stock is mentioned in this article.
Seeking Alpha's Disclosure: Past performance is no guarantee of future results. No recommendation or advice is being given as to whether any investment is suitable for a particular investor. Any views or opinions expressed above may not reflect those of Seeking Alpha as a whole. Seeking Alpha is not a licensed securities dealer, broker or US investment adviser or investment bank. Our analysts are third party authors that include both professional investors and individual investors who may not be licensed or certified by any institute or regulatory body.