BlackBerry: A Contender In IoT Facing Stiff Competition
Summary
BlackBerry's UEM solution is facing competition from multiple different companies but it does have some advantages.
The company's QNX is a well-established OS in an industry that is just getting started. QNX does face significant competition from Android.
I am concerned though about licensing being a large part of the company's revenues at 32.5%.
BlackBerry (NYSE:BB) caught my attention due to the volatility of its share price caused by the shenanigans of Reddit and WSB. The underlying company has an interesting story though. I am publishing here my due diligence on the company. Let's dive in.
BlackBerry is an enterprise software provider particularly focused on endpoint security management, encryption, and embedded systems. The company's current bread and butter is its Unified Endpoint Management/ Unified Endpoint Security ("UEM/UES") solution. The company's UEM solution is facing competition from multiple different companies but it does have some advantages. Looking at the competitive landscape, BlackBerry is one of only two vendors identified in Gartner's UEM Magic Quadrant that offers a complimentary UES solution. A UEM/UES solution allows the integrated management and security of various devices such as phones, laptops, etc. This allows the IT security team easier access to information as everything is contained in a single application.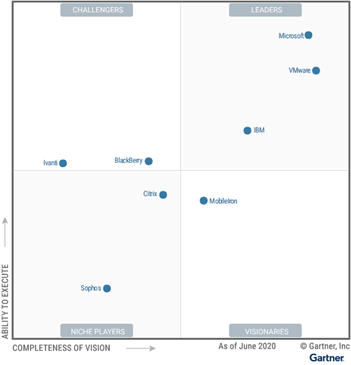 Gartner Magic Quadrant for UEM
There are two broad trends that work in BlackBerry's favor. UEM/UES solutions have gain popularity due to the "work from home" situation caused by the coronavirus pandemic. If things settle down to a new normal centered on a more mobile workforce, enterprises will start to think about security measures to protect their data remotely.
Always-on VPN, which is still common, causes a series of problems, including performance (particularly with Zoom calls) and tons of inefficiencies and unique security problems. Rob recommends a Zero Trust approach where you use UES as part of the authentication process. Based on the user and the device, a security solution is dynamically applied to mitigate the unique exposures that the user, their location, and the device indicate. For example, if the user is a full employee on-premises in a secure area with authorized hardware, they'd get full access; if they are an intern in a remote, insecure area with unauthorized hardware, they are severely limited in terms of access due to the relative exposures.
Gartner's Rob Smith: UES needed to survive In a COVID-19 world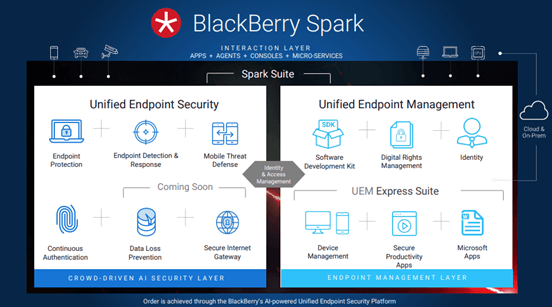 BlackBerry powers the security of the IoT
The other main trend that is working in BlackBerry's favor is the rise of the Internet of Things ("IoT"). The company is slowly transitioning itself as a "market-leading platform" for enabling IoT. It is leveraging its background and know-how in security as a selling point. A near-term extension of this is enabling the monitoring of wearables (smartwatches, smart glasses, etc.) with the company's UEM/UES solutions. For example, if all your high-level executives take phone calls with their smartwatches then the enterprise would want to secure that from hacking.
However, the applications of BlackBerry's solutions extend far beyond that. IoT-enabled devices communicate, transmit signals and data to each other making them vulnerable to a cyber-attack. Think about those science fiction movies when a bad guy hacks the heroes' home base and turns the home's defenses against them. Something like that but not as dramatic. BlackBerry provides organizations with software that protects their IoT devices and communications from cyber threats.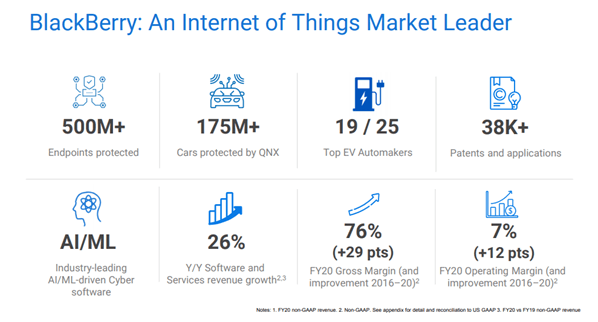 BlackBerry's solution is the QNX a real-time operating system for automobiles, ventilators, train controls, factory automation systems, medical robots, and more. Think of it as a Windows (MSFT) or Android (GOOG) specifically for IoT devices. The QNX is already in 175 million vehicles so it is a well-established OS in an industry that is just getting started. In connection with QNX, Amazon (AMZN) and BlackBerry have a partnership to develop IVY. BlackBerry IVY allows the secure transmission of vehicle sensor data to the AWS cloud. This data can then be used in a variety of ways by automakers.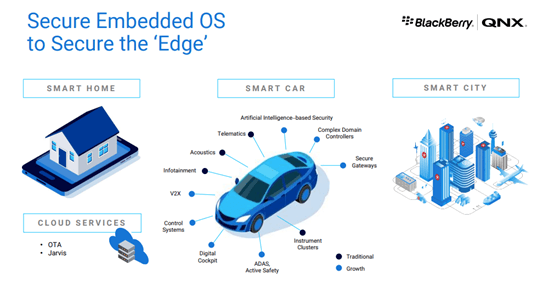 The QNX and IVY technology have applications beyond automobiles but it is smart for the company to focus on this sector first. The company has a tie-up with Chinese EV maker XPeng (XPEV) to power its intelligent cockpit. You can imagine the business and design potential a "smart EV" maker can do with the data coming out of QNX and IVY.
However, I should note that BlackBerry faces significant competition from Google's Android and the open-source Linux in the automobile OS space. Ford (F) recently dropped the infotainment portion of the QNX platform for Android. If the main purpose of QNX is as an OS, that dramatically reduces its value proposition. Currently infotainment is the bigger slice of the pie as IoT type cars aren't a thing yet. Now Ford does retain a portion of QNX in its vehicles but there is a potential of being totally displaced by Android as you don't want too many redundant systems. This could be a huge blow as Ford accounts for 20% of the QNX division's revenue.
Android is a significant threat to the QNX in my opinion as it can be deployed in different types of devices. Android also has the benefit of synergy with Google's vast suite of offerings like Maps, YouTube, Email, etc. The company's advantage is the security of its platform especially once it integrates with BlackBerry's own UEM/UES solutions. However, as we've seen many years before, security as a value proposition alone was not enough to hold the tide against the superior iPhone (AAPL). We will see if things play out differently this time.
Earnings Analysis and Investor Takeaways
Looking at the company's short-term results, BlackBerry has had a pretty rough quarter. Revenue in Q3 2020 was $218 million compared to $267 million at the same time last year a decrease of 18.3%. In the nine-month YTD, revenues fell 9.8% from $758 million in 2019 to $683 million in 2020. Software revenue specifically for the 9-month YTD 2020 was $461 million, a $60 million drop from the prior year. This was primarily due to a decrease of $69 million in recurring royalties in BlackBerry QNX. The slowdown in QNX can be attributed to the slowdown in the automotive market related to the coronavirus pandemic. This situation would not improve in 2021 though, as BlackBerry will take a huge revenue hit due to the loss of the Ford contract for QNX.

The company ended the quarter and 9-months YTD 2020 with an operating loss of $127 million and $794 million respectively. I know the company has recently pivoted its business but it is disappointing to note that the company has not been profitable for the last 5 years at the EBIT level. The company has a decent balance sheet with cash of $651 million exceeding its total long-term debt of $459 million.
I am concerned though about licensing being a large part of the company's revenues at 32.5%. This licensing revenue is connected to IP licensing arrangements, BlackBerry Mobile consumer licensing arrangement, and licensed hardware sales. This is pretty much the "legacy" business of BlackBerry which is in my opinion on its last legs. The company is currently trading at a P/S ratio of 5.5x which can be considered cheap. However, I don't think you should be paying a premium for the sales of the "legacy" business as that is on its way out. Therefore the company's P/S ratio needs to be adjusted by removing the impact of the legacy business. A quick way to do this is to divide the P/S ratio by 67.5% giving us an adjusted P/S ratio of 8.15x. This price is about average for cybersecurity stocks excluding the high fliers of the field such as CrowdStrike (CRWD) or Zscaler (ZS).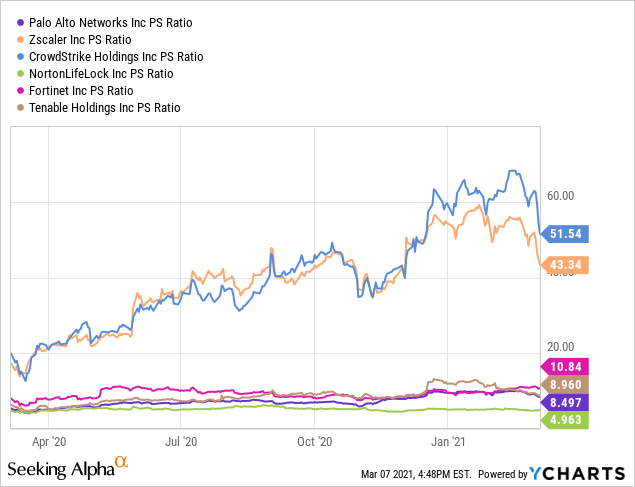 In conclusion, I think the company is fairly valued given my concerns about the business. While BlackBerry's position as security for IoT is interesting, I feel like it faces significant competition in that field. Especially worrying is the loss of the Ford contract signaling to me that Android might end up eating QNX's lunch. The Android suite is attractive from a consumer perspective which may lead automobile OEMs to pick this as a solution despite BlackBerry's strengths in security. I have a neutral rating for BlackBerry.
Note: Added clarification on Ford dropping QNX
This article was written by
Nine to 5 by day. Hobbyist stock trader by night. I got an MBA and a CFA ... so that should count for something. I only care about my own greedy interests and I love feeding trolls. Not your financial advisor. Information for entertainment purposes only. Diamond hands are forever.
Analyst's Disclosure: I am/we are long MSFT. I wrote this article myself, and it expresses my own opinions. I am not receiving compensation for it (other than from Seeking Alpha). I have no business relationship with any company whose stock is mentioned in this article.

Caveat emptor! (Buyer beware.) Please do your own proper due diligence on any stock directly or indirectly mentioned in this article. You probably should seek advice from a broker or financial adviser before making any investment decisions. I don't know you or your specific circumstances, therefore, your tolerance and suitability to take risk may differ. This article should be considered general information, and not relied on as a formal investment recommendation.
Seeking Alpha's Disclosure: Past performance is no guarantee of future results. No recommendation or advice is being given as to whether any investment is suitable for a particular investor. Any views or opinions expressed above may not reflect those of Seeking Alpha as a whole. Seeking Alpha is not a licensed securities dealer, broker or US investment adviser or investment bank. Our analysts are third party authors that include both professional investors and individual investors who may not be licensed or certified by any institute or regulatory body.