This is a note on the contingent value rights tied to the merger between Bristol-Myers (NYSE:BMY) (NYSE:BMY.RT) and Celgene (CELG). Contingent value rights are unusual securities. This particular one was supposed to pay out $0 or $9 based on a set of milestones. In this case, all milestones needed to be hit for the payout to get triggered.
The CVR entitles its owner to receive $9.00 in cash upon FDA approval of all these drugs by the respective dates noted:
Ozanimod (by Dec. 31, 2020)

Liso-cel (JCAR017) (by Dec. 31, 2020)

bb2121 (by March 31, 2021)
Ozanimod and Liso-cel have been approved. Here's what BMY's Chief Medical Officer Samit Hirawat said at the Cowen Health Care conference:
...we had the approval of liso-cel already this year. We are looking forward to the approval in the near term for ide-cel. We've already filed in terms of the extension or new indications we've already filed Zeposia for ulcerative colitis and we'll see the approval hopefully, at the end of May. We've already shown the positive top line -- that we will be showing the positive top line for deucravacitinib later this year. So that is going to be into filing and hopefully available to patients next year for psoriasis.
But even if he didn't say that my baseline expectations, without factoring in special designations for the drug, is that it's 80% to get approved given the stage it is at and the type of drug. I've written many articles on this situation;; some of the most recent ones are Bristol-Myers Squibb Contingent Value Rights: Increasingly Looks Like I've Been Wrong and Bristol-Myers Squibb Contingent Value Rights: Final Inspection Is Happening.
The problem is that Liso-cel was not approved by Dec. 31, 2020. BMY issued a press release declaring the rights terminated:
Since the FDA approval of liso-cel did not occur by December 31, 2020, one of the three required milestones for payment of the Bristol Myers Squibb Contingent Value Right (NYSE: BMY-RT) was not met. As a result, on January 1, 2021, the Contingent Value Rights Agreement (CVR Agreement), pursuant to which the CVRs were issued, terminated automatically in accordance with its terms and the CVRs are no longer eligible for payment under the CVR Agreement. The CVRs will no longer trade on the NYSE.
Liso-cel ultimately got approved February 5 2021.
Since that day, there hasn't been a whole lot to do. The rights aren't trading except maybe in huge over-the-counter lots. I personally thought not a lot would happen until Ide-cel got approved. But others argued, and I think that's a reasonable viewpoint, that Ide-cel no longer matters because BMY has declared the agreement terminated which implies it doesn't feel bound to honor the terms within the agreement.
But that's changing. The trustee to the CVR agreement is now offering an opportunity to fund litigation against Bristol-Myers on behalf of CVR holders.
The trustee thinks it's in the best interest of CVR holders to pursue litigation and I think so as well. Note, that I have no legal background whatsoever and this is just my opinion as an ignorant speculator. The primary reasons I believe this is fruitful are:
The intent of including this CVR agreement alongside the merger agreement was to pay an additional sum to Celgene shareholders if their drugs were money good.
It looks like all the milestones are going to hold up
The critical important Liso-cel milestone was met
The Liso-cel milestone was met only one month and five days late
Multiple delays pushed the FDA's decision past Liso-cel past its original deadline of mid-August 2020 and ultimately caused it to miss the Dec. 31 deadline
It can likely be argued Bristol-Myers shoulders (part) of that responsibility
There are so-called contracting holders, read hedge funds, that will fund the litigation and will likely get it carried out even if many CVR holders do not act to fund this litigation. However, my understanding is that the contracting holders get a larger share of an eventual settlement based on the additional funding risk. The terms are not publicly disclosed and once I request them these fall under a confidentiality agreement.
To learn of the terms and learn whether you want to participate in the litigation funding you have to contact the trustee, for example at BristolMyersCVR@UMB.com. I've included a screenshot of the second page of the press release that includes contact information below: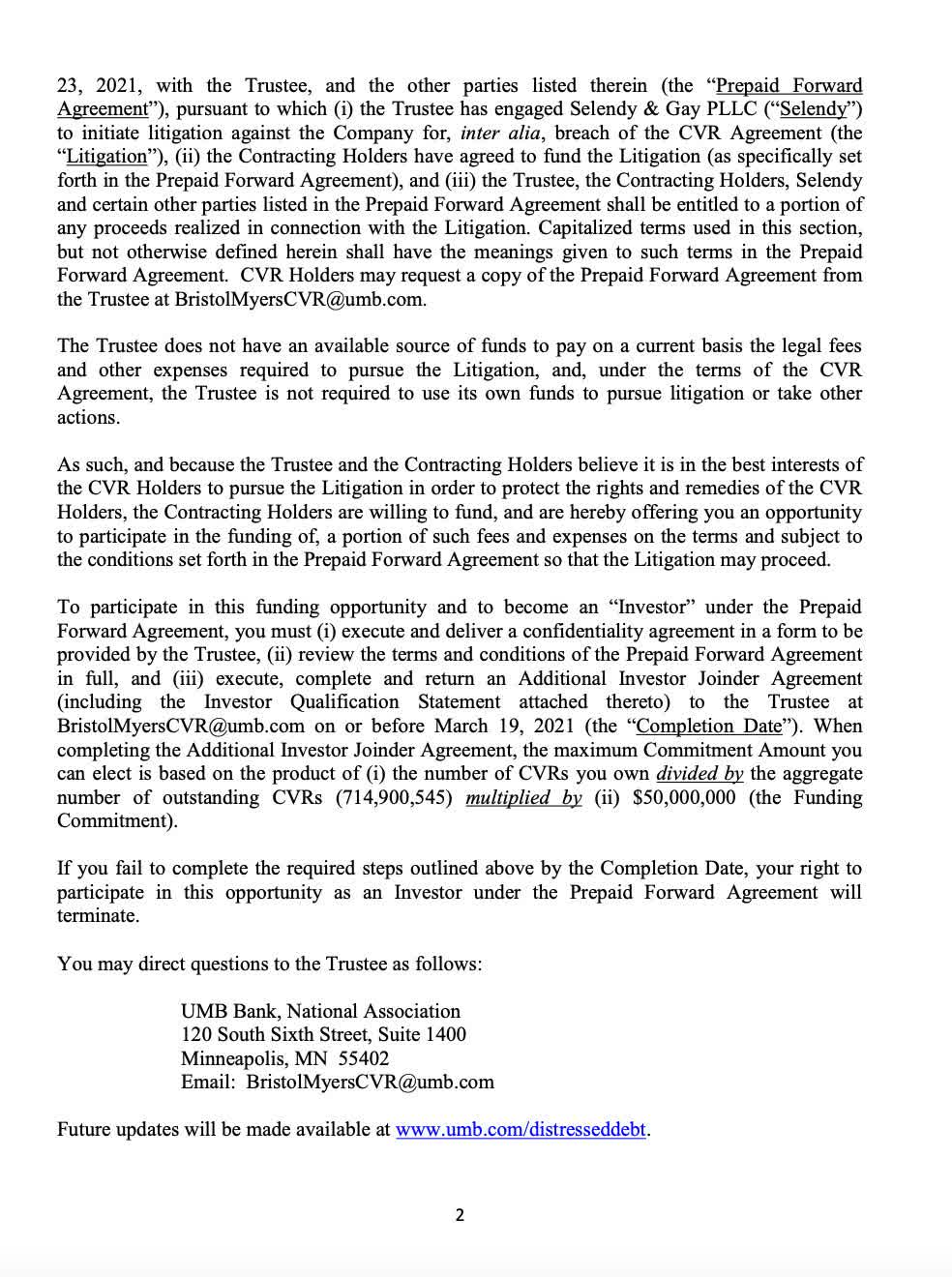 Image: via Twitter
If you are a rights owner it is probably worth it to contact the trustee and learn about the terms.
I'm aware of one earlier instance where a CVR missed its milestones and a lawsuit has been settled; this is the CVR issued by Sanofi (SNY) related to Lemtrada. This missed all its milestones by a mile and resulting in litigation (emphasis by me):
That FDA approval missed the CVR target date by more than eight months, denying the former Genzyme shareholders a $1 per share payout to add to the $74 they received for the original acquisition.

In addition, Sanofi subsequently notified CVR holders that they missed an initial sales target of $400 million annually and would miss subsequent sales targets. That would have added up to $12 a share.

In 2015, the American Stock Transfer & Trust Company, the trustee of the CVRs, filed a lawsuit claiming breach of contract. The suit claimed Sanofi filed a poor application to the FDA that triggered an initial rejection — leading to the missed approval deadline — and then failed to support Lemtrada commercially so it would miss sales targets.
In that instance, CVR holders ultimately got 7.8% of the total value of the CVR but this was reduced to 5.9% due to the value going towards lawyers, etc.
In this case, CVR holders are arguably in a better position. In particular because in Sanofi's case the sales milestones (the most important part of the CVR) were hard to connect to any approval delay that was potentially caused by Sanofi.
Translating percentages back to the BMY.RT CVR, 7.8% of $9 would be $0.70 (which I view as the lower end of a settlement range). 5.9% of $9 would be $0.53 but I expect that's too pessimistic. CVR holders getting cut back from $0.70 to $0.53 translates to about a 25% of litigation proceeds. That sounds like a credible take rate on funded litigation.
I also pulled a sheet out of the latest earnings presentation of Burford Capital (BUR). This is a company that litigates and funds litigation. The slide below shows a remarkable IRR rate of ~30% on its own capital it invests.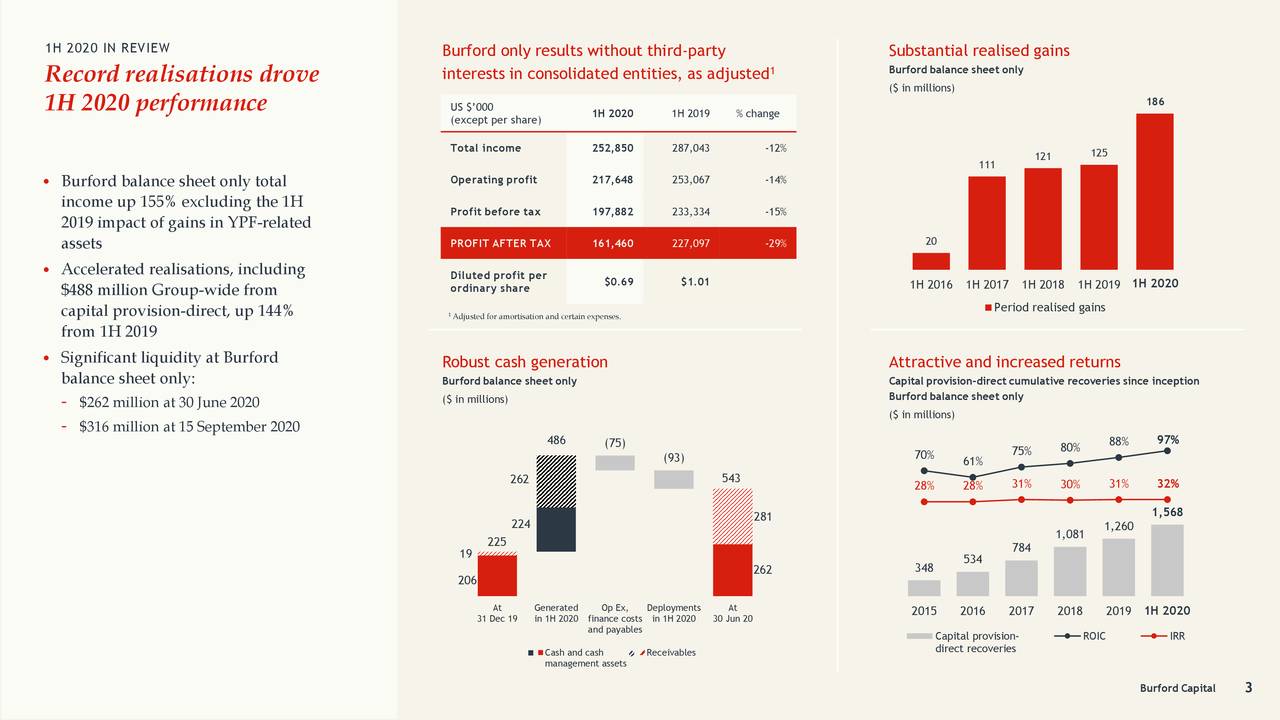 A company like Burford gets to invest across a wide range of cases. However, its IRR rate does at least suggest it's worth it to contact the trustee and ask for more information.
I've seen someone argue putting another nickel in here would result in a greater than 100% loss. I don't fully agree with that line of thought. I think in this case the opportunity to fund the litigation is a separate event. This is not an opportunity that was anticipated to come up or needed to come up. But it's still possible to forego this option. In that case, you still participate in the litigation but you're giving up the "normal" litigation cut.
An investor who's been putting out the best public analysis on this CVR is Matt Turk. You can find his YouTube videos here. He did one specifically regarding the funding agreement. I've embedded it below for convenience.
I write the Special Situation Report. I look at special situations like spin-offs, share repurchases, rights offerings and a lot of M&A events. The point is to make money with risks under control. Check it out here. Follow me on Twitter here or reach out through email at dehaas.bram at gmail dot com.