Choose Among The Best To Sail With Carnival, Norwegian, Or Royal Caribbean Stock
Summary
The global cruise industry has been paralyzed by the Covid pandemic.
Carnival, Norwegian and Royal Caribbean operate the majority of global cruise capacity.
The three U.S. cruise companies are working toward a return to normal operations.
The cruise industry has been one of the most deeply impacted by Covid. Few people will forget the early days of the pandemic with images of cruise ships stranded in foreign ports with news of mass infections and foreign governments' refusals to allow cruise passengers to disembark. Unlike any other segment of the travel industry, the cruise lines engaged in one of the most complicated processes to suspend their operations, get passengers home, secure their vessels in ports that would accept them, and then send most of their staff back to their homes, all using procedures that were never necessary during non-Covid times.
As vaccinations increase and with encouraging signs of diminished Covid case and death rates in several western countries, the cruise industry is eyeing a return to normalcy. Unlike other components of the travel industry, the cruise industry faced unique challenges during the worst of the Covid era and those challenges will remain as operations are restarted. Many travel-related stocks have seen significant increases in recent weeks, offset by the market selloff on March 4 and 5, 2021. Investors could be well-positioned to participate in a significant uptick in the cruise industry - or they may be forced to wait for more positive signs of recovery. We'll examine key considerations that investors should make when thinking about whether it is time to wade back into the cruise industry. Our focus will be to evaluate Carnival Corporation (NYSE:CCL), Norwegian Cruise Line Holdings (NYSE:NCLH), and Royal Caribbean Group (NYSE:RCL).
Will cruise line stocks recover?
At its core, the cruise industry is solely leisure and also a destination unlike most other components of the travel industry, which also reduces the incentive for governments to allow cruise operations to resume. The U.S. airline industry moved very aggressively to portray itself as an essential industry to the nation's economy and, in the process, snagged a huge amount of federal aid. Airlines have repeatedly stepped up to carry shipments of personal protective equipment and the vaccine to help validate their value to the U.S. Hotels have been used in some cities to help take homeless people off of the street and, as intended, reduce the risk of Covid transmission. Cruise lines have been unable to justify sustaining or returning operations for the benefit of the nation in the midst of a pandemic as other segments of the travel industry have done.
All of the travel sector immediately went to work to improve its health and safety protocols in an attempt to convince the government to not impose greater restrictions of the movement of people as well as to convince the public that was willing to travel that it was safe to do so. Airlines and hotels enhanced their cleaning procedures and, in some cases, offered extra space at no extra charge to increase confidence, although, in reality, most of the extra space has not been able to be sold anyway.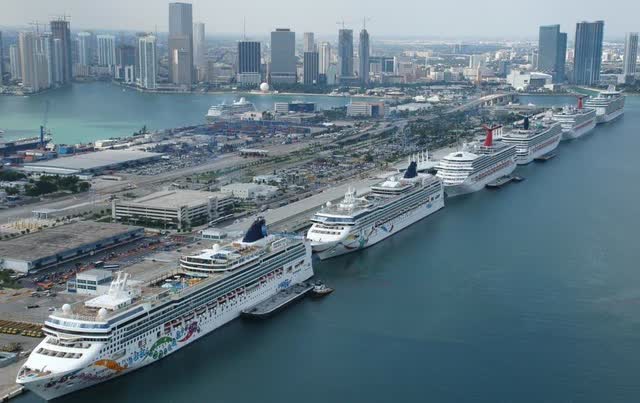 Miami Cruise Terminal source: cruisemapper.com
Cruise lines always have faced health challenges, a product of moving large numbers of people from place to place in largely tropical locations in a very densely populated environment. Outbreaks of intestinal viruses have been more common on cruise ships than anyone would like to admit. While airline passengers spend a relatively short period together and hotel guests have their own rooms and share a relatively small amount of common space, cruise passengers intermingle during the majority of their time on the ship. All of the big three U.S. cruise line companies are working individually and as part of industry efforts to improve the health safety environment of cruise ships. Each company is individually working on tests to demonstrate to government regulators that their cruise operations can be safe. All are committed to requiring pre-cruise testing requirements. Most, if not all cruise passengers are expected to be vaccinated.
Some countries have embraced a reopening of the cruise industry. This spring will see cruises from select Southern European ports. Given that continental Europe is vaccinating at a lower rate than the U.K. or U.S., the world's eyes will be on these revenue cruises even as all three work to obtain approval to operate from the U.S., the world's largest cruise market. Carnival says that its country-specific units allow it to roll out cruises as individual countries grant approvals.

Royal Caribbean's new Odyssey of the Seas source: Royal Caribbean
One region that will be off limits for 2021 cruises will be Alaska. The government of Canada has prohibited cruises to and from its shores until 2022. Since Alaska cruises must operate to/from a Canadian port as one end of the cruise in order for cruise employees to be considered international and not subject to U.S. or Canadian labor laws, Alaska cruises will not restart until the summer of 2022. All three of the major cruise companies expect to be able to restart operations with a majority, if not all, of their ships by the end of 2022. Alaska cruises tend to be higher margin which will slow the return to profitability of the cruise operators.
Generating cash is a key part of returning to profitability and all of the cruise lines still have large amounts of credits outstanding from cancelled cruises. All are committed to taking new cash bookings although all have an obligation to accept credits which they issued for cancelled cruises. Norwegian says that it is no longer giving credits but instead refunding any cancellations to avoid further increases in cruise credits. All three cruise companies expect the number of cruise credits to diminish as they begin scheduled operations and as governmental approval is provided. All three operators state that bookings are picking up with seniors who have been vaccinated. Each says they are seeing a growing number of new bookings - Carnival says that 60% of its 4th quarter 2020 bookings were new rather than rescheduled bookings - although the majority of new bookings are from customers that have used the cruise line before, often among their most loyal customers. Web analytics show that online searches for each of the three U.S. cruise companies is proportional to their capacity.
While the booking profile has been similar among the three cruise operators, their financial strategies during the pandemic has been different. All have issued debt and equity to help survive. By November 2020, CCL's outstanding shares increased by 12% and NCL increased by 19% while RCL increased by just 3%. However, the optimism around restarting cruise operations has spurred a round of stock offerings. Royal Caribbean is offering stock worth approximately 7% of its market cap as of Friday, March 5. Norwegian is now offering stock worth 15% of its market cap, using part of the proceeds to pay off a loan made last year. In February, Carnival sold stock worth 5% of its market cap.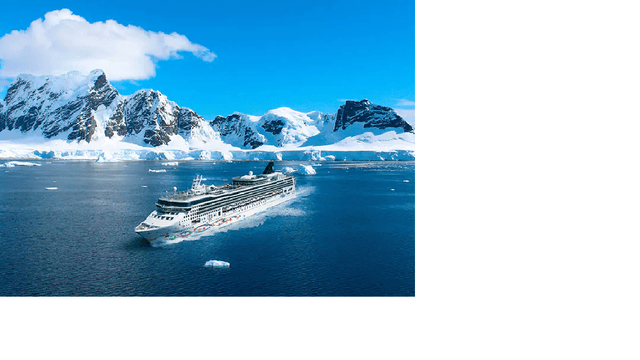 Norwegian is seeking profits on cruises to Antarctica source: NCLH
All of the cruise lines have taken on significant levels of debt due to their continued cash burn. In the 4th quarter, CCL burned $500 million in cash and that number is expected to increase to $600 million in the 1st quarter before restart expenditures; cash burn represents more than 10% of CCL's 2019 revenues; NCLH and RCL had similar cash burn percentages. Given that all of the cruise lines will have to do proof of safety test cruises, potentially on multiple occasions to gain approval from different governments, restart expenses will add to cash burn. Even if a large-scale restoration of operations begins in the third quarter, cash burn will persist for up to 18 months, longer than airlines by up to six months, and the chances are high that it might take almost two years before cruise lines stop burning cash.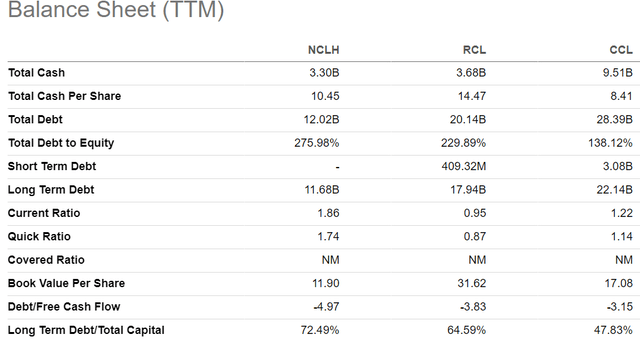 source: Seeking Alpha
The cruise operators not only have issued stock equal to double digit percentages of their market cap and outstanding shares but also have generally at least doubled their amount of long-term debt. Debt metrics look the most concerning for Norwegian with Carnival in the best relative position of the three companies. Each of the operators has deferred delivery of new ships that will save some cash but new ship contracts cannot be cancelled.
Finally, while the expectation is that cruise lines will return to normal operations, the U.S. Centers for Disease Control has provided no formal updates on restrictions for vaccinated individuals. While the CDC has provided a Framework for Conditional Sail Order, there remain a number of criteria that must be met in order for cruise operations from the U.S. to resume. It is not certain when that might come but normal operations of cruise lines in the world's largest cruise market are completely dependent on governmental recognition that life has returned enough to normal to allow crowds to gather and masks to be removed, since it is highly unlikely that people will move around on a cruise ship in masks esp. if there are land-based alternatives which do not require strict Covid measures as is the case in some U.S. states even now. Federal regulations on the cruise industry will likely be slower to adapt than state laws or even the laws of some foreign island countries. The chances are high that the cruise industry will salvage, at best, only a small portion of the summer 2021 season, meaning that a full restart of operations will happen over the winter 2021-2022 holidays, more than nine months from now. It is possible that the restart of cruise operations will involve capacity limitations similar to what most airlines did early in the pandemic by blocking certain seats although only Delta currently continues with the practice. It isn't clear if any cruise line will voluntarily use capacity limitation as a strategy to increase consumer confidence beyond safety test cruises.
Should you buy ANY cruise stocks?
Since my primary "beat" on Seeking Alpha is covering the airline industry, I have been closely watching everything related to Covid in the travel industry since the pandemic began. I believe the airline industry has the best and first opportunity to recover. While air travel bookings are increasing, airlines are still a long ways from turning the corner financially - and they have received a significant amount of federal help. The cruise and hospitality industries will both significantly trail the airlines, in my opinion.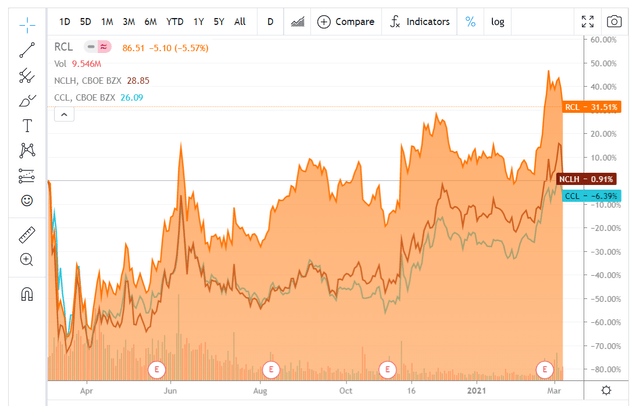 One year stock performance for CCL, NCLH, and RCL Source: Seeking Alpha
Nonetheless, cruising is a significant part of the global leisure industry which will recover. Like much of the travel ribbon, recovery of cruise lines depends on reduction in Covid case and death counts and government approvals to move past the restrictive aspects that have defined societies around the world for over one year. As vaccine penetration increases and more effective treatments are used, the aspect of fear that has characterized Covid will diminish. I am optimistic about the travel industry, but like the airline industry, there will be some long-term reduction in demand. For airlines and the hospitality industry, the use of work from home technology will reduce the number of business travelers while for cruise lines, health aspects will be much more of a consideration for some passengers. While I expect opportunities will arise to pick up cruise line shares, at the present time, I believe being very selective and wading cautiously into the sector is most prudent.
Should you buy Carnival stock?
Of the big three cruise operators, I think Carnival is well-positioned to ride out the rest of the Covid storm. Their size and financial strength relative to their competitors will be an advantage during the recovery. I also like that they operate in multiple parts of the world under quasi-independent business units and brands which allows them to move forward in locations where they can resume operations. I consider Carnival a present buy.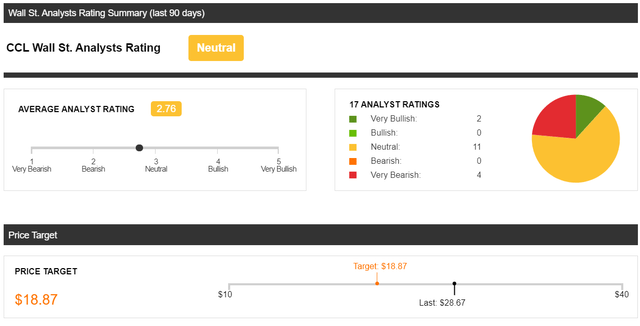 Source: Seeking Alpha
Should you buy Royal Caribbean Group stock?
Royal Caribbean is located mid-way between CCL and NCL in many financial metrics. Its operations are not as widespread as Carnival but they cover all of the major cruise markets. I like that RCL has a fairly large percentage of their operations dedicated to luxury and ultra-luxury cruises which I believe will rebound faster than the market as a whole. I believe that general economic weakness will be offset by the company's ability to target more affluent travelers. I particularly like the general business strength of RCL and its better track record in the Covid environment so far which has been reflected by less stock dilution. RCL is at the top of my list for an early return of the cruise industry.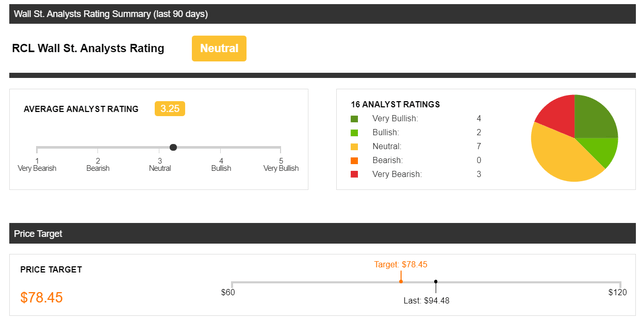 source: Seeking Alpha
Should you buy Norwegian Cruise Line stock?
As the smallest and financially weakest of the big 3, I get the least excited about NCLH. While RCL and NCLH have joined together in helping advance safety protocols for a safe restart of operations, NCLH overlaps with RCL and CCL in most markets and I believe Norwegian could be negatively impacted by enhanced competitive activity as larger cruise lines seek to normalize their operations. I would not recommend NCLH but I also do not believe it is necessary to sell it either.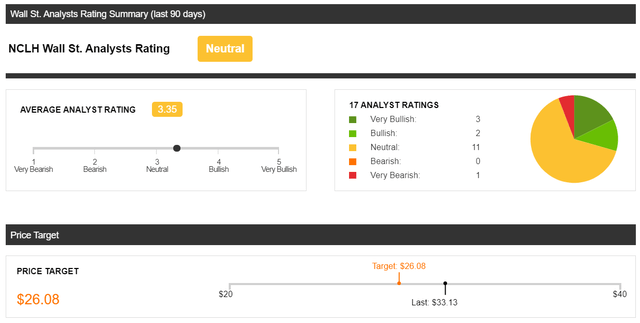 source: Seeking Alpha
Note that the U.S. cruise industry includes Disney Cruise Lines which has the backing of the Walt Disney Company (DIS) which is much stronger financially than any of the big three cruise lines. In addition, privately backed Virgin Voyages planned to enter the U.S. cruise market in 2020 but has been delayed by Covid. Recovery of the U.S. cruise industry will come with increased competition.
While not a cruise connoisseur, I have enjoyed at least one cruise from each of the big three cruise companies in my life and I do hope that the industry and each company return to financial stability. The cruise industry offers a unique vacation experience and can provide decent returns to investors in the right situation, which is also true for most of the travel industry. The market selloff of last week, as well as selloffs of CCL, NCLH and RCL do not reflect the potential of each company to recover and become viable investments again. Royal Caribbean appears to me to be the best positioned to recover the first in the industry with Carnival's potential driven by its global size.
This article was written by
Focus on multinational transportation companies. Mercosur economies.
Analyst's Disclosure: I/we have no positions in any stocks mentioned, and no plans to initiate any positions within the next 72 hours. I wrote this article myself, and it expresses my own opinions. I am not receiving compensation for it (other than from Seeking Alpha). I have no business relationship with any company whose stock is mentioned in this article.
Seeking Alpha's Disclosure: Past performance is no guarantee of future results. No recommendation or advice is being given as to whether any investment is suitable for a particular investor. Any views or opinions expressed above may not reflect those of Seeking Alpha as a whole. Seeking Alpha is not a licensed securities dealer, broker or US investment adviser or investment bank. Our analysts are third party authors that include both professional investors and individual investors who may not be licensed or certified by any institute or regulatory body.