Airbus Suffers 92 Cancellations, Deliveries Improve
Summary
Airbus lost 92 orders in February driven by expected cancellations from Norwegian.
Cancellations were partially offset by orders for 11 aircraft.
European jet maker saw deliveries improve sequentially.
I do much more than just articles at The Aerospace Forum: Members get access to model portfolios, regular updates, a chat room, and more. Learn More »
Jet maker Airbus (OTCPK:EADSY) recently published its order and delivery figures for February. Whereas there were no orders or cancellations in January, in February there was more activity. In particular, there was cancellation activity while there was a bit of order inflow as well.
At this point, I do not expect 2021 to be a year to be excited about when it comes to orders and deliveries, but whereas last year the first 2-3 months of the orders and delivery numbers were still not affected significantly by the pandemic. This year will be different. In combination with the roll out of vaccines I believe the order and delivery numbers that jet makers will show this year will be a better benchmark for the appetite for near-term demand as well as longer-term demand for new aircraft. In this analysis I will have a look at the order and delivery numbers for Airbus in February.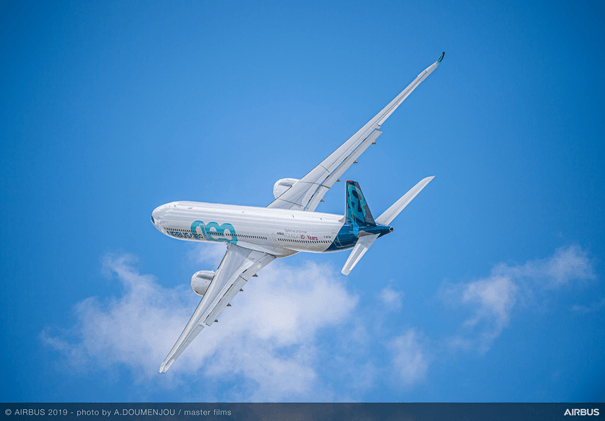 Aircraft orders February

Figure 1: Airbus Orders February 2021 (Source: TAF Airbus Orders and Deliveries Monitor)
For this year, I do not have extremely high expectations for the order inflow for either jet maker. Airbus started the year with zero orders in January, but in February there was a slight uptick as the European jet maker received 11 orders composed of 10 single aisle jets and one wide body aircraft:
An unidentified customer ordered 10 Airbus A320neo aircraft.
Airbus performed an intra-company order for one Airbus A330-200 to be used as a multi-role tanker transport aircraft.
During the month the following cancellations to the order book were processed:
Macquarie Financial Holdings Pty Limited once again cancelled an order for 1 Airbus A220-300.
A Government or VIP customer cancelled an order for 1 Airbus A320neo.
Norwegian (OTCPK:NWARF) cancelled orders for 58 Airbus A320neos and 30 Airbus

A321LRs.

An unidentified customer cancelled orders for two Airbus A350-900s.
During the month the following mutations that were not cancellations were processed:
AerCap (AER) converted an order for one Airbus A320neo to an order for 1 Airbus A321neo.
An order from BOC Aviation for one Airbus A320neo was transferred to

FlyNas.

China Eastern Airlines was identified as the customer for three Airbus A320neo aircraft.
China Southern Airlines was identified as the customer for one Airbus A320neo aircraft.
Shenzhen Airlines was identified as the customer for one Airbus A320neo aircraft.
During the month Airbus received 11 orders and 92 cancellations bringing its net order inflow to -81 units. There was order inflow for wide body aircraft, but that was driven by the tanker program. Probably most eye-catching was the cancellation from Norwegian for 80 aircraft. However, this is an order that I previously already marked as prone to cancellation:
The Airbus order does not make a lot of sense and it might at some point go as well…
In the same month last year Airbus booked no orders, so when it comes to order inflow we cannot say that we are clearly seeing the effects of the pandemic reflected. February always tends to be a slow month and this year was no exception. However, we did see a sharp decrease in net orders from zero last year to -81 this year which is partially driven by the pandemic but in line with the -86 net order for Airbus in February as the company restructured its order book.
Looking at the year-to-date numbers, Airbus gross orders are 11 units compared to 296 orders in 2020 and four orders in 2019. So, there's a sharp year-over-year decline of 285 orders but that's driven by an exceptionally strong January month for Airbus last year. Last year Airbus leaned the majority of the year on that strong order month showing year-over-year growth in order numbers despite the pandemic. In terms of net orders, Airbus now has an order tally of -81 units compared to 274 orders last year and -99 units in 2019.
So what we are seeing is not what we want to see, but the cancellations we have seen now were expected and not exceptionally high when you take into consideration what the market looks like today and the fact that there was similar net order numbers in 2019 when Airbus restructured its order book. What remains to be seen in the remaining 10 months this year is how much of the order book Airbus can preserve by offering flexibility on delivery timelines.
Airbus deliveries February

Figure 2: Airbus Deliveries February 2021 (Source: TAF Airbus Orders and Deliveries Monitor)
In February, Airbus delivered 32 aircraft consisting of 31 single aisle jets and 1 wide body aircraft:
Airbus delivered one Airbus A220 to Air Canada (OTCQX:ACDVF).
29 Airbus A320 family aircraft were delivered including 27 Airbus A320neo family aircraft.
There were no Airbus A330 deliveries.
Air China delivery of one Airbus A350-900.
There were no Airbus A380 deliveries.
What I'm currently looking for is sequential improvements. We can look at year-over-year numbers and those will show that deliveries declined from 55 to 32 units, a 42% decline, but these are numbers from a pre-pandemic world and a pandemic world. So, there's hardly anything meaningful to say other than assessing how hard the hit is. I'm more focused on the future and the near-term trend. That's why the sequential deliveries are more meaningful in my view at this point and when we compared those we see that sequentially there has been an improvement of 11 units.
So, that's a somewhat of a positive thing but it also should be pointed out that deliveries are still lagging average production rates. If there is no catch-up in March, it's very likely that Airbus inventories are increasing for a partial unwind later in the year.
Looking at the delivery figures there is some impact from the crisis as deliveries declined from 86 units in 2020 to 53 which is a 40% year-over-year reduction. The first two months usually are slow in terms of deliveries and the declines in deliveries are still reflective of the realignment of production and deliveries driven by the pandemic. From April onwards, I would expect that we would see year-over-year data that more strongly suggests deliveries will be in line with last year.
Airbus received 11 gross orders during the month and delivered 32 aircraft for a 0.34 book-to-bill ratio. However, it should be noted that the industry standard of providing book-to-bill ratios does not include in the impact of cancellations which for the February month would have resulted in a -0.4 book-to-bill ratio as cancellations exceeded order inflow. For the year, the gross book-to-bill ratio is 0.21. Normally, you'd like to see numbers around 1. So, 0.2 is not a strong number but one that's reflective of the current demand profile and uncertainty.
Throughout the year, it will be important to put the book-to-bill ratios in context taking the deliveries but also the cancellations into consideration as just looking at the gross figures does not tell you the full story, despite book-to-bill ratios being considered a convenient measure.
Conclusion
In February we saw some order inflow, but that was offset by cancellations. Most of these cancellations were anticipated, so I'm not seeing surprises there. Those cancellations likely are the result of the pandemic, but even without a pandemic I don't think that it would have made strong business sense for Norwegian to take delivery of the Airbus orders.
The order always seemed to have been an impulsive buy, one which Norwegian couldn't figure out a solution for. That solution now is cancellation of the entire order. While Airbus did a very good job keeping orders in the books last year, I do expect that this year we will see more cancellations and significantly lower order activity.
Sequentially, I could appreciate that there was improvement in the delivery numbers though those numbers are not in line with the average production rates. We might see a partial unwind by the end of the quarter, but I'm expecting that a lot of the aircraft that are being produced will be unwound from inventories by the end of the year.
Year-over-year numbers still show significant reduction in order and delivery volume, but that's because for now the year-over-year numbers still compare a pre-pandemic world with a pandemic world. From March/April onwards we should see more reflective numbers and from that we should be able to see where things are heading in terms of net orders but also in terms of deliveries for which Airbus has guided flat year-over-year.
This article was written by
Dhierin is a leading contributor covering the aerospace industry on Seeking Alpha and the founder of
The Aerospace Forum
. With his Aerospace Engineering background he has a more indepth knowledge about aerospace products enabling him to cover a complex niche. Most of his reports will be about companies in the aerospace industry or airlines industry, comparing products and looking at market forecasts providing investors with unique and thorough insights. Dhierin has accumulated
nearly 20 million views
never failing to spark healthy and thoughtful discussions for investors and aerospace professionals.
His reports have been cited by CNBC, the Puget Sound Business Journal, the Wichita Business Journal and National Public Radio. His expertise is also leveraged in Luchtvaartnieuws Magazine, the biggest aviation magazine in the Benelux.

AeroAnalysis offers wide variety of services, ranging from providing data and cost models to consultancy possibilities. Check out
our website
for more information. Though we believe in the strong nature of our analysis, we are in no way giving buy or sell recommendations and advise everyone to do their own due diligence before making investment decisions.
Analyst's Disclosure: I am/we are long BA, EADSF, AER. I wrote this article myself, and it expresses my own opinions. I am not receiving compensation for it (other than from Seeking Alpha). I have no business relationship with any company whose stock is mentioned in this article.
Seeking Alpha's Disclosure: Past performance is no guarantee of future results. No recommendation or advice is being given as to whether any investment is suitable for a particular investor. Any views or opinions expressed above may not reflect those of Seeking Alpha as a whole. Seeking Alpha is not a licensed securities dealer, broker or US investment adviser or investment bank. Our analysts are third party authors that include both professional investors and individual investors who may not be licensed or certified by any institute or regulatory body.