ASML: Not So Dominant Without EUV
Summary
ASML's EUV lithography system revenues are dominating its product sector with more than 45% of revenues in 2020.
ASML currently counts just six companies as customers at the 7nm node and below, although EUV revenues will double for the company in 2023.
ASML's dominant share of immersion DUV, which is used between 10nm and 65nm nodes, has been eroding against Nikon in the past few years.
In 2020, 413 lithography systems of all types were sold, and only 31 were EUV, which I forecast all reach only 50 systems in 2023.
This idea was discussed in more depth with members of my private investing community, Semiconductor Deep Dive. Learn More »
In a recap of 2020, ASML (NASDAQ:ASML) reported significant technological and financial gains. In the past few weeks alone:
ASML reported it extended its procurement contract with SMIC (OTCQX:SMICY). This relates to an existing agreement for DUV lithography that was already entered into on Jan. 1, 2018, and that would run originally until Dec. 31, 2020, and which was extended on Feb. 1, 2021, to be valid until end of December 2021.
SK Hynix, the world's second-largest memory chip maker, has entered a five-year procurement contract worth $4.34 B with ASML to secure extreme ultraviolet (EUV) scanners used in manufacturing chips.
ASML introduced a new three-year, 6 billion euro share repurchase authorization in January 2020. Since Jan. 21, 2021, ASML has been spending approximately 32.3 million Euros on stock buyback
In my most recent articles about ASML. Most recently I discussed how the company would move from being the WFE (wafer front end) market leader in 2019 to second place behind Applied Materials (AMAT).
Positive Data
On Jan. 25, 2020, I wrote a Seeking Alpha article entitled "ASML: My Top Semiconductor Processing Equipment Company." I'm still favorable about the company, but ASML is becoming increasingly dominant on EUV sales. This is not a completely positive trend for the company, which I will explain in this article.
As a percentage of company revenues, EUV revenues increased from just 7% in 2016 to 45% in 2020. I project EUV revenues will double in 2023 from 2020 revenues.
Chart 1 shows that ASML's EUV revenues (blue line) crossed over its DUV Immersion revenues (red line) in CY 2020, according to our report entitled "Sub 100nm Lithography: Market Analysis and Strategic Issues." The spread between the two is increasing in my forecast for 2021 and 2022 detailed in the report.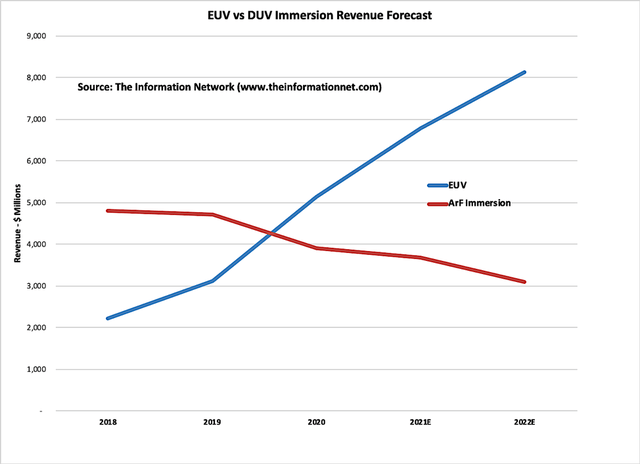 Chart 1
Negative

Data
Unit shares of 193nm DUV immersion systems for ASML have been flat to slightly down based on a trendline, as shown in Chart 2. Note that Canon does not make an immersion system.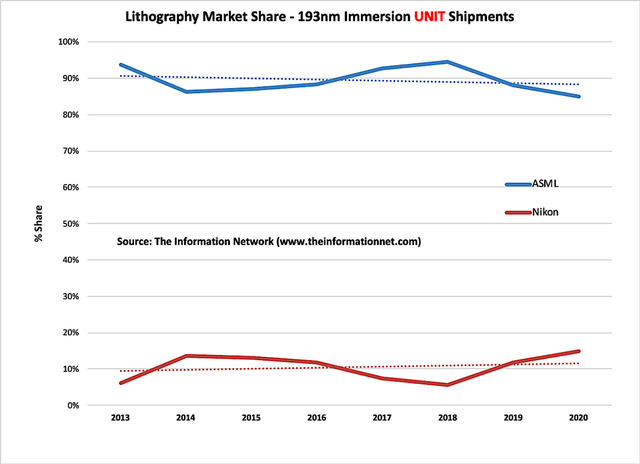 Chart 2
Why is this important? Prior to the introduction of EUV systems, state-of-the-art ICs were made using DUV immersion lithography systems. These DUV systems at 193nm light wavelength are not able to reach the 7nm node, and so EUV has replaced DUV immersion at 7nm nodes and smaller.
This creates a long-term problem for ASML for two very important reasons:
First, there are currently only two companies that are making ICs at 7nm and below – TSMC (TSM) and the Samsung Electronics (OTC:SSNLF) foundry making logic chips.
In my analysis, of the nearly 86 EUV systems sold through 2020 for logic, TSMC has purchased 44 systems while Samsung has purchased 19. Intel (INTC) has purchased 18, but is currently using TSMC to make their 7nm chips. The only other company with a desire to purchase a EUV system is China's SMIC, but that company is blocked from buying any by US sanctions.
Secondly, TSMC and Samsung use EUV for only a few chip layers, and use DUV immersion for the rest, so both types of systems are needed at and below 7nm. The number of mask layers increases as nodes decrease.
A 28nm IC has up to 50 layers, a 14nm/10nm has 60 layers,
A 7nm IC has 80 layers, and
A 5nm IC has 100, depending on manufacturer.
TSMC uses EUV for just 12 layers at 7nm vs. 68 DUV layers. TSMC uses EUV for 22 layers at 5nm vs 78 DUV layers. Immersion DUV is critical to make these chips, and ASML is losing share to Nikon.
Investor Takeaway
I'm bullish on ASML, primarily because it dominates the lithography market. Without its primary product, EUV, the semiconductor industry would hit a wall at 7nm and be relegated to the status of SMIC, stymied to get below 10nm.
As ASML has moved to a EUV-dominated company, 99% of semiconductor companies do not use EUV. Instead, other lithography technologies are being utilized to make chips, including i-line, 248nm DUV, and 193nm immersion and dry DUV.
EUV represents just 12% of ASML's unit shipments but 45% of revenues. Indeed, its major customer, TSMC, generated 41% of its revenues from 7nm and lower node production in 2020, up from 27% in 2019.
For TSMC, EUV revenues for 7nm and below generated $19 billion in 2020, up from $9 billion. But revenue at 10nm and above in 2020 was $26 billion, even with 2019.
Additionally there are two major issues:
EUV is only used on a small number of layers of a 7nm IC, and the large majority of layers are pattern delineated with DUV immersion lithography at TSMC and Samsung.
ASML's share of non-EUV lithography systems, primarily immersion DUV, is flat to slightly down.
The Semiconductor Industry Association announced the global semiconductor industry sales were $439.0 billion in 2020, an increase of 6.5% compared to the 2019 total of $412.3 billion.
So the $19 billion from TSMC in 2020 for EUV nodes represents just 4.3% of the global semiconductor market, up from 2.2% in 2019. In other words, adding Samsung's EUV-node chips means that more than 90% of semiconductors DO NOT require EUV.
ASML's revenue share against Canon and Nikon has hovered around 89% for the past four years according to my analysis despite a 100% share in EUV for units costing $165 million.
ASML also is limited to how many of these they can make and there are only three logic and three DRAM companies, Samsung (logic + NAND), TSMC (logic), Intel (Logic), SK Hynix (NAND) and MU (NAND) buying them.
ASML's 193nm immersion (ArF) dropped from a 95% share in 2018 to an 88% share in 2019 to an 85% share in 2020. Since 2013, the trendline is slightly negative. Nikon is a strong competitor in immersion DUV, and its share of the sector is maintained and growing slightly.
This free article presents my analysis of this semiconductor equipment sector. A more detailed analysis is available on my Marketplace newsletter site Semiconductor Deep Dive. You can learn more about it here and start a risk free 2 week trial now.
This article was written by
Providing a deep knowledgebase for better semiconductor stock investments
Dr. Robert N. Castellano, is president of The Information Network www.theinformationnet.com. Most of the data, as well as tables and charts I use in my articles, come from my market research reports. If you need additional information about any article, please go to my website.
I will soon be initiating an investor newsletter. Information to register will be online on my website.
I received a Ph.D. degree in chemistry from Oxford University (England) under Dr. John Goodenough, inventor of the lithium ion battery and 2019 Nobel Prize winner in Chemistry. I've had ten years experience in the field of wafer fabrication at AT&T Bell Laboratories and Stanford University.
I have been Editor-in-Chief of the peer-reviewed Journal of Active and Passive Electronic Devices since 2000. I authored the book "Technology Trends in VLSI Manufacturing" (Gordon and Breach), "Solar Panel Processing" (Old City Publishing), "Alternative Energy Technology" (Old City Publishing). Also in the solar area, I am CEO of SolarPA, which uses a proprietary nanomaterial to coat solar cells, increasing the efficiency by up to 10%. I recently published a fictional novel Blessed, available on Amazon and other sites.

Analyst's Disclosure: I/we have no positions in any stocks mentioned, and no plans to initiate any positions within the next 72 hours. I wrote this article myself, and it expresses my own opinions. I am not receiving compensation for it (other than from Seeking Alpha). I have no business relationship with any company whose stock is mentioned in this article.
Seeking Alpha's Disclosure: Past performance is no guarantee of future results. No recommendation or advice is being given as to whether any investment is suitable for a particular investor. Any views or opinions expressed above may not reflect those of Seeking Alpha as a whole. Seeking Alpha is not a licensed securities dealer, broker or US investment adviser or investment bank. Our analysts are third party authors that include both professional investors and individual investors who may not be licensed or certified by any institute or regulatory body.