Tail Risk Hedging With Easy To Trade ETFs: A Comparison Of Recent Performance
Summary
A market correction may have begun. Several exchange-traded products claim to provide tail risk insurance or attempt to inverse the performance of market indices.
How did they perform in the recent volatility related to bonds selling off?
We compare several types of products against a popular S&P 500 index ETF (SPY).
Real volatility appears to be back, brought on by selling off of US Treasuries in recent weeks. This means yields have gone up, putting pressure on growth stocks. The financial media has talked about a great rotation from growth stocks into sectors that have underperformed in the past year, such as energy and value stocks. While I agree with that approach, I want to see how well a hedged portfolio would have performed in the past few weeks and months.
Nowadays, there are several exchange-traded products investors may buy in order to protect their portfolios against a market crash or correction. One need not necessarily have a large fortune in order to invest with a hedge fund. Nor does one need to dabble in options or futures in order to perform these hedges. These are easy to purchase exchange-traded products (mostly ETFs), similar to buying stocks in their brokerage account. I have traded not only options and index futures, but also in amplified products such as volatility ETFs and 2X and 3X index ETFs. Those require very close monitoring and frequent adjusting of positions, unlike these hedging products.
However, just because they are easy to buy, does not necessarily mean they are good to buy. We should expect that hedging, similar to insurance, should cost some money that we don't usually get back. However, several of these funds performed very poorly during the March 2020 market correction brought on by the COVID-19 pandemic. These were the so-called Risk Parity funds - perhaps one of the most famous being Bridgewater's (Ray Dalio) Pure Alpha Fund II falling double-digit percentages, due to leveraged positions with stocks and corporate bonds correcting simultaneously.
On the other end, a hedge fund run by Mark Spitznagel, a protege of Nassim Taleb (author of "The Black Swan"), famously claimed to have returned over 3,600% during the March 2020 crash. However, that appears to have been the return on only the hedge itself - the real return was reported to be 0.4% for March 2020.
Let's look at a list of ETPs one can use to hedge a long portfolio. We'll add a few that are not strictly tail risk ETPs, but attempt to inverse the performance of risk assets such as high yield bonds and equities. This is by no means a complete list.
| | | | | | |
| --- | --- | --- | --- | --- | --- |
| Ticker | Name | Recent price | Dividend yield* | Expense ratio | Notes |
| (SWAN) | Amplify BlackSwan ETF | $31.80 | 0.23% | 0.49% | Holdings consist of US Treasuries and S&P options |
| (TAIL) | Cambria Tail Risk ETF | $19.53 | 0.36% | 0.59% | 90% UST, 4% cash, S&P options |
| (DRSK) | Aptus Defined Risk ETF | $29.53 | 1.22% | 0.79% | UST, corporate bonds, equity options |
| (SPYC) | Simplify US Equity PLUS Convexity ETF | $27.50 | 1.33% | 0.28% | Consists of 98.3% S&P index fund with S&P options. Also has two variants, SPD and SPUC. |
| (NUSI) | Nationwide Risk-Managed Income ETF | $27.05 | 7.53% | 0.68% | Seeks to generate income using options on the Nasdaq 100 (collar strategy) |
| (RPAR) | RPAR Risk Parity ETF | $23.00 | 0.33% | 0.50% | Consist of US Treasuries, gold, emerging mkts |
| (SJB) | ProShares Short High Yield | $18.61 | 0.07% | 0.95% | Swaps against iShares HYG, cash |
| (PSQ) | ProShares Short QQQ ETF | $14.47 | 0.31% | 0.95% | UST, cash, swaps against Nasdaq 100 |
| (SH) | ProShares S&P 500 Short ETF | $17.52 | 0.16% | 0.90% | UST, cash, swaps against S&P 500 |
| (VXX) | iPath Series B S&P 500 VIX Short-Term Futures ETN | $15.61 | N/A | 0.89% | VIX futures contracts |
* 30-day SEC Yield or calculated manually based on actual 2020 paid dividends and/or return of capital; some of these do not pay out consistently. NUSI pays out monthly dividends from selling of options on the Nasdaq index. Do not rely on dividend yield as the main reason to buy.
(Source: Fund information web sites)
During the week of 2/22/2021 and again on 3/3 and 3/4, a perceived inflation scare caused a sell-off in US Treasuries. Leading up to that by several weeks, some in the financial media warned about troubling signs in the bond market. Below is a 1-month chart as of 3/3/2021, where we see SPY is nearly flat at -0.18%. Surprisingly, SWAN, TAIL and RPAR did not live up to their intended goals. They performed terribly in fact (-2.51%, -3.12% and -3.08% respectively) due to a high concentration of their portfolios in USTs. Ironically, they were worse to have compared to just owning SPY outright! We can see why in TAIL's description:
The Cambria Tail Risk ETF seeks to mitigate significant downside market risk. The Fund intends to invest in a portfolio of "out of the money" put options purchased on the U.S. stock market. TAIL strategy offers the potential advantage of buying more puts when volatility is low and fewer puts when volatility is high. While a portion of the fund's assets will be invested in the basket of long put option premiums, the majority of fund assets will be invested in intermediate term US Treasuries. As the fund is designed to be a hedge against market declines and rising volatility, Cambria expects the fund to produce negative returns in the most years with rising markets or declining volatility.
(Source: TAIL Cambria Tail Risk ETF web site, emphasis added)
PSQ, which attempts to inverse the Nasdaq index, performed the best with a 5% 1-month return. Two of the tail risk hedging ETFs performed slightly better than SPY: DRSK at 0.29% and SPYC at 0.28%. Let's go back further and see how these did in last year's bull market recovery.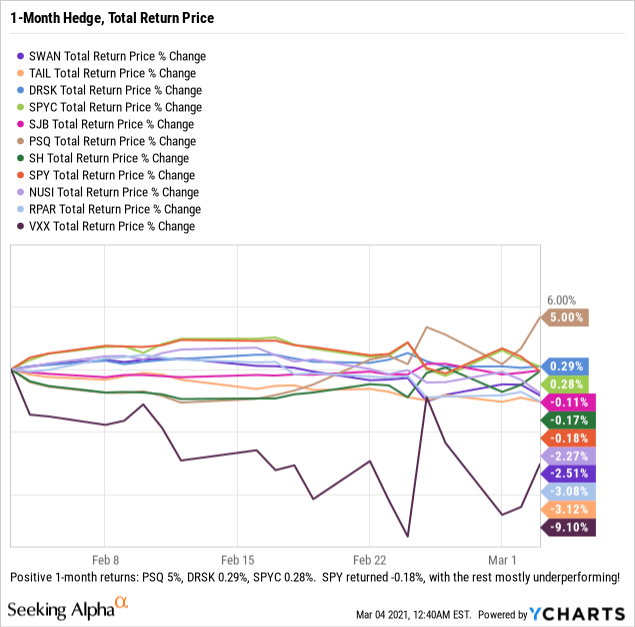 Next is the 3-month total return price chart showing SPY returning 4.39% as of 3/3/2021. We see SPYC performed the best, returning 5.23%, almost a percent over SPY. SWAN (-1.68%), TAIL (-5.48%), and RPAR (-1.06%) were again negative, with NUSI slightly positive due to its monthly dividends. But PSQ returned -2.82% due to the strong Nasdaq performance prior to late February.
We can also see that VXX, a long volatility ETF, had a nice spike due to the 2/22 bond market scare, but ultimately ends up down nearly 10% for the trailing 3 months. So far, SPYC looks like a decent hedge for the situation we have just been through - two months of a strong bull market followed by a few weeks of sell-off (but not quite a bear market).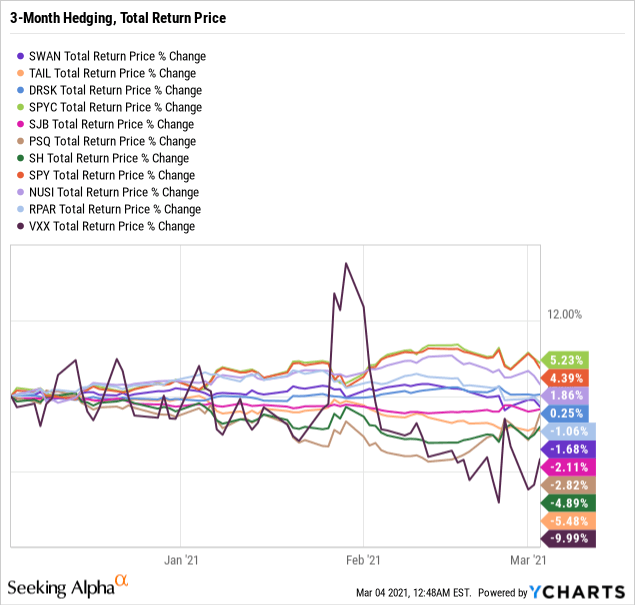 Now, let's see what would've happened if you had held for a longer period. Here's the 1-year chart, which includes the volatile March 2020 correction followed by the almost uninterrupted bull market rally from April 2020 through mid-February 2021. SPYC came on top with a total return of 14.26%, beating SPY at 13.55%.
The rest are clearly not worth holding for longer periods of time, and should be avoided due to very poor performance. While the worst returns went to VXX (-37.46%), PSQ (-13.86%), and SH (-13.44%), these ETPs aren't meant for long-term holding. TAIL seems to fit in that group, with a disappointing -9.68% 1-year total return.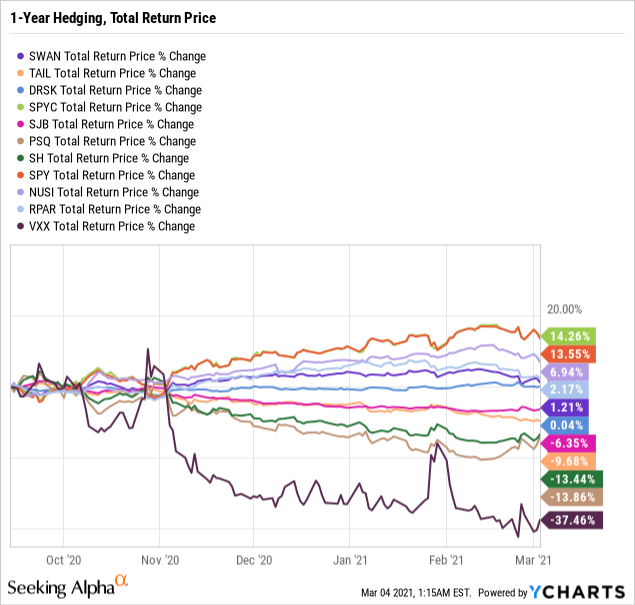 Note: chart timeframe actually begins in Sep 2020, when SPYC debuted.
Let's do one more comparison. We want to know how these perform in a truly steep sell-off. I have charted the price change for the crash brought on by COVID-19, back in March 2020. Unfortunately, SPYC was not available at that time for us to compare. Long volatility products like VXX and UVXY were in a class of their own as the VIX futures curve went into severe backwardation, returning over 100%, but fell quickly after markets started to recover.
These would have been good for quick trades, but require daily monitoring and would not be as advantageous in a taxable account. Also, every crash is different, and I would not anticipate VXX and UVXY to perform as well as it did last March due to a less steep VIX futures curve.
Of the risk insurance funds, TAIL actually performed well here, returning 14.55%, likely due to its put options and USTs, which fulfilled their typical role as a safe haven. In this case, I think SPYC would have performed poorly, since SPY returned -16.12%. Since SPYC's holdings consist of 98% of the S&P 500 index, we would expect SPYC to maybe outperform SPY by 1% or so, give or take depending on the mix of options in the portfolio at the time.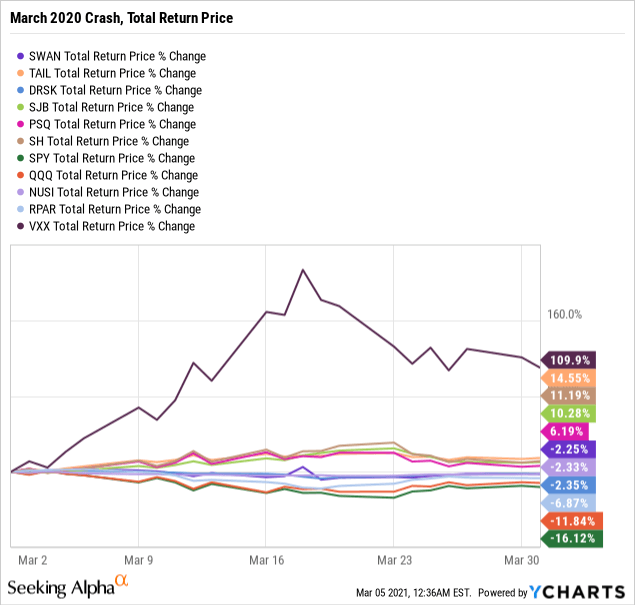 A look at TAIL's 5-year chart shows us that it's not a terrible hedge, if you can time the market to some extent. It looks prudent to sell soon after a black swan event has occurred, similar to that of the volatility ETPs, VXX and UVXY.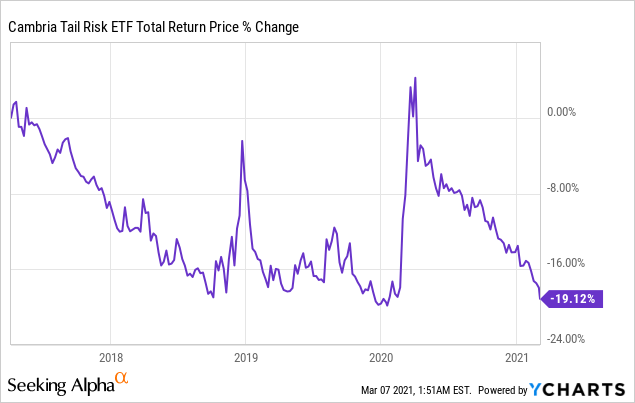 Here's another way to see how these much tail risk hedge products underperform the market during a long bull run (with the COVID crash in the middle). Quite frankly, it would have been better to just have stayed 100% invested in equities. The only way you could have done better is if you sold equities in February 2020 and bought TAIL, VXX, or UVXY, then sold and switched back to equities by April 2020. I would love to compare performance during a secular bear market, but we haven't had an extended one since these products became available to retail investors.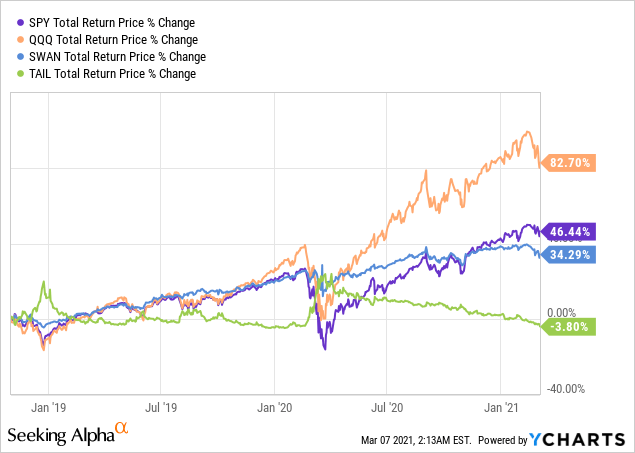 As mentioned above, SPYC seems to be the best long-term alternative to owning a plain S&P 500 index fund. But the company behind that ETF, Simplify, also has two variations. One is the Simplify US Equity PLUS Downside Convexity (SPD), and the other is the Simplify US Equity PLUS Upside Convexity (SPUC). The difference in names seem to indicate significant differences, but I don't see a striking difference when looking at performance. Over time however, it should make a meaningful difference. Here we see the 5-day, 1-month, and 1-year total returns.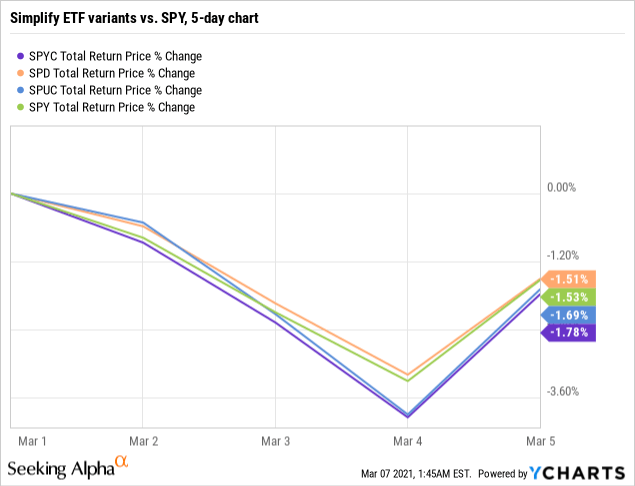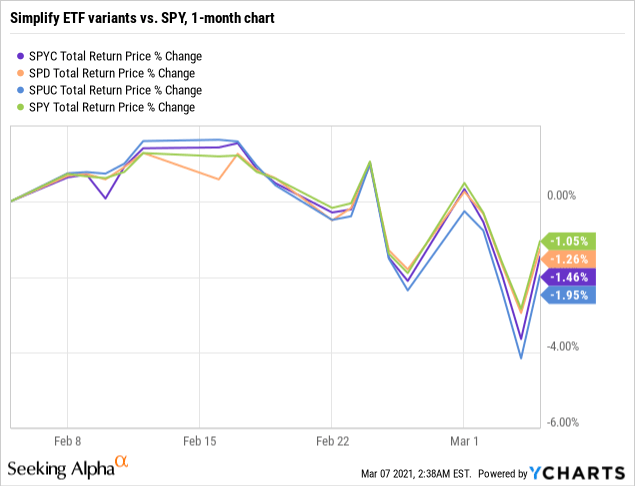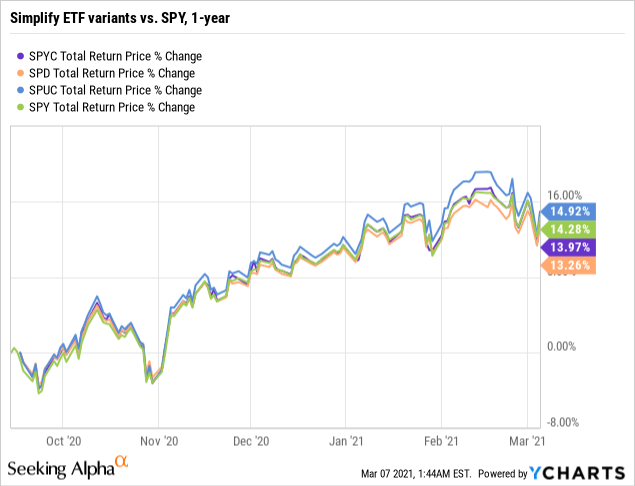 (Source: Simplify US Equity PLUS Convexity ETF site)
SPD does perform a tad better in a correction, but SPUC ought to do better for long-term holding, with SPYC sitting in the middle.
Let's take a peek at SPD's holdings to see how they're providing protection. The vast majority is held in IVV, an inexpensively managed S&P 500 index fund. They appear to roll deep out-of-the-money put positions at strike prices of around 50% of the recent highs. Even though the puts would not be in-the-money in a 10 or 20% correction, the premium (cost to trade the option) would increase and the fund would likely sell the puts at a profit. Because the strike prices are so far away from the underlying, they are very cheap.
| Ticker | Name | Quantity | Weight |
| --- | --- | --- | --- |
| IVV US | ISHARES S+P 500 INDEX FUND | 286927 | 98.75% |
| SPX US 03/19/21 P1800 | S&P 500 Index Mar 2021 1800 Put | 951 | 0.01% |
| SPX US 06/18/21 P2000 | S&P 500 Index Jun 2021 2000 Put | 263 | 0.14% |
| SPX US 09/17/21 P1800 | S&P 500 Index Sep 2021 1800 Put | 203 | 0.19% |
| SPX US 12/17/21 P1800 | S&P 500 Index Dec 2021 1800 Put | 279 | 0.40% |
| SPX US 03/18/22 P2000 | S&P 500 Index Mar 2022 2000 Put | 180 | 0.49% |
| - | Estimated Cash | 28404 | 0.03% |
(source: Simplify US Equity PLUS Downside Convexity web site as of 3/5/21)
SPUC has the opposite - long call options:
| Ticker | Name | Quantity | Weight |
| --- | --- | --- | --- |
| IVV US | ISHARES S+P 500 INDEX FUND | 21374 | 97.95% |
| SPX US 03/19/21 C4400 | S&P 500 Index Mar 2021 4400 Call | 61 | 0.01% |
| SPX US 09/17/21 C4400 | S&P 500 Index Sep 2021 4400 Call | 36 | 1.30% |
| SPX US 03/18/22 C5000 | S&P 500 Index Mar 2022 5000 Call | 36 | 0.72% |
| - | Estimated Cash | 1488 | 0.02% |
(source: Simplify US Equity PLUS Upside Convexity web site as of 3/5/21)
And SPYC has the combined calls and puts at the same strikes and expirations as the upside and downside ETFs:
| Ticker | Name | Quantity | Weight |
| --- | --- | --- | --- |
| IVV US | ISHARES S+P 500 INDEX FUND | 218505 | 98.31% |
| SPX US 03/19/21 P1800 | S&P 500 Index Mar 2021 1800 Put | 842 | 0.01% |
| SPX US 03/19/21 C4400 | S&P 500 Index Mar 2021 4400 Call | 300 | 0.00% |
| SPX US 06/18/21 P2000 | S&P 500 Index Jun 2021 2000 Put | 103 | 0.07% |
| SPX US 09/17/21 C4400 | S&P 500 Index Sep 2021 4400 Call | 185 | 0.66% |
| SPX US 09/17/21 P1800 | S&P 500 Index Sep 2021 1800 Put | 94 | 0.12% |
| SPX US 12/17/21 P1800 | S&P 500 Index Dec 2021 1800 Put | 106 | 0.20% |
| SPX US 03/18/22 C5000 | S&P 500 Index Mar 2022 5000 Call | 185 | 0.37% |
| SPX US 03/18/22 P2000 | S&P 500 Index Mar 2022 2000 Put | 69 | 0.24% |
| - | Estimated Cash | 21968 | 0.03% |
(Source: Simplify US Equity PLUS Convexity website as of 3/5/21)
Finally, I'd like to summarize my analysis and provide a table as to the use case for each product. I have excluded the ones that demonstrated underperformance in both good times and bad. Also, what might happen if and when interest rates do finally rise above 2%, 3%? Some of the funds that hold large amounts of bonds such as SWAN and RPAR may do well in a future downturn, years from now.
This is not a financial recommendation to trade any of these products, nor should these products constitute the majority of your portfolio. Past performance is not a guarantee of future results!
| | | |
| --- | --- | --- |
| Ticker | When to Use | Holding timeframe |
| TAIL | Buy when concerns are building up in the market. However, one has to sell relatively quickly, before a loss in NAV occurs due to market recovery. | Short-term (< 1 year) |
| VXX / UVXY | Buy early on during a steep correction, due to VIX futures curve going into backwardation. Must sell quickly before VIX curve returns to contango. | Very short-term (intraday or few days) |
| SPYC / SPD / SPUC | Appears to be a good proxy for SPY in a bull market, if not a true hedge. May outperform SPY long-term, but will underperform if the S&P 500 stays flat for periods of time. Low expense ratio of 0.28% is quite attractive for an actively managed ETF - this could just be introductory as the fund only started in Sep 2020. Worth keeping an eye on the expense ratio. Also, the true expense ratio may be masked because the majority of the ETF holdings are in an index fund (IVV), although it has a very low expense ratio of 0.03%. | Long-term (> 1 year) |
This article was written by
I started investing right after the dotcom bubble crash. I am very interested in underfollowed stocks and special situations. Some screens and methodologies like Joel Greenblatt's Magic Formula and Hewitt Heiserman's Earnings Power Chart are what I use for long-term investing.
Analyst's Disclosure: I am/we are long SPYC. I wrote this article myself, and it expresses my own opinions. I am not receiving compensation for it (other than from Seeking Alpha). I have no business relationship with any company whose stock is mentioned in this article.

I also own short-term positions in SQQQ and long call options on SJB.
Seeking Alpha's Disclosure: Past performance is no guarantee of future results. No recommendation or advice is being given as to whether any investment is suitable for a particular investor. Any views or opinions expressed above may not reflect those of Seeking Alpha as a whole. Seeking Alpha is not a licensed securities dealer, broker or US investment adviser or investment bank. Our analysts are third party authors that include both professional investors and individual investors who may not be licensed or certified by any institute or regulatory body.