Baudax Bio: A Potential Diamond In The Rough
Summary
BXRX is a currently discounted analgesia company that suffered from reduced demand due to COVID-19 pressure on elective surgeries.
The company currently has an FDA-approved post-op analgesic that is favored by anesthesiologists, as well as a focused pipeline that could push it to the forefront of non-opioid analgesia companies.
Should the company successfully ramp up ANJESO sales and market existing pipeline candidates, hitting more than 2x the current share price is not at all unreasonable.
The analysis below describes several reasons for why Baudax Bio (NASDAQ:BXRX) is a speculative buy at the moment. Although the company is in a precarious cash position and has a rather complicated business structure, it has an excellent FDA-approved product with a robust (yet young) pipeline. We believe Baudax's share price is currently discounted due to low ANJESO revenues after COVID-19 cancellation of elective surgeries throughout the country. The current vaccination efforts should drive a rapid increase in revenue for ANJESO and have a positive impact on the company's share price.
About the Baudax Spin-off
Baudax Bio was previously part of Recro Pharma, a company that performed both contract development and manufacturing (CDMO) and had an acute care in-house therapeutic development arm. On November 19, 2019, the company officially split into two entities: BXRX for pharmaceutical development and Recro (REPH) for continued CDM work. Most of the C-suite have split their leadership efforts between the two companies up to this point, which we believe is the right approach for this initial transition period, but likely unsustainable as both companies grow independently.
Recro currently has no ownership interest in Baudax, and the share conversion was as follows: "For every two and one half (2.5) shares of Recro common stock held of record as of the close of business on November 15, 2019, Recro shareholders will receive one (1) share of Baudax Bio common stock. Shareholders will receive cash in lieu of fractional shares. The special dividend distribution is expected to be paid on November 21, 2019."
Current Value Drivers
Baudax is currently marketing ANJESO (intravenous meloxicam) in the United States. ANJESO is a once-daily i.v. analgesic that is FDA-approved for the management of moderate to severe pain, alone or in combination with other non-NSAID analgesics. Meloxicam is a COX-2 preferential non-steroidal anti-inflammatory drug, which in the current i.v. formulation, demonstrated strong efficacy in various orthopedic and soft-tissue procedures by providing approximately 24 hours-worth of pain relief. The key use-cases identified by the company include orthopedic, general, and colorectal surgeries.
ANJESO did demonstrate some noteworthy side-effects that will likely affect patient perception of the treatment, including constipation, increases in Gamma-Glutamyl Transferase levels (indicative of liver stress), and anemia. Unfortunately, ANJESO did receive a boxed warning from the FDA, specifically for cardiovascular and gastrointestinal risks (see below). The drug also has a multitude of contraindications that complicates its prescription in the medical environment. Lastly, ANJESO has a delayed analgesic onset, restricting it's use for emergency analgesia to adjuvant administration with other, faster-acting therapeutics.

Source: FDA ANJESO Label
However, BXRX did consider several clinical use factors when developing and marketing the drug, which is necessary considering the high competitive barriers to the acute pain therapeutics market. First, ANJESO is ready-to-use and does not require tedious reconstitution protocols nor refrigeration. Secondly, the company demonstrated that ANJESO use on average saved >$2,000 in costs associated with surgical hospitalization and decreased the length of stay by ~1 day. Baudax also received positive survey feedback from physicians. A permanent J-code was established for ANJESO in October 2020, allowing for easy billing in the hospital, ambulatory, and physician office environments.
Thus far, ANJESO has been added to the formularies of 65 medical institutions. Per-vial sales increased 80% (hospitals & ambulatory) and orders per account increased by 60% between Q3 and Q4 2020, likely a combination of favorable physician perception of the product and increases in elective surgeries at these locations. For example, while the neurosurgical field is not yet relevant to BXRXs product offerings, Goyal et al. calculated a decrease in elective cases from 57.7% of total surgeries in 2019 to 11.3% of surgeries in 2020. As neurosurgery has a higher ratio of emergency-to-elective cases compared to other fields, one could imagine the damage done to fields targeted by BXRX which highly rely on elective cases.
Needless to say, we expect ANJESO sales to grow rapidly as COVID-19 vaccination rates accelerate and elective surgeries increase in frequency. Importantly, our bullish position on the company depends on the BXRX's ability to do this quickly, with close competitors such as Heron Therapeutics [NASDAQ: HRTX] likely to receive FDA approvals soon.
Future Value Drivers in Early Clinical Stages
The question then becomes if BXRX can de-risk its position further through organic growth or targeted acquisition. Per the company's 2020 10-K document, management is suggesting an attempt to scale the company through in-house R&D and in-licensing/acquisition of assets from other companies. Their in-house pipeline is indeed interesting, and leverages both novel compounds and refined delivery mechanisms.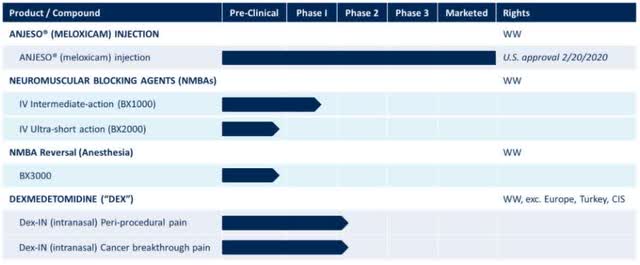 Source: BXRX 2020 10-K
Intranasal Dexmedetomidine ("Dex-IN")
Dex is a selective alpha-2 adrenergic agonist that serves as a sedative and is usually administered intravenously for intubations and surgical procedures. BXRX is attempting to market Dex-IN for peri-surgical use and cancer breakthrough pain, stating an advantage of its proprietary intranasal formulation is needing ~1/10th an intravenous dose to achieve substantial analgesia with minimal sedation. Prior to the spin-off, Recro Pharma explored the use of Dex-IN for postoperative analgesia in attractive elective indications, such as bunionectomy surgeries, with promising results.
The company recently ran a trial for post-operative pain against fentanyl, the results of which are pending. No registered trials exist for cancer breakthrough pain as of now. The intranasal route is very important to consider here because it fills a gap in the ANJESO pipeline - rapid analgesia. It is also easy to administer, and the low dose requirement for analgesic efficacy reduces risks of over-administration (although we must wait and see if BXRX provides some form of locking mechanism on the spray bottle to better understand risk).
We will revisit the neuromuscular blocking agent assets (BX1000, 2000, and 3000) as these assets mature and enter the clinical arena. The company recently had an FDA clinical hold lifted on BX1000 after additional toxicity data was provided. These assets are currently being in-licensed from Cornell University.
Current Financial Situation
It is difficult to fundamentally value a company using a DCF strategy so soon after initial commercialization, and with little historical runway given the split from Recro Pharma. From a quarterly look at 10-Q financials over 2020, the company has maintained relatively constant expense margins aside from an aggressive increase in R&D expenses in Q4 (118% increase from Q3). We would expect this increase from management given the importance of maturing other pipeline assets while ANJESO struggles uncontrollably due to COVID-19. The company had about $30.5 million in CCE by their 10-K 2020 filing. Current assets cover current liabilities by 2x, although total assets are 82% of total liabilities.
Revenues were indeed damaged after Q2 (81% decrease in Q3), and the slow recovery process has begun (12% increase from Q3 to Q4). It is important to consider the strong downward pressure on revenues due to the national COVID-19 situation in both Q3 & Q4, so the Q1 2021 results will be very informative for what to expect from ANJESO as normal life begins to resume. We expect to reach out with a DCF valuation after Q1 & Q2 '21 numbers are in.
Using some back of the envelope calculations, if you look at (Current Assets - Current Liabilities)/Shares Outstanding, we land at $0.96, close to the current share price of the company ($1.20 as of 3/7/21). Therefore, the market appears to have properly discounted the company's shares due to COVID-19, and we think the market sees the company's potential as observed by the recent run-up to $1.95/share and the current analyst consensus of BUY at an average of $4.67/share. It will probably take at least another year to justify a valuation above $2/share, but we think the stock will crawl back up to that price point over time and eventually hit some of the Wall Street targets ($3-5).
Of note, the company had an average quarterly dilution rate of 29% in 2020, although the previous two quarter-on-quarter dilution rates have been much lower (5%). The company has opted to take on debt using a $10 million credit facility to offset equity offering-mediated dilution. However, milestone and royalty agreements (with Cornell & Alkermes) will undoubtedly put financial pressure on the company.
Competitors Racing to a Non-opioid Acute Pain Gold Standard
Simply put, the non-opioid analgesia market is saturating aggressively, particularly with the recent legal movements against Purdue, Johnson & Johnson, and the like. Accordingly, BXRXs 10-K lists several companies that serve as serious competitors in this sector (we have bolded companies we believe have promising and novel assets, and currently or previously held positions in):
"There are a number of pharmaceutical companies that currently market and or manufacture therapeutics in the pain relief area, including Johnson & Johnson, Mallinckrodt plc, Pacira Pharmaceuticals, Inc., AcelRx Pharmaceuticals, Inc., Trevena, Inc., and Innocoll Holdings plc. Mallinckrodt commercializes an injectable formulation of acetaminophen which is now available generically by many manufacturers, including Sandoz. Pacira commercializes an intraoperative formulation of bupivacaine, a sodium channel blocker, that is injected or instilled at the surgical site. Additionally, companies such as Adynxx, Inc., Durect Corporation, Heron Therapeutics, Inc., Sandoz AG, Avenue Therapeutics, Inc., Neumentum Inc. and Cara Therapeutics, Inc. (see initial coverage) are currently developing post-operative pain therapeutics that could compete with ANJESO in the future."
Of note, BXRX has an early-mover advantage against several of the new-wave pain companies bolded above. Management now needs to make sure that ANJESO sits deeply fixed within existing and future customers' formularies.
Most Recent Corporate Highlights (Q4 Earnings Call)
Richard Casten (previously VP of Finance & Treasurer at Lupin) named as CFO after Ryan Lake transitioned back to full-time Recro Pharma CFO. Given that finance is the most precarious component of BXRX at the moment, we view this transition positively.
ANJESO on contract with the three largest group purchasing organizations (Vizient, Premier, & Health Trust). This will have a positive influence in obtaining and retaining clinical customers.
~70 institutions added ANJESO to formulary in 2020
Launched virtual tele-sales team to continue building ANJESO awareness amongst potential customers and build sales as much as possible given difficulties securing formulary meetings with customers during COVID-19
See Amit Ghate's discussion on warrants. As mentioned a couple of bullets above, let's hope bringing on a CFO from a massive pharmaceutical enterprise cleans up BXRXs financial behavior. If he succeeds, the company is definitely worth keeping your eye on.
Final Thoughts
BXRX has had a rather complicated start due to internal structuring and uncontrollable external factors. That being said, the current share price has made a speculative investment very tempting for us. We will try to transition to a more financially educated investment as more 2021 financial data becomes available.
This article was written by
We focus on small-cap biotech stocks from a fundamental valuation perspective by producing models that test a small company's ability to grow and compete in a crowded, less-well-understood industry. Our strategy involves covering a few biotech stocks with high growth potential. This includes an introductory briefing, company updates, and a debrief upon a major catalyst event when we sell our stake. Disclaimer for All Articles: This research is not investment advice nor a personalized recommendation. These articles are intended to supplement potential investors' knowledge of companies of their interest. All investors are expected to perform their own due diligence before making investment decisions.
Analyst's Disclosure: I am/we are long BXRX, HRTX. I wrote this article myself, and it expresses my own opinions. I am not receiving compensation for it (other than from Seeking Alpha). I have no business relationship with any company whose stock is mentioned in this article.

Disclaimer: This research is not investment advice nor a personalized recommendation. These articles are intended to supplement potential investors' knowledge of companies of their interest. All investors are expected to perform their own due diligence before making investment decisions.
Seeking Alpha's Disclosure: Past performance is no guarantee of future results. No recommendation or advice is being given as to whether any investment is suitable for a particular investor. Any views or opinions expressed above may not reflect those of Seeking Alpha as a whole. Seeking Alpha is not a licensed securities dealer, broker or US investment adviser or investment bank. Our analysts are third party authors that include both professional investors and individual investors who may not be licensed or certified by any institute or regulatory body.