China's Thriving Photovoltaic Market Accelerates JinkoSolar Growth
Summary
The intense price competition among photovoltaic firms decreased the solar module prices, which have been affecting JinkoSolar's operating margin since 2018.
JinkoSolar's efforts in developing its components, including expansion of the production of monocrystalline silicon pieces, played an important role in improving its efficiency and profitability.
The firm is facing risks due to the rising raw material price, the public's uncertain demand and volatility.
A 20-GW manufacturing base for large battery pieces is under construction by JinkoSolar (NYSE:JKS) in Yunnan province, occupying 1,000 acres at the end of 2020. This will become the largest manufacturing base for battery pieces globally once completed. Furthermore, it will expand JinkoSolar's capacity to 30 GW by 2021.
JinkoSolar focuses on providing clean energy solutions. By the end of 2020, it was the only firm that had achieved 65 GW accumulative shipment quantity worldwide. In the domestic market, it was awarded as ''Excellent Photovoltaic Module'' in 2020's list prepared by OFweek.
Strong profitability & module shipment numbers
Although JinkoSolar's total revenue decreased 11.72% to USD 3.64 billion in 2018, it started to present a rising trend from 2018 to 3Q 2020. Specifically, there was a 3.8% increase from over USD 1.19 billion in the second quarter of 2020 and a 17.2% increase from more than USD 1.04 billion in the third quarter of 2019. This was mainly a result of the rise in solar module shipments, which offset the decrease in average selling prices of solar modules. The massive decline in 2018 was led by solar modules' decreasing selling prices and declining government grants. For instance, module production's overcapacity intensified pricing competition and JinkoSolar only received CNY 52.2 million government grants in 2018, a 183% drop from 2017. Nevertheless, the decline in solar modules' average selling price still led to a 25.3% decrease in the photovoltaic module manufacturer's operating margin compared with the third quarter of 2019.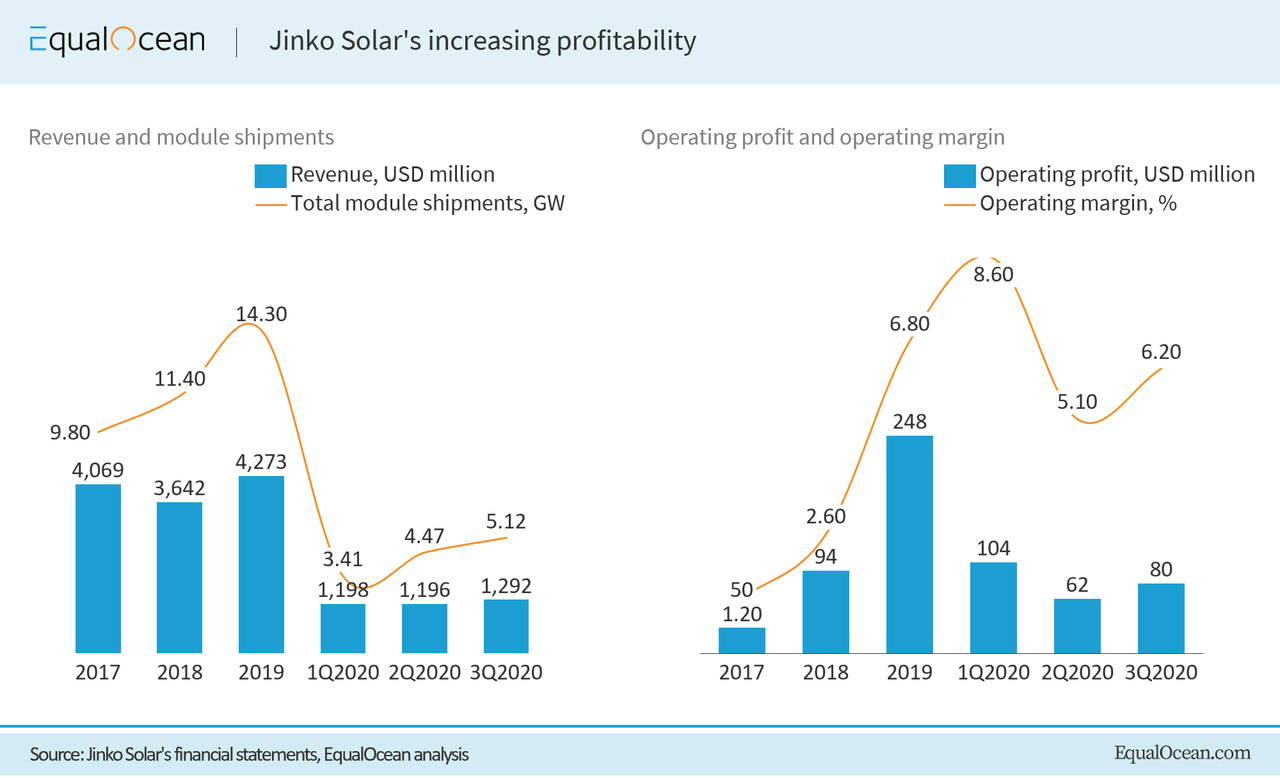 When it comes to its module shipments, JinkoSolar was ranked first globally for four years, with an about-15% market share. Over half of its module shipments were from markets abroad, indicating the firm's good reputation globally.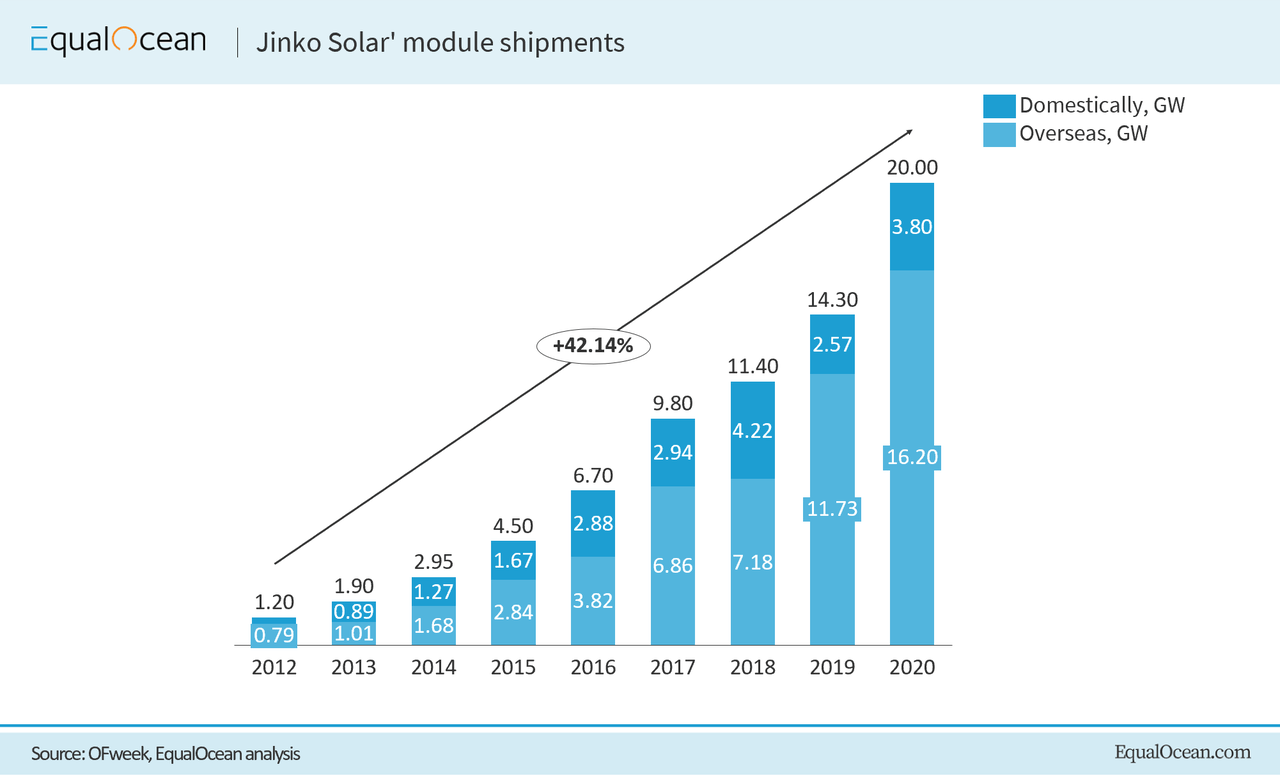 Vast photovoltaic market
In terms of the global market, the module shipment reached 120 GW in 2020, and 80% came from the top ten developed nations. To be more precise, China was ranked the first, with Jinko having the largest market share. The country is followed by the United States, Vietnam, Japan, Germany, Australia, Brazil and India.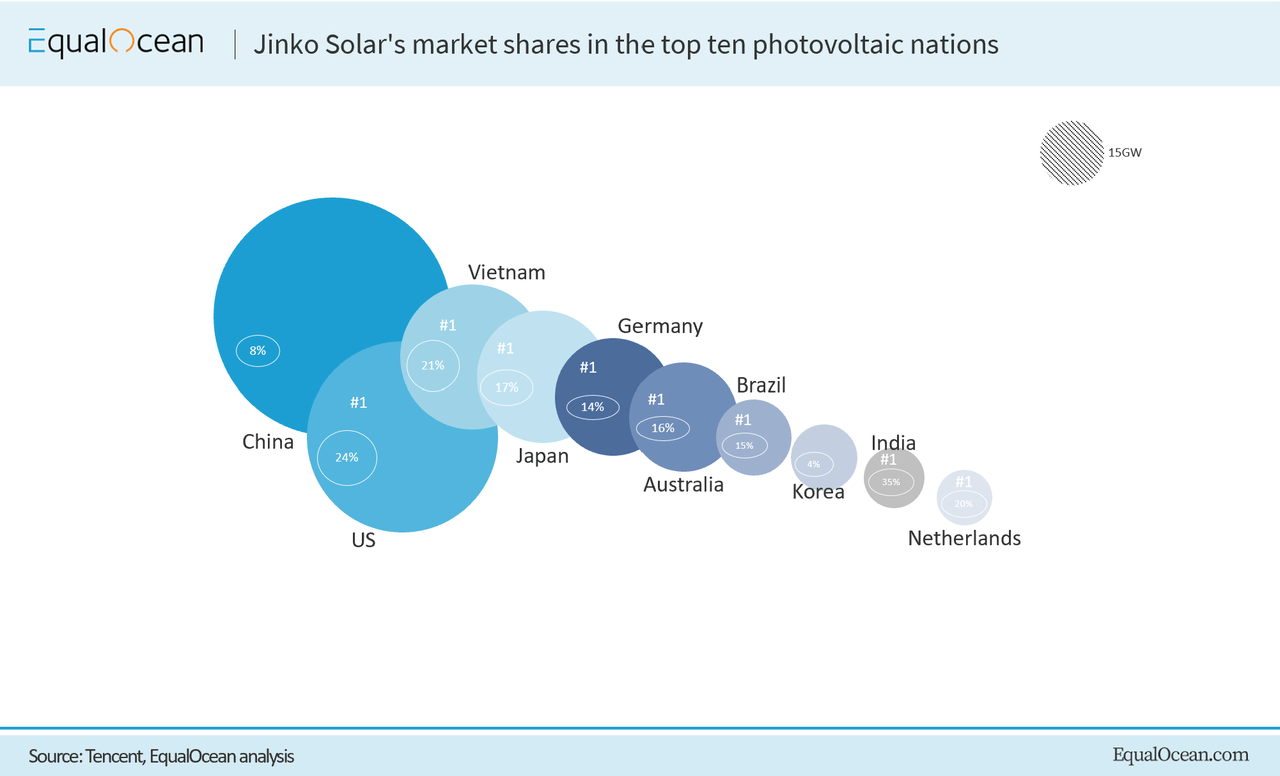 According to the International Renewable Energy Agency (IRENA)​, the global accumulative module shipment volume has maintained a rising trend since 2015 and is expected to reach 1722.14 GW by 2025. As photovoltaic power generation has strengths in clean and low carbon energy, it is rising rapidly in both developed and developing countries. Under this beneficial circumstance, its additional module shipments in 2021 is expected to obtain 140 GW in the best-case scenario.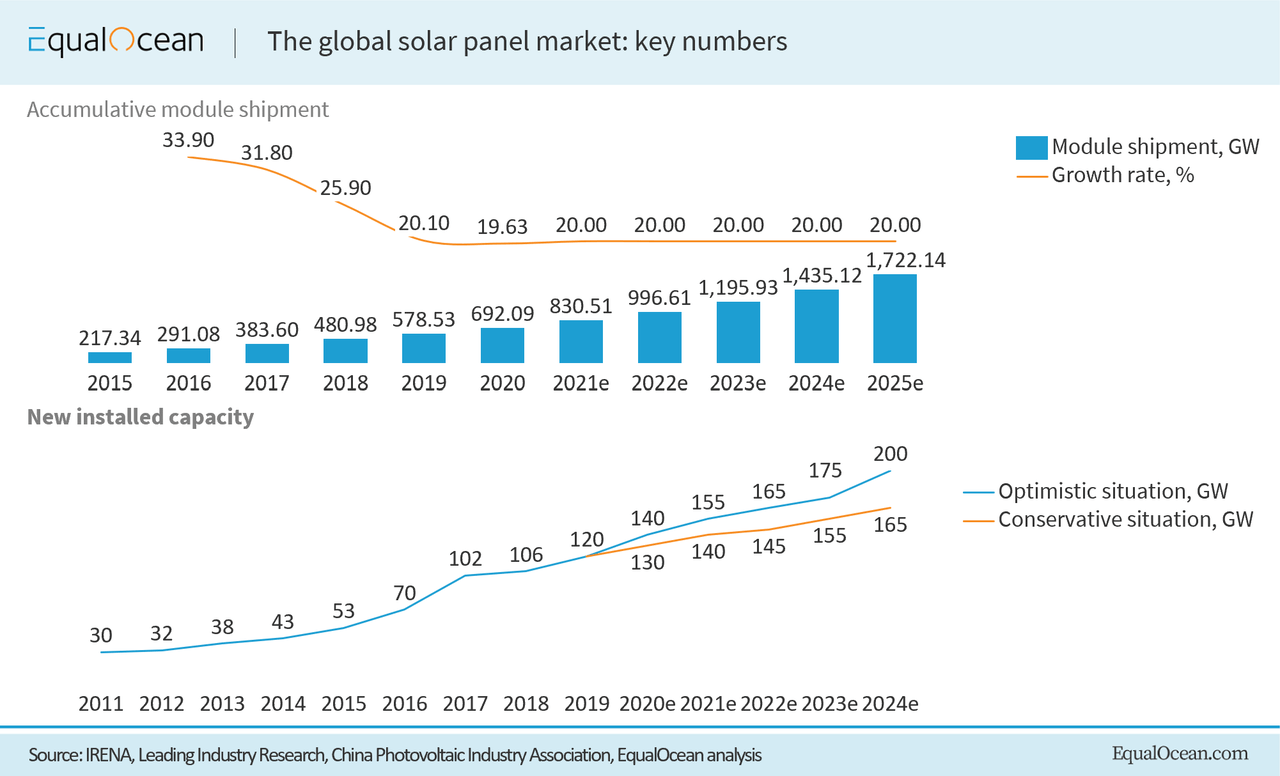 When compared with other players globally, JinkoSolar's shipments were still in the leading position. In 2020, the top ten solar photovoltaic manufacturers' module shipments were about 108.82 GW, accounting for 77.73% of 2020's total demand, and their shipment target is higher for 2021. Although LONGi Solar was ranked the first in 2020 with 20 GW shipment, JinkoSolar followed closely with only 18.75 GW. Moreover, JinkoSolar has occupied first place in the photovoltaic market since 2018, so it is still possible for the firm to catch up with LONGi Solar in the following years.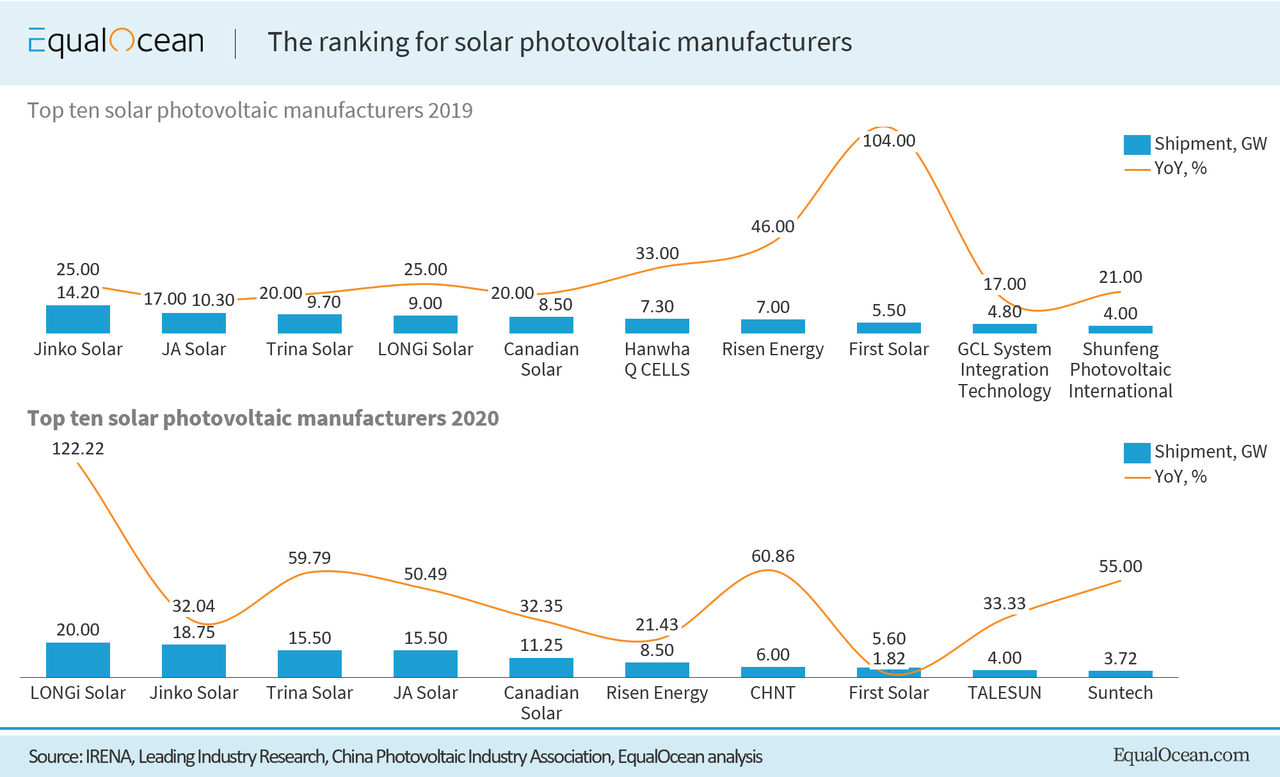 As the major market for photovoltaic power generation, Asia's module shipments were 330.13 GW, occupying 56.9% of the global market in 2019. Furthermore, JinkoSolar treated China as its most important market in 2021. It aims to split its subsidiaries within three years to go public on the Star Market. Except for China's promising market for photovoltaic power generation, its high investment in the world's energy transition and government support are also vital. According to BloombergNEF, the photovoltaic assets resulted in higher investments in the energy transition in 2020, and China occupied the highest proportion at about 36.29%. This also indicated an ever-growing Chinese market. Looking at China's Thirteenth Five-Year Plan results, the country has gradually become competitive in the photovoltaic industry with its highest additional module shipment and cumulative shipment. Additionally, the Chinese government announced its mid-and long- term objectives – to realize carbon neutrality by 2060. China's module shipments are expected to reach 70 to 90 GW per year in the Fourteenth Five-Year Plan.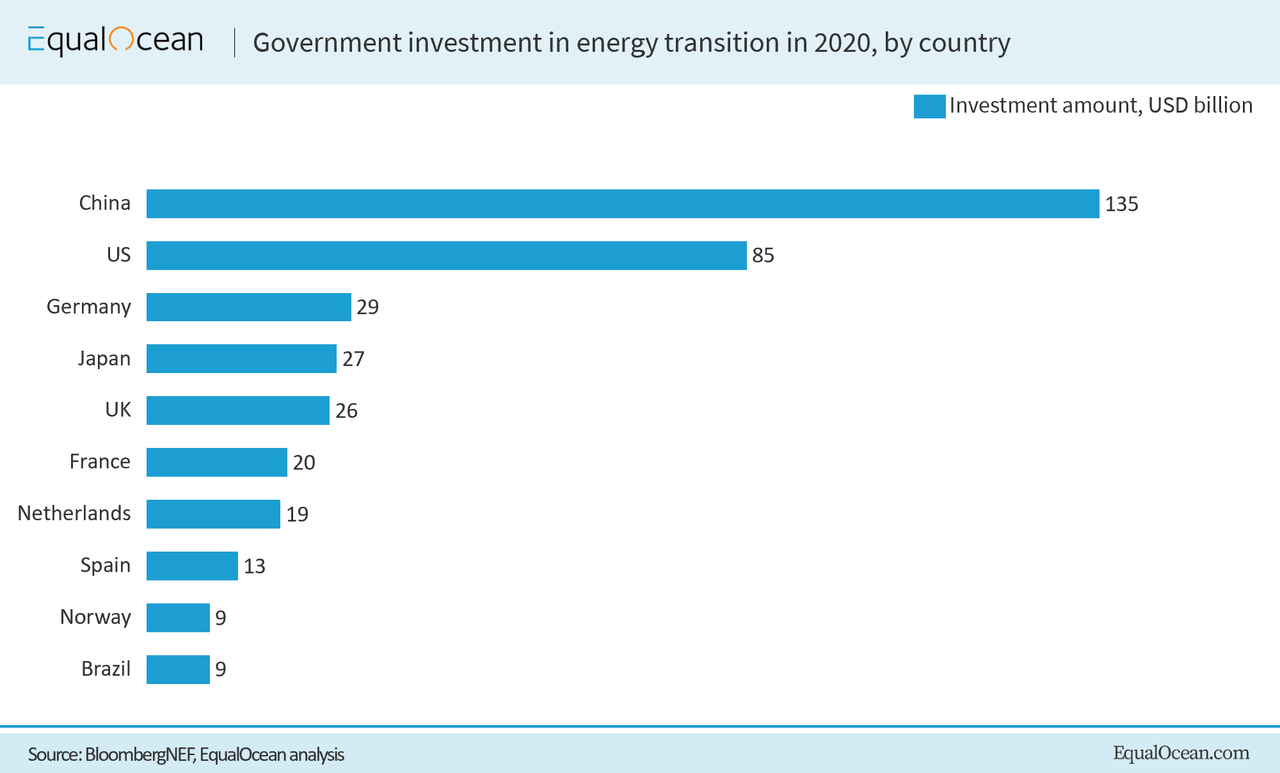 Catalysts
JinkoSolar's advantages – such as technological superiority, production capability and the special industry mode – also play an essential role in its development. The technological advantages are on show in the efficiency of its components and innovation in new products. The firm has broken the world record 15 times for the efficiency of batteries and components since 2014. For instance, it maintained 24.9% for its battery efficiency and 22% for the components. Its new product – Tiger Pro – was awarded recognition by PV Magazine as chosen 2020 Component, with its 580 W power and 21.6% conversion efficiency. Tiger Pro's order quantities surpassed 10 GW within six months of its release, and the firm expects this new product to achieve 20 GW by 2021.
Most monocrystalline silicon piece firms started expanding their productivity in 2019 As photovoltaic power generation has a lower cost compared with coal power generation, and it will become the primary power source in the future. According to the president of LONGi Solar, 69% of energy will derive from photovoltaic power generation in the future, and today's monocrystalline silicon pieces cannot meet the prospective components' demand. Hence, these photovoltaic firms chose to expand their productions in succession. Among these firms, JinkoSolar's production capability was ranked in the top three in 2020, and it is expected to maintain its leading position in the future.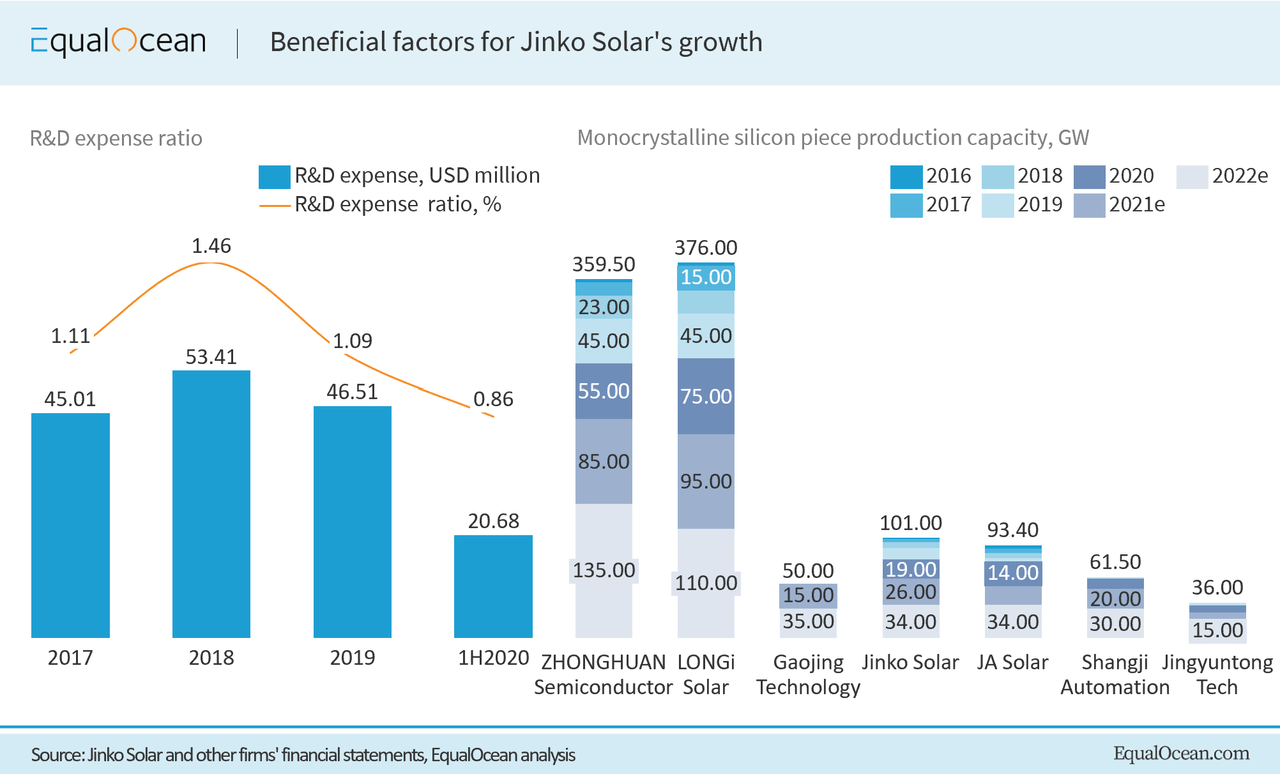 Lastly, JinkoSolar's special management model helps it control different operation processes more efficiently, creating more value. Specifically, this mode enables the photovoltaic firm to lower its dependency on third-party suppliers and improve their supervision of quality, which will reduce costs.
Risks
Although there are some beneficial factors for photovoltaic companies like JinkoSolar, the risks cannot be ignored. The first factor is the potential rising prices for raw materials. For example, polycrystalline silicon exerts a significant effect on photovoltaic projects. Due to an average increase of 18.88% in polycrystalline silicon prices from August 2020 to October 2020, rising prices in other raw materials further delayed some photovoltaic projects to 2021. Although there was a slight decrease in November, the price climbed up at the beginning of 2021 again. As a result, the rising prices in polycrystalline silicon will remain a threat for JinkoSolar.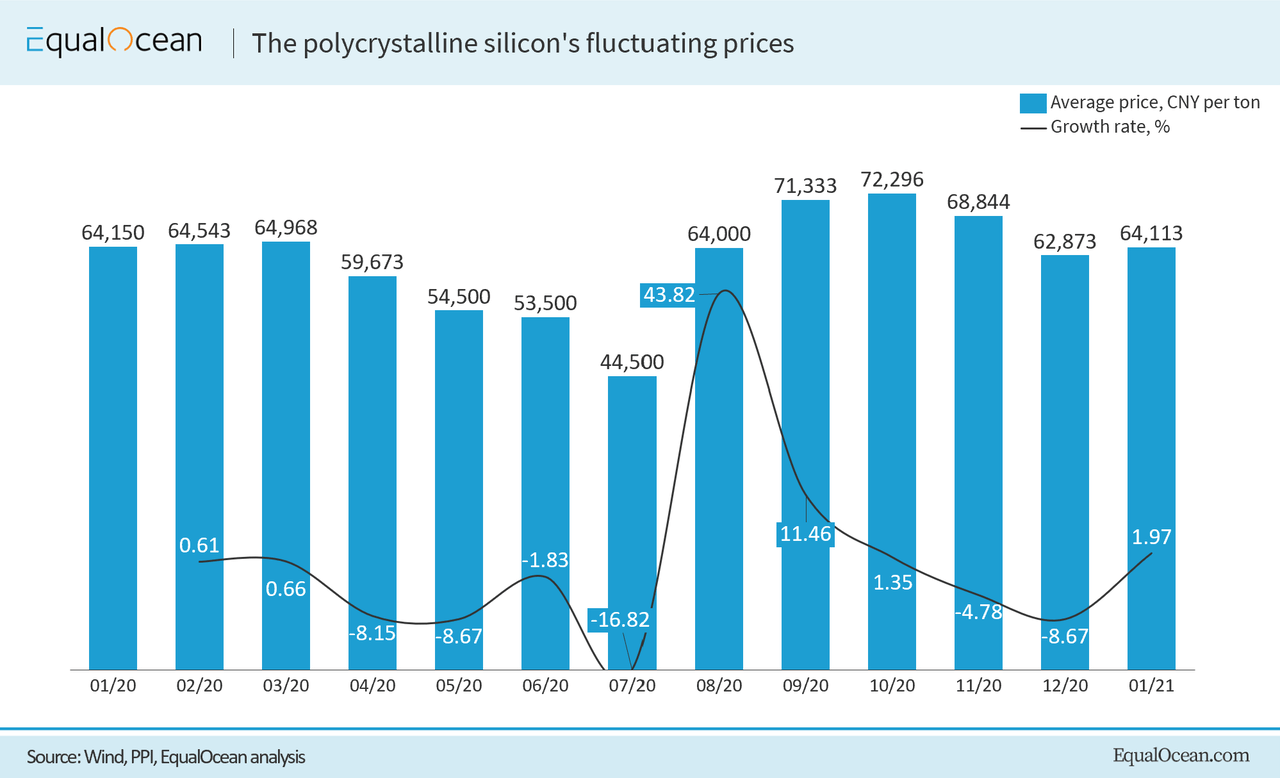 The second risk is the uncertain demand for solar power products. As the demand for solar power is affected by many macroeconomic factors such as the global situation as well as regulations in the field of renewable energy. Under the influence of COVID-19, around 55% of photovoltaic firms in China presented a sign of revenue loss. Although some vaccines became available, uncertain effects remain in the photovoltaic industry. In the US, which is one of JinkoSolar's largest markets, the past president Donald Trump favored traditional energy industries and hit the solar industry hard by imposing higher tariffs on photovoltaic panels. But the good news is that the new president Joe Biden aims to boost renewable energy, which might lower risks for the solar industry.
Thirdly, photovoltaic power generation has somewhat high volatility levels. For instance, the power grid's absorption ability is a core factor that affects photovoltaic module shipments. If there is a lack of absorption ability, photovoltaic power generation cannot be operated successfully.
The bottom line
In a time where more people and organizations advocate for sustainable development, the photovoltaic industry is becoming utterly promising. With the Chinese government's strong support, JinkoSolar is gradually transferring its emphasis to the domestic market, while also boosting its revenue. Nevertheless, the solar market is still facing significant risks. The unstable geopolitical situation and COVID-19 pandemic will remain as threats to the new energy firms' development. JinkoSolar should find more ways to alleviate its shortcomings and keep innovating in such a harsh business environment.
This article was written by
EqualOcean is an investment research firm and information service provider focusing on China's Technology, Automotive and Consumer Internet sectors. With unique research and due diligence methodology, we provide tailored insights into a wide range of Chinese equities, empowering our clients' value-added decisions. Founded in 2014, EqualOcean is headquartered in Beijing and has offices in Shanghai, Shenzhen and New York.For more information, contact us at contact@equalocean.com.
Analyst's Disclosure: I/we have no positions in any stocks mentioned, and no plans to initiate any positions within the next 72 hours. I wrote this article myself, and it expresses my own opinions. I am not receiving compensation for it. I have no business relationship with any company whose stock is mentioned in this article.
Seeking Alpha's Disclosure: Past performance is no guarantee of future results. No recommendation or advice is being given as to whether any investment is suitable for a particular investor. Any views or opinions expressed above may not reflect those of Seeking Alpha as a whole. Seeking Alpha is not a licensed securities dealer, broker or US investment adviser or investment bank. Our analysts are third party authors that include both professional investors and individual investors who may not be licensed or certified by any institute or regulatory body.