Aviva: More Focus Is Benefiting Capital Structure, But Not Earnings Yet
Summary
Aviva recently announced more disposals in non-core markets.
The impact of the strategic focus for the balance sheet is positive, for earnings per share it remains to be seen.
I am returning to a bullish stance as the strategy is executing at speed and suggests a more disciplined Aviva than we saw before.
U.K. insurer Aviva (OTCPK:AVVIY) continues to move ahead with its refocussing efforts.
My investment thesis remains that the management show signs of bringing sharper focus to the group, but that that may stymie growth prospects. However, I do think that the speed and scale of the transformation suggest that there is a fundamental shift taking place at Aviva, which could help it unlock more value long-term. For that reason, I am now turning bullish on the stock.
More Disposals are on the Way
The company recently announced its preliminary annual results. Alongside them it announced that it will sell its remaining stake in its Italian business. That built on its announcement several weeks ago that it will exit the French market. In 2021, the company expects to raise £4.3bn in 2021, from its disposals in France, Italy, Vietnam and Turkey.
Thus the company is on track to its desired destination of being focussed on its core U.K., Irish and Canadian markets. Meanwhile, the business delivered okay results over the past year - operating profit of £3,161m was broadly in line with the previous year, while IFRS profit of £2,910m was about 9% up from the prior year. Having said that, performance in the core markets it plans to maintain wasn't anything special, showing singly digit declines in operating profit. Hopefully we'll start to see more sustained growth in the core markets once the company's full focus is on them.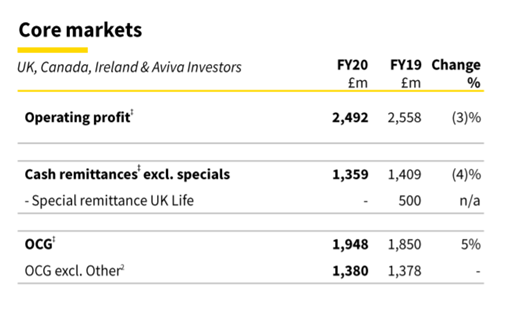 Source: company annual results presentation
The new strategy will likely have more impact on results next year and beyond. Nonetheless, some early benefits are likely, with £1.7bn of debt reduction planed for the first half of this year. The debt leverage ratio is expected to fall from 31% to 27% on the back of this.
How the Economics of Aviva Will
Change
One of my concerns about the speedy programme of asset disposals is whether the company is able to get top dollar for the asset disposals.
I reserve judgment on this, but the proceeds being used partly to reduce debt is a positive move for the company's balance sheet. However, it comes at the cost of future profits from these businesses. France, for example, provided close to half a billion pounds of operating profit last year, which was 15% of the whole company's operating profit.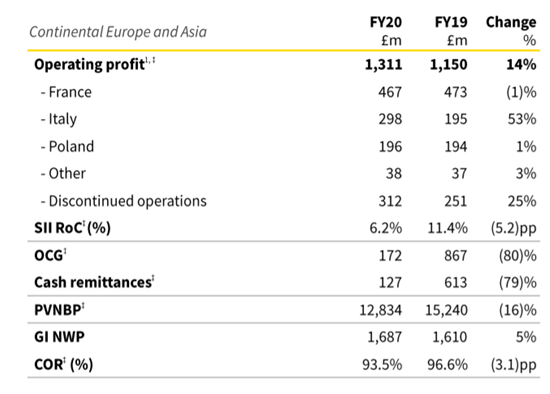 Source: company annual results presentation
Disposing of France and all the other businesses which have been or will be sold last year and this year is going to have a noticeable negative impact on operating profit in my view and I am not yet clear whether better performance in core markets will compensate for that, especially as Aviva already enjoys strong positions and wide penetration in them. The company said in its annual results that it expects to see continued growth in its core markets. It also reiterated its strategy of improving profitability in those markets. This is an area in which it has historically been fairly underwhelming, so while it trumpeted progress on cost cutting in its results, it remains to be seen whether the cost cuts will be embedded or start to unwind somewhat down the road.
There are two elements to thinking about the company's asset disposal programme and its impact on the investment thesis, in my view. First is its impact on the company's capital structure. In this regard I see the programme as positive. The company is performing some extensive housekeeping with the disposals, the proceeds of which are helping to improve its balance sheet health. The second element is profitability: getting rid of a bunch of businesses could well reduce profitability, but more focus on core markets could compensate for that.
It's on the second point that I think merits close attention over the next couple of years. While the capital structure improvement looks pretty straightforward, for now it's not that obvious whether the company's current strategy is going to lead to higher or lower earnings per share. My hunch is that the disposals will lead to a reduction in EPS but that may turn out to be incorrect - it all depends on how the company's focus on its core markets pans out. There was little indication of that in the annual results but I expect next year to start giving some indicators in this regard.
Why I am Shifting Back to a Bullish Stance
In my most recent notes on Aviva, I have been neutral in my rating of the name. I expected a dividend cut and saw it as bad news. It came in due course. I also found - and find - the tone of the chief executive abrasive and wondered about how that might affect the chance of substantial, long-lasting organisational change taking place.
The dividend cut is now part of the reality of the company's financials. In general I don't like dividend cutters - once a cut is made, a precedent is made. Nonetheless, even after the cut, the shares continue to yield around 5.3% (in this calculation I am excluding the second interim dividend declared this year, which I see as a one-off, and using 21p as the annual dividend total). Better yields are available from other insurers such as Legal & General (OTCPK:LGGNF) (currently 6.3%) but on its own merits, the Aviva yield is attractive.
The company has moved to sell the non-core businesses quickly. The company's switch to a more aggressive mode of execution than has been the case for years is something which is a cultural shift which will endure for some time, in my view. So in the future, Aviva will be a more focussed business, playing where its strengths are without the distractions of small markets in which it sometimes struggled to make much headway. That ought to be positive for its profitability and return on capital.
I was previously bullish on the company but that was partly because of the prospective yield, which at that point stood at 12%. That part of the bull case no longer subsists after the dividend cut. However, the yield remains attractive and the basic case for Aviva - that it is a massive insurer with significant cash generation potential - is strengthened in my view by its sharpening focus. So I am now bullish on the name again.
This article was written by
I am a private investor based in the United Kingdom and most interested in equities in the U.K., U.S., Canada and Norway.
Analyst's Disclosure: I/we have no positions in any stocks mentioned, and no plans to initiate any positions within the next 72 hours. I wrote this article myself, and it expresses my own opinions. I am not receiving compensation for it (other than from Seeking Alpha). I have no business relationship with any company whose stock is mentioned in this article.
Seeking Alpha's Disclosure: Past performance is no guarantee of future results. No recommendation or advice is being given as to whether any investment is suitable for a particular investor. Any views or opinions expressed above may not reflect those of Seeking Alpha as a whole. Seeking Alpha is not a licensed securities dealer, broker or US investment adviser or investment bank. Our analysts are third party authors that include both professional investors and individual investors who may not be licensed or certified by any institute or regulatory body.