888 Holdings Plc Still Presents A Buy
Summary
UK-based 888 Holdings Plc is a diverse, online betting company strong in casino, poker and bingo, and growing in sports betting.
Among tier two sports betting platforms, it has a strong, upward ramp, gaining market share without betting the farm on customer costs.
It is poised for a big move weeks away from its 2020 fiscal year earnings release which could be an upside surprise. Repeat: could be.
This idea was discussed in more depth with members of my private investing community, The House Edge. Learn More »
888: online gaming buy hiding in plain sight
We are now guiding long on UK-based 888 Holdings Plc (OTCPK:EIHDF), a global online gaming entrant, ranking 10th largest among peers.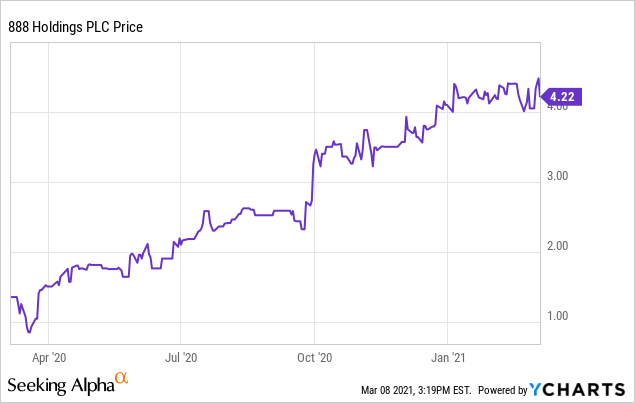 Our opinion grows out of 888's track record between 2017 and 2019. And in general, we think we are at the endgame phase of the pandemic which looms positive overall for gaming. We think 888 has remained cheap while the sector leaders have excessive valuations. That's an entry point IMHO.
Valuations of major entrants for context
For context, we begin with our most recent guidance on the two highest flyers in the sector: Penn National Gaming Inc. (PENN) and DraftKings (DKNG). Both these companies continued solid performances in revenue gains both in existing, but particularly, in newly legalized markets like Michigan. In both cases, my take has been unwavering, even since my original article back last fall on DKNG when the stock traded at $54.94 and early last month and when Penn reached an apogee of $128.
Analysts were gushy and giddy putting PTs of $200 a share and higher on Penn, for example. My guidance was simply this: The companies' sector leadership was warranted. I specifically liked Penn's casino business better, but I was not overly impressed by its good prospects in sports betting through its Barstool app. I liked DKNG's strong cash position and its tightening focus on reducing its losses by better control of its new customer acquisition marketing expense. But in the end, my take is still based on the sense that both stocks were overvalued.
Given the Super Bowl lying just ahead and the current launch of the NCAA FINAL FOUR event, I then recommended two possibilities: If you were sitting long with a fat profit on either one, sell half, or alternatively, just hold and do not accumulate on dips. If you were not in the stock, I guided you to wait till post Final Four to get a grasp on the first chunk of the sports calendar without the fortress NFL betting or NCAA tourny. Facing the NBA playoffs, the opening of the MLB season and a sprinkling of events like the golf Masters, I saw some lingering positive sentiment. But nothing approaching the strong fan interest in the NFL betting which accounts for over 40% of the entire sports betting handle during the season.
But after the NBA playoffs, US sports betting, heavily focused on relative weak sister early MLB betting, could shake some of the clueless dreamers' confidence in the growth arc of the sector, and trigger sharp downsides. So, given a starting point of being overvalued with plenty of room to drop, I see the possibility of a friendlier entry point by 2Q21 for Penn and DKNG when we are at least full speed in the baseball season. That's the time to buy those two if there is a dip.
Meanwhile, here's my calls on both that set the stage for my dive into 888 and conclusion that it is a bargain by contrast to the two big sector leaders.
Penn: Last October, Penn was at $61.44 when we guided hold, but still saw positives. The stock, by then in the rose-colored glasses view of the dumb money, traded to the skies. My dumb money players had proven smart. Good for them. Yet, I still did not waver from my core thesis: Penn was a great casino operator, with good potential in sports betting, but was getting wildly toppy.
On February 7 last, the stock had zoomed to $128.91 and I still flashed the caution light in my SA article of that day.
At this writing, Penn has now fallen to $97.53, reaching somewhat closer to what I consider a far more realistic range closer to $75 to $85 - at best. It's now down $31.92 off its high. Why? Certainly, profit taking is in play, increasing competitive pressure in all states, and a respectable, but third place finish in the newly legal State of Michigan.
As of this writing, Penn shows a market cap of $22.540b, a number I feel is bloated by sports betting prospects. Yet, its 41-property brick-and-mortar asset base, as I have written, is where the real value of this company lies. That will come into better focus as we advance in the endgame of the pandemic and footfall and revenue levels at Penn properties move rapidly north. That's where the re-ramp will come from 3Q and after.
DraftKings, another sports betting leadership stock being pushed by wildly optimistic analyst CAGR growth numbers, benefitted by an IPO price of $9 last April. So, there was no place to go but up considering the sports betting mania triggered by a rapid succession of state legalizations. But here too, I questioned valuations from my own perspective as an industry insider - right or wrong.
My article of October 19, 2020: DKNG was $44.43
I guided caution. Dumb money players went their own way and traded the stock up to $60 by February 26. Again, not so dumb, good for them. But while short term I clearly was wrong, it is important to note that my caution light flashed for the intermediate and longer-term once the giddy money was squeezed out by reality or profit taking from the smart money who saw reality biting. I said repeatedly that the stock sentiment would be propped up short term by the Super Bowl betting and that turned out to be correct.
DKNG price at this writing: $55.19. Again, there were all kinds of gushing PTs out there of the trees grow to the skies level reaching South Sea Bubble levels, an analogy that some heavy breathing DKNG lovers took strong exception to as being an invalid comparison. Different horses for different courses, I'm okay with critiques as well as kudos.
888 Holdings Plc (888.L)
(Below: Moving smartly in US sports betting while already powerful in casino, poker and bingo - all aimed at single wallet theory. Source: 888)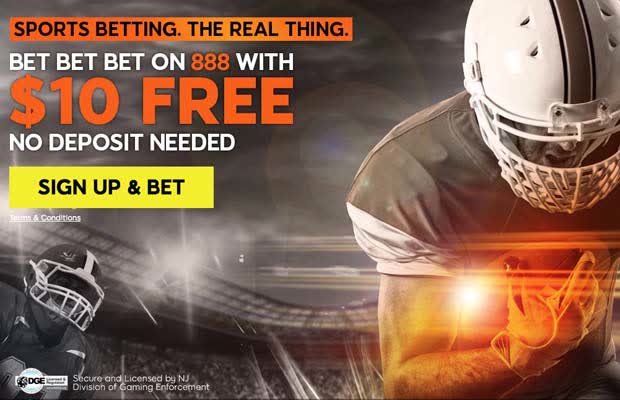 Note: You can buy the London traded stock from any highly reputable broker but stay away from no name online wannabe houses even if they promise special deals or services.
The stock is quoted on the London Exchange at 318 GBP, which converts to US$4.43 a share. It has a market cap of 1.17b GBP.
P/E: (TTM) 17.44
My investment theory
888, like our prior recommendation on PointsBet (OTCQX:PBTHF), is a viable, diverse, tech savvy legal gaming platform. 888's 2019 revenue was US$560m, operating income: $52.2m, net income: $41.6, and EPS 2020: $0.264E. So globally, 888 is raking in revenue close to DKNG. Its initial footprint in the US in New Jersey and other regions will grow exponentially this year.
But that's only part of the secret sauce of this stock. Read on.
DKNG revenue, up sharply, hit $644m for the year 2020. If 888's double-digit y/y revenue gains (24%) continue to show up in their next earnings release, they could conceivably equal, if not exceed, DKNG's latest revenue base.
Penn National's naked sports betting revenue through its Barstool book isn't clear. Management talks more about brand building and customer acquisition increases than pure net win. Their pitch is the valuable, cost efficient demo of the Barstool audience translating to sports betting revenue. It makes sense for them; investors understand it but only time will tell.
Like anything all competitors do, there are no slam dunks in this brutally competitive business. So, what it gets down to, in my view, is whether you believe that overpaying for future earnings now makes investment sense. To many, clearly it does. We propose something of an alternative universe, namely that is one of many viable options sports betting investors have before them now.
Who are these 888 guys?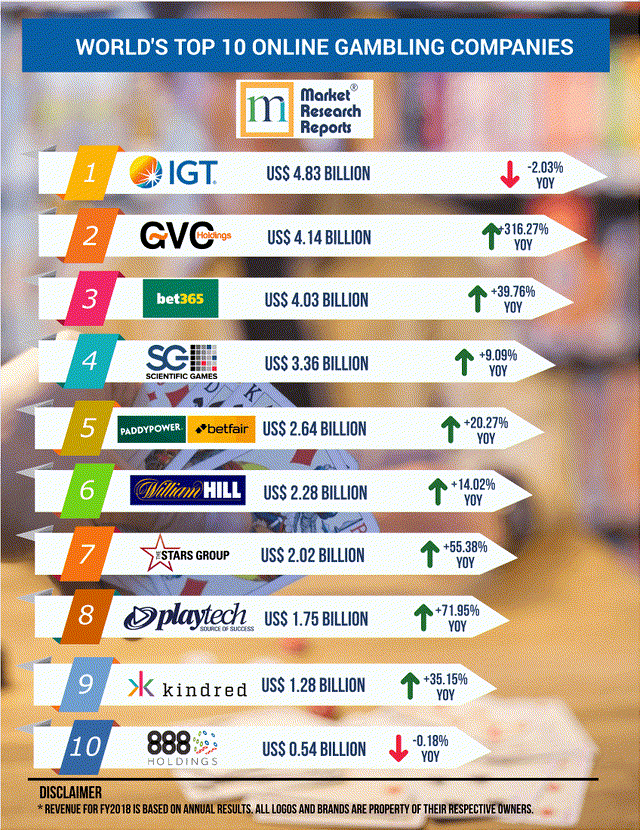 (Above: As of 2018 globally, 888 ranked tenth, without substantive move on US sports betting yet baked into its prospects. Source: Market Research Reports)
They operate out of Gibraltar with a London headquarters. Their top management springs from the computer science pros out of Israel. Yet, it was a technical glitch between 2015 and 2016 that allowed 7,000 of their customers who had self-excluded to continue gambling before the problem was discovered and resolved. British authorities investigated the breech as an example of firewall fails that allowed problem gamblers to seep through the cracks and stay in action. 888 was fined and paid the single largest fine ever imposed on British online gaming operators of US$10m. Clearly, the system fail scared the living daylights out of the company.
Since then, 888 has deployed its most powerful, militant tech systems into its firewall and makes it among the toughest monitors of safe gambling in the industry. It has shuffled management and today is in the throes of positioning itself for a quantum leap in growth ahead.
They now sit at the gateway to sports betting with technology that is cutting edge, with strong marketing and tight cost controls.
But as noted above, here's the less noted kicker in its business:
In 2019, 888 added one million new customers. Revenue by sector peaks our interest relative to peers:
Online casino: 64%
Sports betting: 16%
B2B: 5%
Poker: 8%
888 has also a growing footprint in online bingo.
The takeaway: 888 will participate in online casino and poker growth starting from a robust base and, at the same time, move smartly with the sports betting boom as it unfolds in the US. Unlike some competitors, they are firing with all cannons in all gaming segments, but its casino base represents a much larger piece of its overall revenue than most others.
Our point: Sports betting is unquestionably the loudest siren call to the growing cult of suspended disbelief among US investors in the online gaming space. Without question, the growth arc is encouraging. But lying in the weeds is the online casino business, getting much less attention despite the many pundits who believe that long term, online casinos will badly bruise the future growth of brick and mortar properties.
This, among other reasons, was why the late Sheldon Adelson vigorously opposed online gaming. I don't happen to believe that online will cause the inevitable demise of brick and mortar gaming. The unique diversions offered by today's casino resorts will remain a powerful draw to billions of fun seekers globally.
But also, without question, online casino gaming has a robust growth arc ahead. That's why you are seeing brick and mortar casino companies like Caesars Entertainment Inc. (CZR) and MGM Resorts International (MGM) moving aggressively to either partner or acquire online gaming operations. It's the single wallet theory we have alluded to in other articles. It's what gaming of tomorrow hopes to be.
Though 888's core business is presently heavily focused in the EU nations and is just beginning to rev up in the US, we think the strength they show in every gaming sub sector: casino, sports, poker, bingo presents a diverse, solidly-based foothold from which they can scale up rapidly in the US.
(888 on the move in sports betting in NJ and more: Source: 888).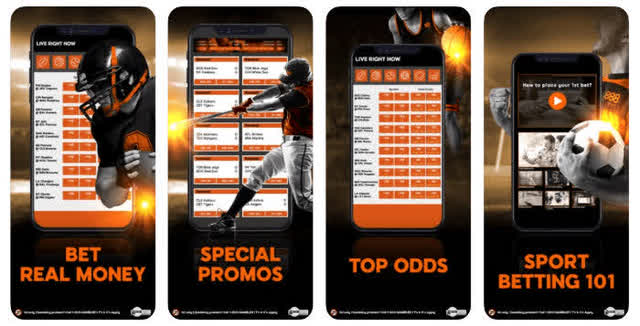 The numbers are encouraging
52-week range: $0.94 to $4.53
The stock is up 24% over the last 100 days
Market cap 1.170b GBP
P/E (TTM): 17.47
Beta (5-yr monthly): 0.64
Average daily volume: 903,152
ROE: 33% vs. industry average 5.6%
Over past 5 years, 16% net income growth above industry 7.8%
888 has 1,350 employees globally
3-year median payout ratio at 53%, leaving 888 with 47% to reinvest in the business, slightly less than ideal but note that the company has paid dividends over the last ten years.
Management 2020 earnings estimate: $0.264 vs. $0.13 in 2019.
Conclusion
This is a nifty entrant in the online gaming sector about to scale in the US sports betting space, while at the same time, moving briskly ahead building market share in the EU on casinos and poker. We think it is attractively priced relative to its prospects in a sector with overbought leaders.
Like our prior take on PointsBet, we think there is fertile ground to be planted in these solid, second tier online gaming stocks relative to the pricey levels of the leaders before Mr. Market catches on to the potential here and starts bidding it up.
For in-depth and deep dive research on the casino and gaming sector, subscribe to The House Edge. New: Free excerpts from our book in progress "The Smartest ever Guide to Gaming Stocks" - free to existing members and new subscribers.
This article was written by
Howard Jay Klein has 30 years of experience as an executive and consultant in major casino operations. His background includes: Ballys, Trump Taj Mahal, Mohegan Sun, and Caesars Palace in Las Vegas. He is a value investor first, using management quality to inform his investment ideas. Howard is the leader of the investing group The House Edge where he shares actionable research for investing in the casino and entertainment industries.
Features of include: actionable analysis on gaming companies, news and interpretation for the latest trends in gaming, a regular newsletter, buy-sell-hold or accumulate recommendations, chat. Learn More.
Analyst's Disclosure: I/we have no positions in any stocks mentioned, and no plans to initiate any positions within the next 72 hours. I wrote this article myself, and it expresses my own opinions. I am not receiving compensation for it (other than from Seeking Alpha). I have no business relationship with any company whose stock is mentioned in this article.
Seeking Alpha's Disclosure: Past performance is no guarantee of future results. No recommendation or advice is being given as to whether any investment is suitable for a particular investor. Any views or opinions expressed above may not reflect those of Seeking Alpha as a whole. Seeking Alpha is not a licensed securities dealer, broker or US investment adviser or investment bank. Our analysts are third party authors that include both professional investors and individual investors who may not be licensed or certified by any institute or regulatory body.