GameStop - This Run-Up Looks More Sustainable, But It Is Not
Summary
Current trading metrics do not point to a short squeeze or gamma squeeze and the failure to sell shares points to a lack of desire to innovate the business model.
GME is now trading at a ~13B market cap more ~450% higher than at the start of September when it had a .5B market cap.
I am purchasing puts on the ETF GAMR, which holds GME at ~15% of its holdings along with other "growth" oriented video game names that have sold off recently.
GameStop (NYSE:GME) has had considerable momentum since consolidating around $50. After a brief period of consolidation around ~$110-130, GME has broken out again with a ~40% move today (3/8/2021). With that move, GME is now trading at a ~13B market cap more ~450% higher than at the start of September when it had a .5B market cap. In this article I will lay out why this price level is unsustainable and why you should take profits if you have exposure and most likely remain on the sidelines if you do not. I am purchasing puts on the ETF GAMR, which holds GME at ~15% of its holdings along with other "growth" oriented video game names that have sold off in recent weeks. Not only does this ETF offer elevated exposure to GME, but it offers exposure to other assets that have downside momentum and limited correlation, thus offering a compelling trade without the elevated GME premium.

Source: Google Images
Important developments since the initial spike at the end of January
Ryan Cohen remains invested and has appointed a new Chief Technology Officer as well as two other executives to lead technological/e-commerce transformation.
"Roaring Kitty" one of the original WallStreetBets contributors' buys ~$4Million in GME at ~$40 a share at the end of February.
CFO is pushed out at the end of February, marking the beginning of a shift toward new executive leadership.
Important Trading Metrics
As of 3/8/2021, GME has ~36.5% short interest according to Seeking Alpha, down from ~120% short interest in January. Short volume ratio, which is the ratio of shares traded short within a day, was at 26 as off the end of last week indicating that roughly a quarter of GME shares traded are short.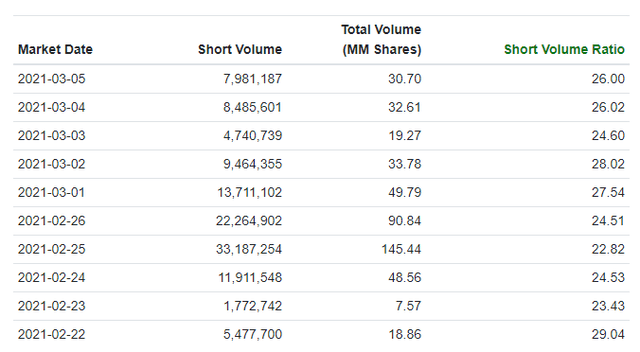 Source: Fintel.io
While this is a considerable portion by all standards, it is significantly less then prior to the original spike, indicating that many institutions have either de-levered their positions or re-oriented their exposure into other instruments.

Source: BarCharts
When you look at the Put/Call Ratio from 3/8, it is clear that intraday volume was bullish, indicating that many options were settled and turned into shares. However, when you look at Open Interest, quite the opposite story is shown as the ratio was 3.88 at market close. This means that roughly 4x the amount of put options are open and trading compared to call options.

Source: BarCharts
The fact that the interest is "Open" indicates that these contracts have not been settled and are either being held further into expiry to heighten liquidity, or they were options that are out of the money. Regardless, this is a stark dichotomy and one that I believe demonstrates the current environment of GME. That is that hedge funds and institutions have reoriented their positions from shorting the equity to buying put options. Regardless of whether the hedge funds and institutions are representative of the entire open interest in the options market, the considerable reduction in Short interest significantly changes the equities short-term price narrative.
Unlike in the end of January, when GME had a short interest north of 100%, currently, the equity does not offer the same drastic short-squeeze scenario. At ~30% short interest, the dramatic 300% moves we saw in February are unlikely, as institutions are not as exposed to upwards price movement in GME. Additionally, I feel as though the ~30% short interest we see now has a much different level of investor conviction than the 100% we saw not too long ago. I do not believe that the 30% will be as quick to sell and give up the fight against the mob of WallStreetBets, especially as the market is seemingly shedding frothiness in other areas.
What about a Gamma Squeeze?
A gamma squeeze occurs when market makers are forced to buy shares of the equity to compensate for an abnormal increase in the option's delta, most commonly of out of the money call options. Delta measures how much an options price is expected to change per $1 change in the underlying equity. Thus, a higher delta implies that an options price will rise more in line with the value of the equity while a low delta implies that the option will not rise significantly with the equity. Delta increases as options get closer to expiration and the "Time Value" premium one pays to hold an option decays. Anyone who has bought an option contract within days of its expiration understands these dynamics as mere fractions of a percent change in the equity can erase or double the value of an option contract.
When delta is high, especially in out of the money call options, market makers must adjust their holdings to maintain a neutral stance, as they cannot run the risk of having exposure to a certain equity. This causes them to buy shares of the common equity, which can propel the stock further, and increase demand for more out of the money call options, etc. This is what occurred in February and while I do believe some elements of this are occurring now, I do not believe it is the same.
This is because of the implied volatility that has been priced into the options since the February equity spike, which is still at significantly elevated levels. High levels of implied volatility reduce delta, as they imply that a stock is capable of large and drastic moves and thus deserves a "higher price tag" just for the potential of those moves. This is called the premium, and it is a baked in expectation of the equity's movement over time and what price ranges are logical given past performance and volume. A high implied volatility means the equity is set to have some drastic movement and thus as an options buyer you are taking the stance that the movement will either occur sooner than expected or it will be larger than expected. This is a dangerous game, as elevated levels of implied volatility like that which we see in GME options (~300-450%) mean that if an equity does not move significantly, your option will lose value. Meaning that even if you bought a call and the equity went up, you could lose money since the expectations of the move were higher than what occurred. I understand this is a lot of explaining, but I am concerned many do not understand the dynamics of the option market.
Essentially, the dynamics for a Gamma squeeze are not present, because the premium on the options are so significant that the volume simply will not be there to support the move. As investors see that their options are moving in line with the equities price action and in some weird cases below it, volume will decrease like it did in February. This can cause drastic reversals in price action like the one we saw in GME as it went from $500 to $40 in days.
If not a Short or Gamma Squeeze, then business transformation?
Undoubtedly, GME rose today based off support and excitement regarding a decision to hire a new CTO and two new executives that will be tasked with bringing forth technological advancements to the business model. While on the face this is I guess exciting, there is really no value to be placed in this decision, as no tangible plan has even been remotely brought to the table. In fact, by not selling shares, it seems to me that GME is actually reluctant to making a significant change to the business model. Any company trying to significantly change the course of their business would recognize that an influx of capital is necessary to do so, especially when dealing with a company tied down by fixed assets. Thus, either they are not changing the business model, or are not doing so in any significant or time-sensitive way, or they will sell shares in the near term to support this shift. Either way, the equities short term narrative does not seem strong enough to support the current prices, and if any long-term shift were to be enacted and GME issued new shares, it might signal the end of the road for the run. Not only would new issuances indicate that the equity is overvalued, but it would also necessitate a 3rd party to act as the guarantor of those new shares. Would any institution want an influx of GME shares on their hands at a $200 price for a $5 business, most likely not. Thus, the deal for the issuances would most likely be significantly below the current stock price, probably in the $40-100 range. Regardless, it would place significant strain on the upward momentum as these new shares would have to be digested by the market.
How to play this stock?
Currently, the implied volatility on the options really limits an investor's ability to take any meaningful position in the options market, and for most I would recommend the sideline. Even if you think the equity has significant downside the premiums on in the money calls imply that within a week the equity will move 50-60% in either direction, making it extremely risky to hold due to premium decay. The best way to gain exposure to the downside of this move would be to buy put options on the GAMR ETF, which currently has ~13-15% of its holdings in GameStop as of 3/6. While it is not optimal it could offer the best return without necessitating that you put up a considerable amount of money for a "premium" that will rob you if the equity has muted moves. On a day in which tech and video game stocks sold off, the ETF was up ~3% demonstrating the significant weight of the GME holding. Additionally, as this ETF is exposed to other "growth" equities, which have been experiencing dramatic selling pressure in recent days, the other holdings offer not only offer an uncorrelated hedge to your thesis, but could also compound the downward price action in the ETF.
Risks
Risks to this thesis include considerable buying activity from institutions and hedge funds aiming to capitalize on short-term momentum as well as the WallStreetBets effect. Continued buying could propel the equity further and create a scenario in which shorts would have no options but to unwind their portfolios and buy back the equity.
Closing Note
This time around GME does not present the same catalysts for radical upside that it did at the end of January. While short interest is elevated, it is nowhere near its pre-spike highs and while option volume is also high, implied volatility has restrained delta, and a resulting Gamma squeeze from occurring on a significant scale. Given the market dynamics have changed for this equity, many have placed emphasis on Ryan Cohen and his activist campaign to revolutionize the business. While this is exciting, not only is there no tangible strategy in place to test and model, but company action (not issuing more stock) indicates that there is no significant desire to really change the business. And on the other hand, if there was significant desire, and they were to issue more shares, the price on those shares would be significantly below the current price, and thus would not only dilute shareholder value, but would kill momentum as the market digested the "discounted" shares.
This article was written by
Investor and Active Equity ResearcherAll research and opinions are my own. I am not a licensed financial advisor, please consult one prior to acting on my thought process.Gather more SA insight through the website link below.
Analyst's Disclosure: I am/we are short GAMR. I wrote this article myself, and it expresses my own opinions. I am not receiving compensation for it (other than from Seeking Alpha). I have no business relationship with any company whose stock is mentioned in this article.
Seeking Alpha's Disclosure: Past performance is no guarantee of future results. No recommendation or advice is being given as to whether any investment is suitable for a particular investor. Any views or opinions expressed above may not reflect those of Seeking Alpha as a whole. Seeking Alpha is not a licensed securities dealer, broker or US investment adviser or investment bank. Our analysts are third party authors that include both professional investors and individual investors who may not be licensed or certified by any institute or regulatory body.