Evofem Biosciences Launches Phexxi: Will Peak Sales Surprise?
Summary
Evofem recently launched the first new non-hormonal birth control option in decades.
Clinical efficacy falls short of the copper IUD, PARAGARD, but that device I believe may come with significant side effects.
A trend in birth control centered on the woman's quality of life (safety, tolerability, reversibility) may be a tailwind for Phexxi sales.
Phexxi could buck the trend of women's health products that have fallen short of commercial expectations.
Back in December 2000, the FDA approved Mirena, the hormonal IUD, and initial estimates for peak sales were supposedly only $75 million. The contraceptive was essentially viewed as a niche product. Over the course of the next two decades, IUDs have become much more popular as women taking control over their ability to become pregnant became more popular, and this method of birth control didn't require daily pills. I believe Evofem Biosciences (EVFM) could be on top of the next trend in birth control, providing women with hormone-free, not hormone affecting, on-demand birth control.
It has unfortunately become more clear that hormonal birth control methods have significant negative effects on women, their overall health, weight, mood, sex drive, and their ability to become pregnant after terminating hormonal birth control. It is also becoming increasingly known that other touted "non-hormonal birth control" options also have systemic side effects and actually do affect hormones, though indirectly.
Phexxi is a nonhormonal contraceptive gel, applied within one hour before sex, that prevents pregnancy by maintaining vaginal pH in the 3.5-4.5 range, even when pH-raising semen is introduced, which is a hostile environment for the survival and migration of sperm. I believe that peak sales estimates for this product might yet again be low (over the long run), just like Mirena's initial estimates and perception as a niche product. This product appears to truly be non-hormonal, with no systemic side effects, presenting women who are concerned with systemic side effects with a safe, convenient, and highly effective option. I also believe that, in the case that I speculate correctly about Evofem's peak sales, the stock could appreciate considerably.
Background on Phexxi
Phexxi is currently administered via a pre-filled disposable dispenser by which the user applies the formulated gel within one hour before having sex. It keeps the vaginal pH at normal acidity [1]. Normal semen is alkaline, with a pH of 7.2-8.0, and a normal vagina has an acidic pH of about 3.5-4.5. Thus, after sex, the pH of the vagina can increase as it is exposed to semen. Sperm lose motility [2,3,4] in acidic environments (in vitro and in vivo), and if kept acidic enough, they become irreversibly immobilized - in other words, they die. This can be accomplished simply by maintaining the pH of the vagina at about 4.0. Since this is the normal pH, one might not be so skeptical of the product's potential unintended effect on a woman's health.
There are various medical advantages to this approach, compared with various other methods.
Advantage: non-hormonal, nonsystemic
It is important to understand that all hormonal birth control methods essentially work in the same way, whether in the form of pill, patch, ring, IUD (intrauterine device), implant or shot. All forms introduce synthetic hormones into a woman's body which destroy the hormonal cycle, inhibiting the body's production of natural forms of the hormones. There is, however, one notable difference between some forms of hormonal birth control: whether they are single or combination treatments. The best way to understand how hormonal contraceptives work in more depth is to look at a specific brand of oral contraceptive (OC). Let's take a look at a legacy brand, Alesse.
Alesse is a 28 tablet contraceptive, 21 of which are made of 0.10mg levonorgestrel (a synthetic progestogen) and 0.02mg ethinyl estradiol (a synthetic estrogen) and seven of which are a placebo "reminder" or "hormone free interval" pill. Alesse, a product of Pfizer Inc. (PFE), is one of the popular oral contraceptives in the United States. It is also a combination (synthetic estrogen and progestin variant) pill, so it will be a fair example subject, as some single hormonal birth control pills only contain a type of progestin and therefore do not work in as many mechanisms as combination treatments do. When one asks their doctor how Alesse works in contraception, she will say that Alesse will prevent ovulation, and without ovulating, there can be no fertilization and therefore no pregnancy. This response is somewhat consistent with what Alesse FDA documents say:
"Combination oral contraceptives act by suppression of gonadotropins. Although the primary mechanism of this action is inhibition of ovulation, other alterations include changes in the cervical mucus (which increase the difficulty of sperm entry into the uterus) and the endometrium (which reduce the likelihood of implantation)."
While I believe that this could actually pose an issue to some religious circles, where the mechanisms of action for preventing pregnancy includes a tertiary mechanism where essentially a blastocyst (a new human with its own unique DNA) may be unable to implant into the endometrium and subsequently die. Is this a form of unintended abortion? This idea might cause those uncomfortable with the entire idea of abortion to want to avoid hormonal birth control. This mechanism is not well known or discussed in the general population and is therefore, at this time, not commercially important.
The first mechanism of action of hormonal birth control is to inhibit ovulation. It is explained in clinical studies and in the FDA approval documents that inhibition of ovulation is achieved by inhibition of hormonal negative feedback. This general mechanism naturally occurs in a female's body. Negative feedback, a concept in control systems, is defined as the operation where an output of a process is used as an input to the same process, and is a common study in engineering as well as biology. For example, when a woman begins her cycle on Day 1 of her period, a certain part of her brain called the hypothalamus, which regulates many different processes in the human body, signals to the pituitary, an endocrine (hormone) secreting gland also located in the brain, to produce two hormones called the Follicle Stimulating Hormone (FSH) and the Luteinizing Hormone (LH). FSH induces estrogen production in the ovaries, and the LH signals progesterone production in the ovaries. When there is enough estrogen and progesterone in the body, the pituitary responds by ceasing to make FSH and LH. This normally occurs at specific times in a woman's hormonal cycle.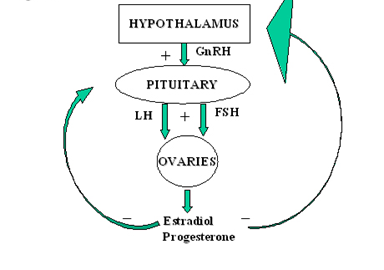 Source: Negative Feedback Inhibition of Luteinizing Hormone and Follicle Stimulating Hormone by Introduction of Synthetic Progestogen and Estrogen, (Global Library of Women's Medicine - Glowm)
"The pill" contains synthetic estrogen and progesterone, which signal to the pituitary gland that enough FSH and LH have already been made. Consequently, there is a lack of FSH and LH to signal to the ovaries to produce natural estrogen and progesterone, which is the purpose of the negative feedback inhibition. The woman's body continues to act as if there is an estrogen and progesterone high; however, it is the synthetic hormones interacting with the hypothalamus and pituitary gland, until about Day 22, when the woman begins to take placebo pills. This Hormone Free Interval (HFI), which some doctors suggest skipping, allows menstruation for 7 days via placebo pills.
For hormonal birth control that is not a combination treatment and contains only a form of synthetic progesterone, natural estrogen is produced in more normal quantities, since the synthetic estrogen isn't being introduced into the body. The synthetic progesterone, however, suppresses natural progesterone production which still strongly affects a woman's body.
When a woman's period begins, the FSH works in the ovaries at maturing 15-20 eggs. The FSH and follicles produce estrogen which then matures the follicle even more until it is ready for ovulation. The amount of estrogen and LH continue to grow until there is enough for the egg to burst from the most developed follicle. This follicle that releases the egg is called a corpus luteum, which produces large amounts of progesterone in order to prepare the body for a potential pregnancy. Due to this process, there are large amounts of estrogen and progesterone in the body, which is what causes negative feedback inhibition naturally and at the correct time during the cycle. If no pregnancy occurs and the corpus luteum dies, the levels of estrogen and progesterone will decrease, and menstruation and FSH/LH production begin again. So, with the pill, the decrease in estrogen/progesterone or their equivalent synthetics never decreases, and the entire hormonal cycle is consistently inhibited.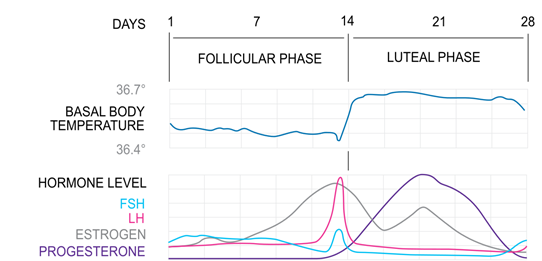 Source: The Menstrual Cycle( Natural Family Planning for Pharmacists)
Female Sex Hormones Synopsis:
Follicle Stimulating Hormone (FSH) matures the eggs at the beginning of a women's cycle.
Estrogen, specifically estradiol, is responsible for helping to mature eggs, bursting the most mature follicle, developing the uterine lining in case of pregnancy and making the fertile-quality cervical mucus so that sperm can travel into the uterus.
Luteinizing Hormone (LH) is responsible for maturing the eggs at the beginning of the cycle as well as breaking the egg from the follicle which then creates the corpus luteum. When the corpus luteum dies, estrogen and progesterone decrease and menstruation begins. The LH is also responsible for stimulating the egg through the fallopian tubes into the uterus.
Progesterone is produced in high amounts after ovulation. It prepares the body for pregnancy by thickening and sustaining the uterine lining, the endometrium, which will continue until the corpus luteum disintegrates 12-16 days later if there is no pregnancy, prompting menstruation.
Advantage: somewhat nonsystemic and well tolerated
In Phexxi clinical trials, the contraceptive was well tolerated with low rates of discontinuation due to adverse events, which were largely itching and burning sensations that went away after consecutive uses. While the active ingredients could be absorbed by the body, the primary exposure should be in the vagina. Other methods of birth control may affect hormone levels in the entire body.
Advantage: nontoxic
Phexxi may remind one of spermicides; after all, the idea and application is largely the same. However, spermicides contain an ingredient called nonoxynol-9, which disrupts the cell membrane, which is how it kills sperm. It is essentially a detergent, and tears at the epithelial lining of the vaginal wall. This irritates the female genital tract lining, presumably through the same mechanism by which it kills sperm, and also disrupts beneficial and protectful bacteria in the vagina, both of which increase irritation in the area and also increase the ability to be infected with an STD [5]. Nonoxynol-9 is banned most of the world, and has a black box warning in the US. In Africa, increased HIV transmission is a larger issue, and the ability to control pregnancy without these risks is key to improving standards of living. Additionally, Phexxi is more efficacious than spermicides, but that will be reviewed in a subsequent section.
Advantage: non-tumorigenic, no cancer contraindications, no known long-term health concerns
Hormonal birth control methods seem to be differentially tumorigenic, and have pretty significant contraindications. According to FDA documents, these risk are further increased in those who are smokers:
"Many of these risks can be increased in those who smoke or have the other following issues:

History of heart attack or stroke. Blood clots in the legs (thrombophlebitis), lungs (pulmonary embolism), or eyes. A history of blood clots in the deep veins of your legs. Chest pain (angina pectoris). Known or suspected breast cancer or cancer of the lining of the uterus, cervix or vagina, or certain hormonally-sensitive cancers. Unexplained vaginal bleeding (until a diagnosis is reached by your health-care provider). Liver tumor (benign or cancerous) or active liver disease. Yellowing of the whites of the eyes or of the skin (jaundice) during pregnancy or during previous use of the pill. Known or suspected pregnancy. A need for surgery with prolonged bedrest. Heart valve or heart rhythm disorders that may be associated with formation of blood clots. Diabetes affecting your circulation. Headaches with neurological symptoms. Uncontrolled high blood pressure. Allergy or hypersensitivity to any of the components of ALESSE (levonorgestrel and ethinyl estradiol tablets).

[...]

The serious side effects of the pill occur very infrequently, especially if you are in good health and do not smoke. However, you should know that the following medical conditions have been associated with or made worse by the pill:

Blood clots in the legs (thrombophlebitis) and lungs (pulmonary embolism), blockage or rupture of a blood vessel in the brain (stroke), blockage of blood vessels in the heart (heart attack and angina pectoris) or other organs of the body. As mentioned above, smoking increases the risk of heart attacks and strokes and subsequent serious medical consequences. Women with migraine also may be at increased risk of stroke with pill use. 2. Liver tumors, which may rupture and cause severe bleeding. A possible but not definite association has been found with the pill and liver cancer. However, liver cancers are extremely rare. The chance of developing liver cancer from using the pill is thus even rarer. 3. High blood pressure, although blood pressure usually returns to normal when the pill is stopped."
With newer, lower dose alternatives, these rates may have decreased; however, they still highlight the issues with exogenously dosed hormones. Thus, Evofem might target this group of women since they should not use hormonal birth control. After all, the increased risk of breast cancer as well as the contraindication of prior breast cancer is the most important issue to highlight, and Evofem has announced a collaboration with NCODA to educate the oncology community about Phexxi; these women who have had breast cancer have limited options as the introduction of hormones may stimulate the growth of tumor cells.
A major selling point of hormonal birth control is its ability to reduce the incidence of some types of cancer, such as ovarian cancer. However, what is conveniently left out of this analysis is the increased risks of other types of cancer such as breast cancer and potentially cervical cancer. I find it not surprising that this differential effect on hormonally-driven cancers is found by chronic dosing with synthetic hormones.
But wait, isn't there an insurance reimbursed, non-hormonal IUD on the market?
Non-hormonal IUD Has Major Downfalls
This is where the Evofem story gets interesting. I believe that copper IUDs, the popular "non-hormonal" birth control method which has been around for decades, might have profound negative effects on a woman's health due to copper toxicity and causing estrogen dominance. This section serves to highlight what I believe is a growing group of women who do not want to be negatively affected by PARAGARD (formerly made by Teva (TEVA), now owned by CooperSurgical), but falls short of absolute, concrete evidence that PARAGARD actually causes these issues.
In 1980, a study was conducted that showed that the copper IUD had no effect on blood copper levels; this is the most commonly cited study used by dissenters to disprove any potential negative effects of additional copper being introduced into the body from the IUD. However, a more recent review of 12 copper level studies since then has an interesting take:
"Copper is a trace mineral that is essential to human health but can be harmful in excess. Since the introduction of copper-containing intrauterine devices in the 1970s, their possible relationship to abnormal/toxic blood copper levels has been researched. Here, we summarize and interpret 12 studies that evaluate blood copper levels in users of copper-containing intrauterine devices. The data are inconclusive, with the results of eight studies indicating no increase in blood copper levels with use and the results of four studies showing significant increases in blood copper levels with use. Investigators in all studies reviewed appear to have evaluated for total copper rather than free copper (the form of copper that is toxic), which raises questions about the clinical significance of all research on this subject to date."
In short, the testing methods used copper exposure and copper levels do not represent whether a person has copper toxicity or not. Serum copper tests don't give insight into biounavailable free copper stored in tissues, nor does it give insight into cellular copper levels. Further, urine tests have been used and suggest no copper toxicity due to the lack of increased copper excretion. However, again, this is an unreliable test due to the fact that copper can be stored and not excreted, and not in the blood, therefore being undetectable by both methods. Copper as a nutrient needs to be bound to a transporter protein (either ceruloplasmin or metallothionein) to properly enter cells; otherwise, it becomes stored in tissue. It is suspected that biounavailable copper increases due to the copper IUD use, and that this can result in deposition of copper in tissues. Furthermore, estradiols increase copper transport proteins and cellular intake of copper, and copper and estrogen have intricately related functions in endocrine signaling - copper actually acts as a xenoestrogen/metalloestrogen. It has also been shown that copper exposure can increase uptake of estrogen and progesterone and increase the estrogen/progesterone ratio. Needless to say, the copper IUD's effect on serum and urine copper levels may have no bearing on whether the IUD can contribute to copper toxicity, and it appears possible that the copper IUD may contribute to estrogen dominance.
Copper toxicity and resulting estrogen dominance have the associated symptoms, and I indicate my wife's personal symptoms below after having the PARAGARD in for a few months, indicated with a "+".
Cramping, heavy bleeding, clotting during menses +
Uterine fibroids + (three chocolate cysts on ovaries)
Endometriosis + (not confirmed via laparoscopy)
PCOS
Breast tenderness +
Heavy, uncomfortable bloating (sodium retention) +
Rapid weight gain
Osteoporosis
Faster heartbeat + (extremely fast)
Headaches and migraines +
Fatigue and exhaustion due to adrenal depletion + (extreme fatigue and adrenal depletion, would sleep through the day, often 13-14 hours a day)
Hypothyroidism (suspected but unconfirmed)
Nausea + (extreme nausea, to the point of feeling like vomiting but not being able to, consistently)
Hair loss and/or whitening of hair
Acne and eczema
Loss of sex drive (heightened during ovulation) +
Anemia and iron-deficiency +
Sweet cravings (particularly chocolate, known to be high in both iron and…copper) + (couldn't stop eating carbs)
Allergies and mold sensitivity + (mold)
Lowered immunity
Insomnia*
Increased PMS +
Constipation + (extreme, even with a healthy diet)
Infertility + (unconfirmed)
Hypoglycemia
Reduced metabolism
Candida overload/yeast infections + (fairly extreme, full body candida infection)
Joint aches and pains +
Irritable bowel syndrome +
In extreme cases: drug resistance and potential various cancers such as breast cancer
Mood swings +
Depression (or symptoms of) +
A racing mind ("wired but tired") +
Anxiety + (and diagnosed PTSD)
Panic attacks
Brain fog/lack of concentration and memory problems + (extreme memory problems)
Irritability +
OCD and Relationship OCD (ROCD) + (ROCD)
Emotional numbing/apathy/despondence +
Ruminating negative thoughts +
Personality change + (carefree, silly, and happy to irritable, anxious, and unhappy)
Paranoia +
Joint pain +
In extreme cases: pseudo bipolar disorder, mild schizophrenia due to misperception of self or others
Given the timing of this years-long incidence, along with the congruence and long list of symptoms, as well as the condition's amelioration with a combination of zinc supplementation, galacturonic acid based pectin (helps rid of excess copper and other heavy metal toxicities by chelation), along with other supplementation, I believe the PARAGARD was the primary contributor to copper induced estrogen dominance in my wife, who was perfectly healthy a few months before. And who wants those symptoms? They were downright horrible.
But, it's not just our bad experience. A growing number of women have been reporting their experiences with PARAGARD and copper toxicity, with many claiming that they can accurately measure copper levels using HTMA (hair tissue mineral analysis), and confirming their copper overload. What is even more interesting is that an overload of biounavailable copper can result in bioavailable copper deficiency, due to the liver's eventual decreased production of copper transport proteins.
It's also important to acknowledge that some women seem to handle hormonal birth control and/or the copper IUD just fine. But unfortunately, there's seemingly no way to know until the woman suffers, and in my experience, the suffering is almost unbearable.
For one, it's time pharma listens to women and stops ignoring their complaints. This IUD intolerability I believe is real. Secondly, I believe this represents a segment of the population and growing movement to avoid hormonal and copper birth control methods, and this may be an excellent market segment for Evofem's Phexxi. There is simply no way to understand how horrible the copper IUDs are for some women, given my personal experience with it. With that spiel done, I think the case for at least a niche market for Phexxi is made. But, does it work reliably?
Comparative Efficacy of Phexxi
In the Phase III clinical trial, Phexxi was 93% effective with perfect use over 7 periods. The copper IUD is 99.9% effective, but one can't really "misuse" it. This data might make investors feel uneasy about Phexxi's ability to contracept; however, spermicide still sells. According to the CDC, the typical spermicide is only 79% effective with typical use, where Phexxi was 86% effective with typical use in the Phase III trial. This is better than the condom efficacy rate of 82-85% with typical use (98% with perfect use).
In the clinical studies, women were included as failure if Phexxi was not used at all during sex or incorrectly inserted after sex. In real world use, the more women use it, I expect it will get better results in postmarket studies for efficacy than in the initial studies, similarly to what was observed in laser eye surgery. That being said, 93% looks pretty bad when compared to oral hormonal birth control methods and even worse when compared to IUDs, which are upwards of 99% effective. But, plenty of people manage contraception with timing and condoms. So, given certain women's aversion to hormones, I don't see this as a big problem. And when comparing to spermicides, Phexxi wins hands down.
Phexxi retains viscosity more than other marketed products (Conceptrol, VCF gel, Gynol II Jelly), and it is more bioadhesive than these products. Additionally, spermicides may also contribute to UTI. It is also more effective in contraception than other commercial acid buffering gels.
It is likely that skepticism for Evofem's launch exists because people view it as a "better spermicide" (however it is more effective and is not dangerous), because it is less effective than other options, and because there is an idea that people don't want to be interrupted before having sex, having to apply the gel. However, many couples prefer using a lubricant before sex, so this is a moot point for many. There is also the problem that other women's health products have not been launched relatively successfully, as evidenced by TherapeuticsMD's (TXMD), disappointing launch of Bijuva (which is, drum roll… the same old hormones, for post menopause hot flashes!). Most of TXMD's products are either vitamins or the same old hormones. Additionally, Twirla, Agile Therapeutics' (AGRX) drug, is another "same old hormones" contraceptive. I think Phexxi definitely has the chance to buck this poor "women's health" sales launch trend. The product is differentiated and fits the new trend in thinking: women don't want to take hormones.
Sales Force and Strategy
One key item for a successful product launch is a team of experienced salespeople who believe in their product. According to Evofem, about 75% of the sales team is either anti-hormone or has had considerable negative experiences with hormonal birth control or the PARAGARD. As an investor, I believe this will help drive commercial use of Phexxi, and I also applaud the team for spreading the word for the good of women nationwide.
I am cautiously optimistic for Phexxi's launch, but I strongly believe that the product is strongly differentiated from other forms of birth control. I think that health conscious women, particularly those who want to delay having kids and terminate birth control in the blink of an eye, and not suffer through months or years of trying to have children after having their hormone cycles affected, will be a popular target group for Phexxi, not just those women who might want a one-night stand.
TXMD launched its self-administered 21-day birth control ring, Annovera, about a year before Evofem launched Phexxi. With Evofem's ~60 sales reps versus TherapeuticsMD's ~150 reps, Evofem already surpassed TherapeuticsMD's prescription rate in 2020 for their contraceptive product. So, Evofem's prescription rate in December 2020 (month 4 of the launch), annualized, surpassed TherapeuticsMD's 2020 prescription rate. Evofem's executive team has a very experienced sales and marketing team.
Evofem has been creative with its launch during the pandemic. It has used 83bar to drive online prescription sales using AI, with approximately 200 women coming in per week, well above expectations of 200 women in a month. The company just launched its DTC (direct to consumer) campaign, which will use a positive, feel good approach rather than a fear-based approach, which has been the norm. Other strategies include putting pressure on cancer patients' healthcare plans to help them with prescription contraceptives that improve vaginal dryness and bleeding, as well as the push for a prescription, non-hormonal alternative. Also, there are a large number of telemedicine waiting rooms where users will see the primary Phexxi commercial, and there are 20 different social media influencers for marketing.
It seems that investors might still be worried about Evofem market share because the launch had to take place during the pandemic and get traction without many patients going in to see the doctor in person. I think there's a counter to that thinking: women are still having sex, and in many cases, they're home with partners, thinking about themselves or their relationships more with less chaos and daily separation. Also, cancer patients have to go to the doctor anyway, so there is a natural marketing push on them.
There also might be skepticism for this launch since there's no other product that would serve as a good benchmark for a sales curve. However, I noted earlier that Mirena was projected to do $75 million in sales, and now it sits at $1.2 billion in annual sales. Another cause for skepticism is that there's also not a large cultural perception that women might want "sex on demand," which I think could be shifting.
Lastly, it is worth noting that Evofem's chief commercial officer, Russ Barrans, had key involvement in launching Mirena, PARAGARD, and Plan B.
Patent Protection
Phexxi is patent protected until 2033, and I expect 5 additional years of market exclusivity will be added when it is approved for Gonorrhea prevention, although this indication is investigational at this point and still requires FDA approval. Phexxi's l-lactic acid is the ingredient that will be able to gain exclusivity. This will require approval in Gonorrhea/Chlamydia prevention, which would simultaneously allow potential extension of market exclusivity along with likely increased prescription and usage due to the reduced ability to contract STDs.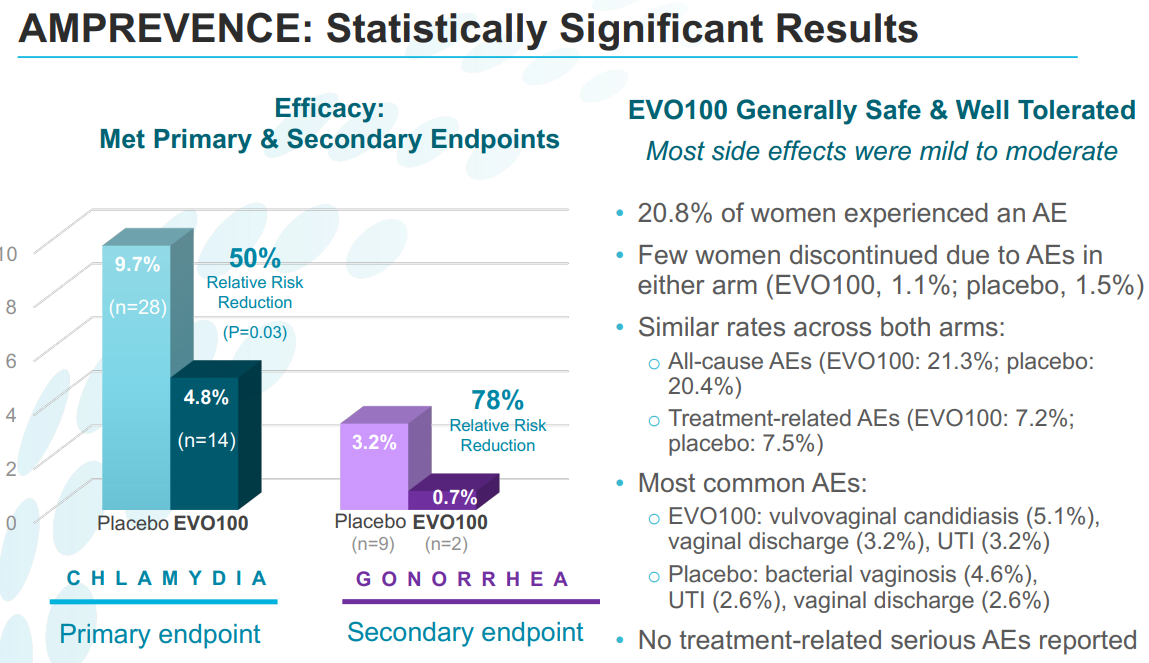 Source: Evofem Investor Presentation, October 2020.
While I don't want to dive down a rabbit hole, success in this trial could result in Phexxi being prescribed or recommended a lot more in an effort to prevent STD transmission, so it could be a significant catalyst for the shares and commercial ramp. At a quick glance, the phase 2 results look pretty straightforward and convincing, thought clinical development risks always apply. The Phase 3 trial, EVOGUARD, is enrolling over 1700 women with results expected in mid-2022.
Total Addressable Market
Specifically, who will want to use Phexxi? I believe that this might fall into various categories. First, there are women who might want to use a non hormonal method. Some of these people may be using condoms, timing, or other methods of doing birth control without a pharmacological agent. Similarly, there are those who have been on hormones and who want to switch - both are interested in no hormones.
Then, there may be those who either already use condoms or other items to prevent pregnancy, as well as those who simply use spermicide, but want to either add Phexxi to their items or substitute spermicide with the more efficacious and safer Phexxi.
Lastly, there's a group of women who will realize that hormonal birth control has a risk of not being so easily "reversible", even though these hormonal products such as an implant, IUD, or hormone pill are typically marketed as reversible. This might include women who want to become mothers earlier in life but want to wait a few years before having children, as well as women who want to space out their pregnancies by a few months or years. A good proxy for this population, in our opinion, might be women who use periodic abstinence. These women would be similar to those who use barriers only when required during certain times in their cycle while they are fertile. A quick look at Evofem's 2021 investor decks confirms this.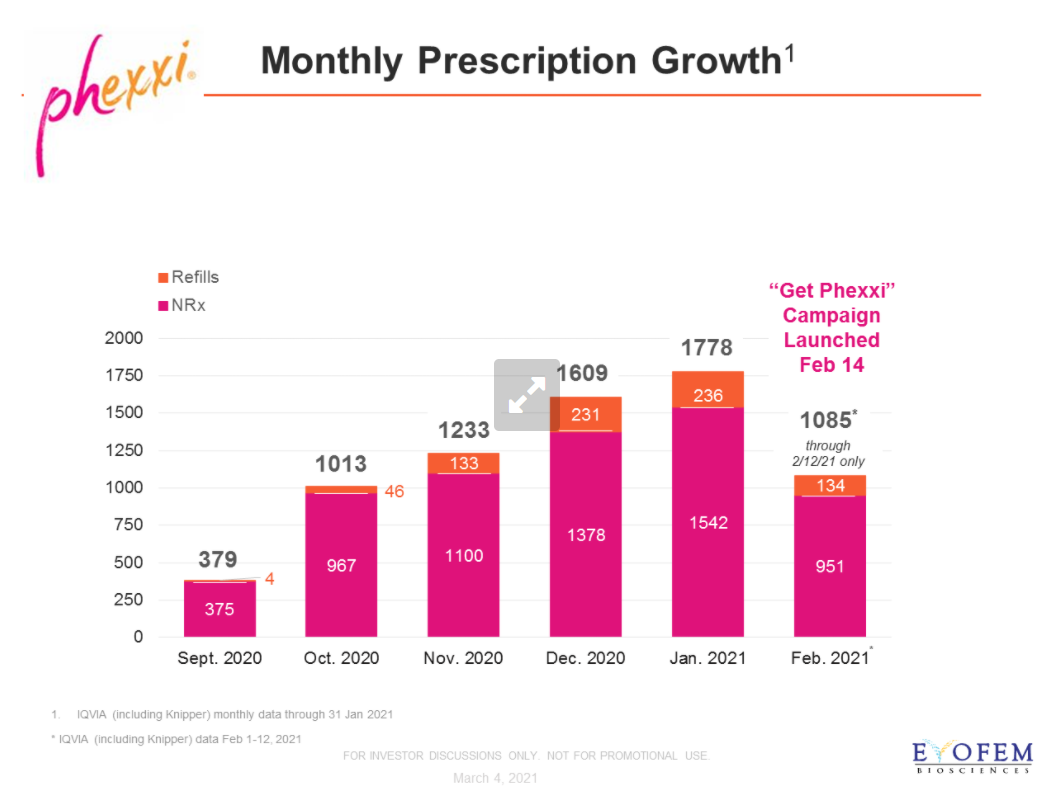 Source: Evofem Q4 2020 Presentation, March 2021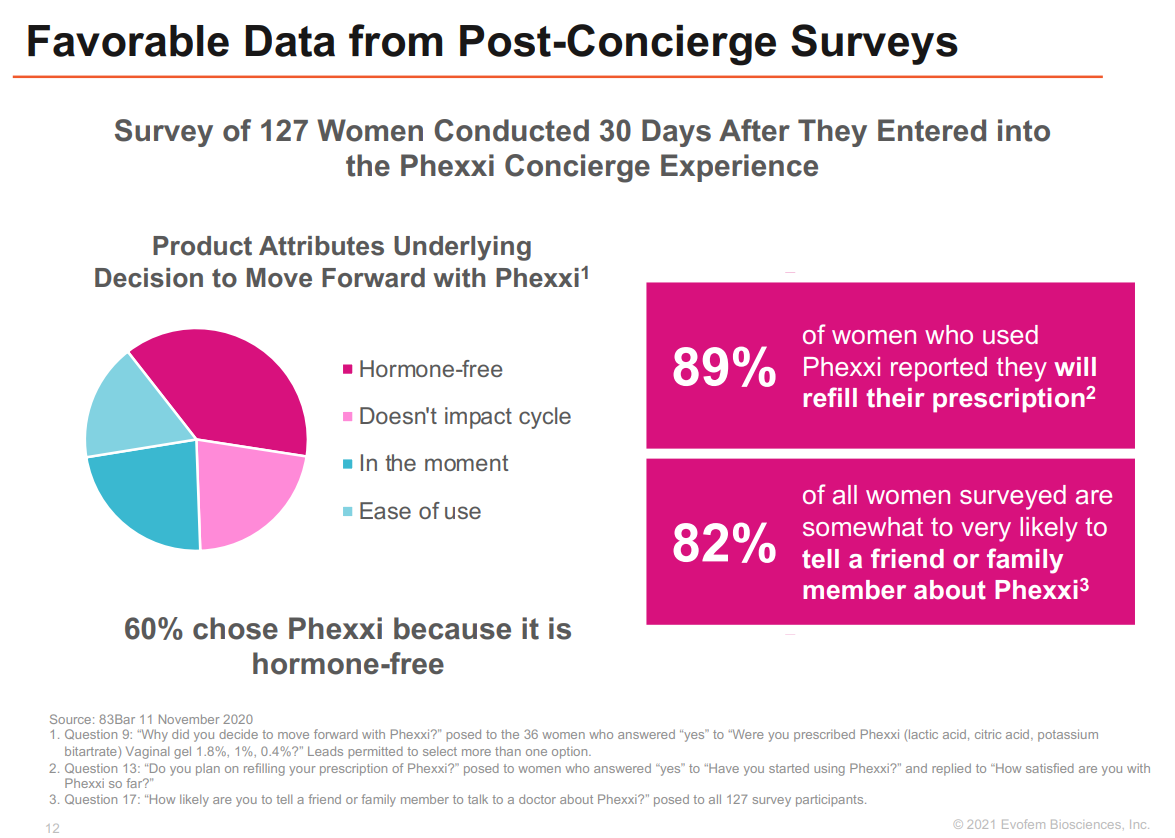 Source: Evofem Investor Presentation, February 2021
Hormonal birth control forces a woman's cycle into 28 days, where in reality woman's cycles can vary, typically from woman to woman as opposed to cycle to cycle. Thus, a woman's cycle may not naturally fit into the 28 day box most hormonal birth control regimens are designed for. So, "doesn't impact cycle" is essentially the same reason women want Phexxi as "hormone-free." In my opinion, a bit surprisingly, some women use it due to its ease of use and its ability to be used "in the moment."
Mirena, sold by Bayer (OTCPK:BAYRY), at the time had a new "fit and forget" novel marketing positioning, when hardly anyone thought it would be such a hit. The narrative is now shifting, with women who are now afraid of what hormones will do to their bodies after years or decades of taking birth control.
Evofem claims "21 million women at risk for pregnancy but not using hormonal contraception - they are Beyond Hormones" in their investor slide deck. This data is derived from a study of contraceptive usage from 2015-2017. While I believe that some of these women may not be seeking pregnancy but don't necessarily use contraceptives as they are not opposed to pregnancy, the 21 million women, along with I believe could be significant conversion from the "hormonal birth control group, represent a really large market opportunity for Phexxi. The key will be properly educating physicians, obgyns, and users.
Evofem conducted a survey of 1,198 women and their preferences for birth control, and this gives us a way to help estimate the market for Phexxi. It found that:
24 million (55%) sexually active American women at risk for pregnancy currently use no birth control method, yet these women have an 85% risk of becoming pregnant within one year Of those American women who use birth control, about 8 million (36%) would prefer - non-hormonal birth control 67% of American women do not use condoms, for the prevention of pregnancy and sexually transmitted infections (STIs), such as chlamydia and gonorrhea
Let's simplify things and assume the worst case scenario - that all of the 33% of American women who do use condoms are included in the 36% of women who prefer non-hormonal birth control. After all, many of those who use condoms wouldn't be on hormonal birth control, one would think. That leaves about 3% of women who prefer non-hormonal birth control but don't use condoms (though condom users may also supplement with Phexxi). If Evofem captures 50% of that market, that is 1.5% of sexually active women, or just about 1 million women. If we are more conservative than Evofem in our assumptions, and we assume that the average American woman will only use Phexxi 48 times a year, instead of the 7 refills they claim (84 times per year), we get $1.07 billion in peak sales. This uses the $267.50 WAC price per box of 12 pre-filled applicators. This doesn't take into account what I believe could be a larger movement to avoid hormonal birth control and exogenously administered hormones, or Phexxi being preferred for the prevention of STIs.
Investors might be skeptical that consumers would pay $267.50 (in line with branded hormone pill cost on a per patient, per year basis) for 12 applications (over $20 per dose) of Phexxi versus a couple bucks for a spermicide dose. However, as 55% of commercially insured lives are covered, almost 70 million medicare lives covered as of January 2021, and currently 4.5 million commercially insured people have $0 of cost share to pay, as well as the seemingly increasing coverage trend, the revenue generating landscape looks okay. The quarterly conference call for Q4 2020 revealed that 100% of Medicaid lives were covered.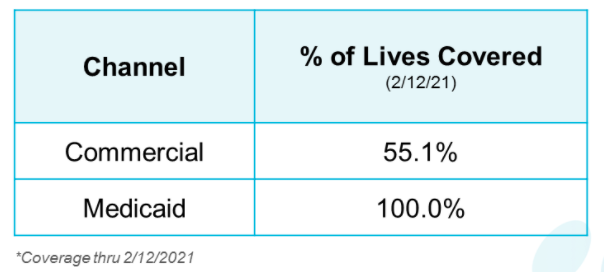 Source: Evofem Q4 Earnings Call Presentation
With Evofem launching a direct-to-consumer campaign, education about cancer patients and their inability to use hormonal birth control, the potential for an additional sales tailwind to prevent STIs, and a robust marketing team, I think Phexxi is set to succeed above and beyond competitors in the women's health space.
Financials
Evofem had$48.9 million in unrestricted cash and cash equivalents and $22.2 million in restricted cash (for clinical trials) on December 31, 2020. Net sales for Q4 2020 were $170k, but there are many prescriptions being offered for free for first before requiring payments (co-pay assistance program). Total operating expenses were $36 million, and the total net loss was $40 million.
I expect Evofem's Selling and Marketing expenses will continue to trend upwards in the $35 million range for 2021 and beyond, so Evofem's cash hoard will not last long. The company will likely need to raise more money in the future, perhaps once more before becoming cash flow positive (if it becomes cash flow positive). On March 4th, the company filed an up-to-$150 million shelf offering prospectus.
Competition
Evofem has three primary competitors in the non hormonal birth control space. First was the aforementioned PARAGARD. Second and third are solutions in development for non hormonal birth control, namely from Yaso Therapeutics and Dare Bioscience (DARE). Yaso has a polymer drug that is in pre-clinical studies that is an antimicrobial and contraceptive, acting directly to prevent sperm from fertilizing and also possibly preventing STIs. It is not cytotoxic against vaginal cells, cervical cells, or lactobacilli, and therefore has a shot at being another safe and effective treatment. However, it is years away from commercialization.
The other competitor is Dare, which has a monthly ring insert in a phase 3 trial for contraception - a silicon ring, Ovaprene, that slowly releases ferrous gluconate and ascorbic acid to cause lipid peroxidation on sperm, and which also acts as a physical barrier. During a pilot study, 2 of 10 males to the female partners detected the device, and one female had odor for the next 24 hours. The inhibition of sperm motility seemed to be excellent, but user friendliness and clinical efficacy remain to be determined.
Valuation
Evofem's valuation might be considered attractive based on three different simple analyses. First, a discounted cash flow (DCF), second, a discounted price per sales comparison, and third, a peak sales multiple.
DCF
While it's still a bit early to try to model a launch curve with revenues and costs based off of existing sales, an 8 year launch to $1 billion in sales, and simplified revenues and costs, with no terminal value after marketing exclusivity loss in 2038. This yields a price per share of $5.36, according to the assumptions shown in the model below, including 130 fully diluted shares (accounting for additional dilution).

P/S Comparison
PARAGARD was sold to CooperSurgical from Teva for $1.1 billion, with only $168 million in TTM sales in the United States. Using a US peak sales number of $1 billion for Phexxi, Evofem would eventually be worth $6.55 billion using the same P/S ratio. With 130 million shares outstanding (anticipating further dilution), assuming sales ramp to $1 billion in 8 years, and therefore using a ~50% cut for discounting to the present, EVFM shares might be considered worth about $23 now, or $50 when it hits the $1 billion mark (though it won't be patented forever).
Peak Sales Multiple
Similarly, using a 3x peak sales multiple and discounted to the present, the valuation is approximately $1.5 billion, or $11.5 per share, using 130 million shares outstanding.
So, it appears the shares could be undervalued, but only if sales take off accordingly.
Risks
Phexxi might not sell as well as expected, or margins could never be reduced enough to get the desired cash flow from operations. The phase 3 trial for STI prevention could fail. Evofem could need to raise cash and dilute existing shareholders. If the situation does not look rosy, this could be done at a significant discount to the share price at the time, though Evofem has a large cash balance as of now.
If COVID-19 variants continue to spread and evade existing immunity to the original virus or vaccines, it may continue to be difficult for Evofem to reach doctors and ramp sales from a traditional approach.
The contraceptive market is crowded, and while Phexxi is a differentiated contraceptive, couples will have many options.
Conclusion
Evofem shares appear to be undervalued as there is a clear need for Phexxi, which is safe and effective, a potential trend towards non hormonal birth control, an experienced executive sales and marketing team, a motivated sales force, and a billion dollar opportunity. The company will most likely need to find a way to further finance its Phexxi launch, and sales need to prove themselves as this is a new category of birth control and it needs to further obtain favorable insurance coverage for Phexxi. However, once these three things are done, I think the trend will be Evofem's friend, and sales have a good chance of surprising to the upside. There also could be substantial opportunity outside the U.S. to bring additional upside to Phexxi sales. I am cautiously optimistic on Phexxi's long term sales, and I certainly hope for their success for the benefit of women who have suffered.
This article was written by
Investor and small business owner, mechanical engineer
Analyst's Disclosure: I am/we are long EVFM. I wrote this article myself, and it expresses my own opinions. I am not receiving compensation for it (other than from Seeking Alpha). I have no business relationship with any company whose stock is mentioned in this article.
Seeking Alpha's Disclosure: Past performance is no guarantee of future results. No recommendation or advice is being given as to whether any investment is suitable for a particular investor. Any views or opinions expressed above may not reflect those of Seeking Alpha as a whole. Seeking Alpha is not a licensed securities dealer, broker or US investment adviser or investment bank. Our analysts are third party authors that include both professional investors and individual investors who may not be licensed or certified by any institute or regulatory body.