Protagonist Therapeutics: A Well-Hedged Biotech With A Potential Blockbuster In Rusfertide
Summary
Protagonist is a $1.25bn market cap biotech using its peptide-based technology platform to develop a portfolio of assets targeting inflammatory conditions and cancers of the blood.
Rusfertide - a hepcidin mimetic - is an exciting opportunity in Polycythemia Vera as a potential alternative to Phlebotomy. P2 trial data has been highly encouraging. The market is >$2bn.
A deal with Janssen to develop 3 IBD-targeting assets could be worth ~$1bn in milestones plus royalties on commercial sales. Protagonist also has a wholly-owned IBD asset.
The company's current market cap of $1.25bn appears very low given the market opportunities and trial progress, although no pivotal trials have been initiated yet.
It's rare to come across a biotech with an asset like Rusfertide that's targeting standard of care status with no direct competitors. If successfully commercialized, share price upside potential is >100% in the next two years.
Looking for more investing ideas like this one? Get them exclusively at Haggerston BioHealth. Learn More »
Investment Thesis
Protagonist Therapeutics (NASDAQ:PTGX) shares have been bucking the recent biotech bear trend and represent an interesting long-term opportunity for investors looking for signs of growth potential in a falling market.
Protagonist uses a proprietary peptide technology platform to discover product candidates against targets in disease areas with significant unmet medical need. Over the past year, the biotech has seen the value of its shares increase by 259% - 36% in the past month, and 23% in the past week - to reach a price of $29.7 at the time of writing.
Its most advanced candidate PTG-300, or Rusfertide - a Hepcidin Mimetic currently progressing through Phase 2 trials for both Polycythemia Vera ("PV") - a rare form of blood cancer - and Hereditary Hemochromatosis - is chiefly responsible for its recent share price momentum. As a hormone therapy designed to maintain iron homeostasis Rusfertide represents a new treatment paradigm in PV that is viewed as a potential new standard of care, and has been pegged for sales >$2bn.
Prior to Rusfertide's discovery and development Protagonist's shares had been suffering - after management was forced to abandon development of its first Inflammatory Bowel Disease targeting asset PTG-100 in 2018 - falling to lows of $6.5 in march last year, but a partnership agreed with Johnson & Johnson's (JNJ) drug development arm Janssen - potentially worth up to $1bn in milestone payments, plus royalties on commercialised sales - now also appears to be bearing fruit.
The 2 companies are co-developing PTG-200 - an orally delivered, gut-restricted Interleukin-23 receptor ("IL-23R") antagonist - which is in Phase 2 trials for Crohn's Disease, whilst Janssen has also exercised an option on 2 second generation oral IL-R antagonists targeting IBD - PN-235, which entered a Phase 1 study in Q420, and PN-232 - still at the preclinical stage.
Finally, Protagonist has a wholly-owned oral, gut-restricted, alpha-4-beta-7 ("α4β7") specific integrin antagonist - PN-943 - progressing through a Phase 2 Proof of Concept ("PoC") study in Ulcerative Colitis ("UC").
The cumulative value of these 3 opportunities seems to equate to significantly more than Protagonist's current market cap of $1.25bn. The peak sales opportunity in PV is more than matched by the size of the opportunity in IBD, which is >$24bn, management estimates, whilst the market is ripe for disruption, as AbbVie's ~$20bn-selling auto-immune therapy Humira goes off patent in 2023.
Protagonist's toughest challenges arguably still lie ahead, as the company must translate encouraging early stage trial results into successful pivotal trial data, but its share price is likely to continue to gather momentum so long as trial data remains positive - as seems likely with Rusfertide, bringing the prospect of blockbuster commercial sales into play - and with the Janssen assets, which ought to command royalty earnings in the triple-digit millions, if commercialised. PN-943 is more of an outlier, but also represents a new treatment paradigm and could command high sales volumes, if commercialised.
Protagonist will announce its FY20 earnings tomorrow, which ought to include details of any new milestone payments from the Janssen deal, and updates on trial progress.
In this article I will provide some more colour in relation to each of the opportunities, highlighting price catalysts to look out for, and conclude by discussing some risks, a ballpark valuation, and a potential path to commercialisation.
An investment into Protagonist is not without risk - the company has yet to initiate a pivotal Phase 3 trial for any of its assets, and adverse trial data readouts for Rusfertide in particular could see the stock price nosedive - but if Protagonist could capture even half of its potential market share in PV - investors would be looking at a price to sales ratio of <1x - a strong indication that its shares remain significantly undervalued, despite their recent gains. Analysts' consensus price target for Protagonist stock is $41.5.
Rusfertide - A new treatment dynamic in PV with blockbuster potential
The excitement being generated by PTG-300 reflects its unique approach to treating PV - a disease with a prevalence of ~100k patients in the US, characterised by excessive production of red blood cells ("RBCs") caused by myeloproliferative neoplasms (tumors), which has a median survival rate of ~20 years. PV can trigger thrombotic or cardiac events, and may progress to Myelofibrosis or Leukemia.
The key treatment paradigm for PV is to keep hematocrit (the volume percentage of red blood cells in blood) levels below 45%, which is usually done via a blood-letting procedure known as a Phlebotomy. Phlebotomies can only be carried out at hospitals or health clinics however, and do not generate sustained hematocrit levels <45%, increasing the threat of thrombotic events and disease progression. Research has suggested that patients with high hematocrit levels of 45-50% are 4x more likely to die from cardiovascular causes or major thrombotic events.
Rusfertide - an injectable treatment which can be self-administered by patients, reducing frequency of hospital visits - is able to restrict the overproduction of red blood cells by mimicking the activities of the Hepcidin hormone, which regulates the entrance of iron into the body from the intestine and the release of iron from the macrophage where it is stored throughout the body.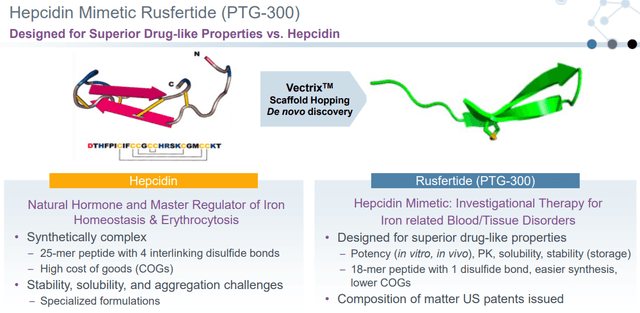 Rusfertide mimetic compared with Hepcidin hormone. Source: Company presentation
In May last year, results from an early stage trial of Rusfertide showed that of six evaluable patients who had previously been dependent on Phlebotomies, five no longer required the procedure after a prolonged period of using Rusfertide. Protagonist shares climbed from $5, to $16 on the news.
In December the company announced results from a large scale study of PV patients using current treatment options - which includes the use of phlebotomy alongside a Hydroxyurea chemotherapy in higher risk patients -, which revealed that only 22% of patients out of 4,264 surveyed were maintaining hematocrit levels below the National Comprehensive Cancer Network's ("NCCN") recommended 45%.
Protagonist followed up with interim data from its Phase 2 trial of Rusfertide, which showed that in 10 high-risk and eight low-risk patients, the requirement for Phlebotomies had been essentially eliminated after a 28-week treatment period. In response a BMO Capital analyst set a $45 price target for Protagonist's shares, predicting $2.7bn of peak sales for Rusfertide, and a 30% probability of approval success.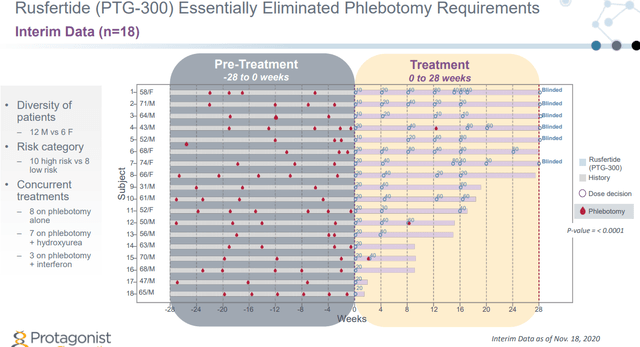 Rusfertide potentially eliminates the need for phlebotomy in low and high risk patients. Source: Company presentation
Besides eliminating the requirement for phlebotomy, Rusfertide also was shown to reduce the red blood cell count and reverse iron deficiency based on numerous biomarkers, whilst maintaining a strong safety profile - no grade 3 or 4 adverse events have been observed in the Phase 2 trial to date.
The FDA has granted Rustertide both Fast Track designation and Orphan Drug status, and with no competitors in its field, the drug appears to be an exciting prospect, and Protagonist management says it's already working on a commercialisation strategy.
Rusfertide is also being advanced through a 12 patient, Phase 2 PoC study in Hereditary Hemochromatosis ("HH"), a disease characterised by iron overload, with 1.3m diagnosed patients in the US and Canada. As with PV, there are currently no specifically approved drugs to treat HH, and patients are reliant upon phlebotomies. Protagonists' study endpoints are reduction in serum Iron, TSAT, and ferritin levels, phlebotomy reduction, and effects on Quality of Life. I have been unable to find data on the potential market size for HH, but based on >1m patients and the dearth of available treatments, it appears to represent another exciting, under the radar opportunity for the company.
Janssen Partnership - ~$1bn of potential milestones + royalty streams in lucrative markets
If Rusfertide is the main driver of Protagonist's share price, then the single-asset risk is hedged by the company's Janssen deal and IBD opportunity.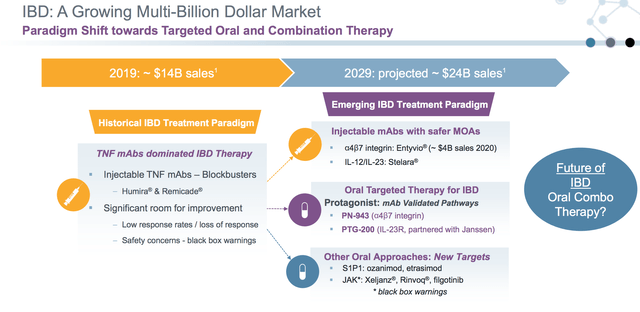 IBD market and opportunity. Source: Protagonist corporate presentation.
Humira - AbbVie's (ABBV) ~$20bn per annum selling mega-blockbuster - has been the dominant force in IBD for some time, but the treatment - a Tumor Necrosis Factor-targeting monoclonal antibody administered via injection - is associated with low response rates and safety concerns. Humira comes with a Black Box FDA warning, and its time at the top is coming to an end, since it goes off patent in 2023, when the market will become flooded with generics.
Most major pharma's are targeting the space with new treatment types, including Johnson & Johnson, via Janssen. JNJ's multi-billion-selling treatment - the monoclonal antibody Remicade - is, like Humira, suffering from biosimilar competition, but the company has a replacement therapy in IL-12/IL-23-targeting Stelara, which made $5.5bn of sales in the first nine months of 2020 (discussed in my recent note on JNJ).
Stelara is also an injectable treatment and Janssen - through its partnership with Protagonist - is looking to experiment with an oral / injectable combo therapy. The deal to develop PTG-200, and second generation assets PN-235 and PN-232 could be worth up to $1bn in development milestone payments, plus royalties up to the double-digits, and US co-detailing rights.
Protagonist funded the initial Phase 1 study of PTG-200 - which confirmed safety and tolerability of the treatment in ~200 patients - while Janssen will fund 80% of the costs of the Phase 2a proof-of-concept study in patients with moderate to severe Crohn's disease - initiated in late 2019, but currently subject to COVID-related delays.
The study has enrolled ~90 patients, and the designated primary endpoint is Change from Baseline in the Crohn's Disease Activity Index (CDAI) Score at Week 12. If the trial is successful and Janssen decides to take up its option to move into a Phase 2b trial, it will pay Protagonist $50m, and another $50m if it moves into a Phase 3 trial.
If the Phase 3 trial meets a primary endpoint then Protagonist will receive a ~$100m payment. The terms are broadly similar for each of the two second generation assets. Janssen has now moved both PN-235 into the clinic - initiating a Phase 1 3-part dose escalation study in December last year, and expects to do the same with PN-232 imminently.
IL23 is an inflammatory compound called a cytokine, secreted by immune cells and known to cause inflammation, and it is a popular target for auto-immune drug developers. AbbVie is developing IL23 inhibitor Skyrizi as a long-term successor to Humira, and has already secured an approval in Psoriasis - earning $1.1bn of revenues in 2020 to Q3 - and plans to target IBD, not only with Skyrizi, but also with the JAK-inhibitor Rinvoq, whilst Eli Lilly's Mirikizumab is in Phase 3 trials for UC and Crohn's.
JAK-inhibitors - regarded as efficacious, but with a less complete safety profile - also have been developed by Pfizer (PFE) - Xeljanz - and Gilead (GILD) - Filgotinib. A third treatment type - S1P Modulators - such as Arena Pharmaceuticals' (ARNA) Etrasimod (my December post here) and Bristol-Myers Squibb's (BMY) Zeposia - which has won approval in multiple sclerosis ("MS") - also crowd the market.
As such, Protagonist/Janssen's assets will need to demonstrate best-in-class potential in their respective trials - either in combination with Stelara or as monotherapy treatments - if they are to make a dent in these highly competitive, but lucrative markets, which Protagonist believes are worth >$24bn.
Should any of the assets show sufficient versatility to target the dermatological market (Psoriasis, Atopic Dermatitis) or Rheumatoid Arthritis - as many other IL-23 inhibitors do, the total addressable market ("TAM") would double again.
Protagonist going it alone in IBD with PN-943
Finally, Protagonist is developing a wholly-owned candidate also targeting IBD - PN-943. PN-943 builds on Protagonists' initial work with PN-100, which made it into a Phase 2 trial before meeting futility criteria on the primary endpoint of clinical remission at week 12, despite showing signs of clinical activity.
PN-943 targets the cell surface receptor α4β7 and its ligand, mucosal addressin cellular adhesion molecule-1 ("MAdCAM-1"), which are involved in gut-selective mediation of the homing of leukocytes to peripheral tissues, and have been proven to have a clinical benefit in treating inflammatory conditions in animal models.
Protagonist says that PN-943 has been proven in preclinical and Phase 1 studies to be 3x more potent than PN-100, based on blood receptor occupancy percentage rates ("RO%") - which were >94% at the 100mg dose - and is now participating in a PoC Phase 2 study of 150 patients with UC, at dose levels of 150mg and 450mg twice daily, which is expected to complete next year, subject to COVID-related delays. The initial induction stage will take 12 weeks, followed by an extended 40-week treatment period.
Entyvio (Vedolizumab) - indicated for Crohn's and UC, and marketed and sold by Takeda (TAK), making sales of >$3bn in FY19 - also binds to the α4β7 receptor, and has outperformed Humira in head-to-head trials in UC. Like Humira, however, Entyvio comes in an injectable form only, although the company has developed a subcutaneous formulation which can be administered via a pre-filled syringe.
Biogen's (BIIB) Tysabri (Natalizumab) - marketed and sold by Biogen as a treatment for Crohn's and MS - is an anti-α4 integrin subunit mAb making blockbuster (>$1bn per annum) sales, and there are more integrin targeting mAbs in development - Genentech/Roche's (OTCQX:RHHBY) Etrolizumab, - which posted underwhelming data from Phase 3 trials in August last year, unable to outperform placebo in maintaining patient remission, and Amgen (AMGN)/AstraZeneca (AZN)/Medimmune's Abrilumab, which achieved 13.3% remission with a 210 mg dose vs. 4.3% with placebo.
All of the above are injectables however - only EA Pharma/ Kissei Pharmaceuticals' AJM300 - which recently met its Phase 3 trial endpoint in a study conducted in Japan, where the company is now filing for an approval, and Morphic Holding's (MORF) MORF-057 - which achieved >95% receptor occupancy in a recent Phase 1 trial, sending shares up by 61% - are orally administered like PN-943.
Based on the market's enthusiasm for Morphic's candidate, whose early results appear to be similar to PN-943 in terms of RO%, it seems that Protagonist may have another ace up its sleeve with PN-943- next year's clinical remission data is another potentially exciting price catalyst for the company.
Management and financials
Dinesh Patel PhD. has been President and Chief Executive Officer of Protagonist since December 2008, whilst Chief Medical Officer Samuel Saks, M.D. joined the firm in May 2019 having previously been Chief Development Officer and a board member at Auspex Pharmaceuticals - acquired by Teva Pharmaceuticals for $3.2bn in 2015.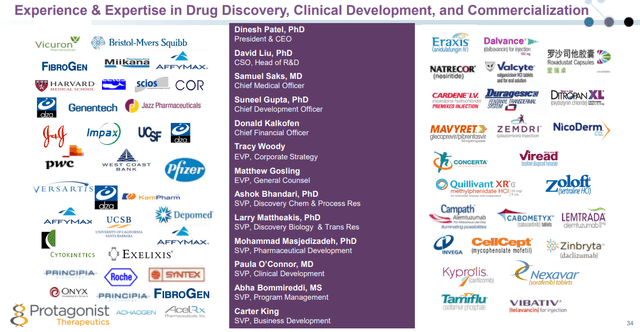 Protagonist staff. experience, and drugs worked on. Source: company presentation.
As we can see above, there's plenty of big pharma and biotech experience at the company, while Chairman of the Board Harold "Barry" Selick is Vice Chancellor for Business Development, Innovation and Partnerships at the University of California, also Chairman of Molecular Templates (MTEM) and previously a Venture Partner of Sofinnova Ventures. Another board member, Brian Giraudo - Chief Financial Officer of Gossamer Bio (GOSS) - was also formerly a Managing Partner of VC Leerink Partners.
Johnson & Johnson holds a 5.5% stake in the company, according to Fintel, while Fidelity Investments holds a 15% stake, and Blackrock and Eli Lilly's investment arms are also featured in a high level of institutional ownership.
The company reported near-term cash of $200m as of Q320, and has since raised another $100m via a share offering in December - providing a funding runway into 2024, according to management. Cash burn across the first 9 months of 2020 was $66.7m. There are 43.7m of shares outstanding at the time of writing.
Risks of an investment in Protagonist
Protagonist's pipeline is uniquely promising but management has a challenging task on its hands guiding the business through the next stage of its development, and subsequently towards commercialisation, in my view.
The company has not yet launched a pivotal Phase 3 clinical trial for any of its pipeline assets - the logistical challenges and high costs of a registrational trial are well-known and the entire process can take years, meaning Protagonist is unlikely to reach the commercialisation before 2023.
The risk of a late-stage trial failure for Rusfertide remains relatively high, with only 18 patients dosed in the Phase 2 PoC study as at November '20 - albeit returning very strong data - if its lead asset does disappoint in a late-stage trial much of the company's momentum would likely reverse overnight.
For the Johnson & Johnson partnered IBD assets, JNJ has the option to pull out of its deal before each new trial progression (i.e. after Phase 2a results are released, and after Phase 2b etc.), so the amount of milestone payments that Protagonist will receive is uncertain. If JNJ does decide not to develop any of the three assets covered by the partnership to date further, it is doubtful that Protagonist would have the funds or the inclination to continue to develop them itself.
In essence, the major risk that Protagonist faces is that its pipeline of assets disappoint in late stage trials, leaving the company empty-handed and having burned through all of its cash, and with no development partner. From an investor's perspective, Protagonist's shares traded as low as $6.5 last May, so the market could be quick to turn on the stock if data readouts do not live up to expectations.
The acquisition opportunity
If commercialised, Protagonist management will need to come up with a list price for Rusfertide that strikes the right balance between ensuring that it becomes a commercially viable alternative to phlebotomies that makes it onto formulary lists and secures reimbursement deals, without giving away its most valuable asset too cheaply, and finding itself unable to make a satisfactory return on its years of investment and sales and marketing spend.
Considering this, it is tempting to wonder if Protagonist could become an acquisition target. The PV opportunity would surely excite any big Pharma, and with Johnson & Johnson already working alongside the company in IBD, to my mind it would make a lot of sense for the Pharma to go one step further and take over the development and commercialisation of Rusfertide.
That's an exciting thought for investors, as any deal would surely complete at a significant premium to current share price. I suspect any move for Protagonist on the part of big pharma would be subject to positive later stage trial readouts. Johnson & Johnson is in pole position, and may well be waiting to see a complete set of Phase 2 trial results - from Rusfertide, the 3 partnered assets, and PN-943 - before making its move. Eli Lilly is also invested in Protagonist, however, and may also be weighing up a bid.
Conclusion
All things considered, I believe Protagonist's $1.25bn market cap undervalues the company and as such I can see the share price continuing to climb.
It's rare to encounter a biotech with a product such as Rusfertide/PTG-300, which exhibits best-in-class credentials as a new treatment paradigm, and has little or no direct competition in a market where sales are expected to reach $2-$3bn, if approved. As discussed, if Rusfertide were to capture just one third of its TAM, the company would have a blockbuster on its hands and its market cap to sales ratio would be ~1 based on current share price - which is unrealistically low, implying strong upside potential.
The company's IBD assets are both highly complementary to what Janssen wants to do in the IBD market - a Stelara/PTG-200 combo ought to secure royalties in the triple-digit millions as a minimum, and the proprietary PN-943 also seems to have been overlooked by the market, given how similarly performing assets have been associated with blockbuster sales potential, and not just in IBD, but potentially in MS and dermatological conditions also.
Protagonist and its management have performed exceptionally well for shareholders since the company raised $90m from an upsized IPO at $12 per share in August 2016, increasing the share price by 150% overall. The unexpected development of Rusfertide has created a potential multi-billion market opportunity and been the main driver of the share price - the IBD opportunities are harder to quantify, but consider the $4.3bn market cap of Arena Pharmaceuticals - which is almost exclusively based on a single asset - Etrasimod - targeting the same IBD conditions as the Janssen assets and PN-943.
As discussed, the challenge for the company is to translate early stage trial success into late stage, and as such the next two years represent a critical period in the company's development. Further progress supports the doubling or even tripling of Protagonist's share price in my view, when we consider that Rusfertide is a potential standard-of-care in waiting in a >$2bn market - but the gains will not happen overnight - it may take 18-24 months, in my view.
Protagonist's earnings will be published Wednesday, and should not contain too many surprises. There may be a slight price correction if, for example, trial progress has been further delayed by COVID headwinds, offering a more attractive entry price for investors, although based on recent performance and likely further discussion of the progress of Rusfertide (perhaps more P2 interim data) there is also a chance the stock price will spike again. Any entry price below $35 offers strong value, in my view.
If you like what you have just read and want to receive at least 4 exclusive stock tips every week focused on Pharma, Biotech and Healthcare, then join me at my marketplace channel, Haggerston BioHealth. Invest alongside the model portfolio or simply access the investment bank-grade financial models and research. I hope to see you there.
This article was written by
Receive regular, detailed analysis focused on biotech and healthcare stocks
I write about Biotech, Pharma and Healthcare stocks and share investment tips. Find me at my marketplace channel, Haggerston BioHealth - model portfolio + 4 exclusive stock tips every week. I'm on twitter @edmundingham
Analyst's Disclosure: I/we have no positions in any stocks mentioned, but may initiate a long position in PTGX over the next 72 hours. I wrote this article myself, and it expresses my own opinions. I am not receiving compensation for it (other than from Seeking Alpha). I have no business relationship with any company whose stock is mentioned in this article.
Seeking Alpha's Disclosure: Past performance is no guarantee of future results. No recommendation or advice is being given as to whether any investment is suitable for a particular investor. Any views or opinions expressed above may not reflect those of Seeking Alpha as a whole. Seeking Alpha is not a licensed securities dealer, broker or US investment adviser or investment bank. Our analysts are third party authors that include both professional investors and individual investors who may not be licensed or certified by any institute or regulatory body.