China Online Education: A Small-Cap International Play For Growth Investors
Summary
China Online Education reported its first-ever profits in 2020.
As a leading player in the online English training industry in China, the company is well-positioned to grow in the future.
The macroeconomic outlook is favorable and the stock remains significantly undervalued in the market.
Looking for a portfolio of ideas like this one? Members of Leads From Gurus get exclusive access to our model portfolio. Learn More »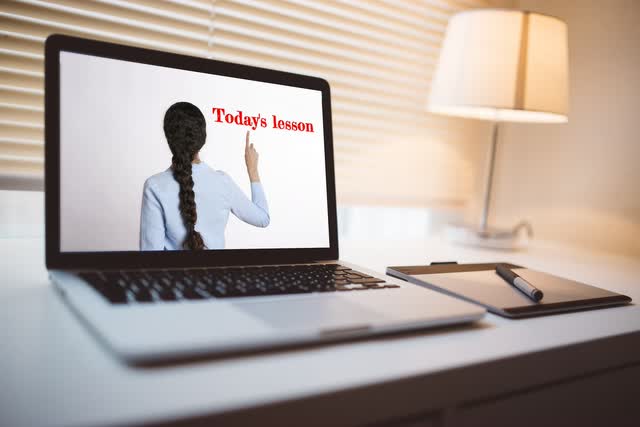 Source: Pixabay
Just over a week ago, I published an article on Youdao (DAO) in which I discussed how the company could benefit from favorable macroeconomic conditions for the online education industry in China. Today, I shared an article with the members of my premium investing community, Leads From Gurus, discussing why Ray Dalio remains bullish on the Chinese economy, and I believe investors need to cautiously invest in undercovered Chinese stocks despite the regulatory risks because of the very attractive fundamentals that we are seeing from this East Asian nation.
With this understanding, I scanned the online education industry in China more deeply and my findings revealed China Online Education Group (NYSE:COE) could turn out to be an attractive investment in the long run.
The business
China Online Education Group owns and operates 51Talk.com, which is one of the largest online English learning platforms in China with more than 354,000 active students and 30,000 registered teachers at the end of 2020. In addition to 51Talk, which is the core product offered by China Online Education Group, the company also offers small classes and adult learning solutions through Hawo and Worry-Free English platforms. 51Talk, however, is easily the top contributor to company revenue.
Exhibit 1: Q4 revenue breakdown by product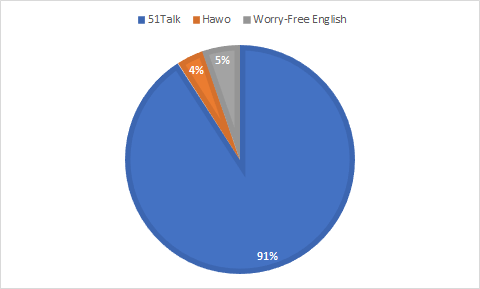 Source: Company filings
The company sources most of its K-12 teachers from The Philippines, so the quality of labor available in this island nation plays an important role in the success of the company.
The macroeconomic outlook is positive
When it comes to analyzing Chinese companies, it is very important to pay close attention to the regulatory outlook for the business sector in which a company operates. This is because government policies can and often will have a material impact on the earnings power of a company and business sector, and companies that are seeing a favorable outlook from this front tend to perform exceptionally well from a financial perspective in the long run.
Until as recently as the 1970s, learning the English language was not even considered a basic educational requirement in China. However, as the country emerged as a global economic superpower, learning the English language became an important skill. Over the last couple of decades, China has made progress by introducing the English language to the school curriculum and the government has done an impressive job in promoting the need to fluently converse in English and understand the language to thrive in an increasingly globalizing world. In an interview early last year, a former staff member of the Consulate General of China in Toronto Shi Minghui said:
Foreign language learning is not simply about learning a second language. Ultimately, it is also about learning a fresh pattern of thinking. It is a way for you to discover an entirely new world. You can get a deeper understanding of the nation, the culture and the people by learning the language. English is a powerful tool for you to connect to the outside world.
Favorable comments from government officials confirm the positive stance of Chinese regulators toward promoting the English language in the country, and I believe this will go a long way in helping the English training industry in China. The opportunity for this industry arises from the fact that less than 1% of the Chinese population could fluently converse in English by 2018, which is a complete contrast to other Asian countries.
Exhibit 2: English proficiency in China and neighboring countries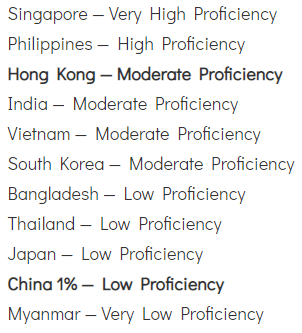 Source: China Highlights
Regulators are promoting the use of the English language but China is far from becoming a nation that can fluently converse in English, and this creates a massive opportunity for English training providers to thrive. The increasing internet penetration rate in the country, the growing familiarity with distant learning, and the rise of a tech-savvy generation will all help online education platforms to grab the highest market share from the booming English training industry in China. This paints a very promising picture for China Online Education.
Technavio projects the online English language training market to reach a value of $80.5 billion by 2025, growing at a CAGR of 22% from 2021. The pandemic accelerated the adoption of online learning platforms as a large group of learners who were skeptical of the effectiveness of online learning had no option but to stick with distant learning platforms for the most parts of 2020, and the very high retention ratios reported by publicly listed online learning platforms, including China Online Education (retention ratio of 77%), give an indication that many of these first-comers are likely to remain online learning students in the foreseeable future.
The company is on a roll, beating estimates
As I often discuss in my articles, I look for companies that are consistently beating earnings estimates of Wall Street analysts and then evaluate whether this streak could continue in the foreseeable future. More often than not, positive earnings surprises result in higher stock prices in the long run. China Online Education reported better-than-expected earnings for the fourth quarter of 2020 beating the consensus by 11 cents, and this extended the positive earnings surprise streak to 5 quarters.
Exhibit 3: Earnings surprise history

Source: Seeking Alpha
The favorable macroeconomic environment and the undercovered nature of China Online Education on Wall Street (according to TipRanks data, only 1 analyst has covered the company recently), in my opinion, create room for an anomaly between the actual and predicted performance of the company, and I believe things will remain so for quite some time until the sentiment toward China and Chinese stocks changes.
Financial performance and valuation
From just $3.6 million in 2013, company revenue has soared to over $314 million by 2020, thanks to favorable macroeconomic conditions, regulatory tailwinds, and continued investments in improving the quality of products. Operating income has trended in the right direction in the last 5 years as well, and the company reported its first-ever profit in 2020.
The last year's heroic performance which turned 2020 into the first-ever profitable year for the company was led by a 70% YoY growth in the number of new paying students, and the stay-at-home order issued by China early in the year played an important role in this success story.
Strategically investing in developing training centers in The Philippines has also been key to this recent success, and the company continues to focus on recruiting high-quality talent to help students achieve the desired results.
Exhibit 4: Snapshot of the recruitment system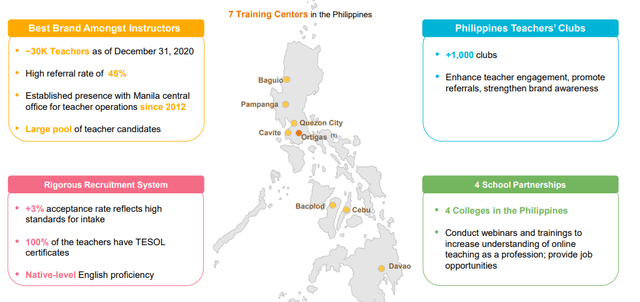 Source: Investor presentation
Going forward, I believe China Online Education is well-positioned to retain many of its current students, and in any case, favorable business conditions should lead to stellar growth in active students for many years to come, helping the company build on the momentum that we saw in 2020.
Based on these expectations, I used a discounted cash flow model to derive an intrinsic value estimate for China Online Education stock. As always, the idea was to find the minimum value at which the stock should trade in the market.
Exhibit 5: Selected valuation assumptions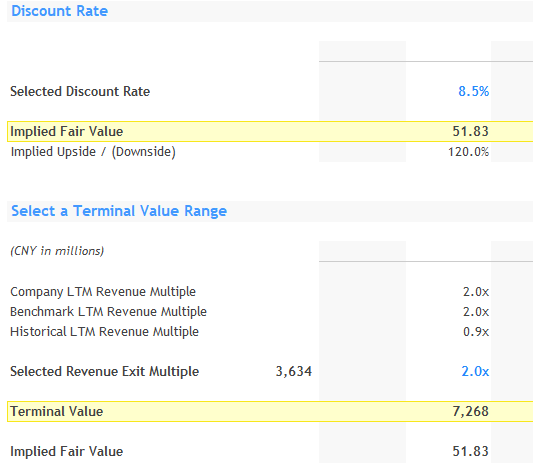 Source: Author's calculations on Finbox
* USD to CNY = 6.47
My intrinsic value estimate of $51.83 per share implies an upside of 120% from the current market price of $23.55, so it's reasonable to conclude that China Online Education is significantly undervalued. It would take a massive change in investor sentiment toward Chinese stocks for the market price to converge with the intrinsic value, but at least a partial convergence will still lead to very attractive returns.
Takeaway
China Online Education, a leading player in the online English training industry in China, became profitable for the first time in history in 2020. The momentum, I believe, will continue in the foreseeable future, helping the company become a very profitable entity by the end of 2024. The stock remains undervalued in the market, and the recent volatility presents growth-oriented investors with a good opportunity to double down on China Online Education stock.

Go to bed a little smarter every day
-Warren Buffett
At Leads From Gurus, our approach to becoming smarter involves analyzing hundreds of portfolios of the most successful investors to find the best stocks to invest in.
Your subscription includes access to:
Actionable ideas based on market commentary and real-time investments of gurus
In-depth research reports on stocks owned by gurus
Three model portfolios designed with stocks owned by gurus
A database to track real-time investments of top gurus
Educational articles discussing the strategies followed by gurus
An active community of like-minded investors to share your findings
Act now to secure the launch discount!
This article was written by
Dilantha De Silva is a former buy-side analyst.
He runs the investing group
Beat Billions
. It provides investment research with a focus on small-cap stocks that are well positioned to deliver long-term alpha returns. With a strategy centered around earnings events such as earnings surprises and earnings revisions, it tries to identify earnings catalysts that could move stocks. The group provides access to in-depth research reports, model portfolios, real-time guru picks, and a vibrant investor community.
Learn more
.
Analyst's Disclosure: I/we have no positions in any stocks mentioned, and no plans to initiate any positions within the next 72 hours. I wrote this article myself, and it expresses my own opinions. I am not receiving compensation for it (other than from Seeking Alpha). I have no business relationship with any company whose stock is mentioned in this article.
Seeking Alpha's Disclosure: Past performance is no guarantee of future results. No recommendation or advice is being given as to whether any investment is suitable for a particular investor. Any views or opinions expressed above may not reflect those of Seeking Alpha as a whole. Seeking Alpha is not a licensed securities dealer, broker or US investment adviser or investment bank. Our analysts are third party authors that include both professional investors and individual investors who may not be licensed or certified by any institute or regulatory body.