With almost any innovative product, there will be criticism, and in EHang's (NASDAQ:EH) case, this came in the form of a short report from Wolfpack. While the report has killed off the short-term momentum for EHang, I believe the fundamentals remain intact and EHang will prove the shorts wrong.
Debunking the report
From the beginning, I had no clue why Wolfpack would target a company like EHang that has:
Dozens of videos on

YouTube

demonstrating their product
Highly reputable investors and customers like DHL and United Therapeutics
Actually sold a substantial number of their AAVs to customers
While I was worried at first that EHang was just going to issue a generic statement about the report being false, they actually sent out a series of press releases and videos that really showed incredible transparency.
Firstly, they sent out an interview with the CEO that quickly refuted most of the points in the report, including hobby grade motors, the EHang Guangzhou lawsuit, R&D spend, etc. There was no need to spend too much time on each accusation as Wolfpack provided no evidence for their claims.
Next, they sent out a press release announcing an investor day at their Yunfu facility in June 2021. I don't think any company with things to hide would willingly allow dozens of investors to view their operations.
Lastly, they sent out a press release with details regarding the Kunxiang contract. In my blog post, I mentioned that even if Kunxiang was EHang's largest customer, it would only make up 24% of revenues, and this was confirmed by management. Management has further confirmed that over 70% of these revenues have been collected and the sale terms of EHang 216s to Kunxiang was not different from the sale terms to other customers.

Source: EHang
At this point, every single accusation in the Wolfpack report has been debunked. It is unfortunate that a company like EHang has been hit so hard by a blatantly false short report, and I hope they'll be successful in pursuing legal action against Wolfpack.
Competitive differentiation
The more I read up on EHang and its competitors, the more I realize that EHang is truly years ahead of everyone else. The process of launching a flying taxi service is incredibly costly and time-consuming, and EHang is the only company in the world to have completed this process.
The first stage is building a prototype aircraft, which can take a trained team of engineers years to complete. Archer has not unveiled its final prototype yet is valued at close to $3bil in a recent SPAC transaction.
The second stage is flight testing, starting off with unmanned flights before moving to manned flights with trained pilots. I believe Joby and Wisk are at this stage with over 1000 test flights for each of their eVTOLs.
The third stage is certification, which is likely the hardest step. Two main organizations, the FAA and EASA, regulate 80% of the world's aviation activity, and other regulatory bodies regulate the other 20%. Certification is incredibly hard and often takes many years and millions of dollars, as you can see from the chart below.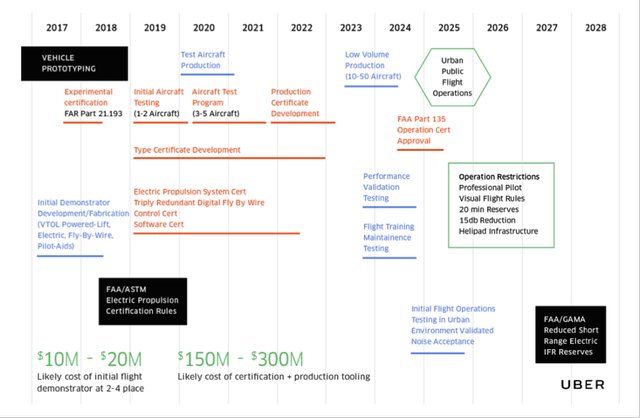 Source: Uber Elevate whitepaper
EHang has the only eVTOL that has been certified to fly commercially, albeit mostly in China and Korea. They are also working with the FAA and EASA which should lead to certification soon with both these organizations. As of today, EHang has conducted over 10k test flights in China, USA, Austria (partnership w/ FACC), South Korea, and has been approved for test flights in Norway and Canada. Many of these flights have passengers and some even carry random members of the public like reporters and local residents. Again, no other company has done this.
EHang also has another big advantage - Autonomy. Most of the AAV companies today require a pilot to fly, making it incredibly hard to scale operations. Pilots don't generate revenue, add weight to the aircraft, and require hundreds of hours of training.
Many people, including Wolfpack, have doubted whether EHang is truly autonomous, but one glance at EHang's YouTube channel shows dozens of flights where nobody touches the control screen, this for example. If that's not autonomous, I don't know what is.
The future
What catalysts can we expect from EHang over the next few months?
The 24k square meter Yunfu factory is expected to start production in H1 2021 and will have an initial capacity of 600 AAVs. This represents a quarterly revenue opportunity of $45mil USD, or 4x the current quarterly revenue. EHang has posted pictures of the factory on its website and will host an investor day in late June 2021. The facility will ramp up production just in time for the special certification of EHang's firefighting drone in Q2 2021, which is expected to lead to substantial orders from emergency departments.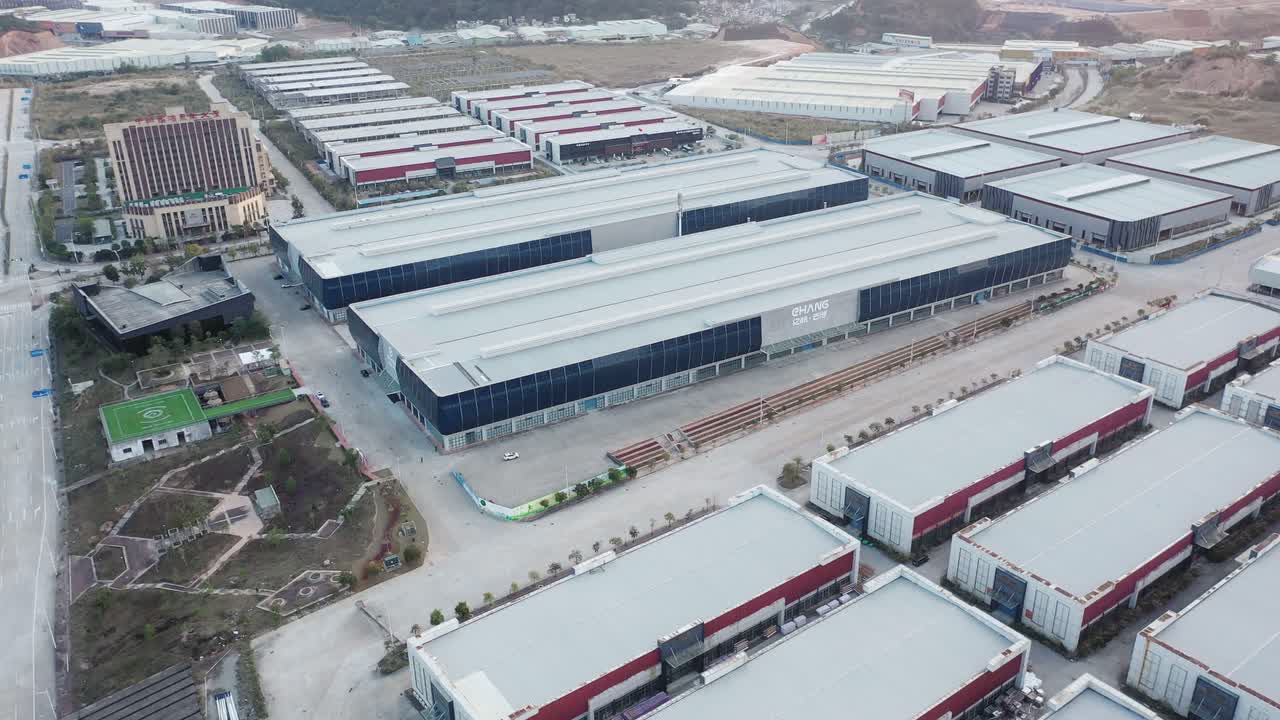 If COVID-19 continues to subside, which already seems to be happening, there should be strong sales growth in international regions as EHang will be able to demonstrate its AAVs in more countries, leading to more sales orders. EHang has stated in the Q3 call that their international growth has been greatly impacted by the COVID-19 pandemic.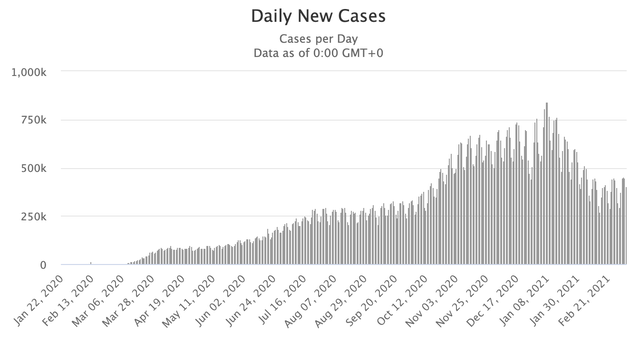 Source: google
We can also expect the Hezhou e-port, which will utilize 20 AAVs, to finish construction and start operations this year. As the first AAV sightseeing service in the world, I believe there will be strong demand to ride the EHang 216 and view the scenic terrain of Hezhou. At the same time, EHang is also providing AAV services in Hengqin New Area and this will provide an additional commercialization pathway.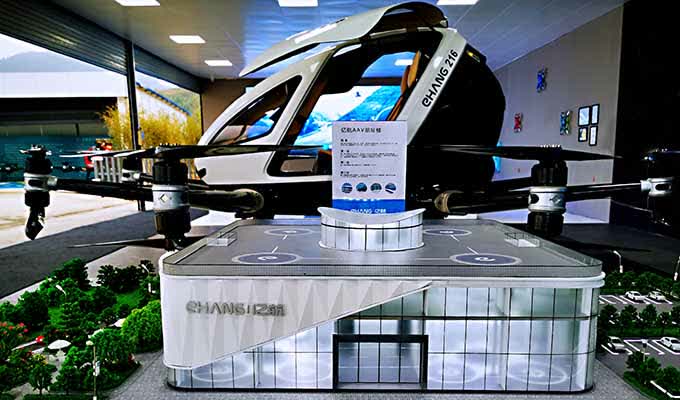 Source: Hangzhou press release
Recently, Netease Tech released news that EHang is working on a 400km range drone. They really don't need this drone at the moment, but if they can pull it off, this will expand their addressable market substantially and accelerate adoption of eVTOLs much more quickly.
EHang is estimated to report earnings in 2 weeks. While they have guided for Q4 to be a slow quarter, I personally believe 2021 will be an amazing year as their many years of test flights and infrastructure construction will finally start to pay off.
Unmanned drones
Most investors in EHang value EHang based on its AAV business, but not many people know that EHang also offers a variety of unmanned drone services. EHang's Falcon B, GD 2.0X, and V100 can be used for a variety of applications such as smart city management, logistics, and aerial media.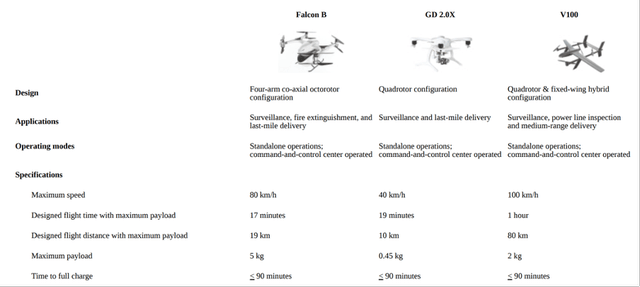 In 2019, non-UAM solutions made up around 30% of revenue, or around $5.3mil in revenue, with most of it from aerial media solutions. In Q3 2020, non-UAM solutions are generating a revenue run rate of around $20mil. I have not seen any other publicly traded drone company that has generated this much revenue.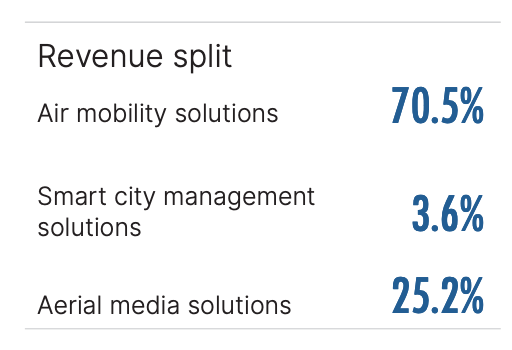 It's not clear how much EHang's unmanned drone business should be worth, but here are some comparable drone companies. Based on the valuations of these companies, EHang's unmanned drone business should be worth at least a couple hundred million dollars.
| | | | | |
| --- | --- | --- | --- | --- |
| | Enterprise Value | Run rate est | EV/RR | Remarks |
| AgEagle (UAVS) | $300mil | $3mil | 100x | Supposed partnership with major e-commerce company |
| Draganfly (OTCQB:DFLYF) | $215mil | $8mil | 27x | Pioneer in drone technology |
| Drone Delivery Canada (OTCQX:TAKOF) | $265mil | $144k | >1000x | Mainly provides delivery services |
EHang does actually have risk, though none of the actual risks were mentioned by the Wolfpack report. The design of EHang 216 means passengers have to walk past propellers to get into the cockpit, which could be dangerous. EHang has commercialization risk as they'll need to sell the concept of AAVs to citizens around the world. It's a speculative bet, but if it works out in the long run EHang should easily be worth several hundred billion dollars.
Conclusion
I still think EHang is immensely undervalued. I think EHang's AAV business is similar to Tesla's (TSLA) electric car business in 2012 - a first mover in an exponentially increasing industry. Today, probably over 99% of people have not seen an AAV in action. In a decade, AAVs will be integrated into the daily lives of the population.