As government expands, liberty contracts."― Ronald Reagan
We are revisiting Paratek Pharmaceuticals (NASDAQ:PRTK) today for the first time since May of last year. The stock of this promising antibiotic concern has risen some 70% since we gave it a thumbs up at that time. Recently, the company management provided an encouraging 2021 outlook. Given this it is time to update our investment thesis on Paratek. That analysis follows below.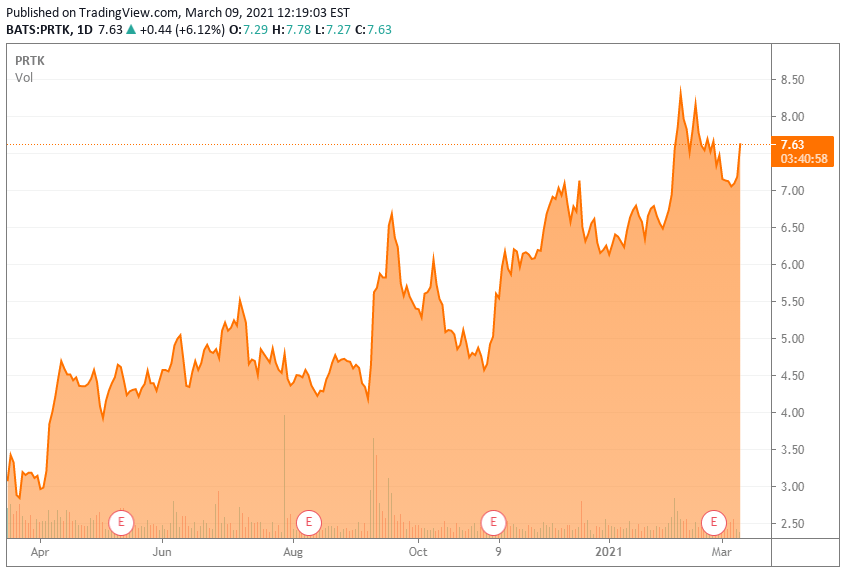 Company Overview
Paratek Pharmaceuticals is a Boston based antibiotic company. The company's primary asset is NUZYRA (omadacycline) which was launched in the first half of 2019. NUZYRA is a once-daily IV and oral modernized tetracycline that has demonstrated activity against a wide spectrum of bacteria, including Gram-positive, Gram-negative, and drug-resistant strains. This antibiotic has been approved for the treatment of adults with community-acquired bacterial pneumonia (CABP) and acute skin and skin structure infections (ABSSSI). The company signed a five year contract with BARDA late in 2019 which has a potential contract value of $285 million.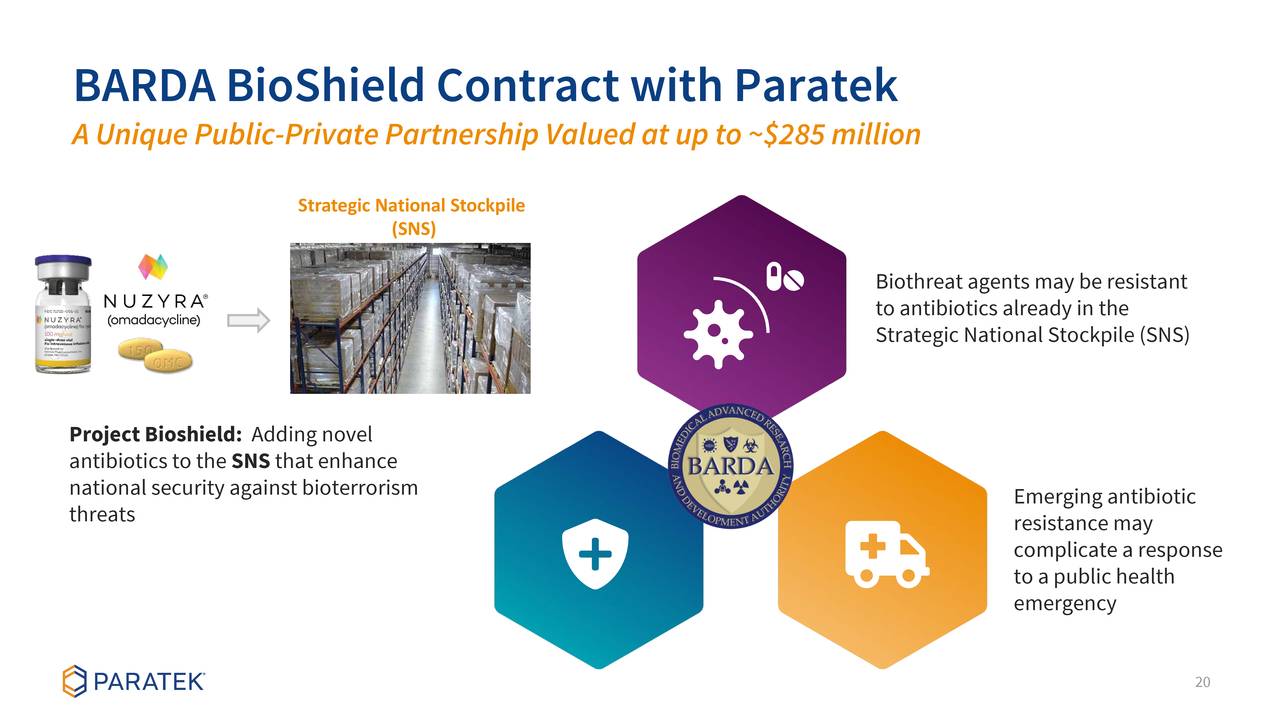 Source: February Company Presentation
With the rally in the stock since our last article on it, the stock trades just over $7.50 a share and sports an approximate market capitalization of $325 million.
Recent Results
Paratek reported fourth quarter results on February 24th. Both top and bottom line numbers came in short of expectations. However, revenue from NUZYRA came in at $12.4 million for the quarter. This is a 14% sequential improvement from the third quarter of this year, and a 130% increase from the same period a year ago. Government contract service and grant revenue ticked up from the third quarter to $2.8 million.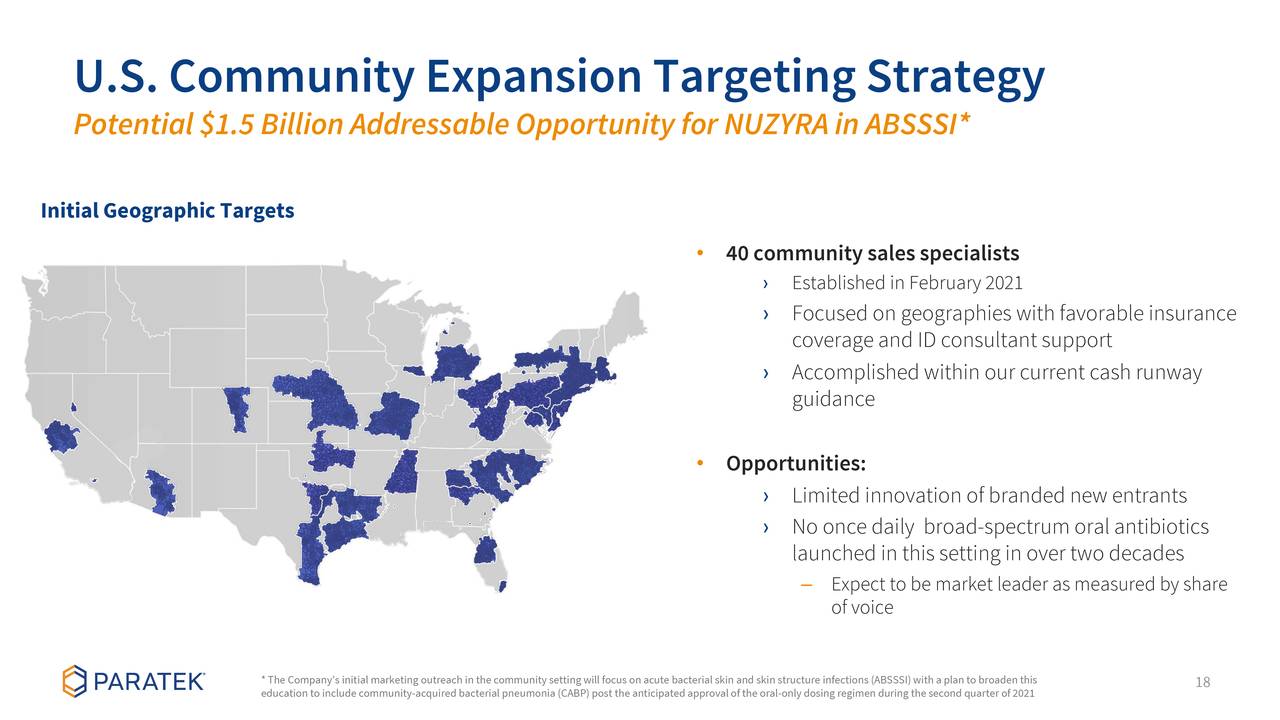 Source: February Company Presentation
NUZYRA sales should get a nice boost starting this quarter as the company completed the hiring of approximately 40 U.S. sales representatives in February. This will drive the expansion of the NUZYRA launch into the primary care setting. Overall, the company did more than a solid job ramping up NUZYRA in FY2020 given the impacts from the pandemic. As can be seen below, the rollout measures up very well to other antibiotic launches over the past half decade.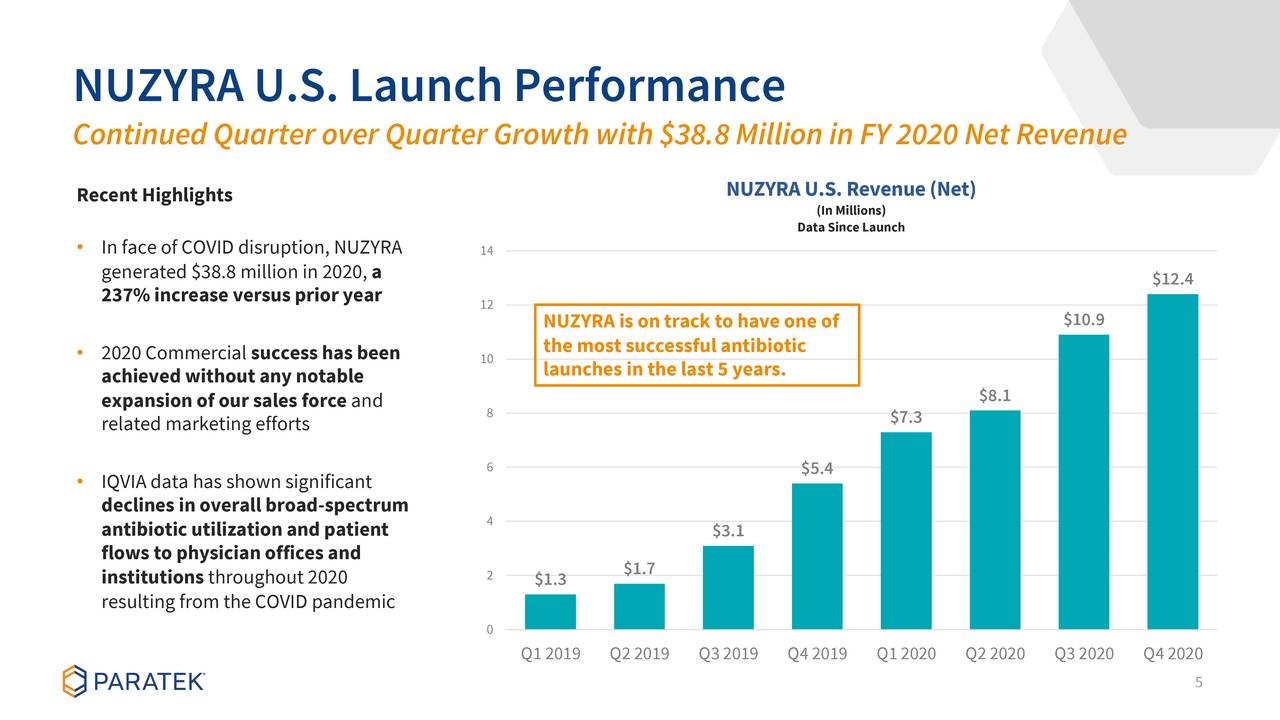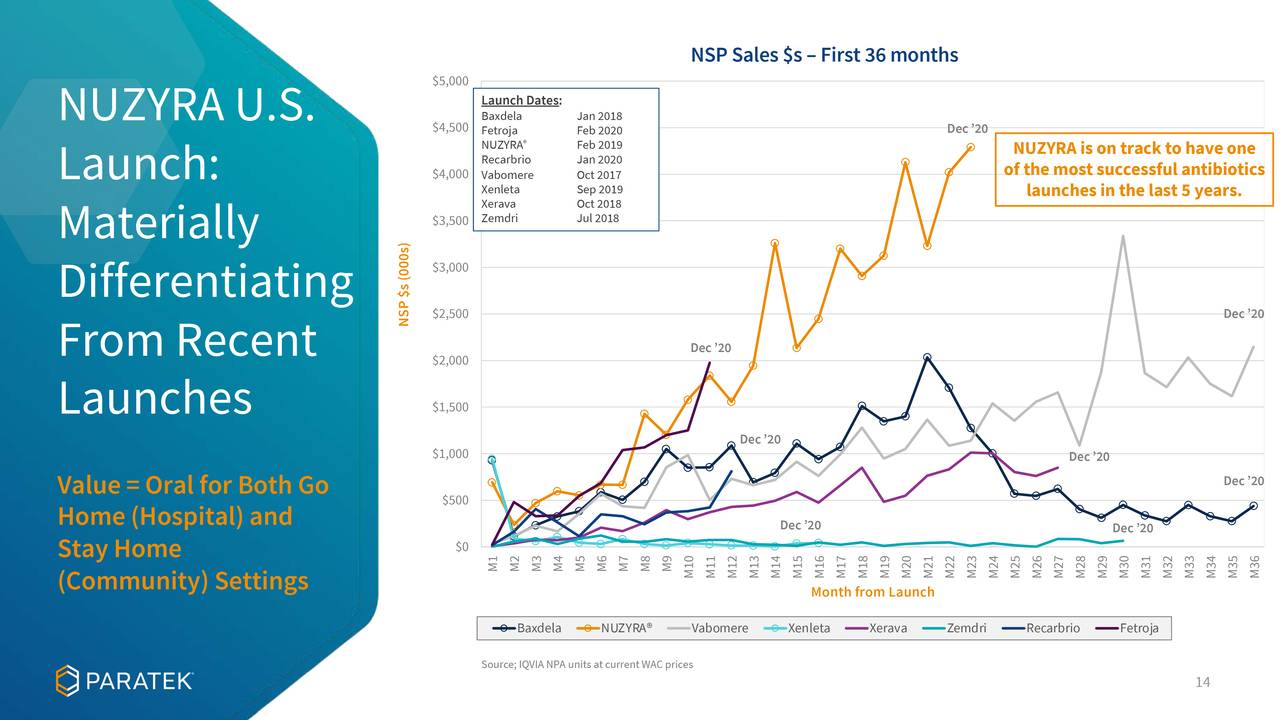 Source: February Company Presentation
The company also gave some encouraging guidance for FY2021. Here is synopsis from the press release that accompanied fourth quarter results.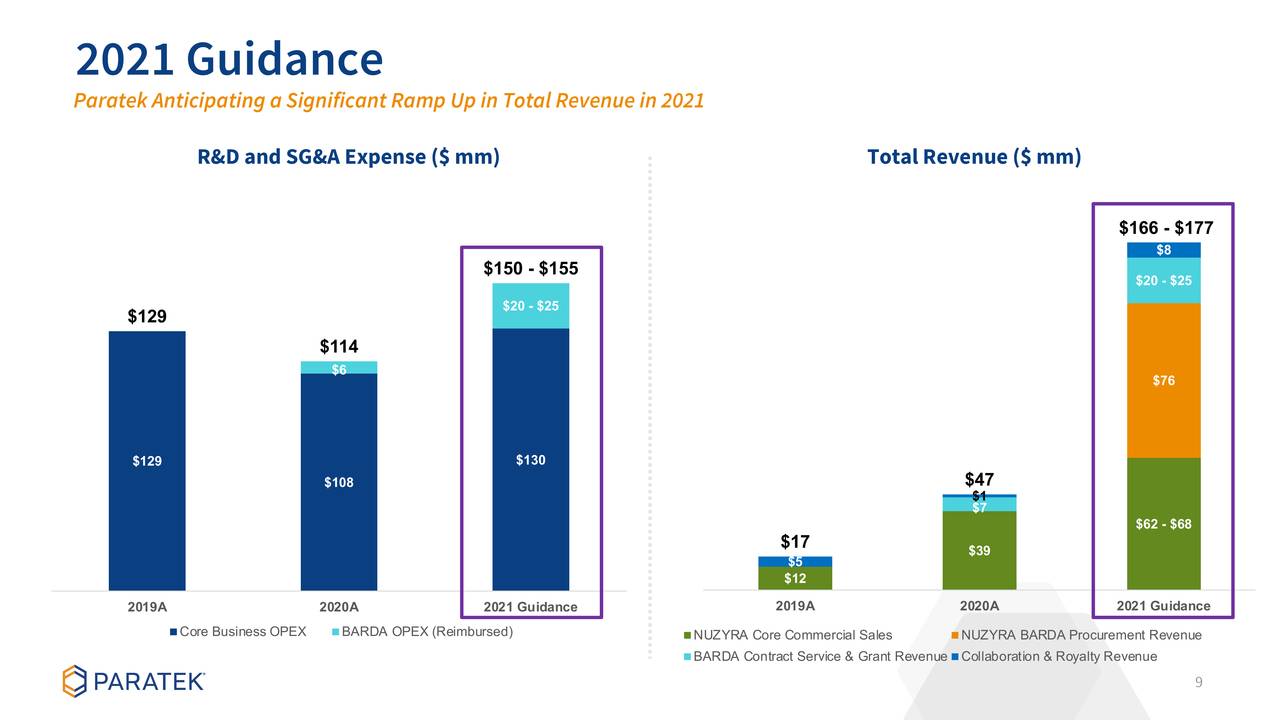 Source: February Company Presentation
Paratek management estimates 2021 total revenue in the range of $166 to $177 million. This range includes the following components:
2021 NUZYRA net U.S. product sales are expected to be approximately $138 to $144 million, which includes:

U.S. net product sales between $62 to $68 million from the core commercial business
Two SNS procurements by BARDA valued at approximately $76 million

Royalty and collaboration revenue of approximately $8 million
BARDA government contract service and grant revenue between $20 to $25 million
Core business R&D and SG&A expense of $130 million, an increase of 20% over 2020 but consistent with 2019 pre-pandemic levels
The company also recently listed some key potential milestones ahead of it in FY2021.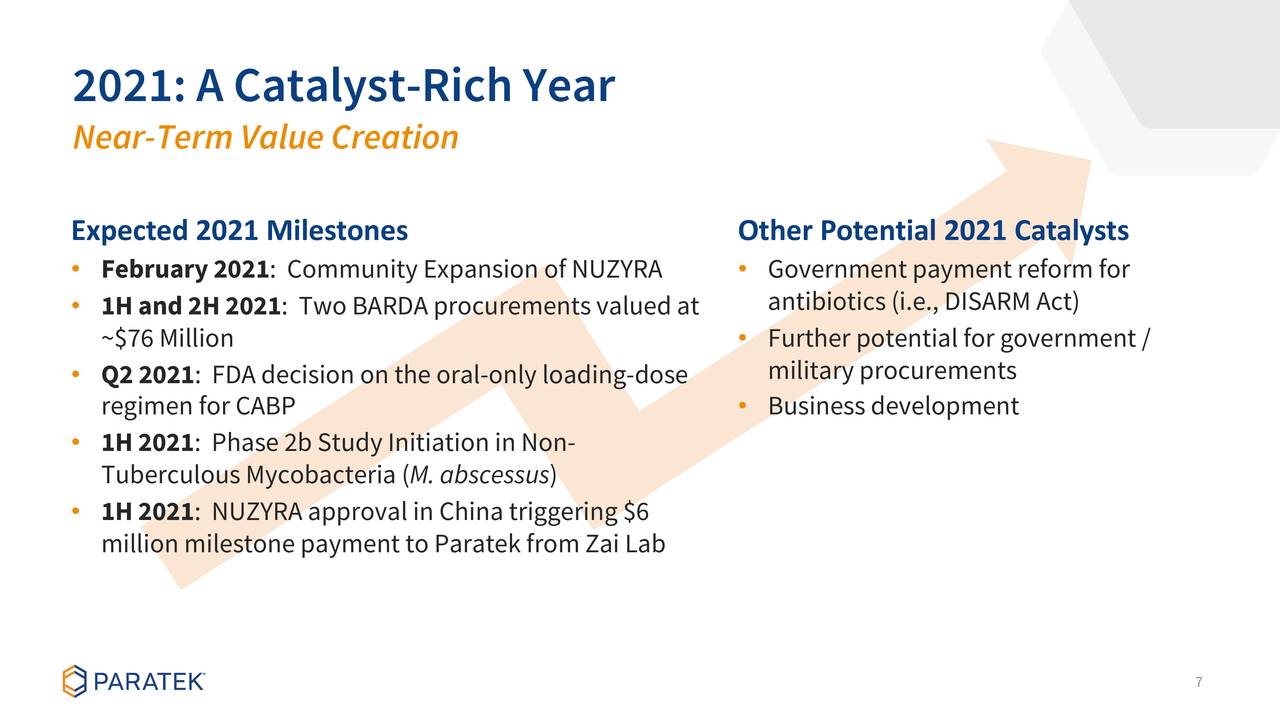 Source: February Company Presentation
The Phase 2b study evaluating NUZYRA as treatment for non-tuberculous mycobacteria (NTM) infections due to Mycobacterium abscessus (M. abscessus) is worth keeping an eye on. This is a rare condition with currently no approved therapies and an addressable $1 billion market in the United States according to management.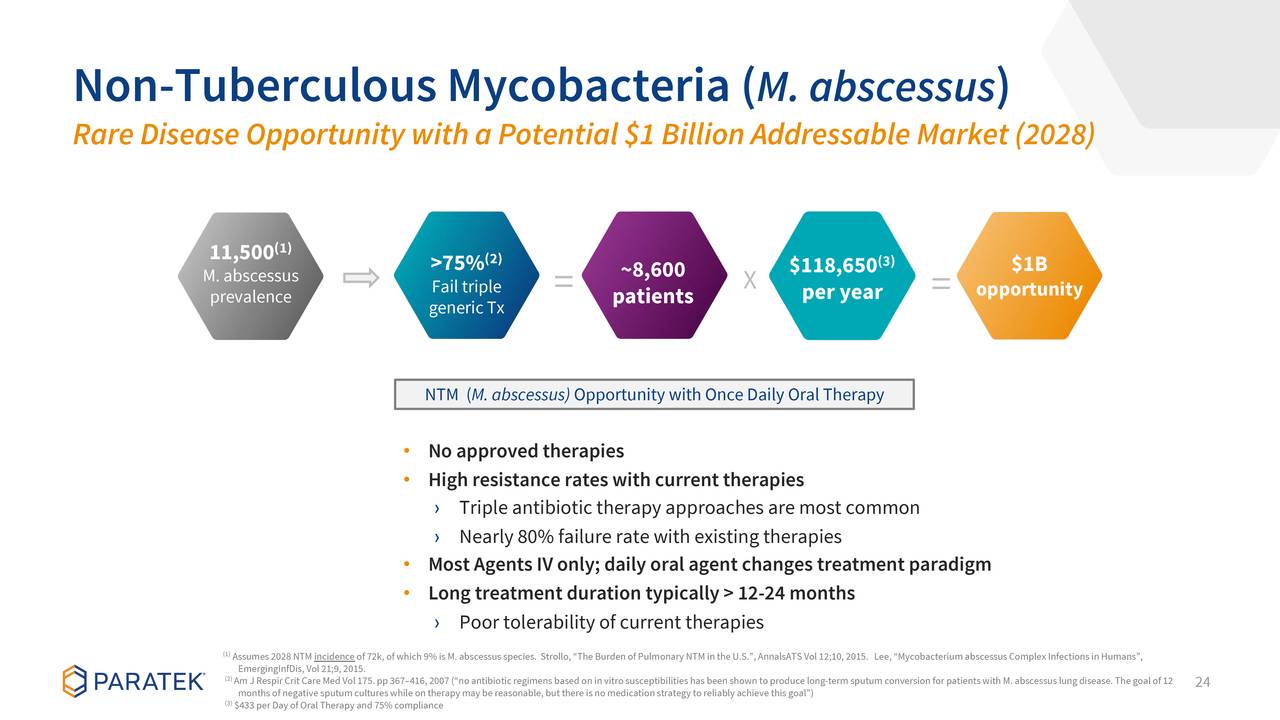 Source: February Company Presentation
Analyst Commentary & Balance Sheet
Analyst activity has stirred since the company posted fourth quarter numbers and provided its business update. After being dormant for over six months, we have had some new rating reissuances since then. Leerink Partners ($14 price target) and H.C. Wainwright have reiterated Buy ratings since then and last week Jefferies initiated the shares as a new Buy with a $15 price target along with the following commentary from its analyst.
PRTK's Nuzyra launched in 2019 for serious skin infection & community-acquired pneumonia in hospital pts that fail generic tx. We expect expansion into the community setting in 2021 to fuel sales growth to ~$300M in '28 ($39M in '20). Nuzyra is also being tested in M. abscessus infection (no approved tx, ~$1B US mkt), providing further upside if successful. With anticipated sales growth & potential label expansion, we view current share price offers good value."
The company ended FY2020 with approximately $125 million of cash and marketable securities on the balance sheet. Management has stated that should be sufficient to get the company to free cash flow breakeven status in 2023.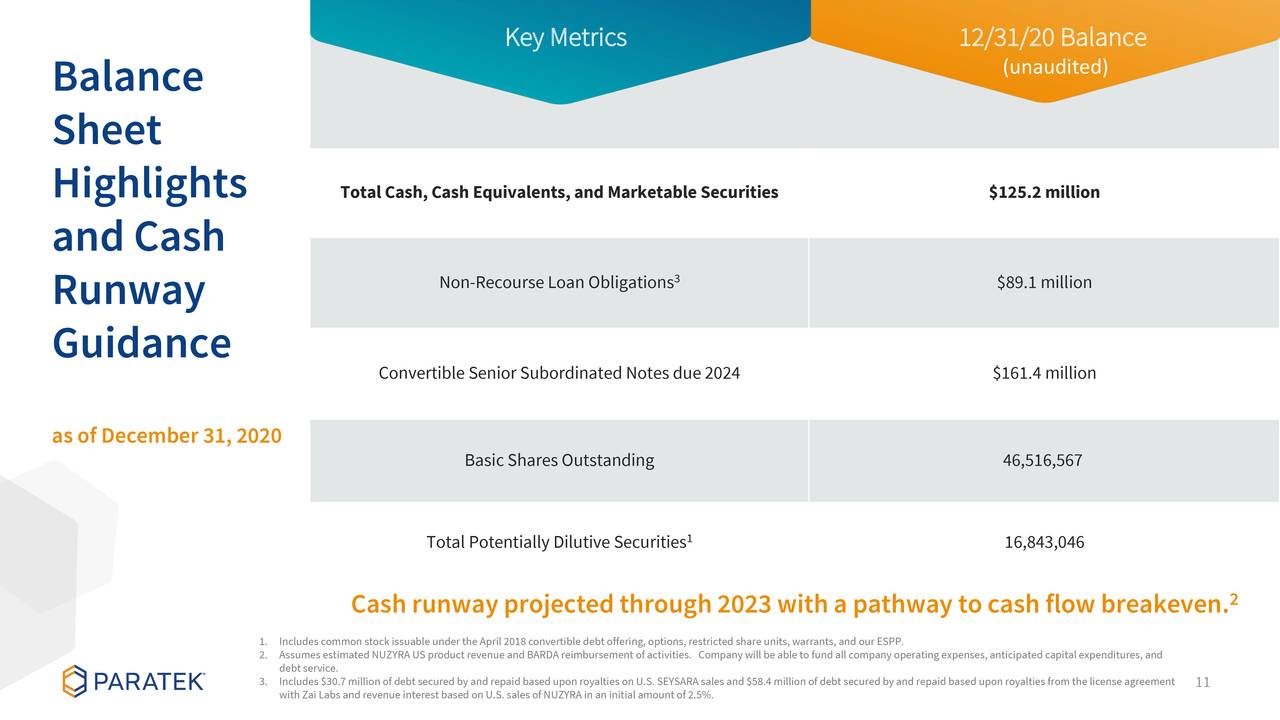 Source: February Company Presentation
The company also has just over $160 million in convertible debt and another just under $90 million in non-recourse obligations, of which $60 million is from the arrangement described below.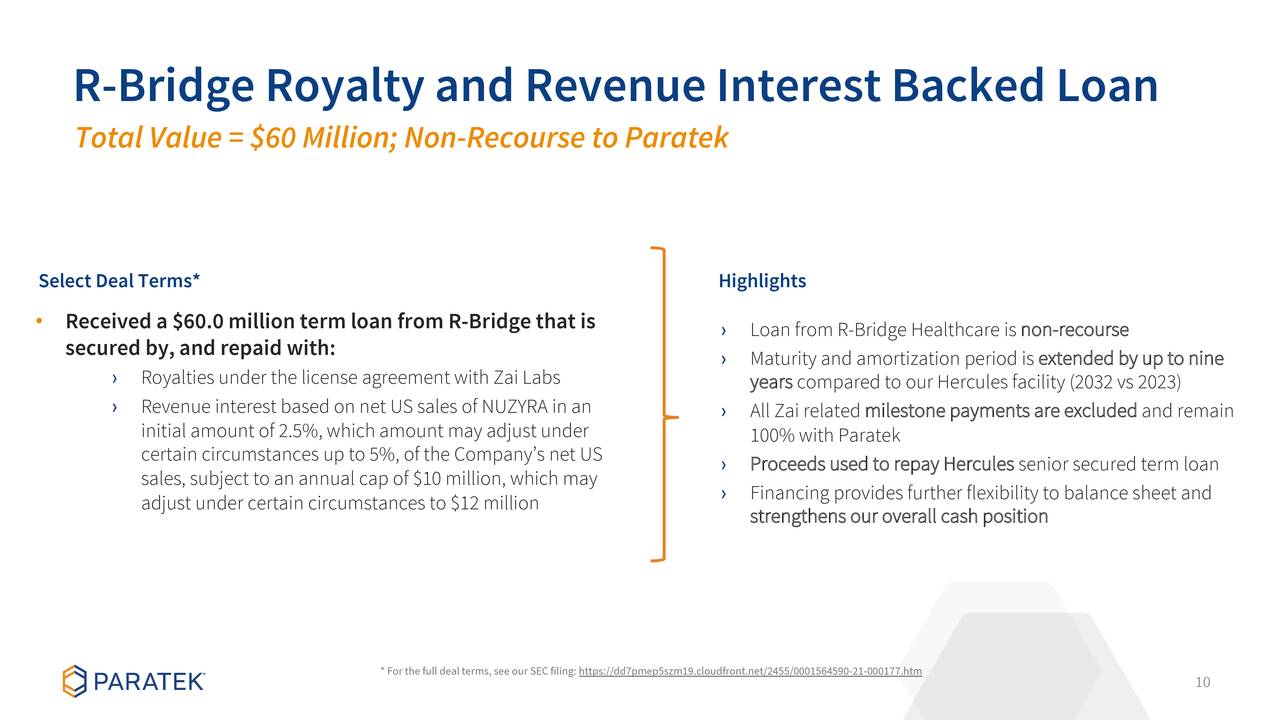 Source: February Company Presentation
Verdict
I am not a big fan of the antibiotic space, even these drugs are much needed in the era of superbugs and other infections. The economics of the space tend to be terrible. In fact, Paratek is the only name I own in this sub-sector of the market. The huge BARDA contract is a huge positive and the company is managing the rollout of NUZYRA quite well, even with the challenges of Covid-19.
I continue to like the long-term risk/reward profile of PRTK as do analysts. The company has a large potential market to target. That said, there are likely to be bumps in the road. That is why I have a core holding in PRTK that I add to via covered call orders whenever the overall market has a decent sell-off.
Bret Jensen is the Founder of and authors articles for the Biotech Forum, Busted IPO Forum, and Insiders Forum
Live Chat on The Biotech Forum has been dominated by discussion of buy-write opportunities over the past several months. To see what I and the other season biotech investors are targeting as trading ideas real-time, just join our community at The Biotech Forum by clicking HERE.