Author's note: This article was released to CEF/ETF Income Laboratory members on March 1, with numbers updated where indicated.
Western Asset High Income Opportunity Fund (NYSE:HIO), a former Tactical Income portfolio holding and the 2nd ranked DxYxZ fund in February's "High-High-Low" report, looks appealing here at a -9.87% discount and 7.95% yield that is 94% covered per their 9/30/20 earnings numbers [March 11 update: discount is -7.89% and yield is 7.77%]. It pays a $0.030 monthly distribution, which it last reduced from $0.0325 (-7.7%) in February. Due to the fund's discount, the NAV yield is lower at 7.14%.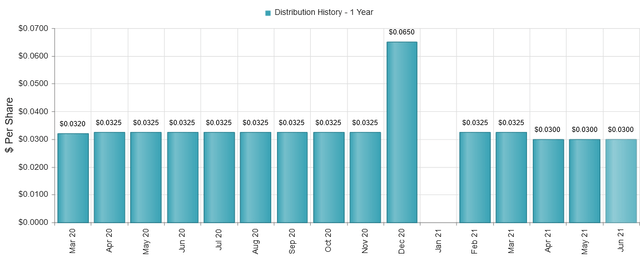 Though no reason was cited by the managers, it is probably due to the declining earnings of the fund as older bonds mature and are replaced by newer, lower-yielding paper. Just a week or two ago, the US High Yield Master II Index nearly touched a record low of 4% (!) - the dash for yield is truly on.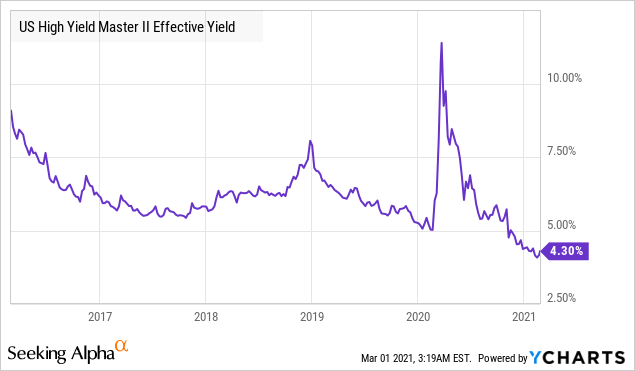 Since HIO is an unleveraged fund, this means that it was unable to take part in the decrease in short-term rates which brought down leverage expenses (thus boosting income) for its leveraged peers. In 2020, HIO's net investment income dipped slightly to $0.34, down from $0.35 the year before.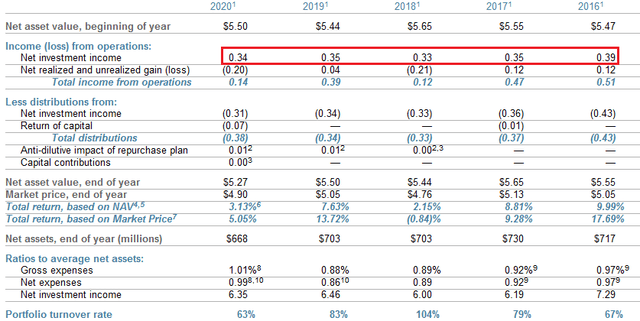 (Source: HIO annual report)
Given that the distribution was not fully covered, I agree with the manager's decision to lower the distribution back to a more sustainable level. HIO is a fund that regularly adjusts its distributions to match its earnings (note the dip in distributions 2018 which coincides with the drop in NII in the financial highlights above), which I think is a prudent distribution policy, rather than trying to sustain an overambitious yield at all costs.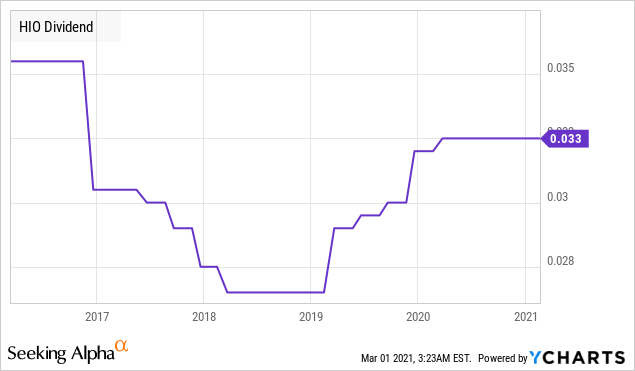 The fact that HIO is unleveraged means that it is a more conservative fund than a leveraged high-yield fund. We can clearly see this in action during the crash in March last year, where HIO's NAV dropped significantly less than its leveraged peers (HIX, HYT and NHS are shown for comparison).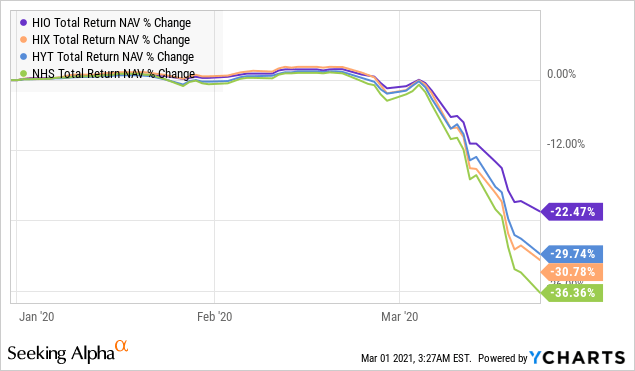 On the flip side, its lack of leverage means that it will underperform leveraged peers during bull markets.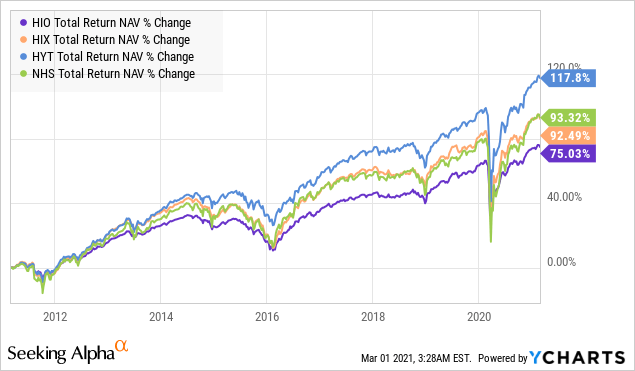 A more apt comparison to HIO might be the high-yield ETFs such as JNK and HYG, which are also unleveraged. Here we see HIO exhibiting significant outperform vs. these benchmark funds.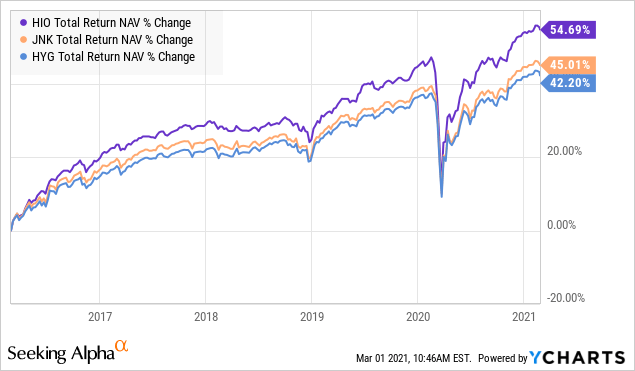 Another point to note is that HIO isn't a purely high-yield fund, as it has a minor component (~14%) to emerging market debt. I view this as a positive for diversification, but it is something to consider. Its ability to rotate between different sectors due to active management might be one reason that it has outperformed the high-yield ETFs.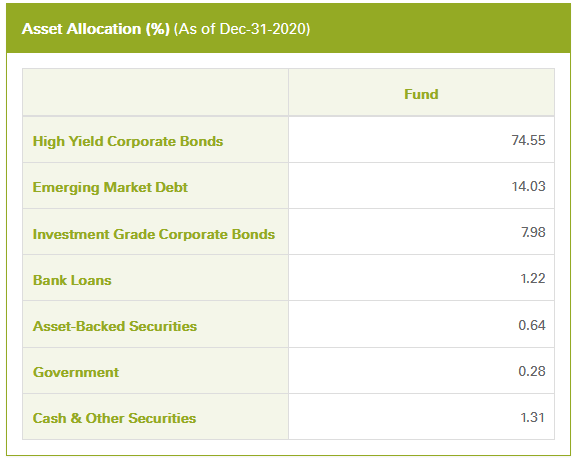 (Source: Legg Mason)
The fund's current discount is similar to its 1-, 3- and 5-year average values of -9.24%, -10.03% and -9.82% respectively. So it's not a huge bargain relative to its own history, but compared to other peers which have been getting more expensive recently, HIO is on the cheaper side (e.g. HIX: -4.76% discount, NHS: -3.40% discount, HYT: -5.30%). [March 11 update: HIO's discount is -7.89%].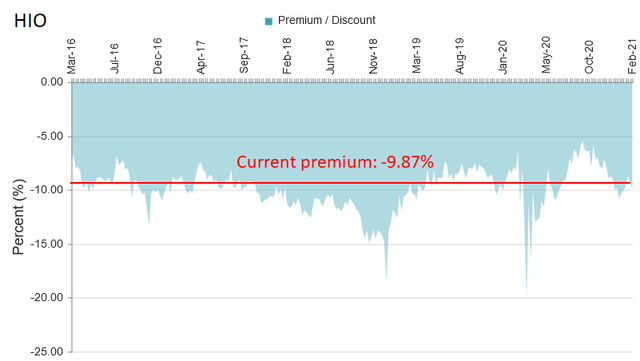 (Source: CEFConnect)
We last owned HIO in our Tactical Income portfolio in September 2020, when we swapped it for Western Asset Global High Income Fund (EHI) to take advantage of its more generous tender offer conditions, because the discounts for the two funds converged. Now, with the tender offers done and dusted and the activist Saba agreeing not to agitate the fund for however long its standstill agreement for the managers lasts (probably sometime in 2022), there's no special situation going on with the fund anymore, but it still remains an attractively-valued pick for the relatively conservative investor.