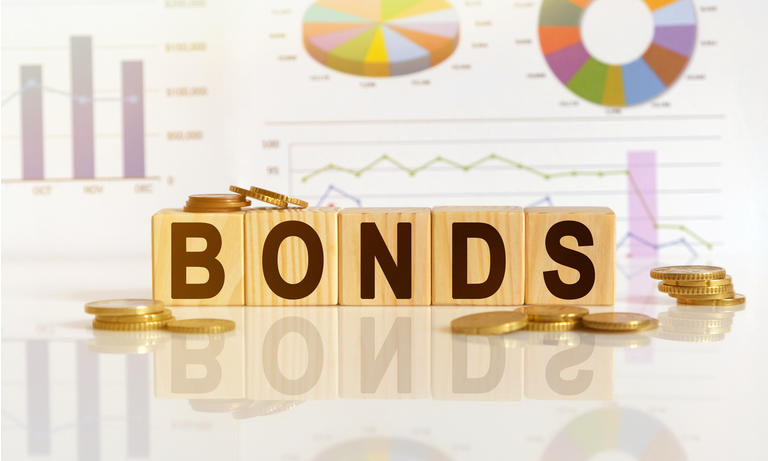 James Bond: Do you expect me to talk?

Auric Goldfinger: No, Mr. Bond. I expect you to die.
Source: Goldfinger, 1964
Perhaps no exchange between James Bond and the movie villain has been as iconic as the one from Goldfinger. Auric Goldfinger accepts that James Bond won't be giving him what he wants and knows that 007 would rather die than reveal secrets. Our view on the capital markets has reached a similar situation today and we tell you why we have no expectations of bonds providing us returns, despite the selloff. We expect bonds to die a slow painful death over the next few years.
The Story So Far
The bond bulls had a rather interesting 2020. Bonds peaked in March and then tried to create a new high in August 2020 and failed.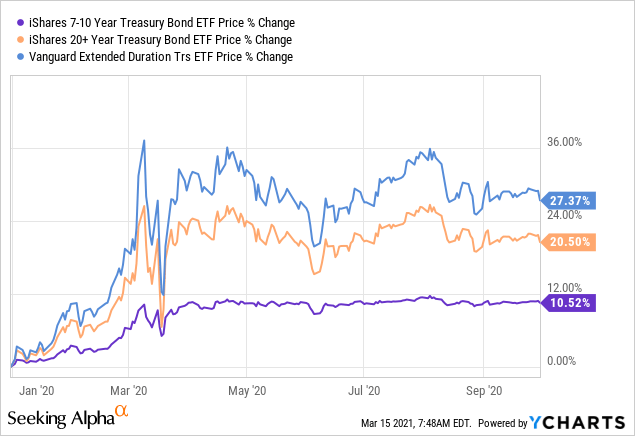 Still, bond investors felt rather good about what had happened. After all, if that amount of fiscal largesse was not enough to bring Mr. Bond down, perhaps nothing would. Things did change after September 2020 as slowly and steadily the primary forces driving bond market pricing started asserting themselves.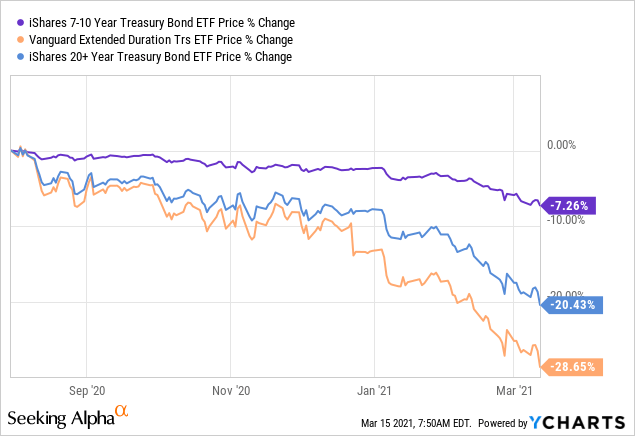 What are these forces and what impact will they have going forward? We look at that next.
Nominal Growth
30-Year Treasury Yields have a tendency to follow nominal GDP growth. We say tendency, because the two do drift apart at times. But whenever they do, they do reunite ultimately like the soulmates that they are.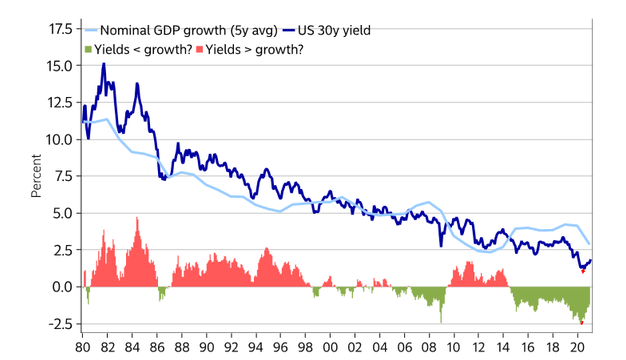 Source: Nordea
The red dot on the chart shows the point in March 2020. That is what we have been repeatedly harping about and calling the idea that anyone should hold Treasury bonds as portfolio poison. Now to make matters worse, nominal GDP is likely to average far in excess of 8% for the next two years. In other words, the light blue line is likely to move up from here, over the next 2 years.
Bloomberg looked at a similar metric using the 10-year bond yield. Despite the big rise in yields, the current gap between nominal 2021 GDP and yields will be the widest on record.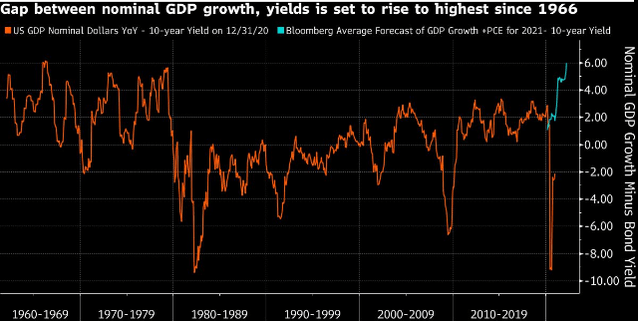 Source: Bloomberg
What Are The Bond Bulls Thinking?
We thought it was insane to hold on to 30-year bonds yielding about 1.2% in August 2020. After all, that was the best case return for anyone holding those bonds. On the opposite side, the bulls lost over 20 years of interest in 7 months. Whether the bet works out or not, in our view, the risk-reward was so horrible that holding bonds was simply the "greater fool" approach. But we want to present the case for holding bonds.
The bullish view stems from believing that deflation will continue unabated in the world. Demographics and debt loads have both been cited as challenges to the inflationary case. As populations age, they tend to spend less and that leads to deflation. Debt loads consume massive amounts of interest payments and prevent inflationary feedback loop.
The Counterargument
While deflation works well in theory, nobody has actually seen it in practice. Prices have continued to move up year after year. Even the global financial crisis did not put CPI into negative.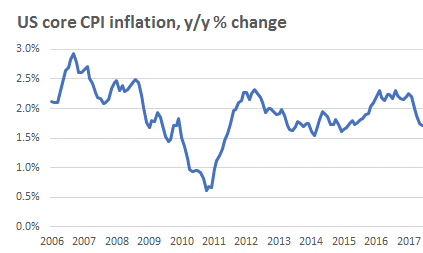 Source: Advisor Perspectives
Even the 2014-2016 oil price collapse that coincided with a soaring US dollar, did not put CPI into negative. We would add here that the vast majority believe that CPI is understated. If we got strong inflation during periods that were most favorable for deflation, what will we get when we are setup for inflation? The setup we are referring to is that the consumer is currently extremely deleveraged and ready to bid up prices.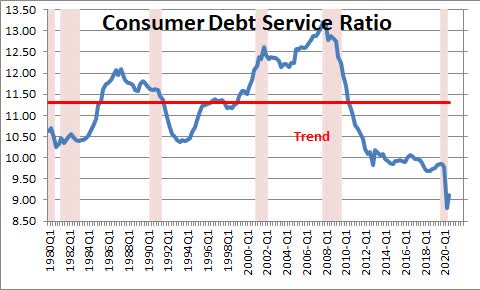 Source: Numbernomics
This is driven by lower interest rates and actual reduction of debt.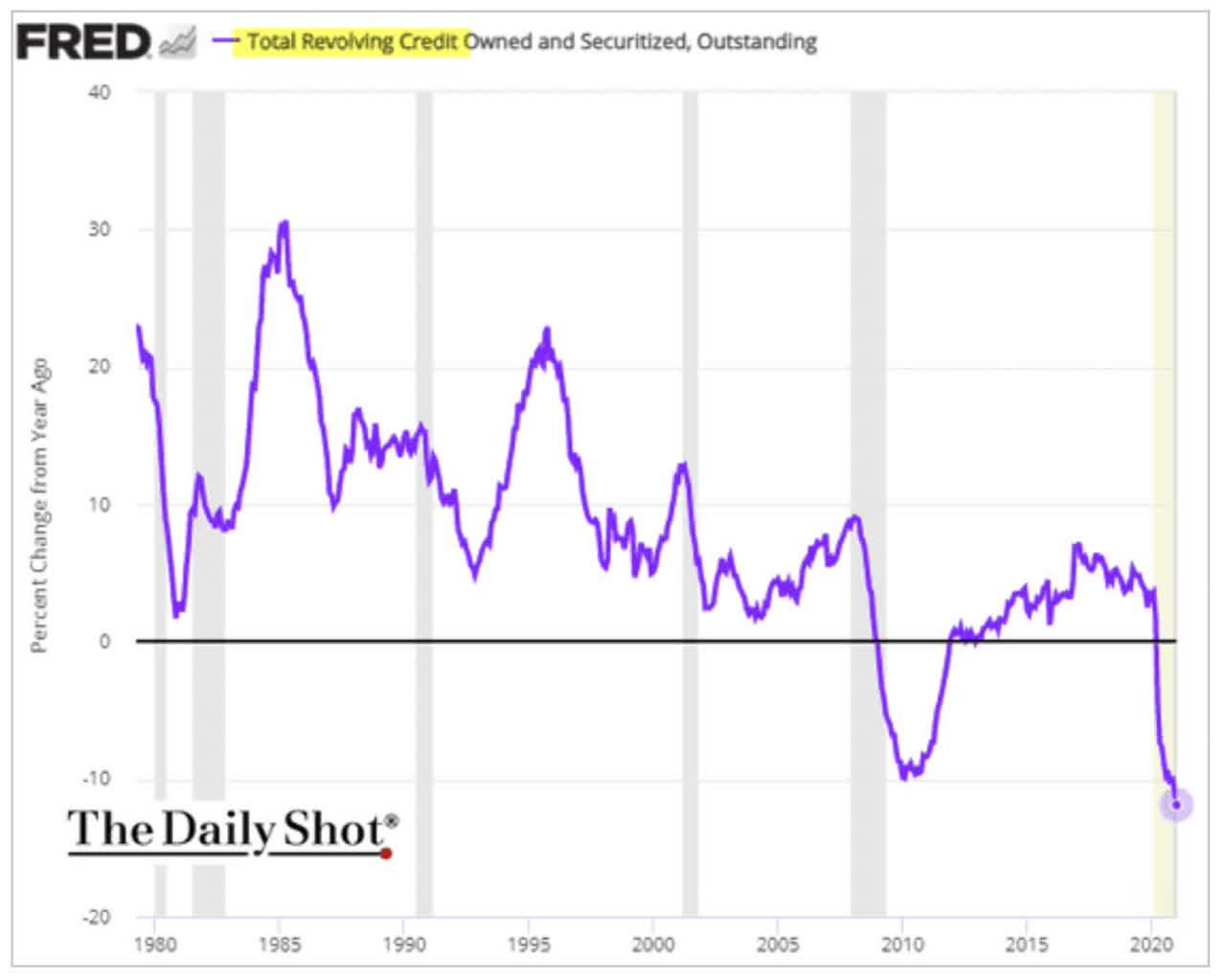 We certainly have the setup for higher inflation today and prices are beginning to respond.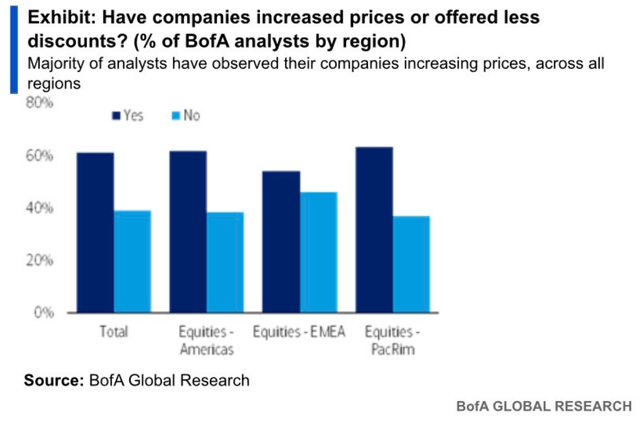 How High Rates Could Go?
We are looking for a minimum of 3% on the 30-year bond yields and 2.25% on the 10 year. Higher yields are always possible as we have zero precedent for what is currently happening. We have an exceptionally deleveraged consumer alongside with the most massive fiscal stimulus and the largest gap between bond yields and nominal GDP. Bond yields have also often traded far above nominal GDP when coming off the other extreme. We have shown those points in the chart below.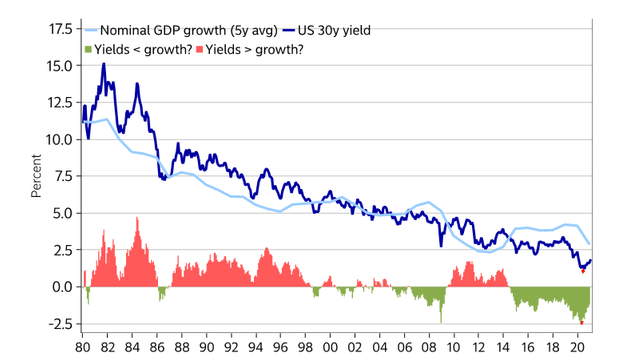 Source: Nordea
If we enter a 5% nominal GDP growth average for 5 years, and 30-year bond yields trade 1% above that, that gets us to 6% yields. While that may be totally unthinkable and perhaps unlikely, do note that any move in that direction will represent painful losses for bond holders with duration in their portfolio. This is also not just a US phenomenon. France's 50-year Bond yield has moved from 0.48% to 0.91% in 2 months.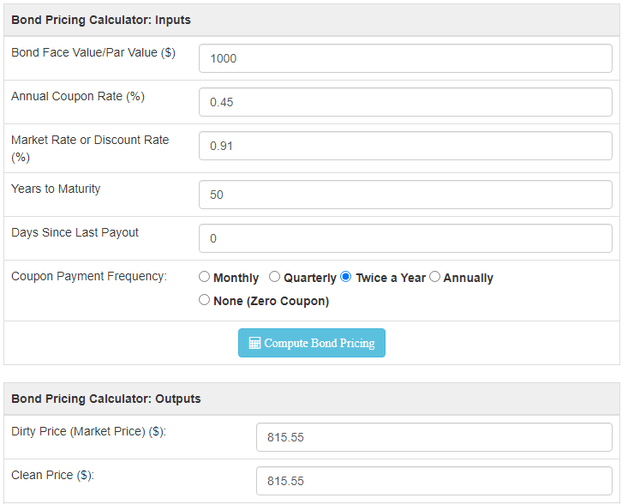 Source: DQYDJ
Investors bidding for the 50-year bonds issued in January 2021 have lost 42 years of interest in 2 months. Keep that mind, the next time someone tells you that you need to have bonds in your portfolio.
Conclusion
Yes, the bond selloff has been a one-way street and those frequently tend to give countertrend rallies. There are suggestions that this is becoming a bit one-sided. Short positions are amassing and everyone expects a steeper curve.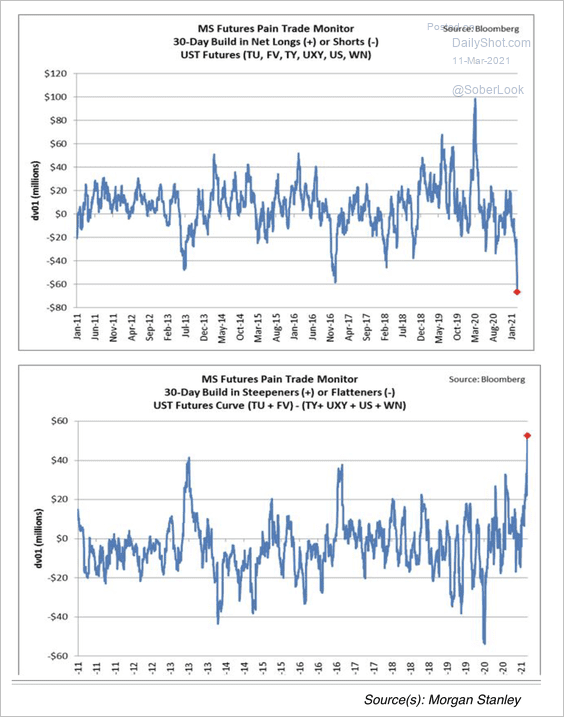 We see that as possibly giving pause to the trend and perhaps resetting the sentiment barometer. But we do expect that this is just phase one of the selloff and anyone holding these return-free-risk instruments should use the countertrend rallies to exit or add hedges.
Please note that this is not financial advice. It may seem like it, sound like it, but surprisingly, it is not. Investors are expected to do their own due diligence and consult with a professional who knows their objectives and constraints.