Shares of W.W. Grainger (NYSE:GWW $395) offer an attractive opportunity for investors seeking to participate in a recovery in industrial/economic activity without committing to a narrow subsection. The company has a long-term history of earnings cash-flow and dividend growth extending back multiple decades. Historically the company has generated particularly strong returns during economic rebounds following recessions. The ongoing expansion of the company's B2B e-commerce platforms have the potential to accelerate company growth over the long-term. Investors should consider these shares ahead of the earnings recovery and before the e commerce opportunity becomes fully apparent.
Consistent Long-term Grower
W.W. Grainger, Inc. (Grainger) is the largest distributor of maintenance, repair and operating (MRO) supplies/products. The company offers millions of products for safety, material handling and metalworking from thousands of suppliers to millions of businesses and institutions. Although closely tied to the industrial and commercial sector in the US, the company has a long-history of growth and notable returns to shareholders. The long-term success reflects the company's ongoing expansion of product offerings, improvements in distribution efficiency and customer service.
Grainger has traditionally served a broad range of business customers offering timely supply of a variety of consumable, wear, replacement and other products. The company's high-touch operations offer over 1.5 million products from 4,500 suppliers to over 1 million customers. Most of these customer orders are serviced via direct shipment from distributions centers (22 in North America) which allows for most deliveries next-day. The company operates 336 branch locations which support customers seeking technical support and immediate pickup of most popular items. For the largest and more sophisticated customers, Grainger also offers on-site inventory which can be accessed directly by the customer through vending machines and other systems.
In 2020, 75% of the company's orders in its traditional business originated through digital channels, including its website, on-site vending and direct procurement via electronic connections to large customer purchasing systems. These orders and relationships are supported by the company's large team of service and sales representatives.
In recent years the company has developed a complimentary exclusively digital distribution channel, Endless Assortment, which targets smaller businesses seeking easy to navigate web-based procurement with an emphasis on low price. These operations include MonotaRO (primarily in Japan) and Zoro (primarily in the US) and offer 26 million products and currently serve nearly 4 million customers. The Endless Assortment business represents less than 20% of current revenue but has been growing rapidly.
The MRO market is highly fragmented and includes other distributors, retailers, manufacturers and ecommerce companies. Grainger has been able to effectively compete by leveraging its customer and suppliers' relationships, advantages of scale and distribution, technical expertise and culture of customer focus. Although much of the company's growth has been attributable to market share gains, Grainger still accounts for only 7% of the addressable MRO market. Furthermore the next 10 largest competitors account for 23% of the market leaving 70% among much smaller players. We also see opportunities for expanding the market, with new product offerings.
Grainger shareholders have benefited from the company's growth and returns of cash to shareholders through multiple economic cycles. Based on current expectations for 2021, the company is expected to have generated long-term revenue growth of 6% and earnings per share growth of 10%. Furthermore the company has a long-term record of dividend increases extending back nearly 50 years.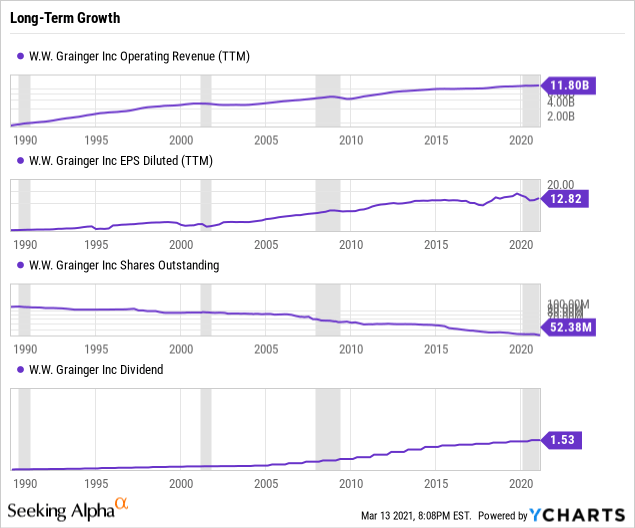 Total returns to shareholders (appreciation plus dividends) have grown consistently, including annualized average annual returns of 15%, 13% and 15% over the past 5, 10 and 20 years respectively. Over the past 12 months the shares have returned 63%, including dividends, reflecting a sharp selloff in March 2020 but are up 17% since the beginning of 2020, behind the S&P 500 gain of 22%.
Low Risk Model
Despite the broad exposure to cyclical industrial/commercial spending levels, Grainger appears to offer moderate risk. The company has maintained a limited level of debt, with high levels of interest coverage (11X). Furthermore, as distributor, Grainger's model offers minimal operating leverage and specific product risk. Of course other distributors and retailers compete with Grainger, but with deep customer connections, market leadership and advantages of scale Grainger appears to have sustainable advantages.
Grainger currently serves a broad range of customers spread across multiple end markets, including Heavy Manufacturing (17% of revenue), Government (14%) Light Manufacturing (10%), Commercial Services (8%), Contractors (8%), Retail/Wholesale (7%), Healthcare (6%), Transportation (5%), Natural Resources (4%) and Other (21%). No single customers accounts for more than 2% of sales. The company also offers a range of product categories including Materials Handling, Safety & Security, Metal Working, Tools, Lighting, HVAC, Plumbing, Electrical, Cleaning, Motors and other. These product offerings can evolve with customers needs. Management has estimated the current addressable market for Grainger's traditional products exceeds $135 billion in the US and $225 billion globally. With the potential opportunity in B2B e commerce many times larger.
Recent Results and Near-term Outlook
As with many industrial/commercial businesses focused, Grainger's financial performance in 2020 was impacted by the "covid" induced recession as businesses slowed production and reduced spending on MRO. Total revenue growth was a modest 3% (nearly all due to market share gains). Adjusted operating profits slipped by 4%, primarily due to lower margins attributable to shift in demand towards lower margin safety and other products. EPS slipped to $16.18 from $17.29 on a comparable basis in 2019. Although disappointing relative to long-term growth trends, the dip in 2020 earnings are not inconsistent with past recessionary environments. Typically, financial results have improved sharply with a recovery in economic activity as appears increasingly likely in 2021 and 2022.
During 2020 the company generated nearly $21 per share of cash from operations, up from approximately $19 per share in 2019. The company returned $939 million to shareholders, through dividends and share repurchases (a combined yield of approximately 4.5% at current share price levels)
With the prospects for recovery in 2021 and beyond, driven by a broad-based increase in demand for MRO products by a variety of customers, Grainger appears poised to grow revenue and earnings per share are over the next several years. Current wall street consensus estimates call for revenue of $18.5 and $21.1 billion in 2021 and 2022 respectively and EPS of $18.50 and $21.10. Management has not provided specific guidance but has called for recovery in 2021 driven by demand growth and a return to a more normal mix of products. Earnings growth is expected to improve through the year as business activity improves. Quarterly revenue growth is likely to be distorted by comparisons to last year's Q2 surge in Covid related sales of personal protection products and other items, which provided lower than average product margins.
Long-Term Prospects for Accelerating Gains
While the prospects for near-term earnings improvement, primarily attributable to the anticipated recovery in industrial/commercial activity is enticing and warrants investor attention, a potentially more intriguing value enhancement theme is developing for Grainger, the growth of its ecommerce business.
Grainger operates this segment through 3 subsidiary operations, MonotaRO in Japan, Zoro in the US and ZORO UK. Reflecting the growing contributions and potential of these operations, Grainger recently announced a change in segment financial reporting. The company is now reporting results in two primary operating segments, High-Touch Solutions and Endless Assortment.
The MonotaRO operation was originally formed as a joint venture in Japan in 2000 and is now slightly over 50% owned by Grainger. Targeting small and medium businesses, MonotaRO has grown rapidly in recent years and is among the top MRO suppliers in Japan. Average annual revenue and earnings growth has been in excess of 20%, with forecasts by management for similar growth in 2021. These gains reflect the ongoing expansion of product offerings and the leveragability of the e commerce model.
Zoro, which primarily targets US customers, launched in 2011. These operations, which were built around a pure e-commerce model, were intended to compliment and expand Grainger's traditional business. Notably, the US operations can leverage portions of the parent company's distribution network. As with, MonotaRO the growth has been impressive, growing by nearly 20% annually over the past several years.
With recent changes in financial reporting, Grainger is now showing two primary operating segments, Endless Assortment and High-Touch. The Endless Assortment represented 18% of consolidated revenue in 2020, but with growth of nearly 20% annually compared to 2% for the High-Touch business, this high growth segment is poised to have an increasing impact on corporate growth in the years ahead.
Importantly, MonotaRO is slightly over 50% owned by Grainger. The remainder is traded publicly in Japan (5670 JPY) and in the US (OTCPK:MONOY $53). Based on current market values, Grainger's stake in MonotaRO is worth approximately $6.7 billion or $128 per share of Grainger. Of course, MonotaRO could be mispriced, but the valuation also suggests ZORO could account for a substantial portion of Grainger's future value.
Shares Appear Attractive
At current price levels, shares of Grainger at trading at premium valuations based on trailing EPS. However, based on current expectations for earnings the shares are valued in line with historical P/E multiples. Excluding MonotaRO, which is expected to account for approximately $1.50 of earnings in 2021, the shares of Grainger are trading at approximately 16X forecast earnings for 2021.
Going forward we expect the shares to appreciate significantly, driven by a recovery in demand for MRO products amidst a revival in economic activity, particularly industrial activity. We look for the company to continue to leverage this growth with market share gains, share repurchases and continuing dividend increases. Additionally, Grainger shares have the potential for significant revaluation as the prospects for the Endless Assortment business develop. We expect the shares to reach $500 over the next 12 to 24 months based on earnings potential of close to $22 in 2022 and potentially much higher beyond as revenue and earnings growth accelerates.