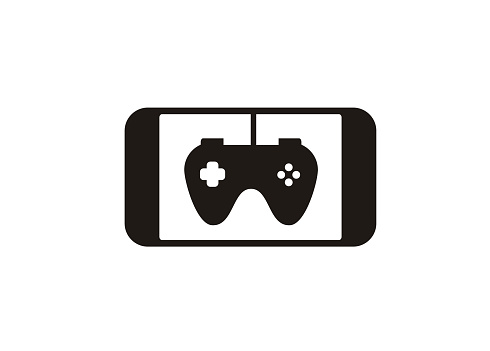 Just over a month ago, we covered Skillz (NYSE:SKLZ) right after it announced the NFL partnership and had placed a neutral rating because of its quick run following the announcement. Since then, growth stocks have seen a high level of volatility. Skillz in particular, saw its value drop 50% from peak to trough heading into earnings. The main reason for the drop in growth stocks can be attributed to the rise in bond yields.
There was a lot of talk about the economy "overheating" as if we would see dangerous levels of inflation in a developed country that's been struggling to meet its 2% inflation target for years prior to COVID-19. This is despite the fact that we have had low interest rates for over a decade. Thankfully, the Federal Reserve has made it very clear that inflation will not be an issue.
However, the company also got hit with a short-seller report from Wolfpack Research. If you are just checking out this company for the first time, we would suggest you check out our previous article for a more introductory overview of the company. In this article, we will be discussing the company's most recent developments, briefly look at the short-seller report, and update the valuation from the previous article.
What We Like About Skillz
Skillz is a very interesting company to us for a number of reasons. The platform is very engaging with 13% of their users participating in prize competitions versus 2% for the average mobile game that relies on in-app purchases. This high level of engagement relative to the average, combined with its increasing user base, has led to strong growth for 2020. Revenue grew 92% for the year and 95% for the quarter year-over-year. The company is seeing strong growth despite having relatively unsophisticated games but has emphasized that they are investing to expand the reach of the platform by enabling new genres.
Currently, it seems like the games are not played against opponents in real-time. However, this is an area that management intends to introduce for genres such as fighting, racing, and first-person shooters. Given the popularity of these genres, coupled with the eventual introduction of synchronous content, it's very likely that user engagement and paid user engagement as a percentage of users will increase. Synchronous games add that extra competitive spirit which can result in added fun.
In addition, Skillz has a highly scalable technology infrastructure. Management has made significant investments which they claim has allowed them to scale while delivering industry-leading reliability of over 99.9% uptime, resulting in less than half the outages of a typical gaming company. It is underpinned by data science designed to prevent cheating and fraud with 15 pending initial patents. They credit their infrastructure and architecture as key contributors to their 95% gross margin.
The positive impact of the platform's scalability can be noted on the income statement. Let's start by looking at R&D. Although the absolute spend grew by 46%, as a percentage of revenue it actually decreased from 10% to 7%. When looking at G&A expense, absolute spending grew 73% but decreased as a percentage of revenue from 12% to 11%. This demonstrates that the company is already becoming more efficient in its operations despite being very young.
It is also important to note that Skillz invests heavily into user acquisition. Therefore, management's metric of EBITDA before user acquisition costs is a reasonably appropriate method for measuring the company's performance, especially since capital expenditures are very minimal. EBITDA before UA increased 98% while revenue increased 95%. This translates to 25% of revenue.
The company is very efficient at acquiring new users and keeping them. Skillz has an average three-year customer lifetime value to customer acquisition cost (LTV to CAC) of 3.8 times which is better than the ideal ratio of 3 times. The number is down from 4.5 times as of Q3 which management attributed to rising ad costs. However, they intend to improve it and we don't see a reason why they couldn't. Furthermore, Skillz has not had a cohort stop paying for 7 years and each cohort has continued to grow.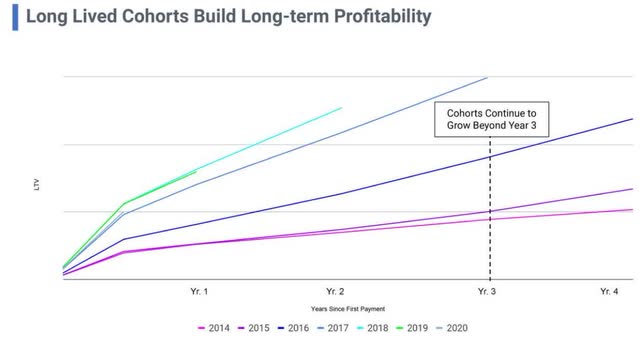 Source: Investor Presentation
Management specified that the company actually realized an additional 102% of customer lifetime value after the first three-year period, but is not captured in the LTV to CAC metric. This demonstrates that the platform is very entertaining and has strong sticking power.
Wolfpack Research's Short Report
As most of you are aware, Wolfpack Research hit Skillz with a short report recently. However, we found the report to be misleading and self-serving and will highlight why. But first, we will take a look at some of the valid concerns that were raised.
Valid Concerns
As we mentioned in our previous article, one of the risks associated with Skillz is the fact that the majority of their revenue is derived from 3 games. Although not ideal, it means that the top three games are significantly better than the rest. The way we see it, if the company can generate this much revenue in its current form, revenue should see significant growth once more engaging synchronous games are introduced. It should also help decrease the revenue concentration. Nonetheless, this is still something that investors should keep an eye on and hope it improves.
The next valid point is the valuation. Skillz can be pricey depending on the timeframe used to analyze it and when you factor in the risks associated with being a very young company. We are, however, not in agreement with how it was presented.
Flaws in the Short Seller Report
Near the beginning of the article, the report compared its valuation once it became public to its private equity valuation from the year before. There are 2 problems with this comparison. The first problem is that Skillz saw significant growth over that year. This means that the company being valued in 2020 was already a different company than it was in 2019. The second issue we have is that private equity valuations are more conservative than public equity valuations. This is mainly because public companies are highly liquid whereas private companies are highly illiquid. Thus, private equity investors demand a lower multiple because they can't offload shares by just clicking a button.
You might be reading this and saying "overvalued is overvalued", but we think it's important to note this because it immediately stood out to us. It signaled that this report would most likely present figures in a manipulative way in order to present a distorted narrative that was truly preying on retail investors who would be left holding the bag. We believe our suspicions were proven true with what follows next.
Let's start with Big Buck Hunter (which we will refer to as BBH). The short report states how this press release didn't mention the fact that BBH attempted to build a game for Skillz back in 2014 but failed. But why would Andrew Paradise even want to point that out? Seriously, it doesn't make sense.
Outside of short selling, talking negatively about another company is not good business practice, especially if they are potential partners. We would also like to point out that it was Big Buck Hunter that was unsuccessful in their first attempt at trying the Skillz platform. Highlighting that BBH had previously failed would be embarrassing to BBH, not Skillz. If it was merely the Skillz platform to blame the first time around, then why would Big Buck Hunter try a second time? According to the short-seller report, the platform isn't any good and Big Buck Hunter would have first-hand experience. But clearly, that's not the case. Big Buck Hunter's new attempt with Skillz is a testament to the platform's allure.
Regarding the other 2 "failed" partnerships, the first one with Glu Mobile was in 2013. Skillz was founded in 2012. Thus, it's not uncommon for brand new companies to have setbacks in their first 2 years of operations (same with Big Buck Hunter, Skillz was just in their third year of operations). The second one was with Beeline Interactive. Of course, nothing happened since the platform was unable to support live 1v1 games. However, management has highlighted that this is an area they are investing in so that it can be done in the future. It's also important to note that the company never announced a deadline for the release of a product that would be the result of this partnership. When Skillz is ready to host live games, then we might see something come out of this partnership.
However, regardless of whether something happens or not with Beeline or Big Buck Hunter, the report is predicting that nothing will come out of the NFL partnership. Even in a scenario where this goes nowhere as well, the company's projections are NOT dependent on these deals. A positive outcome with the NFL would substantially boost revenue, not be the deciding factor in meeting projections.
This brings us to our next point. The short report is pointing to stagnant users as a red flag. Although monthly active users decreased from its high, the amount of PAYING active users increased.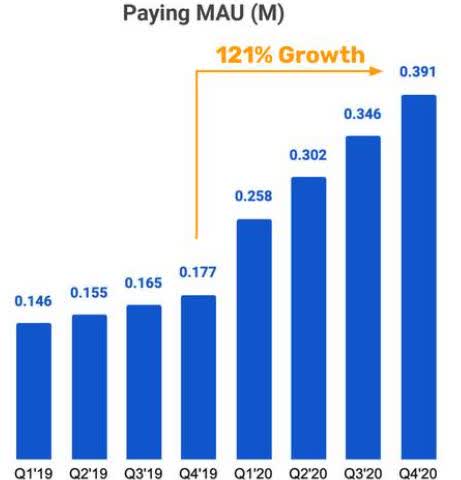 Source: Investor Presentation
Management has highlighted that they are focusing on increasing paying users because they currently are not monetizing the rest. This approach makes perfect sense. As a business owner/manager, why would you focus your efforts where revenue is not generated? We're certain that shareholders would rather see revenue continue to increase rather than non-paying users. Once Skillz begins monetizing non-payers, management said they would consider focusing on overall user growth.
Another piece of criticism from Wolfpack was on the track record of Andrew Paradise. We're not sure if one failed business should overshadow the $20 million exit of AisleBuyer and the current multi-billion dollar business he is running with hundreds of millions in revenue. There is plenty to learn from a failed business as there is from a successful one. Clearly, he's learned a lot given how well Skillz has done up until this point.
In addition, we find it hard to believe that a group of unnamed disgruntled "employees" represents an accurate picture of Andrew Paradise's character. This is as biased of a sample that can be found. But even if it was true, if there is one thing Elon Musk has demonstrated with Tesla and SpaceX, it's that CEOs do not need to be "professional" to see success. Andrew Paradise is no Elon Musk, but this criticism is unconvincing as a red flag.
Another thing that Wolfpack Research mentioned is how "Google removed it from the Google Play store years ago and appears determined to keep Skillz off of its platform", but we were able to search for Skillz on the play store and download it within seconds. The app worked perfectly fine and we were also playing games on it with no issues.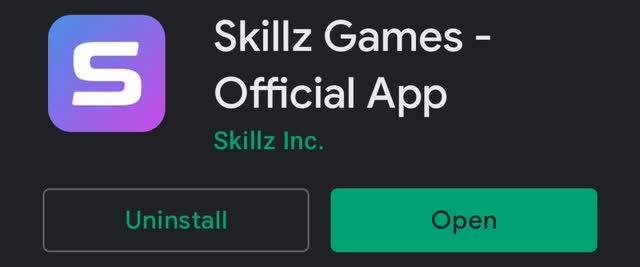 Source: Google Play Store
Another thing we want to touch on is the accusation that there's no evidence of an NFL deal and that the deal was announced conveniently so that early shareholders could cash out at inflated prices. The NFL deal is real and Wolfpack's thesis on it not existing was disproved within minutes. Since it was real (image below), the company had the obligation to announce it. It doesn't seem fair to say that it was some predatory plot to exploit retail investors and we'll explain why.

Source: nflcommunications.com
Yes, insiders had announced their intentions to sell as referenced in the short-seller report. In addition, they announced an equity offering in this press release which included the plan for insiders to sell 15M shares and granted underwriters a 30-day option to purchase up to an additional 4.8M shares.
What's important to note is that the amounts sold by most of the insiders are fairly small relative to their total holdings as per the picture below, especially when looking at key members like Andrew Paradise, Casey Chafkin, and Christopher Gaffney.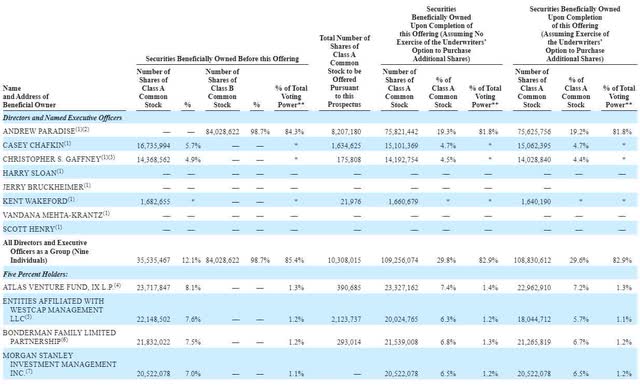 Source: SKLZ S-1 filing dated Mar 17, 2021
For example, Andrew Paradise will still own at least 19.2% of class A common stock after the offering is completed, Casey Chafkin would own 4.7%, and Christopher Gaffney would own 4.4%. Although we are a bit disappointed that insiders have sold some shares, there is nothing wrong with cashing in on small amounts, especially if a large portion of someone's wealth is tied to a company. There are more insider sales than shown in the picture above, but these are the most important transactions.
In essence, the point we are trying to make is that if you are unconvinced about Skillz, it should be based on actual facts and valuation, not a distorted narrative from self-serving short sellers.
Valuation
In our previous article, we used regression to value Skillz. To keep things consistent, we will update it using the same sample of stocks. A regression statistically measures the relationship between two variables. The line of best fit on the scatter plot best expresses this relationship. Our sample includes over 300 different companies within the tech industry from high growth to mature. The result was as follows: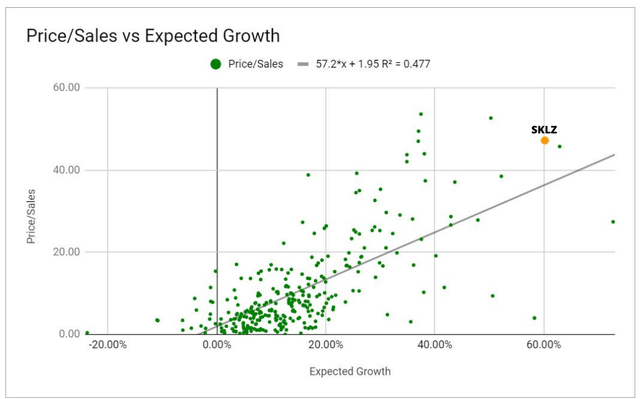 Source: Author using data from Finbox
The orange dot found above the line of best fit is SKLZ, which suggests that the company is still trading at a premium relative to its peers. However, since its gross margins are 95% and it can likely sustain high growth for many years, you can potentially justify paying a premium for SKLZ. The current "fair price" for Skillz is a P/S multiple of 35.69 which was calculated as follows:
57.2(59%) + 1.95 = 35.69
If you've read our previous SKLZ article, you might've noticed that the industry as a whole saw a fairly large multiple contraction over the past month. This is something to consider when doing a relative valuation method such as using price/sales.
Risks and Catalysts
The risks and catalysts associated with Skillz are the same as our previous article but with a few new points.
For risk, it's important to keep an eye on the drop in average revenue per paying user compared to the prior year. What investors shouldn't want to see is that number to continue dropping, although it seems to be stable at the moment.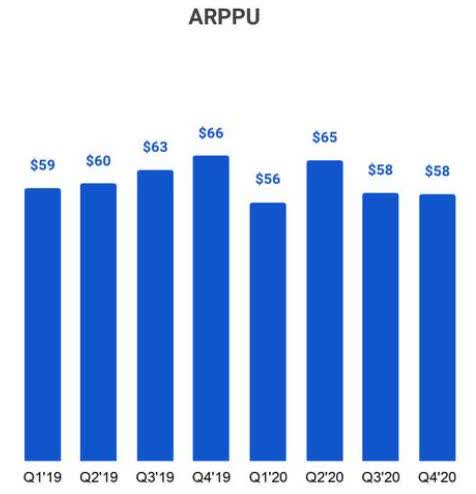 Source: Investor Presentation
Furthermore, as Skillz is a young company, investors should expect equity raises from time to time to help fuel their growth. There's no reason why investors should be caught off guard by such announcements. Regardless, it still dilutes shareholders and is not ideal.
A potential growth catalyst is that Skillz is planning to expand internationally to India whose mobile gaming market has 137 million gamers and is expected to grow at 26% per year. Comparatively, the US has 210 million users but expected to grow at 6% per year. Currently, 90% of the company's revenue is generated in the United States. Capturing a small share of India's fast-growing market could significantly boost their current revenues especially since the current number of paying users is just under 400,000.
Final Thoughts
Skillz is definitely not a deep value stock as it trades at a premium to its peers. In addition, we are a little disappointed in the insider selling, but find some comfort in knowing that the number of shares being sold by insiders is relatively low compared to their total holdings. Nonetheless, Skillz is a high-quality company that was unfairly targeted by Wolfpack Research. As we have already mentioned, if you are unconvinced about Skillz, at the very least make sure that your decisions are based on actual facts and not a distorted narrative. Up until now, we have had success trading around Skillz's volatility and hope to continue doing so. Despite its premium, at this particular moment in time, we believe the company has great long-term potential and will only change our minds if factually correct data suggests otherwise. We currently have a small long position.