Rising rates have been a persistent and worrying theme for income investors. Higher rates can deliver a double blow for income positions that typically rely on both duration and credit exposure. In this article we take a look at the short-duration high-yield tax-exempt municipal sector and how it can mitigate the rise in rates. Our main takeaway is that the sector's reasonable valuation, historic resilience and lower sensitivity to sharp moves in both interest rates and credit spreads make it an attractive allocation option for investors. We also highlight a number of open-end funds in the sector:
Nuveen Short Duration High Yield Municipal Bond Fund (NVHAX)
Invesco Short Duration High Yield Municipal Fund (ISHAX)
VanEck Vectors Short High Yield Muni ETF (SHYD)
A Look At The Sector
Shorter-duration high-yield tax-exempt municipal bonds look attractive in a rising rate environment for several reasons.
First, the sector looks attractive on both an absolute yield basis as well as on a yield per unit of duration. The sector yield-to-worst is competitive with the higher-yielding income sectors and its duration is the second lowest. Where the sector really shines, however, is on a yield per unit of duration, only second to high-yield corporate bonds.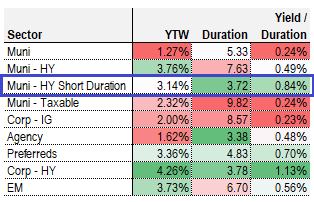 Source: Systematic Income, Nuveen
However, relative to the corporate credit sector we prefer high-yield munis here for a few reasons. Firsts, high-yield corporate bond yields are trading nearly 1% below their pre-COVID drawdown level while high-yield munis are trading about 0.2% higher their pre-COVID level.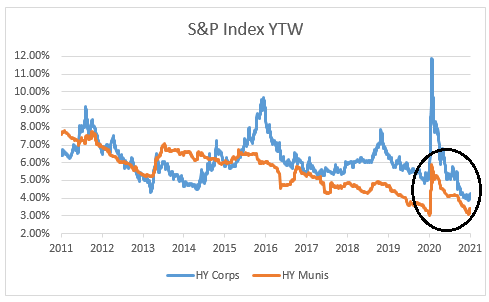 Source: Systematic Income
Secondly, corporates emerged from the crisis with higher leverage than before while municipalities have performed much better than expected with tax collection levels remaining very strong, though this may not necessarily apply to projects bonds.
Thirdly, rated high-yield munis have defaulted at a much lower pace historically than corporate debt.

Source: Moody's
Another reason we like the short-duration high-yield muni space is that in addition to providing lower interest rate duration they also provide lower credit duration. This is in contrast to the loan sector which has no interest rate duration but can sport sizable credit duration due to the longer maturity of the underlying loans. This means that in a risk-off environment caused by a spike in rates short-duration fixed-coupon bonds can prove to be more resilient than loans.
Fourthly, a few other sectors that appear to be low duration such as agencies, preferreds and high-yield corporates can seem deceptively low-duration. This is because these sectors typically feature embedded issuer call options which cause these assets to be negatively convex with respect to changes in interest rates. In other words, when yields rise, the durations of these sectors will tend to increase. This is because as yields move higher, the issuers are less motivated to call their securities. This can be a serious issue with perpetual securities, such as preferreds, in particular. And although municipal bonds also typically sport issuer calls, the coupons on the bonds are usually set at artificially high levels which means that yields have to rise much more to trigger rising durations.
Fifthly, bonds with wider credit spreads will tend to be more resilient in the face of rising rates, all else equal. The chart below shows the performance of the following three funds since the start of the year when the 10-year Treasury yield rose 0.63%:
VanEck Vectors Short High Yield Muni ETF (SHYD)
VanEck Vectors High Yield Muni ETF (HYD)
iShares National Muni Bond ETF (MUB)
What the chart shows is that not only have the high-yield focused funds delivered positive returns in this environment (while the investment-grade focused MUB underperformed) due to the ability of credit spread tightening to offset higher rates but the shorter-duration fund SHYD has outperformed the longer-duration high-yield fund HYD due to both its shorter interest rate and credit durations.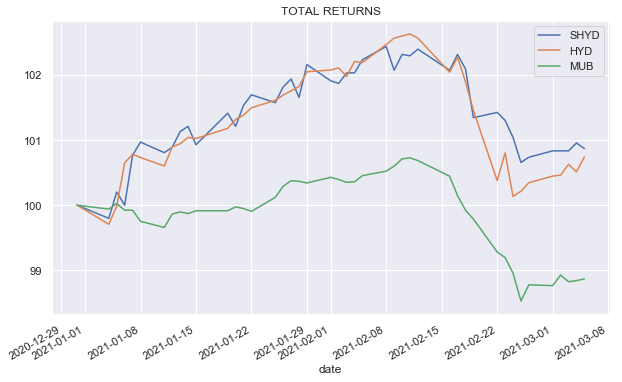 Source: Systematic Income
Outperformance by high-yield munis during periods of rising rates is not always only due to credit spreads, however. For example, according to Nuveen, high-yield muni yields in the last two weeks increased 0.29% compared to 0.45% for AAA munis. This is likely due to the high-grade muni outflows being more sensitive to change in rates given that is their primary performance driver.
Sixthly, the belly of the yield curve, which corresponds to the duration of the shorter-duration funds have the best rolldown profile. Rolldown is a measure of how much yields of a given tenor are expected to move lower in a year's time, all else equal. For example, the rolldown of 5-year Treasuries right now is about 0.24% which is the difference between 5-year and 4-year Treasury yields. In price return terms (excluding coupons) this is equivalent to over 1% which is a nice tailwind to have on the position.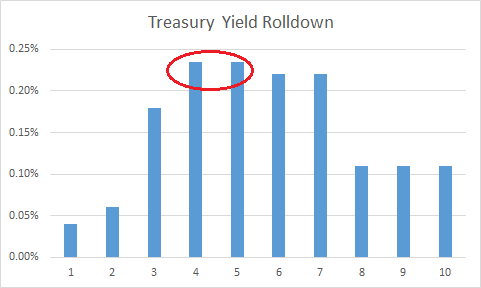 Source: Systematic Income
A Look At The Funds
There is not a ton of options in the sector unfortunately. There are no CEFs that focus on the space which is just as well because CEFs are not the best vehicle to play this theme.
The chart below shows that muni CEF discounts typically widen on sharp rises in Treasury yields which can erase the resilience of the fund NAVs.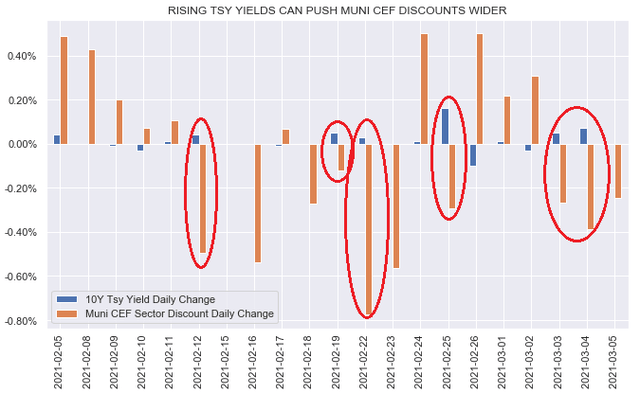 Source: Systematic Income
The table below captures the open-end funds that focus on the space.

Source: Systematic Income Strategic Allocation Tool
Holding open-end funds can, in fact, kill two birds with one stone for income investors. It can provide investment options that are relatively resilient to higher rates and can provide a dry powder option which can outperform CEFs in a risk-off environment which can drive discounts significantly wider.
Our favorite pick in the sector remains the Nuveen Short Duration High Yield Municipal Bond Fund (NVHAX) with a 3.79% distribution yield. The fund has the best 5-year return profile as well as the best Sharpe ratio over the period. The fund's empirical duration (a measure of how the fund actually responds to changes in interest rates) is the lowest at nearly minus 1 - meaning the fund tends to rally modestly on rising interest rates.
We also like the Invesco Short Duration High Yield Municipal Fund (ISHAX) which has an attractive combination of yield at 3.38%, longer-term absolute and risk-adjusted returns as well as a negative empirical duration.
Fans of ETFs have SHYD at their disposal which sports the lowest fee in the sector and decent returns, though its volatility is much higher than that of the mutual funds due to the tendency of its discount to widen substantially, even though it's an ETF.
Takeaways
A rising interest rate environment can be a difficult one to digest for income investors. The short-duration high-yield tax-exempt muni sector provides one attractive option for investors who want to increase the resilience of their portfolios. The sector continues to trade at reasonable valuations and has delivered positive returns in the face of higher rates already this year.