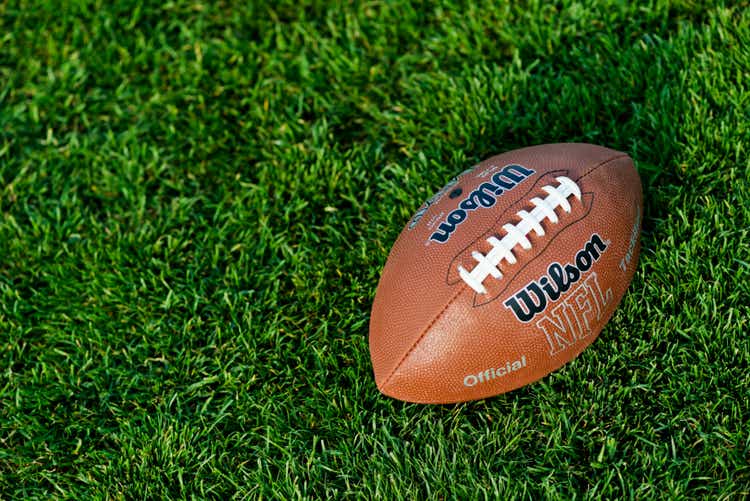 As someone who has been worried that Fox (NASDAQ:FOX) would overpay for its next NFL deal, I've been waiting for things to become official so I can start poring over the details to see just what the damage of another deal for pay-TV's gold standard was. Right as the markets were about to close on Thursday, what had been rampant, persistent rumor for days finally became undeniable fact: the NFL is sticking with the pay-TV bundle a little longer.
Though, not entirely, and we'll talk about that again later.
While the new TV deals, valued at $100 billion or more, have major implications for almost every media company in America, the focus of this article will be Fox which was in a rather unique and even somewhat precarious position heading into the negotiations. My short take is that while Fox did not do as badly as my worst fears, it may still have more downside than upside from this deal.
The New NFL Deals
Broadly speaking, the initial reports of a doubling turned out to be more or less accurate, for everyone except Disney (DIS) which had a ludicrously overpriced contract under the old system that it has now managed to bring more into line with everyone else by holding its increase to around 35%. Fox and CBS (VIAC) will take their $1 billion per year payouts to $2.2 and $2.1 billion, respectively, while NBC (CMCSA) will go from around $950 million to $2 billion. Disney adds on another $700 million to its existing $2 billion, although some of the games will now be transferred to ABC.
And all the new deals now include full streaming rights. Which is not surprising, considering that the NFL has just made its first all-streaming package deal, giving Amazon (AMZN) the exclusive rights to the Thursday Night Football package which Fox has now - quite sensibly - decided it can no longer afford.
CBS has already said it will include every game in its CBS All Access (now rebranded to Paramount+) service. NBC's Peacock will probably get the same, although NBC hasn't made an official announcement to that effect. Thus, for Fox, the Sunday afternoon package price will increase around $1.2 billion per year. And by all accounts, Fox management is thrilled.
Should they be?
Recent Financials
Despite a generally upbeat earnings call last month, Fox actually reported that Q2 earnings - the December quarter - fell to only $224 million, largely driven by the drop-off in Broadcast Television EBITDA, which dipped all the way into negative territory, to the tune of almost $200 million. This, in turn, was almost certainly driven by the NFL, which played for only one-third of Q1 - in September - but throughout Q2.
So if the NFL drives Fox to a loss every time it comes on the air, not just a loss-leader but a segment-wide loss, why does Fox want it back so bad?
Simple. Because the loss is only illusory.
Dual Revenue Stream
Fox doesn't just make money off of advertising, of course. For a long time, monthly subscription fees were the province of cable networks like Fox News, while broadcast stations were limited mostly to advertising revenue because they are technically available for free over the air. So, cable companies figured, why should we have to pay for something we can pluck out of the air for free? That paradigm held for a long time, but it's well and truly dead now. As broadcasters have been arguing for a long time, their share of total viewing time is far and above that of many cable stations which charge massive fees. Cable networks get advertising and subscription, why shouldn't broadcast get the same?
And so it has become. First CBS, the highest-rated broadcast station, and now everyone else has pried massive monthly fees - called "retransmission fees" in broadcast parlance rather than the "affiliate fees" terminology cable nets use - out of even the most tight-fisted of companies. The latest estimates are that CBS may be closing in on as much as $4 per month in affiliate fees. Most of the other broadcast networks are probably over $3, as well.
So what does this have to do with the NFL?
Timing Issues
The amount that any channel can command is obviously dependent on how much its content is in demand. And certainly the NFL is a big help with that. But retransmission contracts are negotiated over multi-year time horizons and paid in equal monthly increments.
This means that not all the subscription money Fox receives for the NFL appears in the quarter when NFL games are broadcast. Fox gets higher fees year-round. But content payments to the NFL are not year-round; they are concentrated in the five months when games are available. So looking only at segment EBITDA during the NFL season can give a slanted view of just how profitable NFL content can be.
So that pesky Q2 EBITDA loss in broadcast segment is not the problem. The year-long profit numbers across all segments, however, may be.
That's NOT Where They Keep The Money
Don't get me wrong, Fox is making money. EBITDA losses in any segment are rare, and when they happen they usually reflect the sequencing differentials I discussed. But even so, across the entire company, Fox is only generating $1-$1.5 billion in net income per year. And it has just agreed to a $1.2 billion fee hike.
And not entirely in the best segment for it, either. In Fiscal Year 2020, Fox reported total segment EBITDA of $430 million for the TV segment. It reported segment EBITDA of $2.7 billion for the cable networks segment.
And that $2.7 billion isn't necessarily safe. As I've noted before, Fox News is increasingly challenged for not being conservative enough, and upstart rivals are trying to muscle in on its territory. But I've covered this before, and Fox News isn't the focus of this article. After much speculation she was on the way out, Fox News CEO Suzanne Scott was given a multiyear contract extension, so perhaps Fox News is beginning to see the kind of recovery they want in their internal numbers.
Even assuming that the cable network profit stream is 100% safe - though I have doubts about that - a $1-1.5 billion net profit company is obviously vulnerable should a $1 billion-plus fee hike in its top content category not pan out in higher fees. What's more, as I said, Television only recorded EBITDA of $430 million all of last year.
In other words, in committing to another $1.2 billion in fees, Fox is spending money its Television department doesn't have yet.
Retransmission
Which brings us back to subscription fees. Clearly, the plan is to get the content first, then turn around and use it to extract still higher fees from pay-TV distributors to cover the cost. And for a long time, that has worked.
But the times, they are a changing. Pay-TV distributors have grown increasingly skeptical of the bundle's future and are now more or less passing 100% of cost increases onto consumers.
The question is, will consumers bear them? Remember that it isn't just Fox hiking fees; CBS, NBC and ESPN/ABC all agreed to substantial increases as well, and if Sunday Ticket ends up with a pay-TV partner they will want a cut as well. Even assuming that only the broadcast nets increase prices, fees are about to increase by as much as $4 billion per year to be spread amongst 70-80 million pay-TV subscribers - and that's always assuming the bundle doesn't deteriorate further. So in total, it is $4-$5 more in broadcast fees to cover NFL price hikes, at a time when total broadcast fees currently are already $15-$16, pay-TV prices are over $100 per month (before Internet) and customers are already leaving the bundle in droves.
Thursday Savings
The one thing that makes this a little more bearable for Fox is that, as part of the deal, it is also relinquishing its Thursday Night package. This package was reportedly costing as much as $660 million per year, and was widely seen as perhaps the only unprofitable package in the entire NFL ecosystem. Which sort of makes you wonder why Amazon was willing to pay 50% more to acquire it, but that's a topic for another article.
However, this $660 million does not all go straight to the bottom line, to alleviate the hit. As opposed to a fee hike, which sees the same number of games broadcast and therefore the same amount of advertising opportunities, these savings, while real, come at the expense of fewer games and ad slots. Reports indicated that Fox was recouping about 40% of the contract through ad sales, so about $400 million in savings is probably more realistic here.
That takes the increase that Fox needs in fees down to about $800 million, which spread over 80 million subscribers would be about $0.83 per month, per subscriber. Multiplied by four channels, assuming fee increases were distributed evenly, that's about $3.50 in total for consumers. I'm still not sure consumers will even settle for that, but at least it's somewhat lower.
But this is assuming no further declines in pay-TV; if consumers continue to defect to cheaper alternatives, the remaining ones must pay higher fees to generate the same revenue, potentially pushing the number back above $1 even with the savings. And of course, this kind of negative feedback loop can conceivably become a terminal decline.
Direct-To-Consumer Potential?
Fox's other potential out here is streaming; if pay-TV declines too far, Fox has now negotiated full streaming rights with its package, allowing it to potentially go over the top Direct-to-Consumer with the entire NFC afternoon TV package.
But can Fox generate enough revenue that way to cover all costs of the deal? At $2.2 billion per year, and assuming the same 40% in advertising coverage, Fox would need $1.32 billion per year in revenue to cover content costs. But it would also need enough to cover the technical and administrative costs of such a streaming service, which would presumably be integrated with Tubi, its new AVOD acquisition.
The average NFL game generates around 15-16 million viewers, although there's an argument to be made the NFC contract is a little more popular than average. On the other hand, there's also an argument to be made that not every who watches football when its free with their cable subscription will be willing to pay when its broken out separately and costs extra online.
If we leave it at 15 million, Fox would need to charge $88 per subscriber just to recover content costs. Since technology costs are generally running at 12-13% at Netflix right now, we'll call it $100 all in.
But this annual cost would be spread over five months, not 12. So Fox would basically be charging $20 per month. And this is only for the NFL content; if Fox tried to integrate the rest of its TV content or its Fox News channel, it would presumably go up even higher.
Will 15 million people pay for an NFC subscription? Honestly, I'm not sure. We're sort of in uncharted territory here.
NFL Sunday Ticket only generates around 2 million paying subscribers, but that's partly because they charge $300 per year. Presumably there is a trade-off between pricing and penetration. Still, if AT&T and the NFL truly believe that is the profit-maximizing price, then it comes to about $600 million per year in revenue - less than half what Fox just agreed to pay.
Conclusion
Altogether, the news isn't quite as bad as I feared, but it's still concerning. As expected, Fox has agreed to a massive fee hike for its NFL content, and is about to start paying more money for fewer games than it had previously. It will probably take an extra $1 per month in retransmission fees to cover this increase, or close to it, and it isn't entirely clear that pay-TV distributors - or their customers, who are the real keystone here - are willing to pay it. Fox admittedly has a number of potential cost deflators it can apply, including gambling, and ultimately it can always just stream the games if they want, but it isn't clear streaming will generate the same margins as the old pay-TV monopoly.
I cannot say for sure that Fox has made a bad deal here, and I know many people consider the NFL, the top prize of pay-TV, to basically be a good deal at any price for content producers like Fox. But with TV in transition, any price so high as to make consumers balk at it on a standalone basis is a potential risk, since the ability to bundle and extract subsidies from non-sports TV consumers may be ending soon.
On the other hand, it is the NFL.
I remain Neutral on Fox.