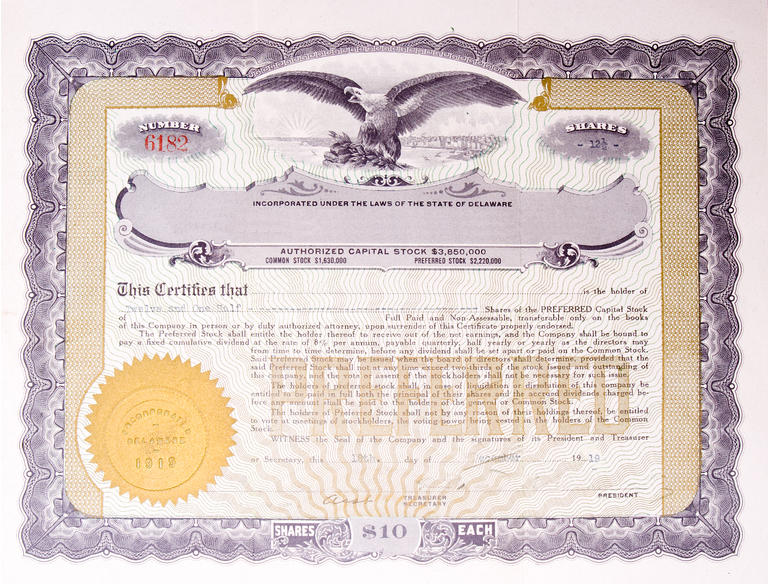 Introduction
Before we jump into the ETF at hand, I thought it useful to quickly recap preferred shares and how they might fit into an investor's portfolio.
Preferred shares are a class of stock issued by a company with hybrid qualities between common stock and bonds. They sit on the capital stack above common shares but below more senior debt like bonds. This means that in the event of a default, common stockholders would be wiped out before preferred shares. We saw this during the March 2020 meltdown, where some companies suspended dividends but preferred payments continued.
Shares can trade just as wildly as common stock, as I'll show, but will offer a better dividend rate than a vanilla bond issuance. They can offer more income than other bonds or Treasuries. Each issuance has its particular features, whether they are callable (or not), cumulative (or not). Most don't carry voting rights and will be liquidated at their face value regardless of the current price if they are called. These particulars will matter more for the investor buying individual preferred shares, but most of that is abstracted away broad exposure in the ETF wrapper.
ETF Profile
The iShares Preferred and Income Securities ETF (NASDAQ:PFF) is the preferred share space's original ETF. It is an incredibly diverse ETF holding over 500 preferred issues. It sports a 4.83% yield, pays monthly, and costs 46 basis points. PFF passively tracks the ICE Exchange-Listed Preferred & Hybrid Securities Index. The index will include issuances listed on the NYSE or NASDAQ with amounts over $100 million and meet the minimum price, liquidity, and trading volume requirements as determined by ICE.
Here is the current list of the top holdings; this ETF and others will heavily tilt toward financials. PFXF, covered later, excludes financials. The top 10 issuances make up about 13% of the fund, while the other 509 will comprise the remaining 87%.

Banks and other financial institutions prefer to issue preferred shares because they count as assets in their Tier 1 capital requirements. Preferred shares can help avoid common share dilution, and investors are attracted to the higher yields.

The credit quality is about half investment grade, with the other half comprising either BB-rated or unrated securities.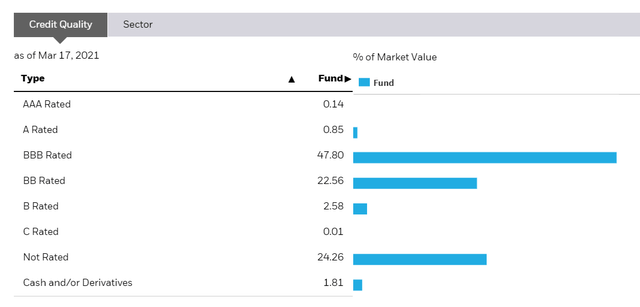 Dividend History
PFF pays a variable monthly dividend. You can't drive any meaningful conclusions from a single payment. Here's the SA page covering the historical dividends; it makes more sense to look at full-year totals to get a clearer picture. You can visually see a slight decline over time with dividend payments, which lines up with the totals by year.

| | | |
| --- | --- | --- |
| Year | Total | Growth |
| 2013 | 2.08 | |
| 2014 | 3.11 | 49.52% |
| 2015 | 2.24 | -27.97% |
| 2016 | 2.18 | -2.68% |
| 2017 | 2.13 | -2.29% |
| 2018 | 2.16 | 1.41% |
| 2019 | 2.00 | -7.41% |
| 2020 | 1.85 | -7.50% |
The price of the fund will adjust to provide a particular yield point. For example, in 2017, shares topped $40, whereas they are under $38 today.
Competitors
PFF is by far the biggest and most well-known preferred share ETF. It also dates back to 2007, so it has a lengthy track-record to analyze.
In the broad, preferred share ETF space, some of PFF's closest competitors are the Invesco Preferred Portfolio ETF (PGX), the Global X U.S. Preferred ETF (PFFD), the VanEck Vectors Preferred Securities ex Financials ETF, and the SPDR Wells Fargo Preferred Stock ETF (PSK). Even the VanEck fund, while well-diversified, deliberately avoids holding financial companies.
Other industry options, such as PFFA and PFFR are more sector-focused and use a more active strategy. SPFF is designed to seek out the highest-yielding preferred instruments and that carries a different set of risks. There are also CEFs such as JPS, FPF, PTA, and FFC, but again, those will be out of scope here.
I included links to the index methodologies where I could find them.
| | | | | | |
| --- | --- | --- | --- | --- | --- |
| Ticker | Yield | Holdings | Expense Ratio | Pays | Tracks |
| (PFF) | 4.83% | 519 | 0.46% | Monthly | ICE Exchange-Listed Preferred & Hybrid Securities Index |
| (PGX) | 5.02% | 314 | 0.52% | Monthly | ICE BofAML Core Plus Fixed Rate Preferred Securities Index |
| (PFFD) | 5.2% | 291 | 0.23% | Monthly | ICE BofAML Diversified Core U.S. Preferred Securities Index. |
| (PFXF) | 5.09% | 139 | 0.41% | Monthly | Wells Fargo® Hybrid and Preferred Securities ex Financials Index |
| (PSK) | 5.05% | 160 | 0.45% | Monthly | Wells Fargo Hybrid and Preferred Securities Aggregate Index |
They all pay monthly, which is great, and all are well diversified. Stepping back, PFFD is particularly striking because of the low expense ratio. PFF is also the most well-diversified, with over 500 holdings.
The first chart I want to cover is a three-year view of the dividend yield. After all, these are income funds, so we need an adequate amount of yield.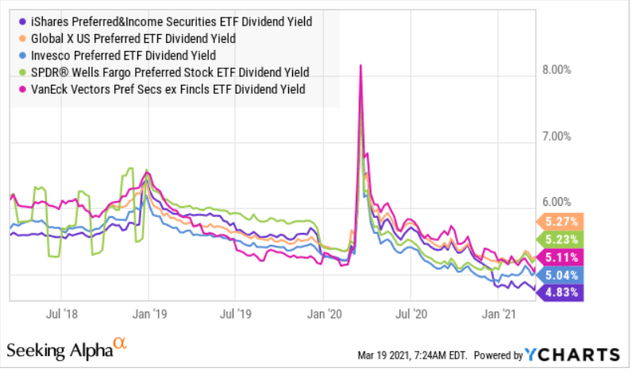 The first important detail I want to highlight because I also witnessed it first-hand is that during real market panics, there is no hiding. A year ago, in March 2020, these funds went through a freefall, which goes against the typical belief that these will offer smoother rides than equities. Please note this; since it happened before, it can happen again.
PFF currently has the lowest yield of the pack, while PFFD has the highest listed yield. Note that PFFD (PSK also) attempts to pay a fixed distribution each month, but it can still ebb and flow as market conditions permit. Be aware that yields have steadily come down during the recovery, and some even sit lower than they were in 2019.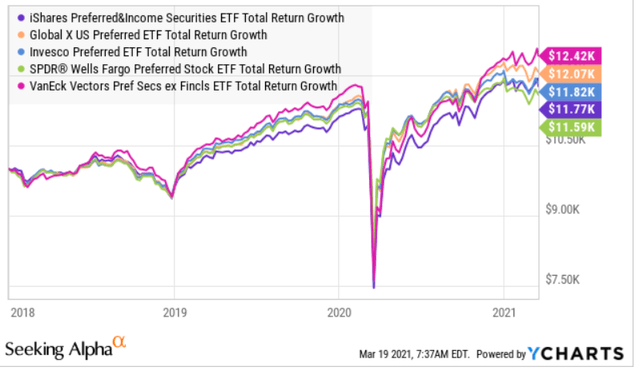 PFFD is the group's newest fund (mid-2017 launch), so I started at the beginning of 2018 to compare. In the hypothetical $10,000 investment, the VanEck fund came out on top with a 24% total return, while PSK came in last with just a 16% return. PFF finished in fourth place, and PFFD came in second. While the results are relatively tight in absolute terms, there has been about a 2% per year disparity between the best and worst performers. Generally speaking, investors have been able to get their 5-7% return, though that can come with extreme volatility.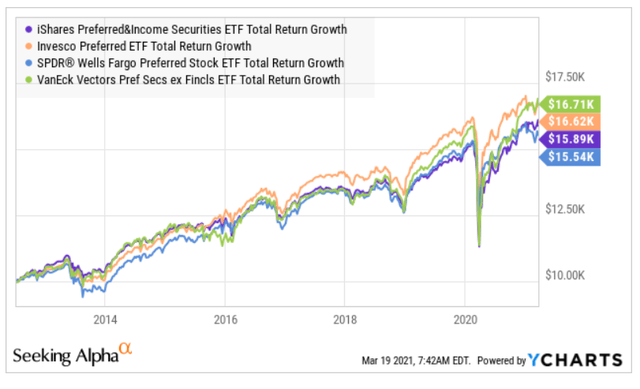 Running the comparison once more, removing PFFD to expose more data, the story isn't that different. Running back to about the beginning of 2013, PFXF was again the top dog, with PGF a close second place. Again, the total return differences between first and last are about 10% over the entire time frame. Once more, that's approximately a 1% per year difference, so not a ton of differentiation.
Lastly, here's the correlation from Portfolio Visualizer.

A quick refresher is that a score of 1 means things move in perfect lockstep. The lowest correlation here is 0.95 between PSK and PFXF, so again, all of these ETFs move extremely close with one another; thus the reason it is hard to really differentiate in this space.
Risks
Were you around in 2008 or 2020? Preferred shares are interesting because they seem to share similarities to common equities in that they are susceptible to shocks like everything else. As I highlighted here, your investment can experience incredible drawdowns.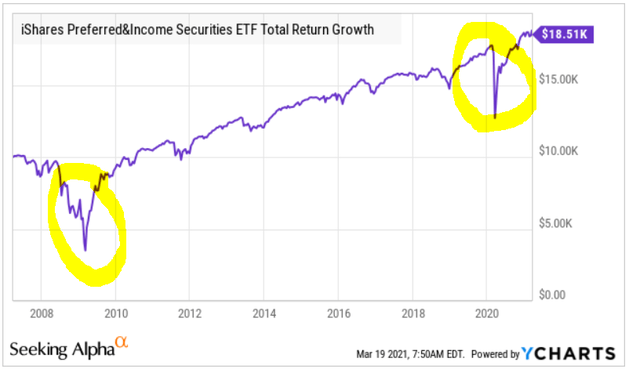 With hindsight and belief that this time isn't different, investors can use these opportunities to really juice returns. Of course, in the face of these crises, it can be tough to do so. If you are content with just generating a steady income and ignoring the volatility, you can earn your 5-7% return, though the ride might be bumpy from time to time.
Conclusion
The iShares Preferred and Income Securities ETF offers broad exposure to the preferred share market in the United States. The fund holds over 500 individual preferred shares, sports a 4.83% yield, and costs 46 basis points. As a concept, I think there is always a place for income generation in an investor's portfolio, regardless of their time horizon. Safer yields are obtainable than bond investing, but you have to have the stomach to ride some of the inevitable waves.
While it has the longest track record of any preferred share ETF, I was underwhelmed overall. The extra holdings don't offer any real ballast for a market downturn, as evidenced by the near lock-step that all of the ETF funds move. The overall investment results were fair; PFF finished in the middle of the pack for total return. Today's current yield fared at the bottom of the pack, which makes it a harder idea to pitch for an income fund. Of the five funds compared, it had the second-highest expense ratio. Given the expense ratio race to the bottom, coupled with their democratizing of the industry, I expect iShares may have some room to lower the expense ratio.
I was more pleasantly surprised by PFFD and their industry-low expense ratio (keeping more of those dividends in your pocket) and by the VanEck ex-financials ETF's overall performance PFXF.
Overall, the "Old Granddad" of preferred share ETFs looks a little tired and could use a refresh. Average returns, below-average yield, and above-average expenses don't make it the most compelling idea today.