For the most part, heavily hyped-up IPOs, especially well-known ones in the consumer space, often see their shares rocket up way too high to be considered as long-term holds. Surprisingly, Bumble (NASDAQ:BMBL) is an exception. The most notable rival to Tinder and a dating app known for having women initiate the first message, Bumble went public in early February, but its stock has failed to find direction either up or down since then. In spite of Bumble's rapid growth and even its strides toward profitability, the stock has failed to truly "pop" and win over investors' love.
In early March, Bumble reported earnings for the first time. It grew revenue at 31% y/y, saw a massive jump in paid users, and drove substantial adjusted EBITDA and cash flow growth. Still, investors were unmoved, and the stock is actually down nearly 10% since its earnings report.
In my view, Bumble's combination of strong fundamental performance plus its modest share price movements create a strong opportunity for investors to jump in at a reasonable price: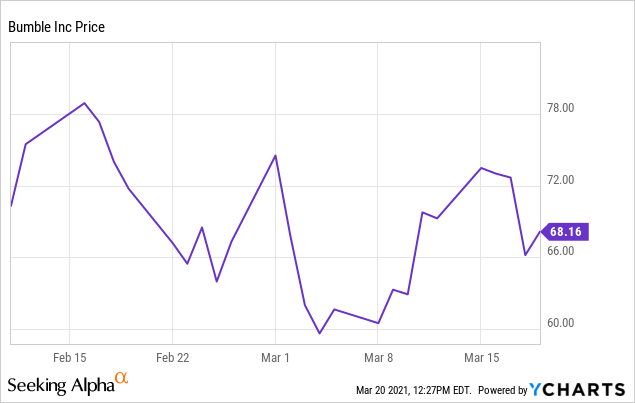 In my view, there are a number of elements behind the bullish thesis for Bumble:
Online dating is a huge market, and perhaps one even bolstered by the pandemic. According to Bumble, the global online dating market raked $5.3 billion in revenue and is expected to grow to $9.9 billion by 2025.
Bumble is the number-one rival to Tinder, and its branding stands in stark contrast to the #1 dating app. Bumble's mantra of "date honestly," and its branding of being a female-centric app directly address some of the biggest criticisms of Match Group's (MTCH) Tinder.
Strong growth, and opportunity for conversions within the user base. Bumble is growing at a >30% y/y pace. Note as well that in addition to grabbing new users, there's a strong opportunity to

convert more existing users into paid ones. Globally, only 15% of online dating users are paid users.

We may see Bumble's performance improve as more of the U.S. reopens. There are a number of online daters who are "sitting on the bench" while their cities are on

lockdown, and re-openings may drive

Profitability. Unlike many other high-growth Internet stocks, Bumble generates positive adjusted EBITDA and positive free cash flow.
Despite what I feel to be rather obvious strengths for Bumble, its share price hasn't at all reached stratospheric levels. At current share prices near $68, Bumble trades at a $12.55 billion market cap, based on 184.6 million fully-diluted shares outstanding per Bumble's finalized prospectus. After we net off the $128.0 million of cash and $876.2 million of debt on Bumble's most recent balance sheet, as well as the $2.053 billion of net proceeds that Bumble received from its IPO (50 million shares sold at $43 per share, less expenses), the company's enterprise value is $11.24 billion.
Figure 1. Bumble guidance

Source: Bumble Q4 earnings release
Meanwhile, as you can see in the snapshot above, Bumble has guided to $716-$726 million in revenue for the upcoming year, representing 32-34% y/y growth. This puts Bumble's current valuation at 15.6x EV/FY21 revenue. This certainly isn't cheap: but for a growth star like Bumble that is expecting growth acceleration in the year ahead, I see additional room for upside here.
The bottom line on Bumble: keep watching Bumble's movements and buy this stock on any meaningful dips.
Q4 download
Let's now go through Bumble's latest fourth-quarter results in greater detail. As previously mentioned, this is the company's first earnings release since going public - and given that the company beat expectations, it's a good indicator of the company's earnings momentum going forward.
Figure 2. Bumble Q4 results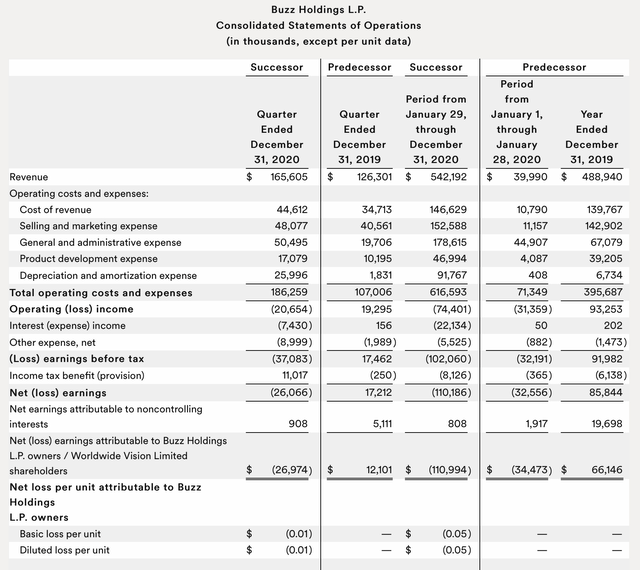 Source: Bumble Q4 earnings release
One thing you'll notice is that Bumble's historical compares above are a bit complex (refer to the "predecessor" line in the second column for the prior-year Q4 compare), but once the "successor" company moves into the prior-year compare beginning this year, the story should simplify. In Q4, Bumble delivered $165.6 million in revenue, up 31% y/y and beating Wall Street's expectations of $163.3 million (+29% y/y). As a reminder, Bumble actually operates two apps under its corporate umbrella: Bumble itself, as well as a lesser-known dating app called Badoo. Of these two, Bumble is the strongest grower, and Bumble app revenue actually grew at a stunning 47% y/y pace.
The growth in revenue was driven largely by an accumulation of paid users. Bumble grew its paid users by 42% y/y to 1.27 million and Badoo grew its paid users by 25% y/y to 1.42 million; combined, the Bumble company's paid users grew 33% y/y to 2.69 million, closely in-line with revenue growth. Note as well that average revenue per paid user for Bumble also grew slightly to $27.79.
Figure 3. Bumble key metrics

Source: Bumble Q4 earnings release
As a reminder, Bumble offers a number of benefits to its paid subscribers, including:
Beeline, which allows you to see who has "liked" your profile without having to accept or pass on them first
Rematch, allowing users to connect again with matches after the twenty-four hour window has passed
Extend, which allows premium users longer than 24 hours to make the first contact
It offers a variety of subscription packages for its paid users, including 7-day, 30-day and 90-day subscriptions. There are also a number of features that can be purchased on an "a-la-carte" basis, including SuperSwipe, which is essentially a way of letting a match know that you "really like" them, and Spotlight, which makes a user's profile more prominent and more likely to be matched to other daters.
Though Bumble doesn't disclose its total users or its paid user ratio, it's my hypothesis that the re-opening of bars and restaurants in many cities across the U.S. and the ability to go back on traditional dates will increase Bumble users' propensity to pay in 2021. As such, given that Bumble exited Q4 at a 31% y/y growth rate, expecting only 32-34% y/y revenue growth in FY21 may be a low bar for Bumble to cross.
Bumble also made strong advances in profitability in the fourth quarter. Its primary profit measure, adjusted EBITDA, more than doubled to $44.1 million in the fourth quarter, representing a 26.6% margin - nearly ten points richer compared to 17.3% in the year-ago quarter. Bumble also drove healthy cash flow growth. with FCF of $50.4 million growing 83% y/y to $50.4 million.
Figure 4. Bumble FCF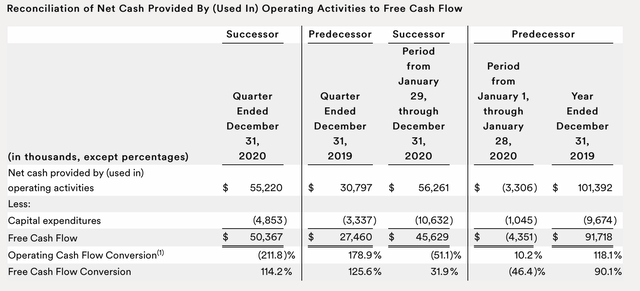 Source: Bumble Q4 earnings release
Key takeaways
There's a lot to like about Bumble as we head toward a broad re-opening of the U.S. This is a premier dating app that is seeing >30% y/y growth even during pandemic times and has a strong mandate to take on Tinder as the leading dating app in the U.S. Look for a buying opportunity here.