I still believe that a bottom is coming for housing in 2013. Some areas of the country, like the Silicon Valley area of Northern California, have already left a bottom far behind. On March 14, 2012, CBS This Morning ran a segment called "Silicon Valley Surge: Facebook IPO Creates Home Sales Boom." One real estate agent interviewed in the piece claimed that the mini-boom in house sales really got jumping February 1st once Facebook (NASDAQ:FB) announced its IPO. However, the following quote from a real estate agent really got my attention:
There is nothing artificial about it. It's people [who] have the money.
Yeah, just like people had the money on the heels of over-inflated IPOs in the late 1990s. To the extent that people are buying homes on IPO money, this surge has a logical conclusion. These rich IPOs are not likely to persist. In fact, the Facebook IPO might well represent the climax of this latest cycle. Fortunately, the growth in high-paying jobs remains strong and creates more stable baseline demand. It will be very interesting to see how the Silicon Valley market fares a year or two from now after the dust settles from this latest IPO craze.
Until then, the rush is on.
Here, when people are talking about the housing crisis, they mean the battle between buyers that is driving UP the prices of houses.
In the news segment, a woman named Patricia Yee complains that she has still not landed a home even after spending several months home-hunting and making several offers worth hundreds of thousands of dollars above asking price. Viewers are treated to several examples of VERY modest homes with asking prices over $1M that eventually sold for 20% and more above asking. This winner sold for 43% above asking: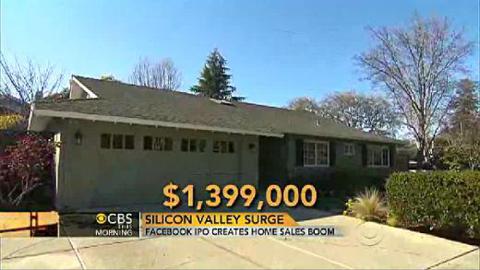 This home was offered at $1.4M and sold sold for $2M
Source: AJC News (video)
These examples reminded me of a piece I wrote last summer on top of a Bloomberg article noting the vibrancy in the Silicon Valley housing market driven in large part by new IPO riches. The Bloomberg article observed that the real estate gains occurred mainly amongst homes priced over $1M. In other words, this is a very special and unique market for real estate.
On the other side of the country in Florida, a 14-year old girl is turning a housing bust into profits. NPR's Planet Money tracked down teenager Willow Tufano whose claim to fame is that she bought a foreclosed house for $12K, with her realtor Mom, that she now rents out for $700/month. She used money earned from selling the unwanted junk from foreclosed homes; she is a skilled salesperson and incredibly expert at pricing. This story also fascinated me because this kid only knows the housing bust, not the boom.
Her own neighborhood is hollowed out by neighbors forced to leave their homes behind in foreclosure. Of course, we may never hear about all the other 14-year old kids who have failed at real estate, but perhaps a lack of memory of the good times helps Willow see the opportunity all around her. Here is my favorite quote from the podcast, resonating with all the linguistic cadence of a typical 14-year old:
About six months after I started, doing all the Craigslist thing, I was like, what should I do with all this money?…I just had, like, this thing. I was like, what if I bought a house? That'd be crazy. And then I'd be able to make money every month. I'd get rent…I wouldn't have to worry…Not that I have to worry now. But, I mean, that'd be really cool.
Huh? Buying a house as part of a path to easy living? Now THAT is a novel concept for this era.
Opportunity also abounds in the stock of publicly traded homebuilders. This year, I have written several pieces supporting a bullish thesis on housing, mortgages, and homebuilder stocks: for a few examples, see "Time to Buy the Dips in Homebuilders," "Shadow Inventory Now Much Less Of A Threat To Homebuilders," "Vertical Capital Income Fund Offers Attractive Alternative for Investing In Mortgages," and "KB Home's Sweet Spot."
I have even continued to pound the table for Lender Processing Services (NYSE:LPS), a provider of software and services to the mortgage lending industry. The SPDR S&P Homebuilders ETF (NYSEARCA:XHB) is now on its third "recovery run" since the gut-wrenching bottom in 2008 and 2009. This third rally is the steepest yet and could be the charm as XHB has hit 3 1/2 year highs. I sold my last shares in KB Home (NYSE:KBH) a few weeks ago in anticipation of a dip. Now it seems I need to think more like Willow and stay focused on the long-term opportunity.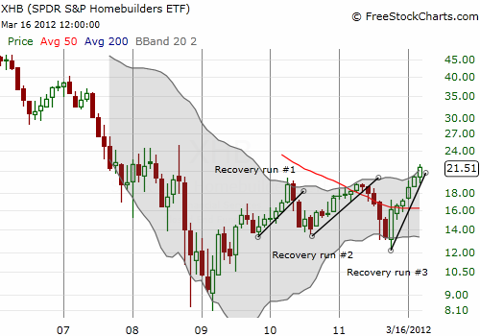 This monthly chart shows the latest strong rally in XHB
Source: FreeStockCharts.com
Be careful out there!
Disclosure: I am long LPS.