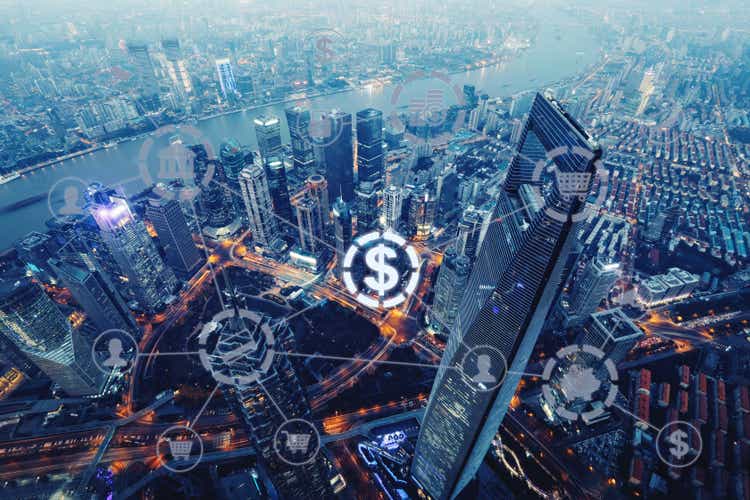 Over the past month, a sharp rise in treasury rates has sent growth stock investors packing. Fears of a tech/growth stock bubble catalyzed a mass sell-off. The S&P 500 (SPY) was let off without much a scratch, only falling about 3% from highs at the worst. The tech heavy QQQ was much worse off, hitting 10% off highs at the worst. However, growth stocks with high expected future growth but negative current earnings took the largest hit. The ARK Innovation ETF (ARKK) which tends to invest in companies fitting this profile, was down nearly 30% from highs. Some of its holdings were even down 40%-60%.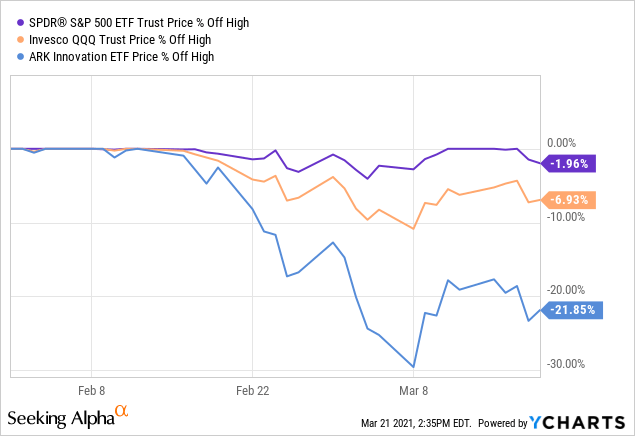 However, the impact seemed to hit ARKK the hardest. The industry specific ARK ETFs, while also impacted, did not dip as much.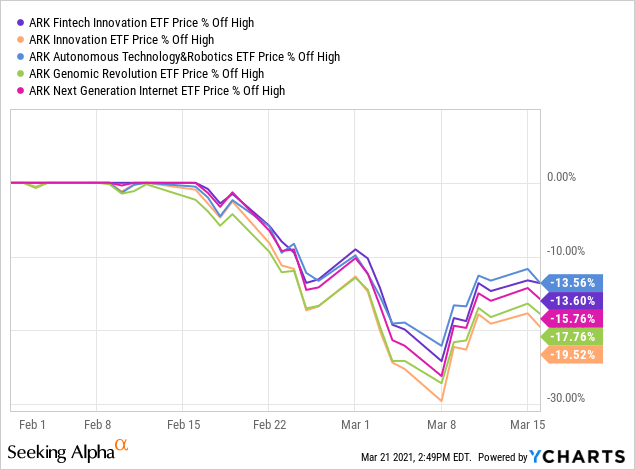 This includes the ARK Fintech Innovation ETF (NYSEARCA:ARKF), which took a relatively light beating compared to ARKK. During the down-turn, it was fairly neck-and-neck with ARK Autonomous Technology & Robotics ETF (ARKQ) at weathering the growth stock crush in this period.
I believe there are several strong reasons for ARKF being able to weather the storm relatively well and a great candidate for ARK investors who still want to invest in the inherent risky nature of disruptive innovation but also want to make a surer bet.
Fintech Isn't Years Away, It's Already Here
Some of ARK's disruptive innovation industries are still many years away from truly being a part of the typical consumer's life. This means there is still significant risk and uncertainty when investing in those industries.
Genomics is showing significant promise, especially with the success and visibility of mRNA vaccines during the COVID-19 pandemic. However, many of the holdings in the ARK Genomic Revolution ETF (ARKG) are still deep in the research phase or clinical trials phase which could take years to realize results. Not to mention clinical trial success rates are incredibly low.
Autonomous vehicles and 3D printing have certainly shown promise but mass adoption is easily years away. The IDC estimates that we will only begin to have level 5 autonomous vehicles in 2024 with widespread adoption even further away. 3D printing services are gaining traction, but most industry experts believe the technology is nowhere near good enough to replace traditional manufacturing.
Fintech innovation is already impacting traditional brick-and-mortar banks. JP Morgan's CEO was recently quoted on an earnings call that banks should be "scared shitless" of fintech innovation. One quick look at research put together by ARK Invest analysts on the adoption of fintech solutions such as CashApp and Venmo should explain why.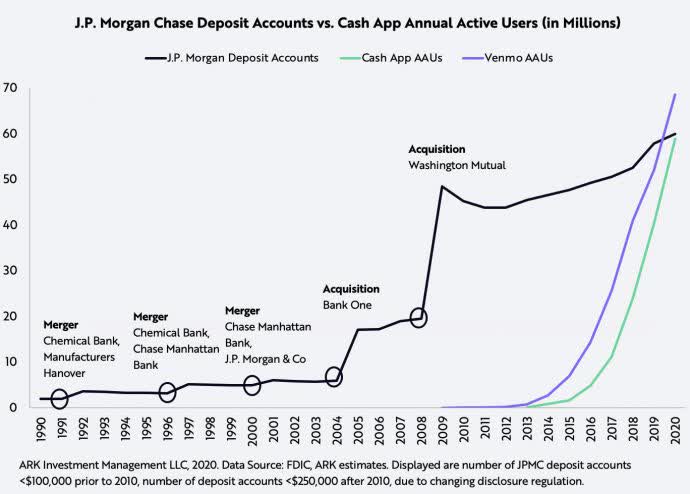 Source: ARK Invest
One could argue that the ARK Next Generation Internet ETF (ARKW) with disruptive internet, ecommerce, artificial intelligence, and cyber security companies have also already successfully seen mass adoption in 2021. However, this fact actually supports ARKF's position as there is huge holdings overlap between ARKF and ARKW. In my article It Doesn't Really Matter Which ARK ETF You Buy, I show that 68% of ARKF's weight is held in ARKW.
ARKF's Has The Best Valuation Metrics Of All ARK ETFs
I wouldn't consider any of the ARK ETFs to be "cheap" or "undervalued". All of their valuation metrics are miles more richly valued than market ETFs. However, within this group, ARKF has the most reasonable relative valuations. ARKF's average P/S ratio of 15 is actually fairly close to the P/S ratios of the current FAANG companies. Even Facebook (FB) and Netflix (NFLX) had P/S ratios around 15 within the last 5 years. Given ARKF's higher growth potential, I think a P/S ratio of 15 is a great relative price.
Additionally, ARKF has the highest average and median market cap for its holdings out of all of the ARK ETFs, meaning investors will be investing in more established and larger cap companies, implying less volatility and risk.
| | | | | | |
| --- | --- | --- | --- | --- | --- |
| Metric | ARKF | ARKK | ARKQ | ARKG | ARKW |
| P/S | 15 | 44 | 38 | 64 | 25 |
| P/E | 175 | -102 | 307 | -92 | 763 |
| Average Market Cap | 242B | 145B | 229B | 53B | 216B |
| Median Market Cap | 58B | 11B | 27B | 5B | 51B |
| Pre-Earnings Companies % | 40 | 65 | 27 | 80 | 58 |
P/S and Pre-Earnings as of 3/16 from cathiesark.com. P/E and Average Market Cap as of 3/19 from etf.com. Median Market Cap as of 12/30 from ark-invest.com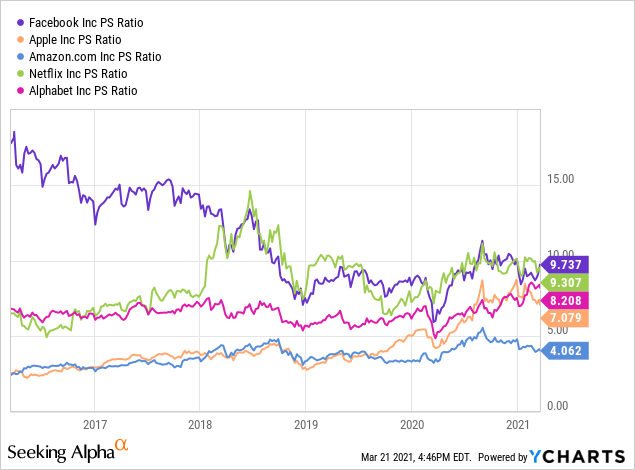 Performance Tradeoff
As a tradeoff for its safety, ARKF has been the worst performing ARK ETF since its inception in early 2019. However, returning 161% over the span of two years crushes both QQQ and SPY, so it's nothing to be wary of. There is always an inherent tradeoff between expected returns and risk.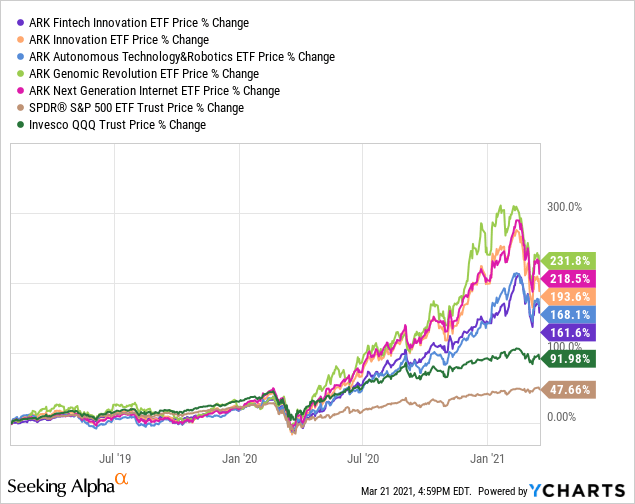 Conclusion
The ARK ETFs, along with other growth stocks, were crushed during the recent tech downturn and will likely continue to have downward pressure as interest rates rise. However, of all the ARK ETFs, ARKF has the most promising disruption potential and relatively good valuation metrics. Investors who are committed to ARK Invest's five year time horizon and the stomach for volatility can find ARKF to be the surest bet of the five options, though likely with the lowest expected return.