Two and a half years ago I wrote an article called "VeChain Will Be The Next Major Blockchain Success Story." Since that article was published, the coin is up 6,972%.
Yes, you read that right.
And before we get into the rebound of the entire cryptocurrency market, I'll compare VeChain (VET-USD) to Bitcoin (BTC-USD) which of course has boomed from lows of 2018, but in the same stretch BTC has gained a mere 1,000% on its price. So we're seeing a multiplier even on one of the best asset investments of the last 30 months.
So why am I writing now? To talk about a good call from 2.5 years ago? No, I'm writing because I think the upside on VeChain is still there, even at it rocketed to its price point today.
In fact, when Seeking Alpha asked writers a few months ago to name their pick for a 2021 investment, I picked VeChain. And guess what? Since that article's publication, VeChain's coin VET is up more than 175% and is currently in first place in competition with the other 47 picks from those writers.
And still I'm bullish. The rest of this article will explain why.
What VeChain Is And Who It's For
Here's the explanation from my 2018 article.
"VET operates as an asset tied to the VeChain blockchain. But unlike Bitcoin it's not a currency, and unlike Ethereum (ETH-USD) it's not a way to "gas" blockchain's usage. Instead, VET is value-creating token. Every VET creates an offshoot coin called THOR (VTHO), which operates a bit like a dividend. The more VET you have, the more THOR you are given (same wallet), and there are "node" bonuses along the way to incentivizing holding and accumulating."
And all of this is mostly the same. VET is still an asset which creates a dividend-like coin called VTHO. And both are tradeable on an open market, while VTHO's utility is in using the VeChain blockchain. VeChain uses a Proof-of-Authority, which was just revamped, which rewards holders for holding and does not use mining mechanisms like Bitcoin.
What are people using it for? That's the core to VeChain's business: The blockchain is used as a tracker, mostly in supply-chain logistics, and mostly for their customers - large corporations.
This is where VeChain takes a turn away from what's new and hot in cryptocurrency right now. It's not DeFI, or a chain for minting NFTs, and yet it can do all of those things. But it's been busy building the kind of business that should attract investors to solid SaaS companies working on powering the global economy.
Next I'm going to talk about VeChain's customers thus far. Simply put: I think it has the best roster of true active-use customers in the entire cryptosphere and yet is the 19th most valuable coin by market cap. While it's notoriously difficult to price such new assets, benchmarking them again other cryptocurrencies shows that there is serious room to run.
Customers
As I wrote, unlike some of the utility of store-of-value coins in the cryptosphere, VeChain is positioned as an enterprise solution. Here's an image of some customers and partners in its ecosystem so far.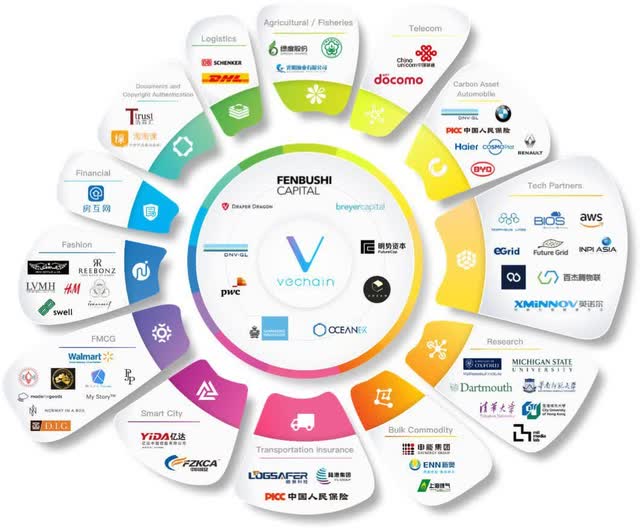 Now the extent of these "partnerships" is wide and varied, and some of have yet to pan out. That's fine, the list is long enough to sustain serious investor interest and we already know that several of these are working out just fine.
To identify a few of the bigger names on there: you can see PwC, Walmart China, Baier, Grant Thornton, BYD and BMW.
I'll put a longer list of some of the smaller and newer companies near the end of this article as well.
The big hitters here are notable: Seeing PwC, Grant Thornton, Walmart, BMW, and DNV on a customer or partner list itself is impressive for a cryptocurrency company that few people have heard of. But I want to call one out: DNV — an official and longstanding partner of VeChain.
DNV (formerly DNV GL) is a global audit and certification service. It's one of the largest companies in Norway. The company itself did more than $2 billion in revenue last year. But even more than that, it has been a dominant force in early blockchain logistics and has done most of this work with and through VeChain. It's the small engine powering a lot of the growth here.
You can see examples of that with projects like ReSea, which will allow a company to recycle sea materials to make consumer goods.
Another example is with DNV's MyStory which helps producers keep track of their products (anti-counterfeiting and transparent supply-chain) from something akin to farm-to-table.
As DNV utilizes VeChain for its "tag, trace, trust" program (how about using this with Hydro, a massive international aluminum company), VeChain's scope becomes one of leveraging blockchain as a vital part of the next decade of business tracing.
Trust is vital here. And that's why it was good news when late last year VeChain was certified by an international agency as the only 5-star blockchain.
If DNV is the silent giant behind establishing VeChain partnerships, Walmart China is the customer that's leading the way. And what a great customer to have as your largest utilizer—the world's biggest company in the world's most emerging economy, tagging regular household and consumer goods.
You can actually visualize the Walmart China contract use by some of these clients (that have been identified in various ways). This is just the snapshot of one day (Saturday March 20th) where you can see that Walmart China has used over 1 million contracts (entries on the chain).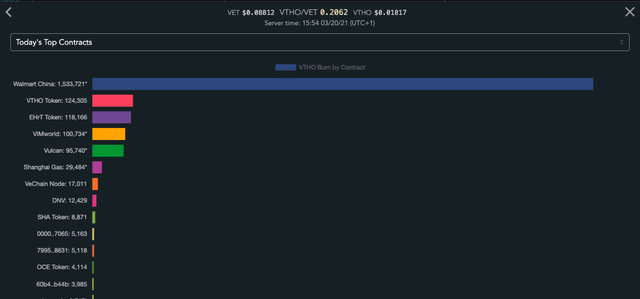 Looking at this you might think that VeChain is too reliant on one client. And I think that thought is warranted, though one should be excited by some other names on here like VIMworld which is an NFT gateway or Shanghai Gas which uses VeChain as an "energy-as-a-service" provider.
But I look at this differently. For one, the Walmart contract has continued to expand since it began, now tracking hundreds of items, including brands like Red Bull for authenticity and item tracing.
For another, it just shows the potential here. VeChain has been slow to get some of these partnerships rolling out, but there are a lot of them and this is the very, very early days of using this. Walmart's continued use is just blazing the path. And if DNV continues to bring more in using its tag and trace program, the sky is the limit.
Here's another chart: The USD value burn of VTHO day by day this year. As you can see, we're starting to ramp up seriously. At its height, it burned nearly $80,000 of VTHO in one day (a rough ARR of $29.2 million).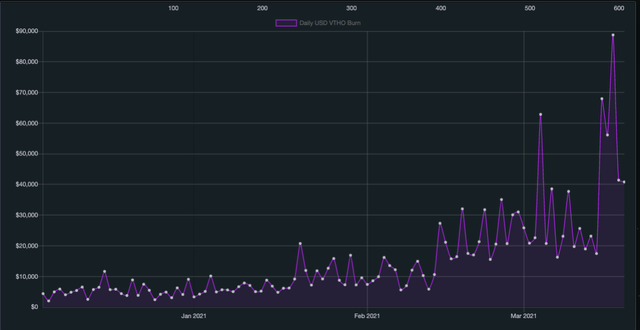 Again, I think this is just the beginning and this graph will look shrunk months and years from now. Because here's a list of other clients that are either not on here yet, or barely visible in their transactions as early adoption starts to get rolling:
2021 Updates and Price Targets
Right now, VTHO is priced (by the marketplace) at $.015. Based on VTHO production rates, a yearly yield on an investors takeaway in VET is about 3%. Some exchanges are offering more for "staking" or letting them hold VET (some up to 5%). I like this rate, though much lower than coins like ATOM-USD which offering up to 15% for staking, because new VET won't flood the market.
The VTHO part is interesting of course, but it also was one thing holding VeChain back in the past, I felt. Who, for instance, would expect a company like Walmart or BMW to buy VTHO to power their blockchain activity on some open crypto market. Wasn't going to happen.
And that's why VeChain's 2021 update of a fee-delegation service is such an enormous unlock for investors. The change is quite complex as you can read but one item is that it will allow enterprises to purchase access to VeChain's system without having to buy VTHO on the market and for VTHO still be in demand (be being "burned" with each blockchain entry).
All of this—the customer list, the revamped proof-of-authority, the DaaS, and the VTHO demand—has led to VeChain's massive price increase in 2021. It's up (at the time of writing) more than 4x since Jan. 1, 2021. So it's tempting to think that this "hot" coin might run out of legs.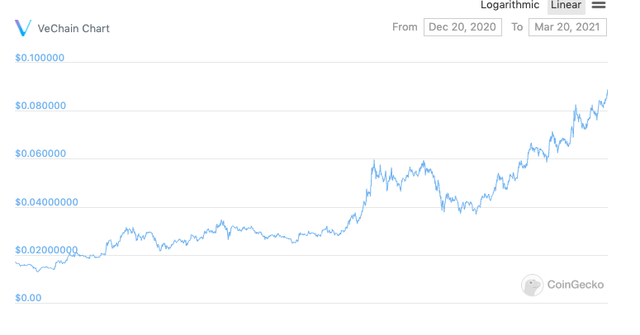 But I don't think it will. For one, VTHO prices, with its set ratio of production, is still providing new investors a decent ROI just on that production. Another reason is that many customers still haven't onboarded to really start burning their own VTHO.
We know that the global supply chain and logistics business is massive: The fourth party logistics industry (services to help third parties) is estimated to be a market of over $80 billion by 2026. What we don't know is how long the bull market in cryptocurrency can last.
We also know that China has announced its interest to reduce its carbon emissions in the coming decades, and VeChain's partnership with BYD is aimed directly at that. China also put blockchain in its latest five-year plan. We know that the EU has announced its interest for a digital "green pass" for COVID vaccinations and that VeChain is already doing this (quite elegantly) in Cyprus.
The opportunity is there and the comparison in the cryptosphere I come back to is Ripple (XRP-USD) - another blockchain company aimed at a popular SaaS opportunity: international remittance payments. It also has emerged as a leader in corporate partnerships, though I'd argue Ripple doesn't have quite as much to show as VeChain (and a whole lot more legal issues).
Ripple, despite those legal problems, has a market cap of all of its coins of over $22 billion — or about 4x what VeChain's is. That's my target right now: A $20 billion market capitalization which I think accounts for the opportunity in the decade ahead.
My last thought is on competition. People have pointed out that IBM has introduced a very similar product that it will use for its blockchain solution (with Maersk playing the role of DNV in VeChain's solution).
I totally welcome this competition. It will only reveal the importance of a trust protocol in global tracking, and I believe the market will be large enough for several of these solutions to have high valuations while capturing this market opportunity.
Said again, there's still a lot of opportunity here for VeChain, even with the absolute torrent of price increase it's seen already in 2021.
Oh yeah, and if you're still balking at some of the price movement, here's that longer list of partners and customers I promised earlier:
Haier, Sarah Regensburger, PuffBar, LiveCanna, KnowSeafood, Cyprus Vaccination Tracking, Yizhiji, Avery Dennison, Renji Hospital, CAFA, ENN, Bright Food, Bayer, Foodgates, DB Schneker, and many, many more. Fuller list here.
Buying VeChain
VeChain is still not featured as prominently on the U.S. exchanges as I'd like. This should be seen both as a risk and an opportunity. You can see most VET trading pairs here and in scrolling you'll see that there are only two gateways to trade fiat USD for VET.
The major American exchanges: Gemini, Coinbase, Kraken, are still not featuring this for trading. Again, risk and opportunity - but please do your own research before investing.
Right now, that means VET is to be traded for, ideally with BTC, USDT, or ETH (if fees come down). My recommendation would be to use a bigger exchange like Binance US or Crypto.com (lots of volume and confirmed to legally work within United States rules).