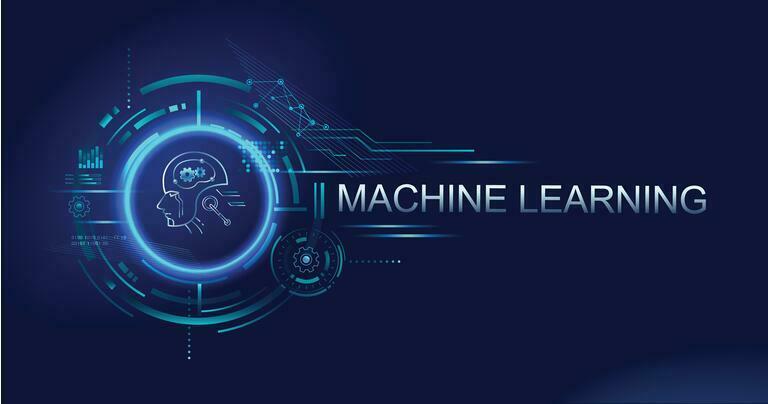 This article first appeared on Trend Investing on Feb. 19, 2021, but has been updated for this article.
Artificial Intelligence ("AI," also called machine learning, deep learning) is quite possibly going to be the biggest trend this decade (along with EVs). AI is basically computers using data and learning from this, using algorithms.
AI has rapidly developed over the last few years where computers can now outperform humans in many tasks. Examples of AI at work include web search, social media algorithms, call center automation services, online chat bots, voice and facial recognition, translation services, security surveillance, fraud detection, personal assistants, autonomous vehicles [AVs] and the list goes on and on.
AI is increasingly being used in data centers, robotics, smartphones, drones, autonomous vehicles [AVs], and other devices. Industries that are embracing AI include online businesses/services, auto, cyber security, health (medical diagnosis and treatment), energy, finance, and aerospace & defense.
For a background on the AI trend you can read my previous articles that discussed AI:
AI is about computers that are trained to learn and think.
AI Forecasts
Grand View Research - As of 2019, the artificial intelligence market size was valued at $39.9 billion and is expected to grow at a CAGR of 42% to $733.7 billion by 2027.
Others - "GLOBAL REVENUES from AI for enterprise applications are projected to grow from $1.62B in 2018 to $31.2B in 2025, attaining a 53% CAGR."
ARK Invest - Deep learning will create $30 trillion in stock market value over the next 15 years.
Looking at the chart below we can see AI global software revenues are forecast to increase about 5x between end 2020 and end 2025, from ~US$24b to ~US$120b. That is 5x growth in just 5 years, which would make it one of the fastest growing trends this decade.
Forecast revenues from the artificial intelligence software market worldwide from 2018 to 2025, by region
Source: Statista
A comparison of some popular AI ETFs
It is quite difficult to find a pure-play AI ETF. Most include other related themes such as robotics or tech which can lead the fund to hold industrial-sector stocks such as Japanese robot maker Fanuc [TYO:6954] (OTCPK:FANUY). While this may suit many investors, I prefer to target a more pure-play AI fund that focuses on the AI software companies and AI infrastructure, and should benefit from the forecast 5x increase in AI software revenues from 2020 to 2025.
The ARK Autonomous Technology & Robotics ETF (ARKQ) has been a stellar performer the past 5 years, but it has a ~10% weighting to Tesla (TSLA), a stock that has already rallied about 16x the past 2 years. One of the best.
The ARK Industrial Innovation ETF (ARKK) is another high performing ARK fund but covers many themes and is therefore not a pure play AI fund.
The ARK Next Generation Internet ETF (ARKW) targets next-generation internet innovations like artificial intelligence, cloud computing, cryptocurrencies, and blockchain technology. One of the best.
The First Trust Nasdaq Artificial Intelligence and Robotics ETF (ROBT) also has appeal, but again is not an AI pure play.
The iShares Robotics and Artificial Intelligence Multisector ETF (IRBO) comes close to being a good AI fund but also focuses on robotics stocks and in particular 3D printing.
The Xtrackers Artificial Intelligence and Big Data UCITS ETF 1C [GR:XAIX] fund looks to be a good AI fund focused on global equities exposed to AI, data processing, and cybersecurity. The problem is it may not be accessible to many US investors as it is listed on Xetra exchange in Germany.
The WisdomTree Artificial Intelligence UCITS ETF USD Acc [GR:WT12][LN:WTAI] is a top performing AI fund that focuses on companies that either enable, engage, or enhance AI. One advantage is it is listed both in Germany and London. One of the best.
Other large ETFs with a tech focus including some AI stocks
My top pick AI ETF
The ROBO Global Artificial Intelligence ETF (THNQ) - Price = US$39.79

Source: YCharts
The ROBO Global Artificial Intelligence ETF ('THNQ') is fairly new only being launched in August 2018 and is run by ROBO Global with a focus on global AI stocks. The THNQ ETF tracks the ROBO Global® Artificial Intelligence Index and offers exposure to the AI ecosystem, including both AI services and AI infrastructure. The Index is made up of companies from 11 AI related sub-sectors as shown below. Note that the split is about 49%/51% between AI applications & services and infrastructure.
ROBO Global state:
We screen our proprietary database of over 1,000 companies to identify those that are publicly traded, fit into these 11 sub-sectors, meet a minimum AI revenue threshold, are positioned as technology and growth leaders, and satisfy our ESG Policy.
The THNQ ETF holds stocks related to the 11 AI related sectors shown below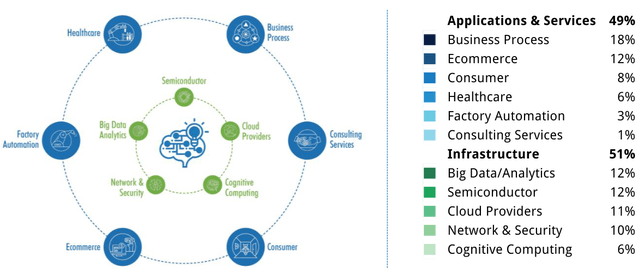 ROBO Global state:
The index methodology follows a modified AI-factor weighting scheme and rebalances on a quarterly basis to more effectively respond to and capture changes in the technological and competitive landscapes while maintaining critical diversification. Including more than 60 stocks across 11 subsectors in 16 countries, the index is built to minimize risk by limiting reliance on the largest-cap players, and to capture the growth of rapidly developing artificial intelligence companies around the globe.
Note: You can read more details on the Index and fund methodology here.
The THNQ fund has a US focus (72%) and a large cap focus (77%)

Top holdings as of March 18, 2021
The top holdings include Baidu (BIDU) best known for its AI driven internet search engine but also for autonomous vehicle software. iRobot (IRBT) is best known for its autonomous robotic vacuum cleaner. Illumina (ILMN) is an exciting company best known for its analysis of genetic variation and biological function (gene sequencing) to help with medical diagnosis and treatment. Etsy Inc. (ETSY) is an American e-commerce website focused on handmade or vintage items and craft supplies. Varonis Systems (VRNS) offers a security software platform that allows organizations to track, visualize, analyze and protect unstructured data. HubSpot (HUBS) is known for its AI driven marketing, sales, and customer software. Alphabet Inc. (GOOG) (GOOGL) as well all know is the world's most popular search engine, but there is also YouTube and other bets (Waymo, DeepMind, Verily, etc.). Alphabet is a leader in AI and has acquired numerous AI startups. Twilio (TWLO) helps software developers to programmatically make and receive phone calls, send and receive text messages etc. Tencent (OTCPK:TCEHY) is China's number one social media site and much more. Microsoft (MSFT) as we all know is a global leading software company also heavily invested in AI. You can view the top 15 holdings here.
The THNQ ETF top ten holdings

ROBO Global state regarding their portfolio management team:
The coverage team incorporates full-time financial and research professionals supported by industry entrepreneurs and academic leaders who specialize in global developments across the robotics, automation, and artificial intelligence supply chain. The team, including more than 7 PhDs and some of the most highly respected visionaries in robotics and AI, works closely with our management team to identify early key industry trends and associated companies.
Being quite new (Aug. 2018) the THNQ fund is still small with only US$29.5m of assets under management. It has an expense ratio of 0.68% and pays no dividend.
It currently trades on an average weighted PE ratio of 41.7. Liquidity seems good only for small to medium size investors with a 30-day average volume of 17,986 (equates to about US$715K per day at the current stock price).
Risks
Macroeconomic risks. Covid-19, global slowdown etc.
Artificial Intelligence revenues and/or profits may not grow as fast as forecast.
Technology risks.
Competition risk.
Valuation is not cheap. Safer to stage your buying in case we get a market fall, especially now with the US market being overvalued.
The usual risks for ETFs (management, liquidity (daily turnover only averages US$715K per day), currency risks, sentiment). Country risk is currently low.
The THNQ ETF reduces stock risk with not too large a % per stock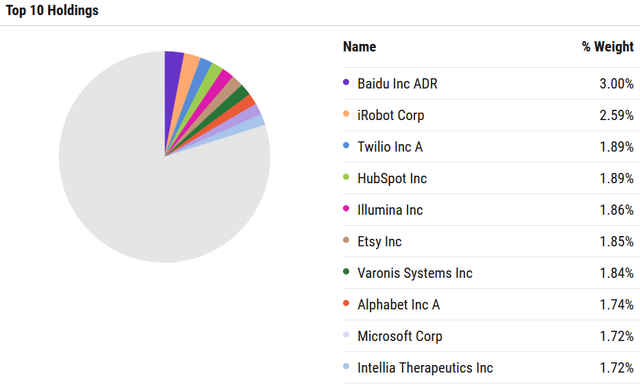 Source: YCharts
Further reading
Conclusion
AI revenues are set to grow at a forecast a CAGR of 42% to 2027 (others forecast 53% CAGR to 2025), or 5x increase in AI software revenue from 2020 to 2025. This is one of the biggest, if not the biggest, trends this decade.
There is a large number of individual stocks in the AI space and it can make sense to play the AI sector with an ETF. Choosing the right AI ETF is certainly not easy as there is a large choice.
My top 3 AI ETFs would be:
ARK Autonomous Technology & Robotics ETF [ARKQ] or ARK Next Generation Internet ETF [ARKW]
The WisdomTree Artificial Intelligence UCITS ETF USD Acc [GR:WT12][LN:WTAI]
The ROBO Global Artificial Intelligence ETF [THNQ]
Any of the above would be a good choice, but my personal number one choice is the ROBO Global Artificial Intelligence ETF [THNQ].
I like THNQ's 11 AI-related sub-sectors approach and the spread between AI services and AI infrastructure adds some safety. I also like the AI focus and the US focus of the fund and that it is well diversified across about 70 stocks, noting the largest weighted stock right now is Baidu at only 3%. THNQ's top holdings look very appealing with a heavy focus on AI software companies with a taste of internet search, autonomous vehicles and vacuums, cloud software service companies, and some genomics.
Valuation is not cheap on a weighted average PE of 41.7, but given the very high forecast growth rate of the sector as discussed above, seems reasonable. My approach would be to buy some now and buy more if we get a bigger dip to lower the cost base.
Risks are low for investors taking a long-term approach. Please read the risk section noting the daily turnover is not large and the US equity market, in general, is very overvalued right now.
I rate the ROBO Global Artificial Intelligence ETF [THNQ] as an accumulate and one of the best AI ETFs on the market.
As usual, all comments are welcome.